Story Progress
Back to home
India vs England Live Score Ball by Ball, ICC T20 World Cup 2022 Live Cricket Score Of Today's Match on NDTV Sports
Live Updates of Today Match between India vs England from Adelaide Oval, Adelaide. Check commentary and full scoreboard of the match.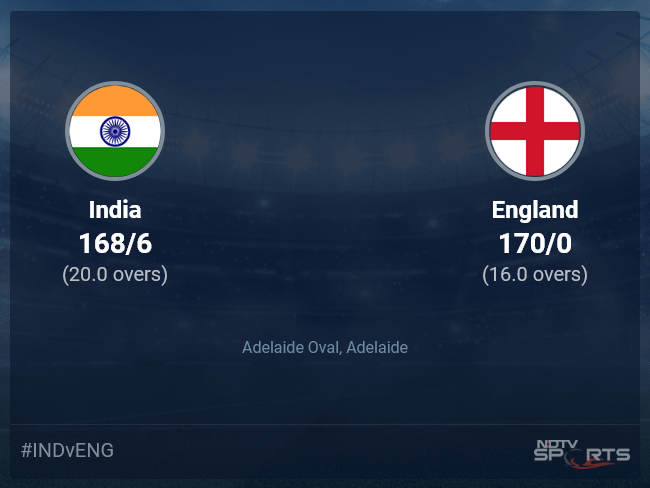 ENG vs IND Latest Score
Follow the ICC T20 World Cup 2022 live cricket score on Sports.NDTV.com. After 16.0 overs, England, chasing a target of 169, are 170/0. Get live score, ball by ball commentary and much more. Keep track of ICC T20 World Cup 2022 today match between India and England. Everything related to India and England match will be available on Sports.NDTV.com. Stay updated with India vs England live score. Do check for India vs England scorecard. You can get scorecard updates, match related facts. Get quick live updates with ads, Sports.NDTV.com, which is the perfect destination for live cricket score.
Two one-sided affairs in the semi-finals but the only thing we want is a proper battle in the finals. Join us on the 13th of this month for the final and the biggest match of this competition. Pakistan will take on England at 1.30 pm IST (8 am GMT) Join us early for the build up. Cheers!
Jos Buttler, the captain of England says the character they have shown after the loss against Ireland has been brilliant and the performances they have put in has been excellent. States this game was close to perfect and he felt everyone played their part in this game. Adds they wanted to go after the bowlers right from the word go, they have a long batting line-up and that was their plan. Credits Hales for the way he batted and he feels the two complimented each other really well. Ends by saying it is important to enjoy this win but they know there is one more big task to go.
Rohit Sharma, the skipper of India says this loss hurts, they batted well towards the end but it was not enough. States things like this can happen but they just did not turn up with the ball here. Adds it is about handling the pressure in knockout games and the guys have played enough cricket to understand that and one needs to keep calm and they were nervous to begin with the ball. Credits the openers for the way they played. Admits they did get swing but the line and the length were not correct. Ends by saying they showed a lot of character in the first game and also against Bangladesh they won a tricky game but they failed to execute their plans in this one.
Alex Hales wins the Player of the Match award. He says this was one of the best innings he has played, on such a big occasion and he is pleased. States this is one of the best grounds to bat on, especially in the Powerplay and he enjoys batting here. Adds to play the World Cup is a special feeling and he cherishes the moment.
...Presentation coming up...
Earlier in the day, after electing to bowl, the England bowlers made run-scoring tough for the Indian batters. However, a strong finish, thanks to Kohli and Pandya, India got close to 170. That though was chased by the English without breaking a sweat.
India just had no answers to the carnage! They did not get a lot of movement first up and then they were guilty of offering a lot of width to the batters. To add to that, the wicket also eased off. The seamers failed to provide the control their side needed at the start and then the spinners were tackled quite smartly.
169 was just about par but England made it look like India were at least 20 or maybe 30 runs short. Right from the word go, England were on the attack, they got 13 from the first over and just never looked back. It was total carnage after that. Buttler was the one who began but Hales took over. It was Hales' show once he got going and he raced to his half ton. Buttler then followed and as England got closer, he played some shots and two recorded a 10-wicket victory for their side. The key was, they just never got carried away even when the boundaries were flowing, they batted according to the merit of the delivery. Total class from the two English openers.
Total annihilation! If you thought Pakistan's win over New Zealand was convincing, not sure what one would call this. India have been outclassed, outplayed, and humiliated. If we have to be harsh but that is some win to march into the finals for England. Absolutely brilliant! If ever someone needs an example of what is called a perfect run chase, this could be surely one.
15.6 overs (6 Runs) SIX! It goes over Kohli and India have been hammered down as they go back home earlier than they thought! A huge roar from the skipper as he hits the winning runs. This is full and on middle. Jos Buttler smashes it over long on for a biggie. ENGLAND WIN BY 10 WICKETS AND WILL FACE PAKISTAN IN THE FINAL.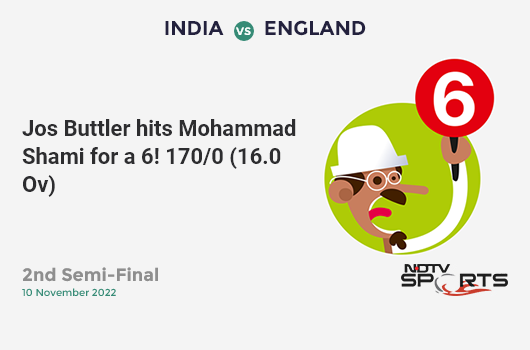 15.5 overs (1 Run) Full and slding down. Hales looks to flick but misses and it rolls to fine leg for a single.
15.4 overs (4 Runs) FOUR! Short and outside off. Hales shuffles in his crease and slashes it to deep cover for a boundary. Matters of when than if now.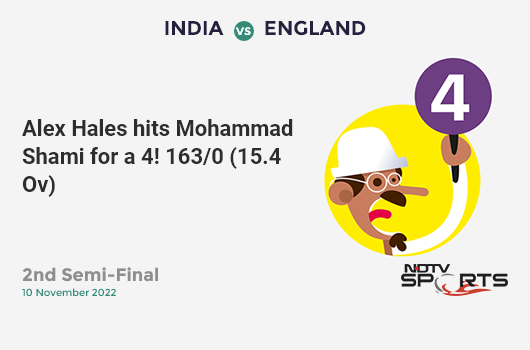 15.3 overs (1 Run) Crunched! Full and outside off, this is driven to long off for a single.
15.2 overs (0 Run) Goes for the slower delivery, short and outside off. Buttler has a poke but misses.
15.1 overs (2 Runs) This is full and outside off. Buttler looks to go over cover but toe ends his shot. The ball falls in front of the fielder. Two runs.
Match Reports
Topics mentioned in this article