Story Progress
Back to home
India vs Bangladesh Live Score Ball by Ball, ICC T20 World Cup 2022 Live Cricket Score Of Today's Match on NDTV Sports
Live Updates of Today Match between India vs Bangladesh from Adelaide Oval, Adelaide. Check commentary and full scoreboard of the match.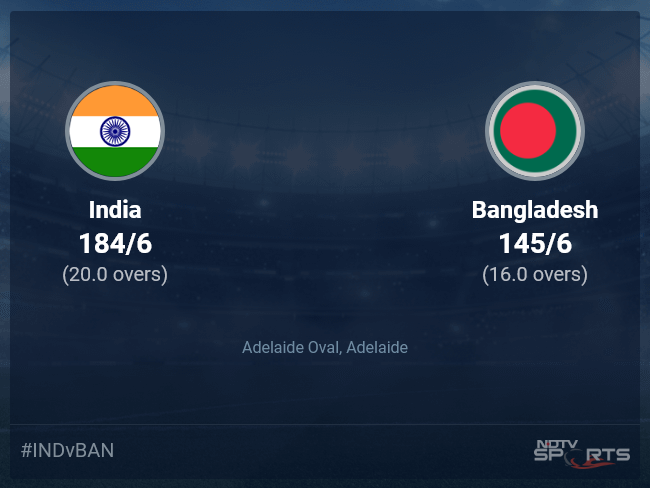 BAN vs IND Latest Score
Follow the ICC T20 World Cup 2022 live cricket score on Sports.NDTV.com. After 16.0 overs, Bangladesh, chasing a target of 185, are 145/6. Get live score, ball by ball commentary and much more. Keep track of ICC T20 World Cup 2022 today match between India and Bangladesh. Everything related to India and Bangladesh match will be available on Sports.NDTV.com. Stay updated with India vs Bangladesh live score. Do check for India vs Bangladesh scorecard. You can get scorecard updates, match related facts. Get quick live updates with ads, Sports.NDTV.com, which is the perfect destination for live cricket score.
Right then, that is all we have from this thriller! The caravan will move to Sydney now and it will be Pakistan going up against South Africa. That game will start at 1.30 pm (8 am GMT) on Thursday, 3rd of November. As you all know, you can join early for the build-up. Till then, it's goodbye and cheers!
Rohit Sharma, the victorious skipper of India is in for a chat. He starts by saying he was calm and nervous at the same time by the end of the game. Adds it was important for the group to stay calm and execute the plans to perfections. Informs when Arshdeep Singh came into the side they asked him to focus on the death bowling role. Adds they prepared him well since the past 6-8 months and adds he backed him in this innings as well. Praises Kohli for the forms he has shown at the biggest stage. Also, says that he is impressed with how KL Rahul batted which is another positive signs. Informs that he thinks their fielding was very crucial with the way the catches were taken under pressure.
Shakib Al Hasan, the skipper of Bangladesh talks about the narrow loss and says that it has been a story when they play against India, they are almost there all the time but fail to cross the line. Adds that it was a great game for the fans and players and applauds Das for the way he played. Tells that India's top four are very dangerous and their plan was to take those wickets early and that is why Taskin Ahmed bowled four overs on the trot at the start. Mentions that they have been pretty relaxed in the dressing room and adds that they played well in this game and would like to do the same in the next game.
Virat Kohli is the PLAYER OF THE MATCH. He says that it was a pretty close game but not as close as they wanted it to be. Goes on to say that he tried to curb his enthusiasm to play risky shots and rather spend some more time at the crease. Adds that he is just in a happy space and is really happy to contribute for the team. Mentions, he was pretty excited to play cricket in Australia and always aims to play good cricketing shot. Informs that he loves to play at this ground. Adds that it makes him feel at home and says Adelaide Oval has been very kind to him.
Time for the Presentation.
Earlier in the game, India posted a big score courtesy of half-centuries by KL Rahul and Virat Kohli. For Bangladesh, Hasan Mahmud took three wickets but overall India were the favourites to win this one going into the second half. They managed to held their nerves after some tense moments in the second half and are right on the track to book a semifinal spot now.
Indian management and their fans would be pretty happy with how the players reacted when they were put under the pump. They were carted all around the ground before the rain break but they lifted their game up after that break and bowled and fielded brilliantly to take this game home. KL Rahul's magical effort in the field was really the turning point but after that Arshdeep Singh bowled brilliantly at the death. Shami too provided a crucial breakthrough and the death bowling which was a concern before the World Cup has been really good so far from the Indians in this World Cup.
There are tears in the eyes of the Bangladesh players and their fans but at one point in time they were the one who were rejoicing as Litton Das came out all guns blazing in this chase. Bangladesh were set a target of 185 initially and they got off to a dream start with Das taking on every Indian bowler with ease. However, the rain gods decided to take the centrestage for some time and Bangladesh then with 10 wickets in hand needed 85 in 9 overs after the game was reduced to 16 overs. However, soon after the break, Das was run out courtesy of a special effort by KL Rahul and after that wickets just kept tumbling. Nurul Hasan in the end, tried his best to take Bangladesh over the line, but it was the case of so near yet so far for Bangla Tigers again.
Wow! This World Cup continues to dish out one thriller after another! What a game this turned out to be. However, much to the agony of the Bangladeshi fans, it is India who have prevailed in this cracker of a game! India now go to the top of the table in this Group 2 and are favourites to take one semifinal spot from hereon. Bangladesh, on the other hand, would feel that they missed out on a golden opportunity to grab two points here. They were in the pole position before the rain break but lost their way after that break and in the end have fallen short despite the late flourish by Nurul Hasan.
15.6 overs (1 Run) INDIA WIN THE GAME! Arshdeep Singh finishes things off in style. It is full, on off. Nurul Hasan lofts it towards mid off. They only take a single. India win by 5 runs with the help of DLS method.
15.5 overs (4 Runs) FOUR! Bangladesh can still force a SUPER OVER with a maximum. Arshdeep Singh fires in a yorker, on fifth stump. Nurul Hasan stays back and slices it through backward point for a boundary.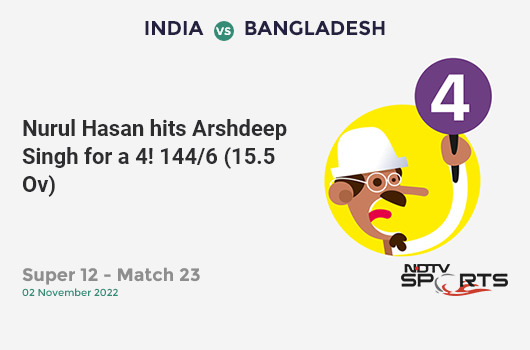 15.4 overs (2 Runs) Arshdeep Singh nails his yorker yet again. Nurul Hasan eases it to long on and gets two runs off it. So, 11 needed off 2. Two biggies to win it.
15.3 overs (0 Run) DOT! A great comeback by Arshdeep Singh. Much better from the bowler. It is a yorker, right in the blockhole. Nurul Hasan is unable to get rid of it.
15.2 overs (6 Runs) SIX! HUGE! There is hope for Bangladesh. Arshdeep Singh comes 'round the wicket and serves a short ball, angling in. Nurul Hasan swivels and makes the most of the short boundary, as he dispatches the ball over the square leg fence.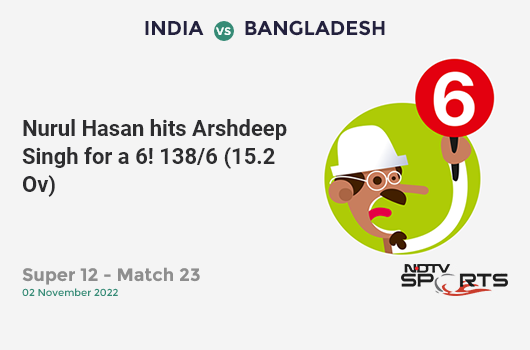 15.1 overs (1 Run) A great start by Arshdeep Singh. A very sharp yorker, in the blockhole. Taskin Ahmed gets an inside edge on it. Dinesh Karthik dives to his right and makes a half-stop. The batters only get a single. Tension all over the ground.
Match Reports
Topics mentioned in this article