Story Progress
Back to home
India vs South Africa: Ravichandran Ashwin Thinks He Has Kept India In The Game
R Ashwin said failure to deliver for his team in the past hit his pride and hoped his three-wicket haul on day one was enough to keep India afloat in the second Test.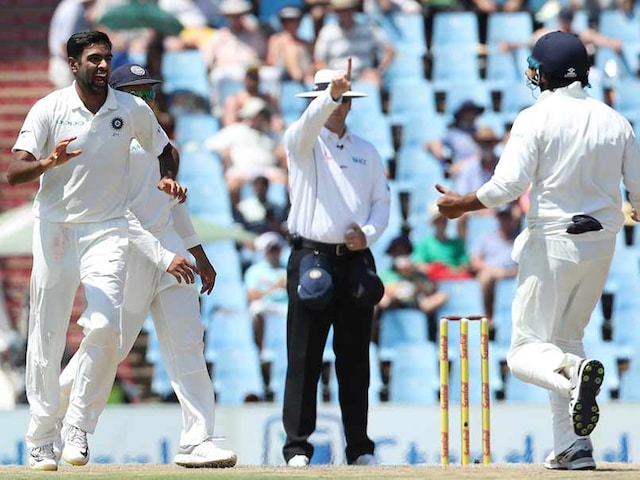 R Ashwin returned with figures of 3 for 90 at the end of the first day of the 2nd Test match
© BCCI
Highlights
R Ashwin was the pick of the bowlers for India

Ashwin returned with figures of 3 for 90 at the end of the 1st day

Ashwin dismissed both the South African openers
Ravichandran Ashwin was the pick of the bowlers for India on the first day of the second Test match against South Africa at SuperSport Park, Centurion on Saturday. Ashwin gave India the first breakthrough after the South Africans got off to a good start. Opting to bat first, Deal Elgar and Aiden Markram saw off the new ball only to fall prey to Ashwin who ended the day with figures of 3 for 90. Ashwin said failure to deliver for his team in the past hit his pride and hoped his three-wicket haul on day one was enough to keep India afloat in the second Test.
On a day when the seamers failed to make much of a dent on a easy-paced wicket, Ashwin showed his class as a bowler as the hosts finished day one at 269 for 6 at stumps.
"I like to think I have kept us in the game. It could have so easily been a game where they could have run away with it after the second session. I like to believe I was just dogged enough," Ashwin said after the day's play.
"I play (only) Test cricket now and I get a lot of break in between. So might as well be ready when I get an opportunity. So, there is no reason to unfasten the seat belt, you are always on," he said, about his preparation for the tour, after not featuring for India in limited-overs' cricket since July.
Ashwin had been subject to a lot of criticism in the past on account of his overseas record. He had gone wicket-less in the Johannesburg Test in 2013, as India had failed to win from an advantageous position on day five.
"It was a reality check in terms of not being able to win a Test match for the country on day five when all things were actually set up for a spinner. It was kind of hit on my professional pride and from there on I knew I had to work on certain things," he said.
"Obviously when you don't take wickets you don't get bull headed and believe things will get better from next time. I am not made that way atleast," said Ashwin, about his previous tour here.
Ashwin said he worked on his bowling and hoped to emerge as a better bowler after this series.
"I worked on making my action a lot more repeatable and I worked on the wrist position at time of release. I also added a few things up my repertoire and used my wrist a lot more when I bowl," he said.
"I used my palm more when I bowl the flipper, etc. Obviously these things have combined over the last few years and I have had a great time over the last 2-3 years.
"I am just taking the confidence forward and I am trying to get better as the day goes and by the end of this series I will be a far better bowler than when I started," he added.
Ashwin said that he had moved on and improved his bowling to be able to make a difference this time around.
Additionally, he credited the county stint with Worcestershire for aiding him in this process.
"The one thing I have comfortably done is to conveniently forget the history about South Africa. I am well over it and I want to put it behind me and stride ahead forward," he said.
"I think my experience of going to England and playing helped because this has been a sort of wicket which you get there especially where I played, at New Road, where it's pretty flat.
"One ball jumps occasionally and goes flat for a pretty long time. My first-class teammates would advice that I have to develop a lot of patience and hearing those things from them was definitely a reality check for me. I have gone through a massive ride over the last eight months and I am in that phase of life where I really want to enjoy my cricket."
Ashwin said the team management had even thought of going with an all-seam attack at one stage.
"Two days from the game it looked like we are going to play an all-seam attack. And then when we walked into the ground yesterday, it was white in colour and the grass was coming off," he said.
"All of a sudden I really had to pull myself back and think I am in the game now. Today morning when we came to the ground, it looked like a wicket that was really flat and had to have a spinner in the game."
South Africa were comfortably placed at 246/3 at one stage. Ashwin bowled a long spell during the first two sessions, and kept India in contention.
He said that it was hard work for the bowlers because the pitch didn't have anything for the pacers.
"Actually I wanted to try and change angles a lot more. There was hardly anything for the fast bowlers at all. If at all there was something, we were trying to get some reverse swing going and try and probably get a few catches in front of the wicket.
"Those are the kind of plans we were thinking but as a spinner I had very little opportunities to try, very little pockets to try. If you got a wicket then for the next 2-3 overs you could try a little bit and put attacking fields and change up," he said.
Explaining his strategy, Ashwin said: "When Amla and Markram, those kind of partnerships were going I was a little reluctant to go from over and round the stumps and change angles. Because at the end of the day, I think I had a bit of cushion there to try all those things.
"Within my mind, this was probably one of the relaxed days of my cricket career. I wasn't really thinking too much and delivering the ball. My only intent was to try and keep it in a particular spot. Try and deliver from different positions in the crease, and I was really enjoying it," he added.
Then, Hardik Pandya's spell changed everything, during which he affected two run-outs while Ashwin got rid of Quinton de Kock for a golden duck.
Promoted
"I think this was a good last session for us. Because I feel those wickets - two run outs, which were extraordinary work by Hardik and bit of luck for us - in the last session are very valid incentive for the team going into day two."
(With PTI Inputs)
Topics mentioned in this article