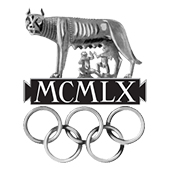 About ROME 1960 Summer Olympics
In the resplendent setting of Rome, Cassius Clay won the light heavyweight boxing gold medal and, in both that name and as Muhammad Ali, became the world's most famous sportsman as professional heavyweight champion.
Abebe Bikila of Ethiopia won the marathon, running barefoot and won again four years later, in shoes. Wilma Rudolph, the 20th of a family of 22 children from Tennessee, won three gold medals. She had suffered from polio, double pneumonia and scarlet fever as a girl.
Herb Eliott of Australia won the 1,500 in a world record -- he was never beaten over the 1,500 or mile.
For the first time since 1928, women's track events did not consist entirely of sprinting with the return of the 800m won by the Soviet Union's Lyudmila Shevtsova.
India's run of 30 Olympic hockey wins without defeat was ended by Nasir Ahmad's 12th minute goal for Pakistan in the final.
These were South Africa's last Games for 32 years because of its apartheid policies.