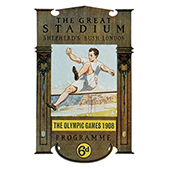 About LONDON 1908 Summer Olympics
London was host for the first time when Rome withdrew. With 1,500 competitors from 19 nations the Games were by now established.
However, there were constant rows between British and American officials and South African Reggie Walker, whose 100m win put an end to four American victories, was greeted like a hero.
Walker, a 19-year-old clerk from Durban, benefitted from training from Sam Mussabini, who was later to coach Harold Abrahams to victory in Paris in 1924.
Lieutenant Wyndham Halswelle, who had fought in the Boer War, became the only man in Olympic history to win by a walk-over when an American was disqualified for obstructing him in the 400m and the other two Americans refused to take part in the re-run. Halswelle was so disgusted he gave up sport. He was killed in World War One fighting in France in 1915.
Political disputes made their entry into the Games when the English tried to prevent the Irish from displaying their flag and the Russians did the same to the Finns.
The most dramatic episode was in the marathon, extended 385 yards to finish in front of Queen Alexandra's royal box. The distance of 26 miles 385 yards (42.195km) later became the norm.
Italian sweetmaker Dorando Pietri was disqualified after being helped over the line by British officials but he was presented with a gold cup by the queen.