Story Progress
Back to home
Royal Challengers Bangalore vs Rajasthan Royals Live Score Ball by Ball, IPL 2021 Live Cricket Score Of Today's Match on NDTV Sports
Live Updates of Today Match between Royal Challengers Bangalore vs Rajasthan Royals from Wankhede Stadium, Mumbai. Check commentary and full scoreboard of the match.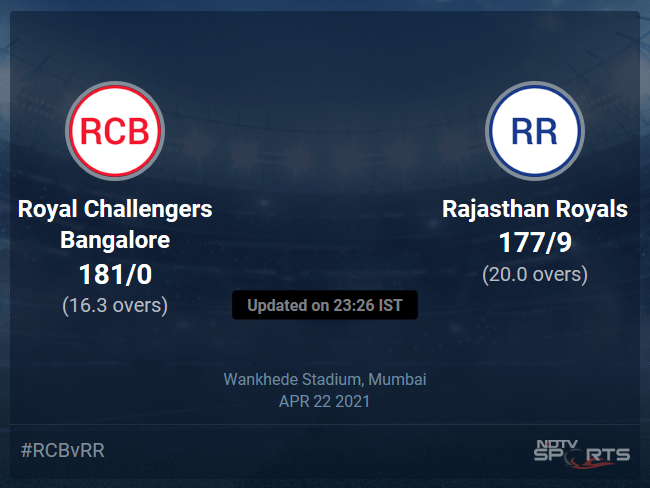 RR vs RCB Latest Score
Follow the Indian Premier League 2021 live cricket score on Sports.NDTV.com. After 16.3 overs, Royal Challengers Bangalore, chasing a target of 178, are 181/0. Get live score, ball by ball commentary and much more. Keep track of Indian Premier League 2021 today match between Royal Challengers Bangalore and Rajasthan Royals. Everything related to Royal Challengers Bangalore and Rajasthan Royals match will be available on Sports.NDTV.com. Stay updated with Royal Challengers Bangalore vs Rajasthan Royals live score. Do check for Royal Challengers Bangalore vs Rajasthan Royals scorecard. You can get scorecard updates, match related facts. Get quick live updates with ads, Sports.NDTV.com, which is the perfect destination for live cricket score.
That is it from this game! A fantastic evening for Bangalore sees them regain their top spot at the top of the league. Rajasthan move to the foot of the table with this humiliating loss. The action in the league continues on Friday, 23rd April. As Punjab takes on defending champions, Mumbai. That game begins at 1930 local (1400 GMT). Make sure you join us for that one. Till then, goodbye and take care!
For his majestic ton, no prizes for guessing, Devdutt Padikkal is named the Man of the Match. Padikkal says that it has been special and all he could do was wait his turn. Adds all he could think when he had covid was to come out here and make the most of the opportunity. Padikkal says that the ball was coming on well and when one gets into a partnership like that it is easier. Padikkal says that there was no pressure when he was approaching as he just wanted the team to win. Adds if he did not get a ton he would not have been sad as the team won. Padikkal says that the conversation was clear. Adds that they click well and tells that rotation of strike is important and that is what they focused on.
Bangalore skipper, Virat Kohli, says that it was an outstanding innings from Padikkal. Tells that there was talk about his acceleration abut he has answered them. Tells he is a great talent and one to watch out for the future. Adds the wicket was great to bat but also says Padikkal played the right shots and the right areas. Kohli says T20 is a game of partnership and tells that when one gets the start the other should rotate strike and do the job and that is what he did. Tells his role was clear to hold from one end and rotate the strike. Kohli says Padikkal told him to finish it off but he told him he would give him the strike as he feels he deserved to get the ton as he played a flawless innings. Adds Padikkal told him he will get a lot more tons in the future but Kohli says he told him to say that after getting his first. Kohli says that they do not have many stand-out names in bowlers but they have effective bowlers. Adds they have depth in their bowling. Adds they have been one of the best bowling side in the death this season and tells they take pride in that. Adds that they saved 30 runs more and feels they deserve a lot of credit. Kohli tells the fans not to get over excited as they are being professionals and taking one game at a time as they know that this is a long tournament and the momentum can be lost.
Stay tuned as we hear from Kohli and hear from the Man of the Match, which we all know who it will be.
Earlier in the evening, in a belter of a track, Rajasthan were put to bat. They struggled to get going and found themselves stuttering at 43/4. The 2008 champions did make a recovery from that slump as they managed to get to a respectable total of 177 on the back of valuable contributions from Dube and Tewatia. That total though was just not good enough on the batting paradise of Wankhede. Siraj was the star with the ball as he did the damage early on and finished with 3/27 from his 4. Harshal Patel added 3 more as he moved ahead in the race for the highest wicket-taker but he was expensive.
Happy and smiling Glenn Maxwell is caught for a chat. He says that he is happy with the team's performance. Adds that the opening stand between Kohli and Padikkal sealed the chase for them. Mentions that he has not taught Padikkal the reverse sweep as he has not had any word with him. Further says that the players are helping the senior guys with the leadership style.
Rajasthan skipper, Sanju Samson, admits they batted well. Tells they came back well with the bat after losing wickets but tells Bangalore played well. Samson says they need to do some homework and have some honest review and come back stronger. Samson says they need to review and ask some questions to themselves but he is hopeful to make a comeback. Samson says that it is about showing heart and character as that is what this sport is about.
A forgetful evening for Rajasthan bowlers. They just did not have any answer as Padikkal and Kohli went after them. They looked out of ideas. Nothing much to actually talk about their bowling. The bowlers got a real pasting as barring Chetan Sakariya every other bowler went for over 9.5 rpo. Just a horror evening for the Rajasthan bowlers, an evening they would like to forget as quickly as possible.
Chasing 178, Bangalore never looked in any doubt. The evening belonged to Devdutt Padikkal. The youngster looked majestic from ball one. He played a gem of a knock along with his skipper as the youngster scored a tremendous unbeaten 101. Kohli initially struggled for timing but with Padikkal taking the pressure off him, he slowly found his groove and got his first fifty of the season, finishing with an unbeaten 72!
Kohli's Bangalore have arrived in Mumbai in Bollywood style! They have bulldozed past Rajasthan with this thumping 10 wicket win and cruised their way back to the top of the table. If one was not believing in Bangalore's might this season, this win will surely make you believe. Rajasthan will now need to bounce back stronger from this demoralizing loss and they know they have been outplayed, outmuscled and outperformed in every facet of the game this evening.
16.4 overs (5 Runs) FIVE WIDES! Full toss down the leg side, Padikkal looks to flick but misses it. It goes past the keeper's dive towards fine leg for a boundary. BANGALORE WIN BY 10 WICKETS!
16.3 overs (1 Run) Full on off, Kohli pushes it towards covers for a single.
16.2 overs (1 Run) NOT OUT! Impact is outside leg! Full toss on leg, Padikkal looks to flick but gets hit on the pads. The bowler appeals for lbw but the umpire shakes his head. Rajasthan review it. Ultra Edge shows there is no bat involved. Ball Tracker shows that impact is outside leg and missing the stumps.
Review time! Looks like a hopeful review.
16.1 overs (4 Runs) FOUR! HUNDRED FOR PADIKKAL! What a knock this has been! A knock he will never forget ever in his life. He has been phenomenal from ball one and he has played  a gem of a knock here. He came into this tournament in sublime form. Did not start off this tournament well but now he has found his groove. Padikkal removes his helmet, raises his bat as all his teammates get on their feet and applaud this knock from this youngster. He then shares a big hug with his skipper. Kohli is as elated as Padikkal who is just soaking in all the applause. He becomes the second centurion of the season and he will look to carry this form for the rest of the season. Fullish ball around off, Padikkal creams his drive through covers to get his maiden ton in the league.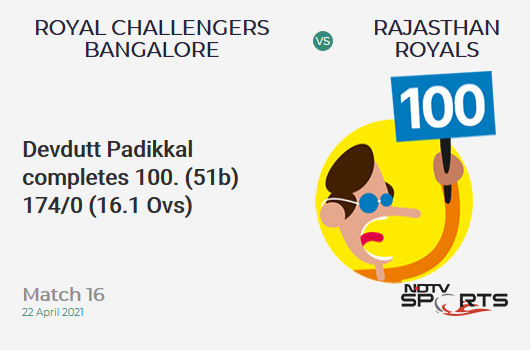 15.6 overs (0 Run) Good length delivery on middle, Kohli looks to flick but gets hit on the thigh pad.
15.5 overs (1 Run) Low full toss on middle, Padikkal flicks it over mid-wicket for a run.
15.4 overs (1 Run) Back of a length on off, Kohli guides it towards short third man for a single.
15.3 overs (1 Run) Yorker on middle, Padikkal digs it out towards long on for a run.
15.2 overs (4 Runs) FOUR! Full delivery on off, Padikkal looks to go big but gets an outside edge. It goes over third man for a boundary.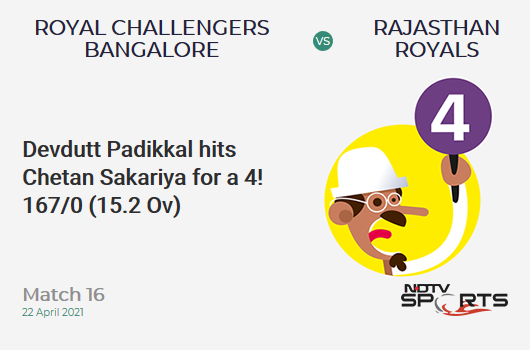 15.1 overs (1 Run) Short delivery outside off, Kohli punches it through covers for a single.
Match Reports
Topics mentioned in this article