Story Progress
Back to home
Rajasthan Royals vs Royal Challengers Bangalore Live Score Ball by Ball, IPL 2021 Live Cricket Score Of Today's Match on NDTV Sports
Live Updates of Today Match between Rajasthan Royals vs Royal Challengers Bangalore from Dubai International Cricket Stadium, Dubai. Check commentary and full scoreboard of the match.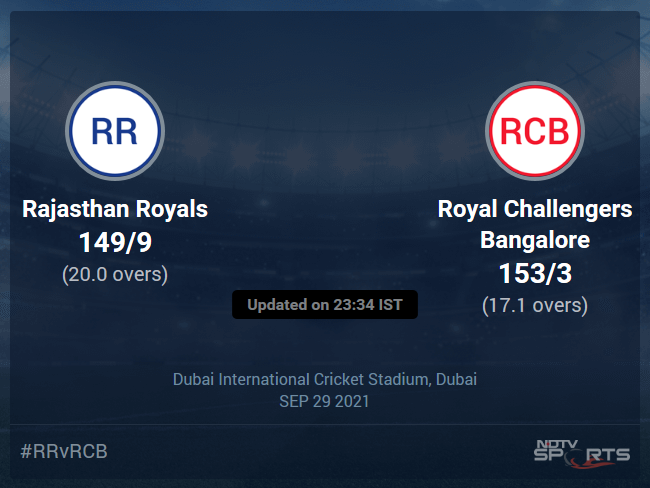 RCB vs RR Latest Score
Follow the Indian Premier League 2021 live cricket score on Sports.NDTV.com. After 17.1 overs, Royal Challengers Bangalore, chasing a target of 150, are 153/3. Get live score, ball by ball commentary and much more. Keep track of Indian Premier League 2021 today match between Rajasthan Royals and Royal Challengers Bangalore. Everything related to Rajasthan Royals and Royal Challengers Bangalore match will be available on Sports.NDTV.com. Stay updated with Rajasthan Royals vs Royal Challengers Bangalore live score. Do check for Rajasthan Royals vs Royal Challengers Bangalore scorecard. You can get scorecard updates, match related facts. Get quick live updates with ads, Sports.NDTV.com, which is the perfect destination for live cricket score.
That's a wrap to this game. We look forward to your company on Thursday for the clash between Hyderabad and Chennai in Sharjah. The action will begin at 6 pm local (2 pm GMT) but you can join us in advance for the build-up. Cheers!
Yuzvendra Chahal (4-0-18-2) has been chosen for the Man of the Match award. The leggie starts by sharing that he came late into the attack as there were two left-handers batting so Virat Kohli planned to go with the medium-pacers. Tells us that he has watched the videos of Mahipal Lomror and it was a plan to bowl wider outside off if he uses his feet. Admits that in the first half of the season, he didn't get wickets regularly but he has backed himself after the break. Mentions that he got his confidence back after the Sri Lankan series and is looking to maintain the same momentum.
Virat Kohli, the victorious captain of Bangalore, says that they have come back strongly in the last two games through their bowlers. Feels that when you hold nerves in tight games, you are heading in the right direction. Tells that it was a very good wicket to bat on. Mentions that 175 here would have been competitive. Regarding the plans when Rajasthan got off to a flying start, Kohli replies that they needed a couple of breakthroughs and knew that things will open up. He terms the wicket of Evin Lewis as the game-changing moment and praises George Garton for showing courage. Mentions that they have been bowling well in the middle overs and the start with the bat has also been brilliant. Ends by saying that they are getting into the groove at the right stage of the tournament.
Glenn Maxwell comes up for a quick chat. The Aussie says that they played really well. Adds that Rajasthan got off to a flying start and to bring them back in the last 10 overs was a great effort. On his personal form, Maxwell tells that he has trained well and it's clicking for him. Shares that the atmosphere in the dressing room is great and it's almost similar with every franchise. States that everyone is chipping in and they are not relying on any one player. Praises Srikar Bharat for his knock and calls him a top-class batsman.
Sanju Samson, the captain of Rajasthan, says that they got a good start but failed to capitalize on that. He adds that their middle order needs to work on and is short on confidence at the moment. Feels that the wicket was two-paced and the batters got out going for some big shots. Mentions that they needed to put up a fight and he is happy with the effort and intent put in the bowling. About their position on the points table, Samson replies that they don't have anything to lose and can express thenselves freely now. Signs off by saying that funny things can happen in the Indian T20 League and they need to fight till the last match.
This win for Bangalore was set up by their bowlers. The way they pulled things back and clipped the wings of the high-flying Rajasthan at one stage was exceptional. Their bowling after the 11th over mark brought down Rajasthan and restricted them to just 149 on a good batting pitch. The chase started in an extraordinary manner too with both Virat Kohli and Devdutt Padikkal forming a handy stand. They stuttered slightly after losing Padikkal as Kohli was also sent packing soon after that by a direct throw from Riyan Parag. Rajasthan though failed to capitalize on that moment as the pair of Srikar Bharat and Glenn Maxwell stitched in a mature partnership to take the wind out of their sail. Towards the end, we got to see the 'Big Show' in full throttle as he hammered Chris Morris left, right and centre to finish the chase with 17 balls to spare.
Yet another convincing victory for Bangalore! A neat and clean chase from them and they have grabbed two crucial points. They stay third at the moment but would be feeling a lot better now after a bumpy start to the second leg. Bangalore have now opened up a 4-point gap with both Kolkata and Mumbai on the table and have got some breathing space.
17.1 overs (4 Runs) FOUR! AB de Villiers finishes things off in style! That will be all. Floated ball, on middle, AB de Villiers gets down on one knee and sweeps it behind square leg for a boundary. Bangalore win by 7 wickets!
16.6 overs (4 Runs) FOUR! Crunched! Fifty for Glenn Maxwell! He has become Mr Consistent for Bangalore. Very full in length and on middle, Maxwell brings his bottom hand into play and bludgeons it down the ground for a cracking boundary. 22 from the over, only one needed more to cross the line.
16.5 overs (4 Runs) FOUR! Edgy! Few words are being exchanged here between Maxwell and Morris. Short and around off, Maxwell opts to pull but top-edges it behind the keeper for a boundary.
16.4 overs (2 Runs) Slower ball, on off. Maxwell whips it to deep mid-wicket. Liam Livingstone slides to his right to stop the ball. He keeps it down to two runs.
16.3 overs (4 Runs) FOUR! Maxwell wants to finish things in a hurry. Too short, on middle. Glenn Maxwell helps his attempted pull shot behind square leg for a boundary.
16.2 overs (2 Runs) Very full, outside off. Maxwell goes after it again but gets an outside edge instead. The ball goes past the keeper to third man. The batters collect a brace.
16.1 overs (6 Runs) SIX! BANG! Overpitched ball, outside off. Glenn Maxwell whips it with disdain over deep mid-wicket. The strong bottom hand comes into play and the Aussie gets a biggie.
AB de Villiers walks out at number 5. Also, a bowling change for Rajasthan. Chris Morris comes back into the attack.
15.6 overs (0 Run) OUT! CAUGHT! A wicket too late for Rajasthan. Mustafizur Rahman serves a short ball, on middle. Srikar Bharat gets into the line of the ball and pulls it but with no conviction as he gets a top edge. The ball goes towards fine leg where the substitute fielder, Anuj Rawat, completes the catch.
15.5 overs (1 Run) Yet another slower ball, on the pads. Glenn Maxwell nudges it to mid-wicket for one.
15.4 overs (0 Run) Good-length ball on middle, Maxwell gets across to work it on the leg side but wrists it back towards the bowler who does well to collect the ball in his follow-through.
15.3 overs (1 Run) On a length, around off at 113.3 kph. Srikar Bharat punches it through covers for a single.
15.2 overs (1 Run) On a length, on middle. Glenn Maxwell tucks it on the leg side for one at square leg.
15.1 overs (1 Run) An off-cutter on off, Srikar Bharat plays it nicely towards long off for a single.
Match Reports
Topics mentioned in this article