Story Progress
Back to home
Rajasthan Royals vs Punjab Kings: IPL 2021 Live Cricket Score, Live Score Of Today's Match on NDTV Sports
Live Updates of Today Match between Rajasthan Royals vs Punjab Kings from Wankhede Stadium, Mumbai. Check commentary and full scoreboard of the match.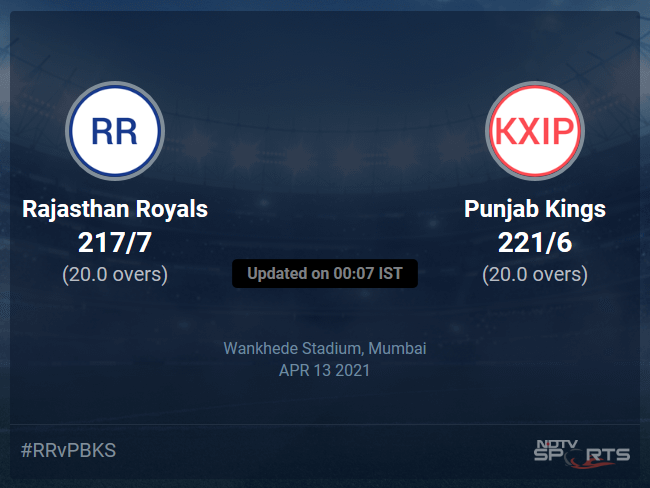 RR vs PBKS Latest Score
A dedicated team of experts bring you live score, live cricket score, live match update on Sports.NDTV.com. After 20.0 overs, Rajasthan Royals, chasing a target of 222, are 217/7. The live updates of Rajasthan Royals vs Punjab Kings scorecard is also available. It is the perfect platform to follow your favourite teams in Indian Premier League 2021. Keep a track on your favourite batsmen and bowlers through Indian Premier League 2021 today match, ball by ball commentary, Rajasthan Royals vs Punjab Kings, Rajasthan Royals vs Punjab Kings live score, Rajasthan Royals vs Punjab Kings scorecard. Follow the excitement of the Indian Premier League 2021 on Sports.NDTV.com as you can follow live match updates and live cricket score through our platform.
That is it from this game! KL Rahul's Punjab get off to a winning start albeit in a nail-biting manner. Sanju Samson's captaincy career starts with a heartbreaking loss but they will take a lot of heart from this game and look to bounce back in their next game. On Tuesday, 13th April, 2-time champions, Kolkata take on 5-time champions and defending champions Mumbai. That promises to be a great game. That match begins at 1930 local (1400 GMT). Make sure you join us for that one. Till then, goodbye and take care!
For his brilliant century, Sanju Samson is named the Player of the Match. Samson says that he was struggling in the first half to get going. Tells he accepted they were bowling well and slowly got into their rhythm. Sanju says he really enjoyed his shot but came back to reality soon. Tells when he is in the zone, things naturally happen for him and he is very happy to play in that manner. Samson says it is about trusting oneself and he just believed in himself. Samson says his mind was playing not his body.
Punjab skipper, KL Rahul, says that the heart rate was high but says he never stopped believing as they knew a couple of wickets would get them back in the game. Tells the game went so deep as they dropped a few sitters. Tells he was happy with the bowlers. Rahul says they are used to this and feels a game like this brings the team together. Admits they made some mistake. Feels they bowled well in patches but is hopeful that they learn from their mistake as this is a young team and they need to give chances. Tells Hooda's innings was amazing and says that is the kind of batting they want to see this season. Tells it is important for them to go and play fearlessly. Adds Gayle looked good. Rahul says he has always gone to Arshdeep fpr crucial overs and he does not mind bowling those overs as he has delivered in the past for them. Rahul says he is happy with Arshdeep's performance.
Earlier in the evening, Punjab were asked to bat and bat they did. KL Rahul led from the front and his 91 along with 40 from Gayle put Punjab in a strong position. But Hooda's 64 off just 28 balls proved to be the main difference as Punjab finished with a massive total of 221. A score that was massive and just about enough to win the game for Punjab. It was a tough evening for the Rajasthan bowlers but debutant, Chetan Sakariya showed his skills and talent and his final over in the first innings and overall display denied Punjab from crossing 225!
Punjab's hero of the final over, Arshdeep Singh is now caught for a chatl. Arshdeep says that his heart was beating a bit. Adds that he tried to execute his plans and it paid off. Mentions that the captain has been supportive and the staff have also supported him well. Further says that his form was good in the 20-over format and that helped him. Arshdeep also says that it is good to get the 2 points.
Rajasthan skipper, Sanju Samson is up for a chat. Sanju Samson, says he is disappointed with the loss as it was a close one. Adds that he could not time the last ball properly and that is why he got out. Mentions that they played well and gave a good fight. Further says that it is all about timing and if you get that you can hit the ball properly.
Take a bow, Arshdeep Singh! In only his second season, the youngster showed nerves of steel, calmness of a veteran, and execution of a superstar! His superb final over has seen Punjab start the season with a fantastic win. Shami and Arshdeep were the star with the ball picking up 2 and 3 wickets respectively and also going for just 68 from their 8 overs. Murugan Ashwin bowled well but his final over spoilt his figures. The Australian duo of Riley Meredith and Jhye Richardson had a tough outing especially Richardson who went for 55 in his 4. But the Punjab boys have managed to hold their nerves and get the win.
Chasing a massive total of 222, Rajasthan got off to a terrible start as they lost Stokes in the very first over and Manan Vohra not too long after. Buttler and Samson though kept things going with a 45-run stand before Buttler departed. Samson, the skipper, held one end like glue. His blistering century along with vital contributions from Dube and Parag kept the Rajasthan side in the game. Samson's 119 though was not good enough as they fell just short, right in front of the finishing line.
What a fantastic game! Wow! What a fantastic chase! This game promised to beat the Monday blues and hasn't it lived up to the expectation! A majestic ton from the new Rajasthan skipper, Sanju Samson cannot see his side over the line as Arshdeep Singh has bowled a fabulous final over and won the game for Punjab! New name, new players, and the Punjab franchise have started the campaign with a thrilling win.
19.6 overs (0 Run) OUT! CAUGHT! Arshdeep Singh gets his third wicket! Full delivery on off, Samson lofts it over covers but does not get the distance on it. It goes towards the fielder where Deepak Hooda takes a good catch. PUNJAB WIN BY 4 RUNS!
19.5 overs (0 Run) What has Sanju Samson done here? He has refused to take the run and now Rajasthan need a biggie to win the game while a boundary will take it to a Super Over! Full around off, Samson hits it to long off. Morris comes for a run but he is sent back.
19.4 overs (6 Runs) SIX! That is clobbered! Full and outside off, Samson lofts it over covers for a biggie.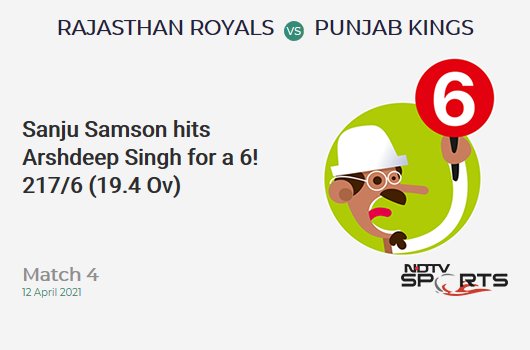 19.3 overs (1 Run) Full toss outside off, Morris drives it towards covers for a single.
19.2 overs (1 Run) Full delivery outside off, Samson lofts it over point for a single.
19.1 overs (0 Run) PLAY AND A MISS! Full and outside off, Samson looks to swing at it but misses it.
Who will bowl the final over? It will be Arshdeep Singh!
18.6 overs (0 Run) PLAY AND A MISS! Full and outside off, Morris looks to go big but misses it. Rajasthan need 13 runs in 6 balls!
18.5 overs (1 Run) Back of a length on off, Samson punches it through covers for a run.
18.4 overs (6 Runs) SIX! That is hammered! Short delivery on middle, Samson pulls it over mid-wicket for a maximum.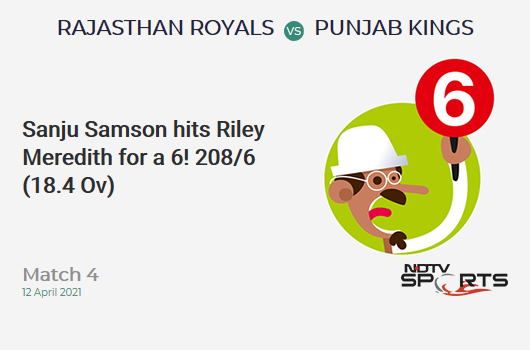 18.3 overs (1 Run) Short delivery outside off, Morris punches it through point for a single.
18.2 overs (0 Run) Length delivery on off, Morris looks to punch but gets a bottom edge to the off side.
The most expensive buy in the history of the league, Chris Morris is out to bat.
18.1 overs (0 Run) OUT! CAUGHT! Meredith gets his first wicket! Full and outside off, Tewatia looks to go big but gets an outside edge. It goes towards the keeper where Rahul takes a comfortable catch.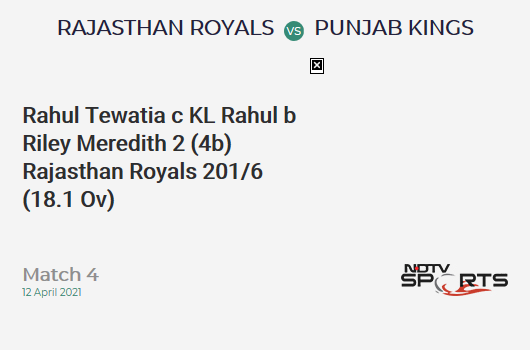 Crucial over. The penultimate over of the innings and it is going to be Riley Meredith who will bowl it.
17.6 overs (1 Run) Very full outside leg. Follows Tewatia as he shuffles outside his stumps. Rahul places it to the on side and keeps the strike. 19 off the over and Rajasthan need 21 off the final 2 overs to win this game.
17.5 overs (1 Run) Yorker! Much better. It is on middle. Samson manages to nudge it to long on for one. Brings up the 200 for Rajasthan.
17.5 overs (1 Run) WIDE! Jhye's tough night continues. He misses his line and bowls it down the leg side. Samson looks to flick but misses.
17.4 overs (2 Runs) Better. Yorker on middle, Samson flicks it through mid-wicket for a brace.
17.3 overs (4 Runs) FOUR! HUNDRED FOR SANJU SAMSON! His first as skipper, third overall and he becomes the first man to score a ton this season. What a phenomenal knock this has been from the Kerala lad adopted with love by the Rajasthan franchise. The skipper has led from the front and kept this game alive. Full and wide outside off, Samson places it past short third man to reach his ton. A huge applause from his teammates as they know this gem of a guy has played a gem of an innings.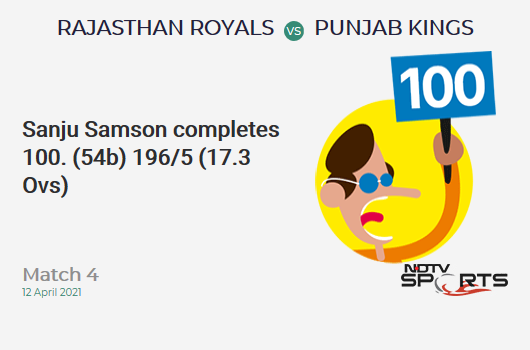 17.2 overs (6 Runs) SIX! SMOKED! Moves to 98 and becomes the highest scorer by a captain on his captaincy debut. Full on off, a half-tracker, Samson smokes it over long off for a biggie.
Jhye Richardson is back on.
17.1 overs (4 Runs) FOUR! Beautifully played! The skipper is setting an example in his very first game. Slower ball outside off, Samson frees his arms and slices it over extra cover for a boundary.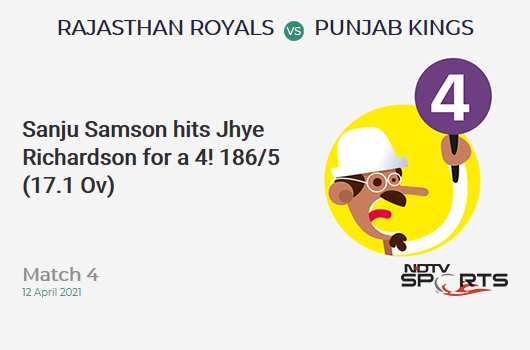 16.6 overs (1 Run) Mistimed but safe! Excellent over especially in the context of this game. Not just 8 runs off it but also the big wicket of Parag. The last ball is on a length. Samson slices his pull towards mid-wicket for a single.
16.5 overs (4 Runs) FOUR! Samson did not even move. Shami misses his yorker by a bit and he ends up bowling a juicy half-volley. Samson smashes it away from long on and gets a boundary.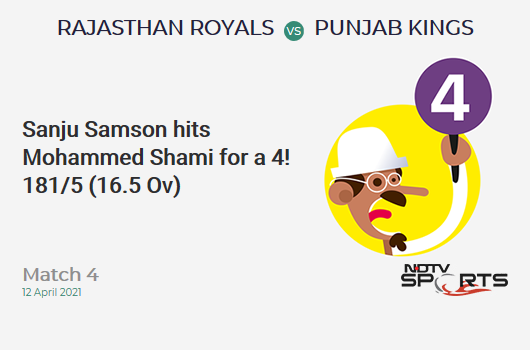 16.4 overs (1 Run) Just a single now. Full on middle, Tewatia punches it straight down the ground for one.
16.4 overs (1 Run) WIDE! Misses his line this time. He bowls it full but down the leg side.
16.3 overs (0 Run) Yorker on off. Tewatia cannot do much but just jam it back to the left of the bowler.
Rahul Tewatia is the new batsman in.
16.2 overs (0 Run) OUT! CAUGHT BEHIND! Shami was brought in to take a wicket and the experienced man has delivered. Another short ball but this one is skiddier, pacy, and also bang on the money. Too close to Parag's body. He looks to hook but gets a glove on it which goes straight to the keeper. Rahul takes the catch and is this the over that changes the fate of this game? End of a fantastic knock from Parag but is it good enough?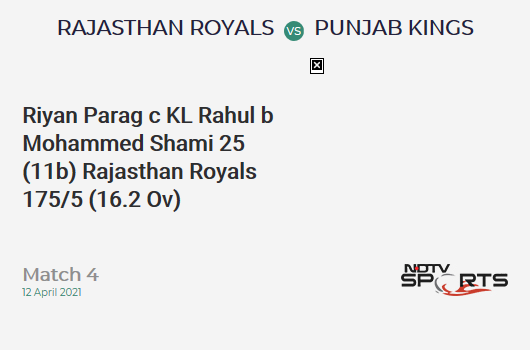 16.1 overs (0 Run) Better from Shami! Back of a length delivery again from the pacer but this is on middle and leg. Parag comes inside and looks to lift it over fine leg but misses.
16.1 overs (1 Run) WIDE! Faulty start for Shami! He bangs it slightly shorter but misses his line and bowls it down the leg side. Parag swings but gets nothing.
STRATEGIC TIME-OUT! Rajasthan have been going strong. Samson and Parag have been going strong. Riyan Parag is on fire here. On the other hand, Punjab need to break this partnership to make a comeback into the match. They need wickets in clusters to win this match.
15.6 overs (1 Run) Single to end the over. 20 from it and Punjab are under pressure now. Back-to-back 20-run overs changed the game for Punjab. Is this the one that turns the game in Rajasthan's favor. Flatter on middle, Parag whips it to the leg side and keeps the strike. 48 needed in 24 balls now.
15.5 overs (6 Runs) SIX! This is right out of the screws! Flighted around off, Parag gets down on his knee and this time hits it where he wants. He wanted to smash it over long off and he smashes it over long off for a biggie.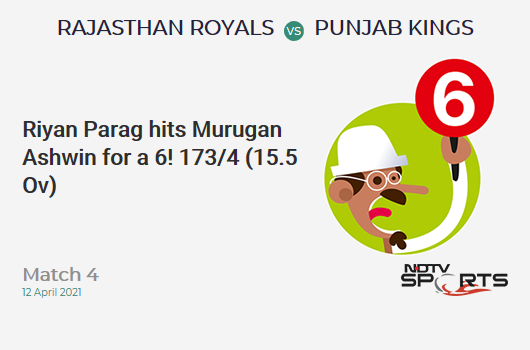 15.4 overs (6 Runs) MISTIMED BUT SIX! This is insane! Floated delivery outside off, Parag swings and looks to smack it over long on. It takes the outer half of his bat. It looks like Hooda at long off has a chance but no he does not. It has enough on it to sail over him and over the ropes.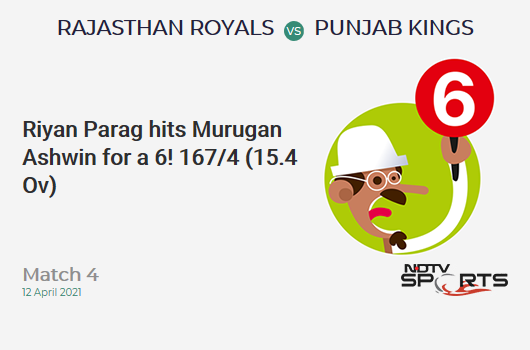 15.3 overs (0 Run) NOT OUT! Riyan Parag's back leg has gone nowhere. Short in length. It is a googly. Parag swings hard at it but misses. Rahul whips the bails. The square leg umpire goes upstairs but finds nothing.
An appeal for stumping! Riyan Parag is the man in question. Replays show that his back leg is inside the crease.
15.2 overs (1 Run) Very nice says KL Rahul from behind the stumps. He bowls it slower and in the good length area. Samson whips it against the turn to deep mid-wicket for a single.
Murugan Ashwin is back on.
15.1 overs (6 Runs) SIX! SMASHED! Perfect start to the over. A leggie at this stage is a gamble. Flighted full, in the arc for Samson. He slaughters it straight down the ground for a biggie.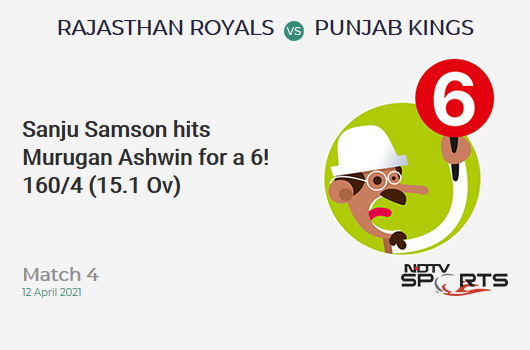 Match Reports
Topics mentioned in this article