Story Progress
Back to home
Punjab Kings vs Sunrisers Hyderabad Live Score Ball by Ball, IPL 2021 Live Cricket Score Of Today's Match on NDTV Sports
Live Updates of Today Match between Punjab Kings vs Sunrisers Hyderabad from MA Chidambaram Stadium, Chennai. Check commentary and full scoreboard of the match.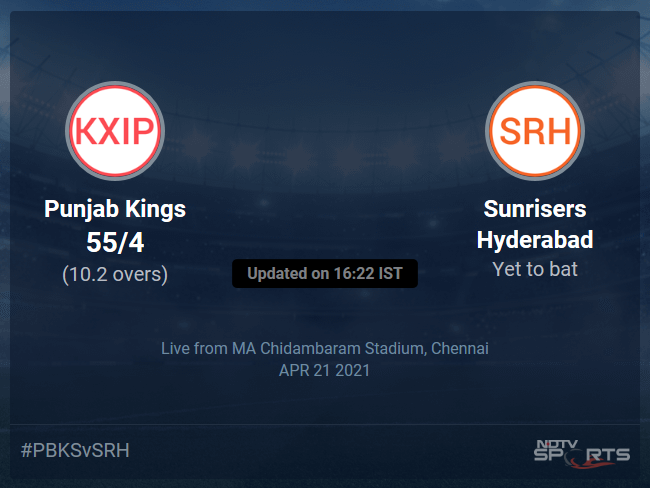 SRH vs PBKS Latest Score
Follow the Indian Premier League 2021 live cricket score on Sports.NDTV.com. After 10.2 overs, Punjab Kings are 55/4. Get live score, ball by ball commentary and much more. Keep track of Indian Premier League 2021 today match between Punjab Kings and Sunrisers Hyderabad. Everything related to Punjab Kings and Sunrisers Hyderabad match will be available on Sports.NDTV.com. Stay updated with Punjab Kings vs Sunrisers Hyderabad live score. Do check for Punjab Kings vs Sunrisers Hyderabad scorecard. You can get scorecard updates, match related facts. Get quick live updates with ads, Sports.NDTV.com, which is the perfect destination for live cricket score.
9.6 overs (1 Run) Floated on leg, Henriques comes down the track and strokes it to through cover and keeps the strike. Halfway of the innings done and it is the orange of Hyderabad that has dominated the game so far. Punjab are stuttering at 53/4.
9.5 overs (1 Run) Shorter on middle, Hooda milks it to long on and rotates the strike.
9.4 overs (1 Run) Tossed up on middle, Henriques knocks it to long on for one.
9.3 overs (2 Runs) Good running between the wickets! Moises Henriques gets his first runs for Punjab! Shorter on middle and leg, Henriques punches it away and in front of long on. They call for two and they get it with ease.
9.2 overs (0 Run) Tossed up on middle and off. Henriques pushes it back to the bowler.
9.1 overs (1 Run) Floated on off, Hooda glances it to the leg side for one.
Bowling change! Abhishek Sharma is back on.
8.6 overs (0 Run) Another attempted sweep, another miss, and another appeal is turned down. Slightly shorter than the previous one. This too is a googly. Henriques once again tries to sweep but misses. There is a huge appeal from Rashid but umpire Nitin Menon is once again not keen.
8.5 overs (0 Run) Appeal for LBW but turned down! Flighted outside off and this is once again the wrong 'un. Henriques looks to drag his sweep from there but misses. It hits him on the back pad but outside the line of off stump.
Strategic Time Out! A superb phase for Hyderabad! They first did superbly well to keep the scoring rate under check in the Powerplay while Bhuvneshwar Kumar sending KL Rahul back to the hut. And after that, they have got the better of Agarwal, Pooran and dangerous Gayle as well. Hyderabad are clearly dictating the terms here. Bhuvneshwar was superb in his 3-over spell while Rashid has got the wicket of Universe Boss in his first over to force Punjab on the back foot. Can they get a couple more quickly to completely get on top of Punjab? Or will we witness a comeback from Punjab? Interesting phase coming up. Moises Henriques has joined Deepak Hooda in the middle.
8.4 overs (0 Run) OUT! LBW! Rashid strikes in his very first over and it is the big Jamaican, it is the Universe Boss, Chris Gayle! 5th time Rashid has got the better of Gayle and Punjab are in all sorts of trouble here. Floated delivery which is fuller. Gayle leans forward to defend. He misses it completely and the ball hits him on the front pad. A huge appeal follows and umpire Nitin Menon raises his finger. Gayle has a chat with Hooda but they both seem to think Gayle is a goner. The West Indian does not review it and slowly makes the long walk back to the dug out. Hyderabad are all over Punjab in this game.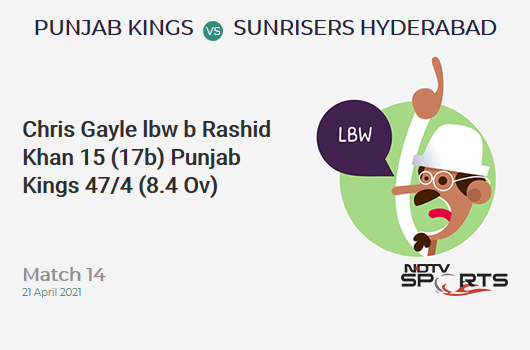 8.3 overs (0 Run) Darted quicker on the pads. Gayle looks to flick but misses and gets hit on the pad. This one turned sharply and will put a lot of questions in the batter's mind now.
8.2 overs (1 Run) Floated on off and middle. Hooda sweeps it to square leg for one.
8.1 overs (1 Run) Rashid starts with a googly outside off. Gayle knocks it to long off for one.
Bowling change! Here's Rashid Khan. Gayle vs Rashid, this is going to be an exciting over.
7.6 overs (1 Run) INSIDE EDGE AND SAFE! Fullish ball on off, Gayle looks to flat bat it to the off side. The ball though is too close to him. It takes the inside edge and goes past the stumps to fine leg for a run.
7.5 overs (0 Run) Good length delivery on off, Gayle taps it to point. Hooda calls a loud no for any ideas of a run.
7.4 overs (1 Run) In the air but safe again! This time Hooda goes over extra covers. Luckily for him it falls away from the man running to his left from long off. Single taken.
7.3 overs (4 Runs) IN THE AIR AND JUST OVER! FOUR! Shortish ball on the body. It sits up well for Hooda as it is at waist height. Hooda hooks it over fine leg. Kaul there is standing well in front of the ropes. He jumps and stretches his right hand but it goes over him and bounces just inside the ropes.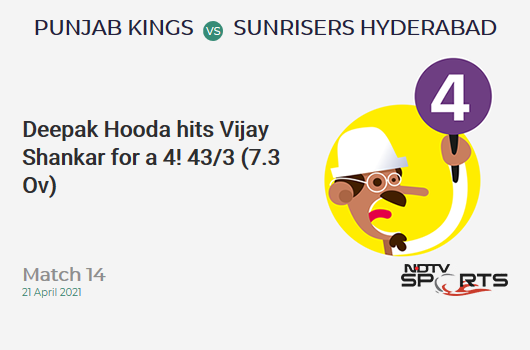 7.2 overs (0 Run) Length ball on off, Hooda blocks it.
Who is in next? Deepak Hooda joins Gayle in the middle now.
7.1 overs (0 Run) OUT! RUN OUT! Fantastic piece of work from Warner. He had one stump to aim at and he has hit the bull's eye. Pooran departs for a duck for the third time this season. His horrible season continues. To make matters worse for him, this time it is a diamond duck. Length ball on off, Gayle taps it to the right of short cover and calls for a quick run. Warner gets to the ball quickly and fires a direct hit from there. Pooran is well short of his crease but the square leg umpire goes upstairs to be 100 percent sure and replays find everything to be perfect.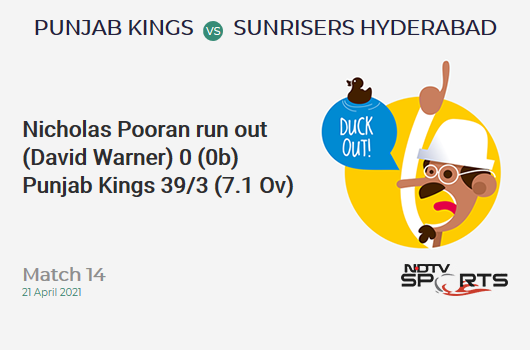 Another wicket? Hyderabad are celebrating. The third umpire has been called for. It is for a run out. Looks like Pooran is a goner here. He wasn't hanging around either but the umpires asked him to wait. A couple of replays and it is good enough for the TV umpire to give him the marching order.
Nicholas Pooran is in now. Also, Vijay Shankar comes to bowl now.
6.6 overs (0 Run) OUT! CAUGHT! Clean as a whistle! Rashid dropped Mayank in the very first over for duck but this time he has taken a very good catch to send back the Punjab opener. Khaleel bangs it shorter but takes the pace off the ball. Mayank looks to pull but the lack of pace sees him hit his pull uppishly towards short mid-wicket. The ball falls on its way to Rashid Khan there. He dives and takes a good low catch. Mayanl waits for the umpire's call. No soft signal but Rashid says he has taken it cleanly by raising his finger. The umpires go upstairs and replay finds Rashid's catch to be very clean.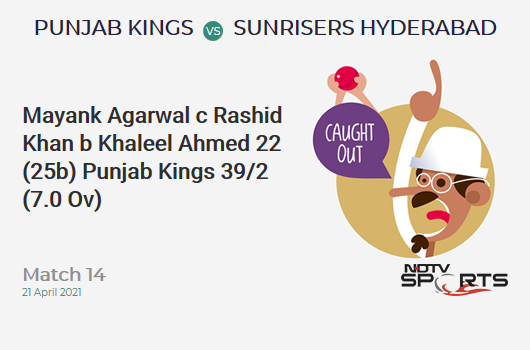 Is that a clean catch? Rashid is celebrating but Agarwal is not going anywhere. Well, replays show that he will have to go. It is a clean catch.
6.5 overs (1 Run) Much better. Length ball around off, this one shoots up a bit off the deck. Gayle adjusts himself well and then taps it behind point for a run.
6.4 overs (4 Runs) FOUR! Too straight on the leg side. You never bowl there especially not to Gayle. The Universe Boss stays steady and works it fine down the leg side for a boundary.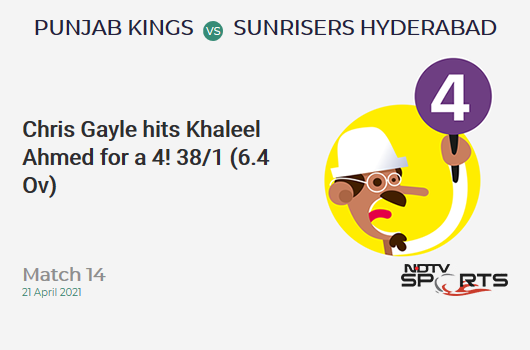 6.3 overs (1 Run) Fuller on middle, Mayank nudges it away from mid on for one.
6.2 overs (1 Run) Fuller on middle, Gayle works it to the on side for a single.
6.1 overs (0 Run) Khaleel starts his new spell with a length ball on off. Gayle defends it.
Bowling change! Khaleel Ahmed is back for his 2nd over.
5.6 overs (0 Run) Good length delivery on off, Mayank pushes it to mid off. Another very good over from Bhuvi. Just 6 from it. Very good start from Hyderabad. Punjab are 32/1 at the end of the Powerplay. Usually this is the best phase to bat on this pitch but Punjab have got off the blocks slowly.
5.5 overs (0 Run) On middle, Mayank goes on his back foot and defends it.
5.4 overs (0 Run) Good length delivery on off, Mayank taps it towards point and comes out for a quick run. Maybe he forgot it is not Rahul but Gayle at the other end so quick singles might not be available. The Universe Boss sends him back quickly.
5.3 overs (2 Runs) This time Mayank punches it through covers. Warner cleans it up before the ropes. Two taken.
5.2 overs (4 Runs) EDGED AND FOUR! Unlucky for Bhuvi but Mayank is surely riding his luck this afternoon! Slower ball pitched on the surface outside off. Mayank goes hard at it as he looks to slap it through the off side. He gets a fat outside edge which goes between the keeper and short third man for a boundary.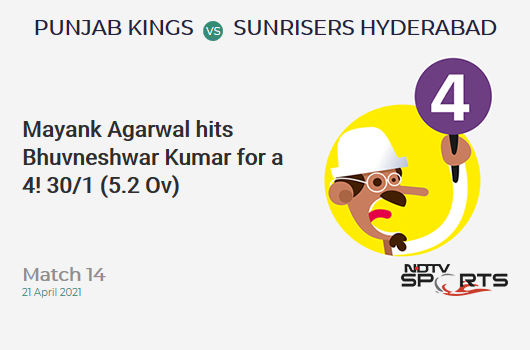 5.1 overs (0 Run) Fullish ball on middle. Mayank pushes it to mid off.
Match Reports
Topics mentioned in this article