Story Progress
Back to home
Punjab Kings vs Sunrisers Hyderabad Live Score Ball by Ball, IPL 2021 Live Cricket Score Of Today's Match on NDTV Sports
Live Updates of Today Match between Punjab Kings vs Sunrisers Hyderabad from MA Chidambaram Stadium, Chennai. Check commentary and full scoreboard of the match.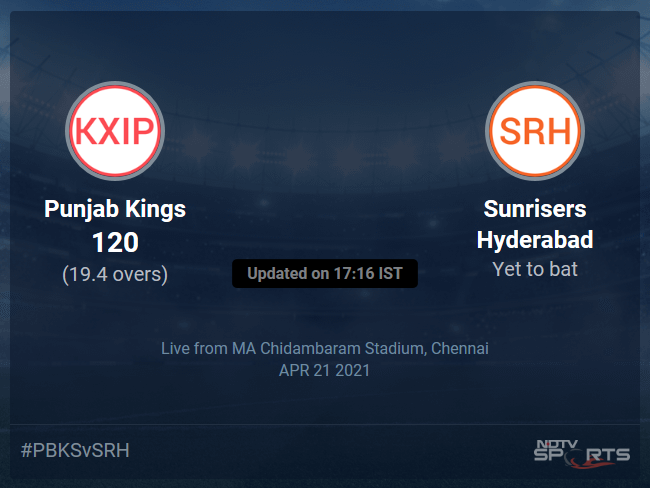 SRH vs PBKS Latest Score
Follow the Indian Premier League 2021 live cricket score on Sports.NDTV.com. After 19.4 overs, Punjab Kings are 120. Get live score, ball by ball commentary and much more. Keep track of Indian Premier League 2021 today match between Punjab Kings and Sunrisers Hyderabad. Everything related to Punjab Kings and Sunrisers Hyderabad match will be available on Sports.NDTV.com. Stay updated with Punjab Kings vs Sunrisers Hyderabad live score. Do check for Punjab Kings vs Sunrisers Hyderabad scorecard. You can get scorecard updates, match related facts. Get quick live updates with ads, Sports.NDTV.com, which is the perfect destination for live cricket score.
Right! Punjab do not have a big score on the board. Hyderabad will think that they have done a superb job and are in a strong position. Will they be able to open their account on the points table or will we see Punjab defending this small score. As they say, it is not over until it is over. So, wait and watch. The second innings will be on your way shortly.
Abhishek Sharma is caught for a little char. He says he has been practicing to bowl with the new ball since childhood and it was his dream to bowl with the new ball in this league and he is happy to have done it. Abhishek says that his process was to bowl into the wicket and he is happy to have done it. Sharma says that Rashid tried hard to take the catch of Mayank and hopes he can get it next time. Tells he has been practicing to bowl the sliders and he is happy that it is coming off.
Hyderabad were brilliant with the ball. Bhuvneshwar Kumar set the tone with an early wicket. Credit to the skipper Warner for effective bowling changes. Rashid was, as usual, superb in his 4 overs. He accounted for the big wicket of Gayle. Khaleel was the pick of the bowlers for Hyderabad as he picked up 3.Sharma bowled a fine 4-over spell too and got 2 wickets. Overall, a fantastic bowling performance from Hyderabad and has ensured that their batters aren't chasing a big score.
After winning the toss, Rahul opted to bat first but couldn't do much himself and departed early. Agarwal and Gayle spent some time in the middle but couldn't free their arms. Agarwal fell and Punjab lost the way completely. They just kept losing wickets regularly and could never recover. Shahrukh Khan stayed in the middle for a while but he took could never get going. Apart from Agarwal, he was the only batter to get into the 20s.
Excellent bowling performance from Hyderabad and they have stopped Punjab to a very low score. Superb from all the bowlers as they all chipped in and have done their job amazingly. Punjab just never got going and find themselves close to another defeat, unless their bowlers decide to do some magic.
19.4 overs (1 Run) OUT! RUN OUT! Good piece of work from Jonny Bairstow. He almost made a mess of it but has done well in the end. Fullish ball outside off, Shami plays it behind point. He runs the first one hard and makes a late call for the second. Vijay Shankar gets the ball quickly and sends a good throw at the keeper's end. Bairstow disturbs the stumps with his leg initially but collects the ball in front of the stumps and disturbs the stumps. PUNJAB ALL OUT FOR 120!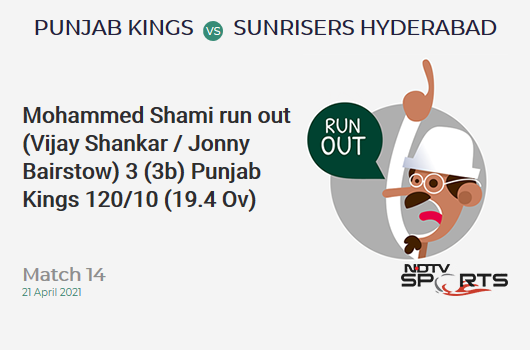 Review time! GONE! Bairstow did hit the stumps before the ball arrived in his hands with his pads but he has done that with the ball in his hand as well. Shami is short.
19.3 overs (1 Run) Slower delivery on off, Arshdeep is early in his shot. He chips it over mid off but it falls in no man's land so a run.
19.2 overs (4 Runs) FOUR BYES! Sloppy from Bairstow. Punjab will not care one bit though as these can be the differential runs. Slower ball outside off, Arshdeep looks to play but misses. Bairstow does not bend as he expects the ball to bounce. It does not. It goes right between his legs and to the fence.
Arshdeep Singh is the last man in.
19.1 overs (0 Run) OUT! EDGED AND taken! Kaul joins the party as well. He has had a tougher outing than his teammates with the ball but he has got the wicket and has something to smile as well. Full and wide outside off. Away from Ashwin's swinging arc. Ashwin still swings but gets a thick outside edge. Bairstow jumps and takes the catch.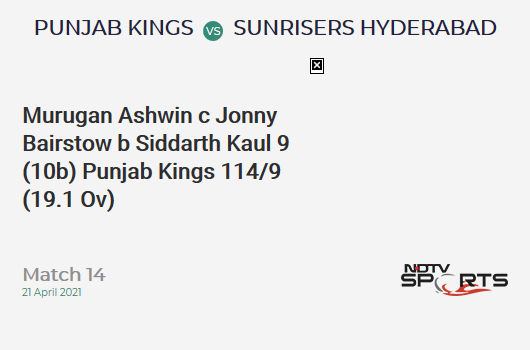 Siddarth Kaul to bowl the last over.
18.6 overs (1 Run) Excellent penultimate over from Khaleel. Just 4 from it and he finishes with 3/21 from his 4. Terrific afternoon for him. He has done his job perfectly. The last ball is run down to third man by Murugan Ashwin for a single.
18.5 overs (1 Run) Slammed but finds deep point. Length ball wide outside off. Shami slaps it but good captaincy by Warner. He has got the field right. There is deep point so just one.
18.4 overs (1 Run) Slower ball around off. It is slightly shorter in length. Murugan Ashwin stays deep inside his crease and dabs it to third man for one.
18.3 overs (0 Run) Swing and a miss! Length ball outside off, Ashwin swings but connects with nothing but thin air.
18.2 overs (1 Run) On the pads, Shami turns it to the on side for one.
Mohammed Shami. He can certainly swing the ball out of the park. Can he help the side get anywhere close to 130?
18.1 overs (0 Run) OUT! CAUGHT! Shahrukh Khan departs as well and with that Punjab's hopes of a dashing finish as well. Khaleel gets his third of the game and Abhishek Sharma's wonderful game continues. Khaleel rolls his finger on this one and bowls it outside off. Shahrukh pulls it but does not time it well. He finds deep mid-wicket to perfection. Abhishek Sharma does not have to move an inch and he takes the catch easily.
Who will bowl the penultimate over of the innings? Khaleel Ahmed it will be.
17.6 overs (1 Run) Wide yorker. Shahrukh Khan squirts it to the right of Kedar Jadahav at third man and keeps the strike with one.
17.5 overs (1 Run) This time Ashwin taps it towards cover and gets one.
17.4 overs (4 Runs) EDGED AND FOUR! Good effort from Kedar Jadhav but to no avail! Good length ball wide outside off. Murugan looks to cut but the ball takes the outside edge and goes fine towards third man. Kedar Jadhav runs to his left, puts in a dive, but is unable to pull the ball back in play.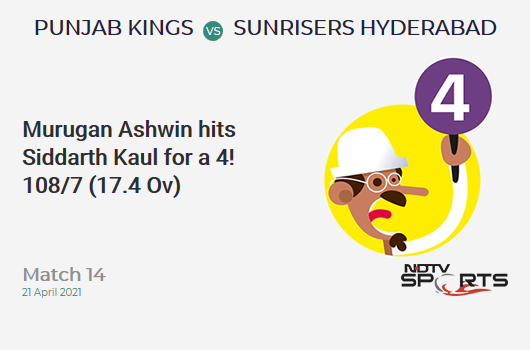 17.3 overs (1 Run) Full toss outside off. Shahrukh Khan fails to get under itl. He miscues it and slices it. Luckily over and away from Warner. Ashwin wanted the second and comes 1/3rd way for it. Shahrukh Khan screams no and sends his partner back.
17.2 overs (1 Run) Length ball around off, Murugan Ashwin taps it behind point and takes a quick single as Vijay Shankar fails to hold onto the ball.
17.1 overs (0 Run) Good length ball on off. Murugan Ashwin shuffles and taps it to short mid-wicket.
Change! Here's Siddarth Kaul again.
16.6 overs (1 Run) This time Ashwin dabs it behind point and keeps the strike.
16.5 overs (0 Run) Slower ball outside off, Murugan looks to punch but misses.
Who is in next? It is Murugan Ashwin.
16.4 overs (0 Run) OUT! CAUGHT! Fabian Allen departs as well. Khaleel gets his second of the day. No timing whatsoever and it was always going to be tough for Allen to make an impact with the bat n this tricky surface. Superb catch from Warner. The Hyderabad skipper is pumped up today like always. Good length delivery around off, Fabian Allen looks to flat bat it over mid off. He gets no timing on it. It goes flat to the right of mid off. Warner there puts on his cape, turns on flight mode, takes off, and takes a stunning catch and makes it look easy.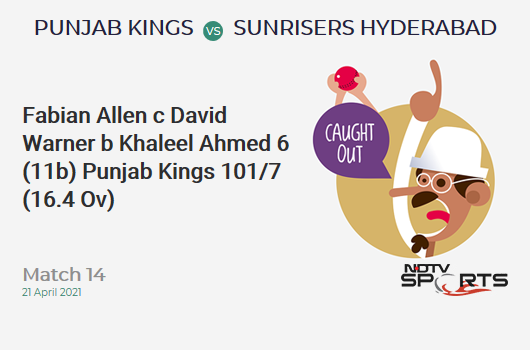 16.3 overs (1 Run) Good shot but the fielding placement is good too. Shortish ball on off and middle. Shahrukh Khan pulls it in front of square on the leg side and gets a single.
16.2 overs (1 Run) Outside off on a length. Fabian runs it down to the right of short third man for a single.
16.1 overs (1 Run) Good stop! Length ball outside off, Shahrukh Khan taps it to the left of point. Kedar there dives and keeps it down to one.
Khaleel Ahmed to bowl now! 2-0-13-1 are his numbers so far.
Strategic Time Out! Hyderabad continue to dictate terms here! They have not allowed easy runs and at the same time have managed to pick up wickets regularly. Punjab need a flurry of boundaries in the final 4 overs. Warner's men will look to finish things off well now. Let's see who goes happier after the last 4 overs.
15.6 overs (1 Run) Short around off, Shahrukh Khan punches it towards cover-point and takes a single to see off Rashid. Excellent day at the office for the leggie. He finishes with 1/17 from his 4!
15.5 overs (0 Run) Tossed u on middle and off, Shahrukh keeps it out.
15.4 overs (1 Run) Floated on middle and leg, Fabian works it behind on the leg side for one.
15.3 overs (1 Run) Darted fuller on middle. SRK looks to drive but it goes to the on side off the inner half of his bat for a run.
15.2 overs (1 Run) Floated on the pads, Allen turns it to the on side for one.
15.1 overs (0 Run) Rashid Khan has turned this from Chennai to Mumbai! Floated delivery pitching around off. Allen looks to defend but the bal turns away from him and beats his outside edge.
Match Reports
Topics mentioned in this article