Story Progress
Back to home
Punjab Kings vs Rajasthan Royals: IPL 2021 Live Cricket Score, Live Score Of Today's Match on NDTV Sports
Live Updates of Today Match between Punjab Kings vs Rajasthan Royals from Dubai International Cricket Stadium, Dubai. Check commentary and full scoreboard of the match.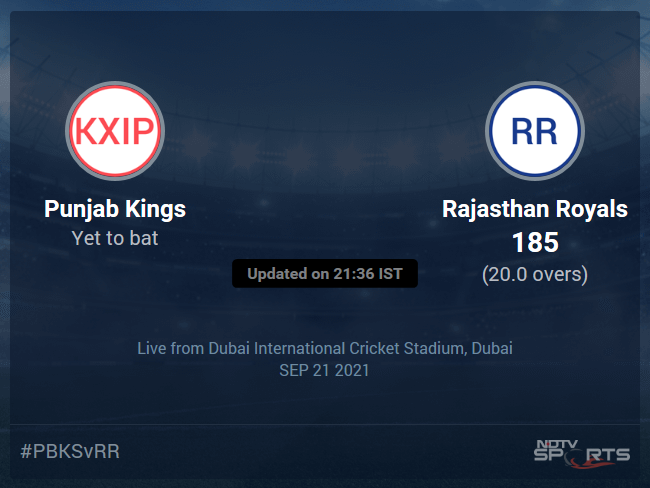 PBKS vs RR Latest Score
A dedicated team of experts bring you live score, live cricket score, live match update on Sports.NDTV.com. After 20.0 overs, Rajasthan Royals are 185. The live updates of Punjab Kings vs Rajasthan Royals scorecard is also available. It is the perfect platform to follow your favourite teams in Indian Premier League 2021. Keep a track on your favourite batsmen and bowlers through Indian Premier League 2021 today match, ball by ball commentary, Punjab Kings vs Rajasthan Royals, Punjab Kings vs Rajasthan Royals live score, Punjab Kings vs Rajasthan Royals scorecard. Follow the excitement of the Indian Premier League 2021 on Sports.NDTV.com as you can follow live match updates and live cricket score through our platform.
Right. 186 is what Punjab need to win. They have the tools required in the arsenal to chase this total down, but they will need to start with a bang. Rajasthan will not be too pleased with how they ended, but now, their bowlers have their work cut out for them. An exciting second essay awaits. Stay tuned for the run chase.
Mahipal Lomror comes up for a quick chat! He starts by expressing his disappointment that he could not finish the job but overall he is happy with his batting. Tells that when he went to bat, their plan was to get to 200 and that was their target. Shares that he was attacking the ball falling in his area. Mentions that he has not changed his batting a lot but the confidence shown by the team management has helped him. Feels that 185 would be enough as they have some good bowlers in their ranks.
Not the best bowling display by Punjab. They were under the pump for most of the innings but will be slightly happy with how they wrapped things up, as they did not allow the Rajasthan players to let loose and did well at that stage to take regular wickets. Their spinners struggled to strut their stuff, with the exception of Harpreet Brar, as they lacked rhythm and were sent all over the park. Mohammed Shami and Arshdeep Singh flexed their muscles as they bowled with authority and shared 8 wickets between them with Singh ending with a 5-fer to his name. A positive word on their fielding too, although they did not have had the best outing with the ball, their fielding was on point in this innings. Most of the catches that came their way were snaffled up.
The openers of Rajasthan displayed their intent and the other batters followed suit, which is why the team in Pink has been able to post such a strong total. Evin Lewis and Yashasvi Jaiswal were in an attacking mindset, right from ball one, as they stitched a 54-run stand, well inside the Powerplay, before Lewis departed. Sanju Samson fell for a cheap score but Jaiswal and Livingstone brought things back on track with a quickfire 48-run stand. The Englishman did not hang around for long though. Jaiswal too, who was closing in on his 50, missed out by just, getting out on 49. Mahipal Lomror decided to cut loose and he went hard for a 17-ball 43, but Rajasthan kept losing wickets and failed to finish with a bang.
A really good batting display by Rajasthan has seen them end on a total of 185! Though, they will be disappointed that they could not end things on a bright note as they lost the plot slightly towards the end and would feel that they are around 20-25 runs short of what they would have envisioned. Punjab pulled things back really nicely and walk back with a strut in their step. 6 wickets fell in the last 5 overs and that restricted Rajasthan's charge towards 200.
19.6 overs (0 Run) OUT! Arshdeep has five in the match! Top effort from him. A yorker around off at 132.1 kph, Kartik Tyagi has a big swing of his bat at it but he fails to dig it out and the stumps behind are destroyed. Rajasthan are all out on the final ball for 185!
19.5 overs (0 Run) OUT! Caught and bowled! Another wicket for Arshdeep, his fourth of the evening. This is his best bowling effort in the League. Slower one, a touch short and angling in around off, Chetan Sakariya turns inside the crease to heave it over the leg side but only manages a top edge. Arshdeep Singh runs across to his left and completes the catch easily.
Mustafizur Rahman is the last man in!
19.4 overs (4 Runs) FOUR! That will help Rajasthan's total a bit. Fuller and around off, Chetan Sakariya steps back to make room and drills his drive through covers for a boundary.
19.3 overs (1 Run) Fullish and down the leg side, could have been a wide but Kartik clips it down to fine leg for a run.
19.2 overs (1 Run) A full toss outside off, Arshdeep gets away with it. Chetan Sakariya goes hard at it and manages only to push it off the inner half to long on. A single.
19.1 overs (1 Run) Arshdeep serves it very full around leg, Kartik Tyagi tries to flick but misses. It goes off his pads to point and they collect a leg bye.
18.6 overs (0 Run) Very full and on middle, Chetan Sakariya drives it back to the bowler. What a spell from Shami, especially at the death! Only 3 runs from the penultimate over along with the big wicket of Chris Morris.
18.5 overs (0 Run) OUT! Morris falls as well. Rajasthan have collapsed at the death. Fuller and around off, angling in, Morris aims to tower it into the stands at long on but gets more height than distance. Aiden Markram gets underneath it in the deep and takes the skier safely. Anil Kumble is a happy man in the dugout. This is a great comeback from Punjab.
Time for Kartik Tyagi to walk out!
18.4 overs (1 Run) Back of a length, around leg, Chetan Sakariya stands back and tucks it down to fine leg for one.
18.3 overs (1 Run) Serves it full and outside off, Morris drives it firmly down to long off, just a run.
18.2 overs (1 Run) Fullish and around leg, Chetan eases it off his pads to deep backward square leg and hands the strike to Morris.
18.1 overs (0 Run) OUT! Stumps shattered! Fuller and straighter, at 138 kph, Rahul Tewatia hangs inside the crease and tries to whip it across the line. But he gets a thick inside edge onto the pads and the ball ricochets onto the stumps. Another big hitter is back in the hut for Rajasthan. They are losing the plot in the end overs.
Chetan Sakariya is the new man in.
17.6 overs (2 Runs) Another brace for Morris. Still, a great over from Arshdeep. Slower one, short and wide outside off, Morris drags his attempted pull down to wide long on. 11 runs from the last two overs, Punjab have pulled things back smartly.
17.5 overs (2 Runs) Around off and middle, a full toss, Morris swings his bat across the line and sends it down to wide long on for a couple of runs.
17.4 overs (0 Run) A fabulous over so far from Singh. Delivers it full and around off, Morris drives it through the line but finds covers.
17.3 overs (1 Run) Yorker and angling in around off, Rahul bunts it down to mid off and steals a single.
17.2 overs (0 Run) Aims for a yorker but it turns out to be a low full toss outside off, Rahul Tewatia goes hard at it but fails to middle his shot. It comes off the toe end and rolls to mid off.
17.2 overs (1 Run) Wide! Very full and wide outside off, again flirting with the tramline. The batsman leaves it and it's wided.
17.1 overs (0 Run) OUT! Mahipal Lomror holes out and this is a body blow to Rajasthan at this stage. Arshdeep delivers it with full pace, around off at 134 clicks, Lomror tries to hammer it over long on but his shot lacks the desired distance. Yet another catch safely pouched by Aiden Markram in the deep. End of an entertaining knock from Mahipal!
The Saffa, Chris Morris strides out.
17.1 overs (1 Run) Wide! That's a tight call from the umpire. Arshdeep begins with a very full ball and stays outside off, it's flirting with the tramline. Lomror allows it through.
16.6 overs (1 Run) A yorker around off by Shami, this one is from 'round the wicket, Mahipal squeezes it out towards cover-point. A single is taken. Fantastic over by Shami, just 4 runs and a wicket from it.
Bowling change? Yup. Arshdeep Singh is back on now. 2-0-19-2 so far.
16.5 overs (1 Run) Shami switches to over the wicket and delivers it very full again, around off, Rahul digs it out down to mid off for one.
16.4 overs (0 Run) Very full and outside off, it's served from 'round the wicket, Rahul Tewatia drives but finds the cover fielder.
16.3 overs (0 Run) OUT! Parag holes out! Not a bad result for Rajasthan with a few power-hitters waiting in the wings. Fullish and around off, Riyan Parag once again uses his wrists and attempts to whip it across the line. But he ends up mistiming his shot to long on where Aiden Markram takes a good catch over his head. Punjab would look to keep chipping away at the wickets to restrict Rajasthan's charge.
16.2 overs (2 Runs) That's very wristy from Riyan. Attempts for a helicopter shot to this very full ball but this one rolls all along the ground to long on. Two runs taken.
16.1 overs (0 Run) A dot ball to begin the 17th over. Shami serves it on a length close to off, Riyan defends it from the crease to the off side.
15.6 overs (4 Runs) FOUR! Finds the gap and the fence. 24 coming off this over and Rajasthan have stepped into the death overs in style. Very full from Hooda, wide outside off, Mahipal Lomror delays his shot a bit and squeezes it past the diving point fielder for a boundary. Lomror moves to 42 off just 15 balls.
15.5 overs (2 Runs) Another two. Too full in length and outside off, Mahipal Lomror drills his drive through extra cover. Smart running between the wickets.
Strategic Time-Out! Rajasthan are on the charge here. They know that they can push and get closer to the 200-run mark and if they keep batting in the same way, then 200 should be no trouble. Mahipal Lomror is on fire and Riyan Parag will look to partner him well. Punjab have not had the best time but will look to reconsolidate and choke the batters in the last four overs. Mohammed Shami (2-0-14-0) is back into the attack.
15.4 overs (2 Runs) A high full toss outside off, Mahipal Lomror runs down the track and slaps it over covers for a couple of runs. Not given a no ball because the batsman was down the track.
15.3 overs (4 Runs) FOUR! Mahipal Lomror is on fire! Unstoppable. Hooda is feeling the pressure. Dishes out a full toss outside off, Mahipal shows no mercy and whacks it over extra cover.
15.2 overs (6 Runs) SIX! Hooda is being taken to the cleaners here. He fires it flat and short around off, Mahipal Lomror advances down the track and spanks it over mid-wicket.
15.1 overs (6 Runs) SIX! The spinners are under attack. Fuller and outside off, there is ample width for Lomror to free his arms and he dispatches it over the bowler's head for a maximum.
Match Reports
Topics mentioned in this article