Story Progress
Back to home
Punjab Kings vs Rajasthan Royals Live Score Ball by Ball, IPL 2021 Live Cricket Score Of Today's Match on NDTV Sports
Live Updates of Today Match between Punjab Kings vs Rajasthan Royals from Dubai International Cricket Stadium, Dubai. Check commentary and full scoreboard of the match.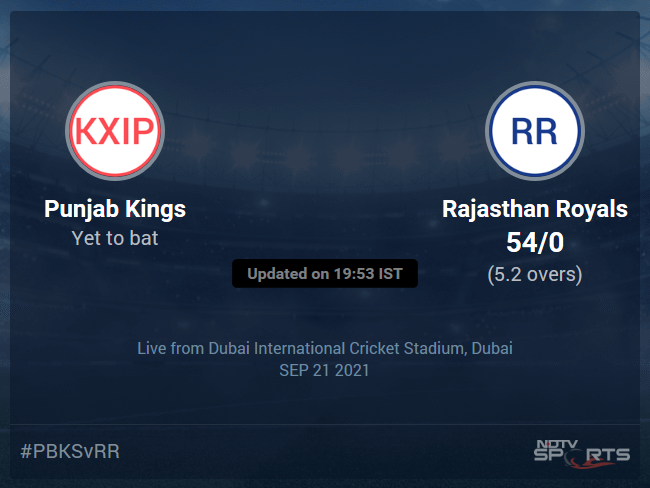 RR vs PBKS Latest Score
Follow the Indian Premier League 2021 live cricket score on Sports.NDTV.com. After 5.2 overs, Rajasthan Royals are 54/0. Get live score, ball by ball commentary and much more. Keep track of Indian Premier League 2021 today match between Punjab Kings and Rajasthan Royals. Everything related to Punjab Kings and Rajasthan Royals match will be available on Sports.NDTV.com. Stay updated with Punjab Kings vs Rajasthan Royals live score. Do check for Punjab Kings vs Rajasthan Royals scorecard. You can get scorecard updates, match related facts. Get quick live updates with ads, Sports.NDTV.com, which is the perfect destination for live cricket score.
4.6 overs (4 Runs) FOUR! 50 up for Rajasthan! They have started off really well here! This is floated too, fuller, around middle and leg, Lewis gets low and sweeps this in between square leg and short fine leg. Boundary again. 13 from the over!
4.5 overs (4 Runs) FOUR! That is not where you want to bowl to a batter of Evin Lewis' calibre! A juicy full toss, around off, this is smashed over the cover region for a boundary.
4.4 overs (0 Run) A touch short, around off, cut away, but to the fielder at point.
4.3 overs (0 Run) Fuller, tossed up, on middle and leg, Lewis misses his sweep and gets hit on his pad.
4.2 overs (1 Run) On middle, flicked to the leg side for a run.
4.1 overs (4 Runs) FOUR! Welcome to the attack, says Yashasvi Jaiswal, to Deepak Hooda! Drops it short, outside off, Yashasvi Jaiswal rocks back and punches this one through cover-point. The ball races away to the fence.
Bowling change. Deepak Hooda is into the attack.
3.6 overs (4 Runs) FOUR! WOW! 17 from the over. Lewis gets his fourth boundary of the over and is on the charge. Slower in pace this time, fuller though, outside off, Lewis waits for it and punches this one past extra cover. Boundary.
3.5 overs (4 Runs) FOUR! That was a cleaner hit, compared to the previous two boundaries. Confidence on display by Lewis. Around off on a length, Evin Lewis cracks this one over mid-wicket and beats deep mid-wicket to his right.
3.4 overs (0 Run) Around off this time, Lewis looks to work this to the leg side but misses and the ball takes the pad and lobs to the left of the mid off fielder.
3.3 overs (4 Runs) EDGY FOUR! It's a similar sort of a boundary as the last ball. On a length, outside off, Evin Lewis looks to whack this across the line, but the ball catches the outside edge and runs away to the third man fence.
3.2 overs (4 Runs) FOUR! Slightly streaky but Lewis will not care. A touch short, slanting away outside off, Evin Lewis looks to pump this through covers, but the ball takes the outer half of the blade and flies to the third man fence.
3.1 overs (1 Run) Short of a length, around off and middle, Yashasvi Jaiswal pulls this one hurriedly to the right of the deep mid-wicket fielder for one.
2.6 overs (0 Run) Wider outside off, Lewis shoulders arms this time. A good over from Shami, just 5 from it!
2.5 overs (4 Runs) FOUR! He connects this time and gets a boundary! Fine shot from Evin. Slightly behind the good length, just outside off, Evin Lewis bangs this one over the bowler for a one-bounce boundary.
2.4 overs (0 Run) Play and a miss again! Shami bowls this on a length again, closer to the off pole, angling away, Lewis pokes at this tentatively and misses.
2.3 overs (0 Run) Swing and a miss! Good length from Shami. Just around the off pole, slanting away, Evin Lewis swings at this but fails to connect.
2.2 overs (0 Run) Good-length ball, on off, this is pushed to the man at point by Lewis.
2.1 overs (1 Run) Outside off, Jaiswal slices this one away to third man for a single.
1.6 overs (6 Runs) SIX! BANG! The West Indian gets his first biggie! He will be looking to continue with the same intent! Around off this time, on a length too, Evin Lewis gives it the full thwack of the blade and deposits the ball over the long on fence. 9 from the second over as well!
1.5 overs (0 Run) Around the middle stump line this time, Evin nudges this to the man at mid-wicket.
1.4 overs (1 Run) Leg bye. Porel serves this around the hips, on a length, Yashasvi Jaiswal misses his tuck but the ball takes the body and goes to the leg side. A leg bye is taken.
1.3 overs (1 Run) Back of a length, around off, Lewis looks to heave this to the leg side, but the ball takes the lower end of the bat and goes to the right of square leg, for one.
1.2 overs (0 Run) On a length, on the pads, Lewis' flick only finds Adil Rashid at short fine leg. Dot.
1.2 overs (1 Run) WIDE. Porel steams in and slips this down the leg side. Lewis looks to pull but misses. Wide signalled.
1.1 overs (0 Run) Ishan Porel starts with a length ball, on middle. This is dabbed to the leg side.
Who will operate from the opposite end? Ishan Porel to steam in...
0.6 over (4 Runs) FOUR! Back-to-back boundaries to end the first over and Rajasthan get 9 off the opening over! Around off this time, on a length, Yashasvi Jaiswal swings this one over mid-wicket and gets a four.
0.5 over (4 Runs) FOUR! The first boundary for Rajasthan and also Yashasvi Jaiswal! A loosener from Shami. Short and wide outside off, Jaiswal goes back and slaps this one over backward point. One bounce and four!
0.4 over (0 Run) Around off, on a length, YJ pushes this to the cover region. Three dots.
0.3 over (0 Run) Shami comes 'round the wicket and hurls a shortish ball, outside off. Yashasvi Jaiswal again goes back and flashes his blade but fails to connect with his cut.
0.2 over (0 Run) Now, Shami serves a length delivery, but wider outside off, Yashasvi Jaiswal goes back and looks for the square cut, but he misses.
0.1 over (1 Run) Runs straightaway for Lewis and Rajasthan are off the mark too! Shami serves this on a length, on the pads. Lewis whips this one to deep square leg for a single.
It's time to play the game! The players are in the middle and it's a great atmosphere out there. Yashasvi Jaiswal and Evin Lewis are the opening pair for Rajasthan. Punjab are beginning with Mohammed Shami, as expected. Here we go...
Rajasthan (Playing XI) - Evin Lewis, Yashasvi Jaiswal, Sanju Samson (C/WK), Mahipal Lomror, Liam Livingstone, Riyan Parag, Rahul Tewatia, Chris Morris, Kartik Tyagi, Chetan Sakariya, Mustafizur Rahman.
Punjab (Playing XI) - KL Rahul (C/WK), Mayank Agarwal, Aiden Markram, Nicholas Pooran, Deepak Hooda, Fabian Allen, Ishan Porel, Harpreet Brar, Mohammed Shami, Adil Rashid, Arshdeep Singh.
Sanju Samson, the captain of Rajasthan, says that the toss doesn't matter much as they are happy to do both, either bat or bowl. Adds that they have really great talent in the team and it's a very positive atmosphere in the dressing room. Talks about Kumar Sangakkara and says that he knows how to communicate and at what point and emphasizes on enjoying the game. Evin Lewis, Liam Livingstone, Chris Morris and Mustafizur Rahman are Rajasthan's overseas players, informs Samson.
KL Rahul, the Punjab skipper, says that it is a no-brainer to bowl first as it is a fresh wicket and they are not too sure as to how it will play. Shares that he personally prefers to chase. Adds that it is good to play in Dubai and they learnt a lot the last time they came to UAE. Feels that they have done their best to prepare well. Informs that Aiden Markram, Nicholas Pooran, Adil Rashid and Fabian Allen are their four overseas players. Informs that Aiden Markram will bat at number 3 and that means that Chris Gayle misses out.
Toss time! Sanju Samson and KL Rahul are in the middle. The latter flips the coin, Samson calls it incorrectly and PUNJAB ELECT TO FIELD!
Sixer Kings! Glenn Phillips (87), Liam Livingstone (81), Evin Lewis (68) feature in the top three list for hitting the most number of sixes in T20s in 2021. They're all present in the dressing room of Rajasthan. Who will play, who will miss out?
PITCH REPORT - Ian Bishop is the pitch inspector for the day. He says that the deck looks good. Adds that the weather is pretty hot and humid and jokes that this stadium is not called the 'Ring of Fire' just like that. He is joined by Toby Lumsden, the head curator, who says that they use an infrared camera and the camera takes pictures every 10 minutes and lets him know about the pitch and the outfield. Adds that he uses a pogo stick and clay hammer to find out about the moisture and hardness of the deck.
Duck Tales! Nicholas Pooran had a forgetful first half of this season where he bagged four ducks in 6 innings. In total, he has five ducks in T20s in 2021 which is the joint-most. Will he find a place in the XI for Punjab?
Did you know? Rajasthan have the worst bowling average (107.7) and economy rate (10.4) for spinners in this ongoing season. They have roped in the number one bowler in T20Is to resolve this issue. Can Tabraiz Shamsi make an immediate impact?
A couple of caps have been handed out and it looks like some new players will be making their debut today. Evin Lewis has been handed his cap and Rajasthan will be hoping that he can start with a bang. For Punjab, Ishan Porel, Aiden Markram, and Adil Rashid have been seen getting their caps.
The birthday boy, Chris Gayle is up for a chat! He says that he was having some coffee and it has been a long morning for him and it has been a good day so far. Says that he went to bed early and has been up since 3 am and he was up ever since. Tells that they practice at 5 pm and they have some time to sleep in the morning. Tells that if he does get a chance to play in this game, he will try his best to make the fans happy. Opines that it is a new start and they want to hit the ground running. States that it is a must-win game for them and they need to go hard and be fearless and give it their best shot. Ends by thanking his fans and his family and adds that he has no complaints as he is going strong at 42.
Talking about Rajasthan, they too will be without the services of their key players. They were without the services of Ben Stokes and Jofra Archer in the first leg and now, Jos Buttler and Andrew Tye have made themselves unavailable too. So, to fill the void that these missing names have left, Rajasthan have decided to rope in Evin Lewis, Oshane Thomas, Tabraiz Shamsi, and Glenn Phillips. It will be interesting to see if these names make their way into the Playing XI straightaway.
There's quite a lot of changes to the rosters of both teams as they will be missing some key players and have added some other players, in place, and will be hoping that the new boys click and find their rhythm sooner, rather than later. For Punjab, Jhye Richardson, Riley Meredith and Dawid Malan have pulled out of the UAE leg and Nathan Ellis, Adil Rashid, and Aiden Markram have taken their place in their squad.
Hola, amigos! It is time for yet another cracking encounter in the Indian T20 League and we are slowly, but surely, getting into the groove of watching the games unfold right before us. The resumption has been a smooth one, with 2 games going by, and 4 teams getting to play, and now, we will see two more teams start the second leg of the competition. Match number 32 sees the brushing of shoulders between Rajasthan and Punjab. Both teams did not have the best start to the League in the first phase, as they sit in the lower half of the table, Rajasthan on 6th, whereas, Punjab, on 7th. They have been handed another shot at redemption and would look to start this leg with a victory to their name. On that note, welcome to the coverage...
Topics mentioned in this article