Story Progress
Back to home
Punjab Kings vs Mumbai Indians Live Score Ball by Ball, IPL 2021 Live Cricket Score Of Today's Match on NDTV Sports
Live Updates of Today Match between Punjab Kings vs Mumbai Indians from MA Chidambaram Stadium, Chennai. Check commentary and full scoreboard of the match.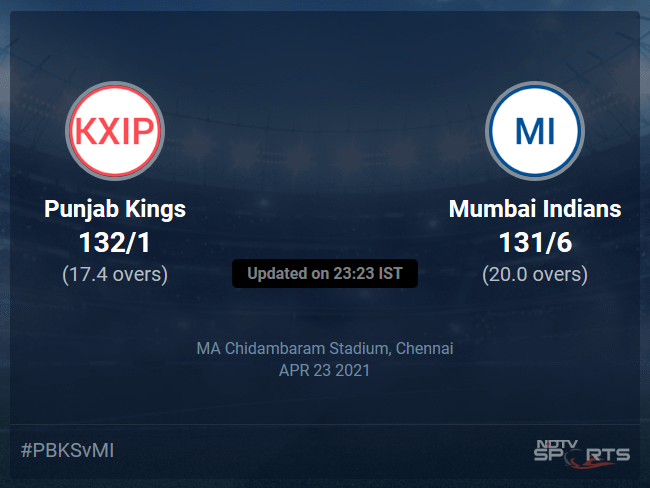 MI vs PBKS Latest Score
Follow the Indian Premier League 2021 live cricket score on Sports.NDTV.com. After 17.4 overs, Punjab Kings, chasing a target of 132, are 132/1. Get live score, ball by ball commentary and much more. Keep track of Indian Premier League 2021 today match between Punjab Kings and Mumbai Indians. Everything related to Punjab Kings and Mumbai Indians match will be available on Sports.NDTV.com. Stay updated with Punjab Kings vs Mumbai Indians live score. Do check for Punjab Kings vs Mumbai Indians scorecard. You can get scorecard updates, match related facts. Get quick live updates with ads, Sports.NDTV.com, which is the perfect destination for live cricket score.
So that is it from this game! Indian T20 League action though continues as Rajasthan take on Kolkata on 24th April 2021. That game begins at 1930 local (1400 GMT). Till then, take care and goodbye!
KL Rahul, the Punjab skipper and the MAN OF THE MATCH, he says that they are still a young team and it is important to be patient. Adds that they are trying to give opportunities to many players. About the toss, says that he had a long chat with the coach about batting second and he wanted his bowlers to bowl early on this wicket. Adds that they also thought that dew would ease the pitch in the second half but it didn't happen. Says that Gayle brings in a lot of experience and it was nice to see him bat. Praises Bishnoi for the way he bowled and says that he is very brave. Finishes by saying that he is happy with the way he is batting and it gets slightly easier while chasing when he knows the target.
Rohit Sharma, the Mumbai skipper, says that they did not have enough runs on the board. Adds that it isn't a bad wicket to bat on but the application is lacking from their side and if they get 150-160 on this pitch then it is good enough. Tells that the Punjab bowlers bowled really well in the Powerplay. Says that he and Kishan looked to hit the balls but weren't able to. Tells that Kishan coming over Suryakumar Yadav was a tactical decision as they needed someone to bat in the middle overs against spinners.
Mayank Agarwal is down for a chat, he says that it is nice to get 2 points on the board. Adds that discussion with KL Rahul was to keep things simple and play proper cricketing strokes. Says that they wanted to get a good Powerplay and they are glad that they did. Adds that he has taken up the onus of keeping the energy while fielding.
Earlier in the day, after being inserted, Mumbai were restricted to only 131 despite Rohit scoring a half-ton. Punjab bowlers were exceptional especially Shami and Bishnoi. In reply, their skipper led the way with a fine half-ton and took them over the line.
The Mumbai bowling did not begin in the best of manners, they bowled way too many boundary balls and the first six overs cost them the game. Chahar did brilliantly once again to get his side back but he did not receive a lot of support from the rest.
It was all about the start though, the openers got Punjab off to a flier. Agarwal did fall and then there were a few tight overs in between that kept the run rate kept on the rise. However, some really clever batting from Gayle and Rahul took their side over the line.
That is a superb run chase from Punjab! Really good from Rahul who was there from start to end for his side. Took the responsibility on himself and has finished the game off.
17.4 overs (4 Runs) FOUR! There it is! Full ball, outside off. KL Rahul squeezes this down to the third man fence. The fielder runs across but there is no stopping this one. PUNJAB WIN BY 9 WICKETS!!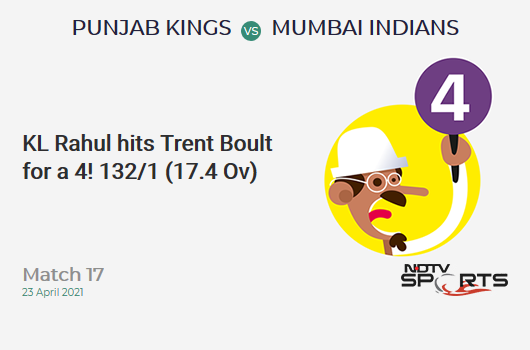 17.3 overs (6 Runs) SIX! Dispatched! Full toss, on the off stump. The set KL Rahul just smokes it over the long on fence. Just 4 needed now.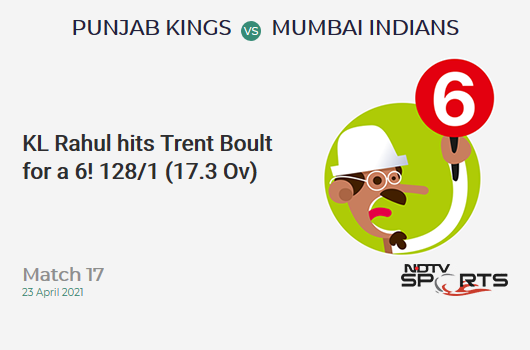 17.2 overs (1 Run) Fuller ball, on the stumps. Gayle gets the inner half of the bat to deep square leg for one.
17.1 overs (6 Runs) SIX! Welcome back to the attack says Gayle! Length ball, outside off. Gayle waits for it and then pulls it handsomely over the mid-wicket fence.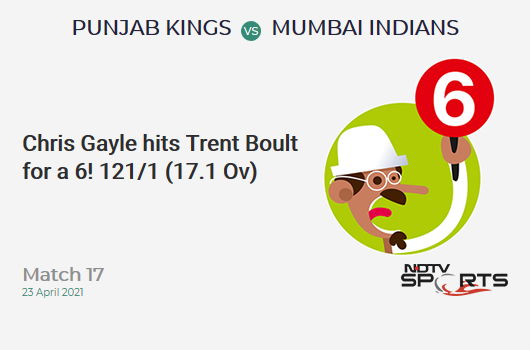 Trent Boult is in the attack now.
16.6 overs (1 Run) 17 needed then in 3! On off, Gayle pushes it through covers for one.
16.5 overs (4 Runs) FOUR! Brilliant batting by Gayle! He shuffles across and this is bowled shorter in length, Gayle pulls it, just uses the pace and hits it through square leg. The fielder in the deep runs to his right, slides but once again another fielder pushes it onto the ropes. Welcome boundary.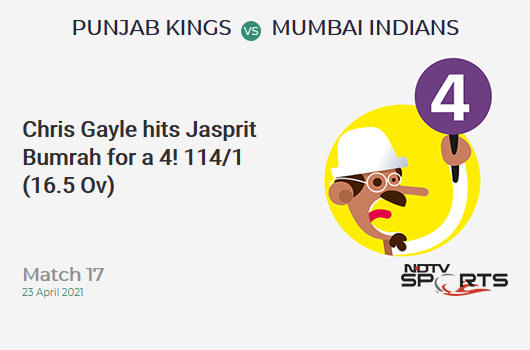 16.4 overs (0 Run) That has spit off the surface. Length and on middle, it takes off and also turns away. Gayle looks to defend but is hit on the body.
16.3 overs (1 Run) Safe! Fifty for Rahul! Fortunate way to bring it up. On middle, another slowe one. Rahul looks to whip it but it goes off the top edge and lands safe in the square leg region. One taken. Rahul needs to stay there till the end. He has to take his side home.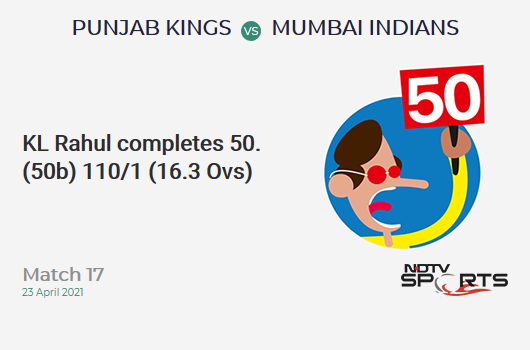 16.2 overs (1 Run) Just the one, on off, this is pushed towards cover for one. The fielder did have a shy but Gayle was in.
16.1 overs (0 Run) Almost unplayable! This lands on off on a length. Turns away like an off spinner. Gayle is beaten as he tries to keep it out.
Strategic Time-Out! Punjab are in control here. The dry ball is turning but Rahul Chahar and Jayant Yadav have bowled out and Krunal Pandya just has one over left. Mumbai need a flurry of wickets to get back in the game. Mumbai have been games from this situation before, but can they pull out another rabbit from their hat? Wait and watch! Jasprit Bumrah is back in the attack.
15.6 overs (1 Run) NOT OUT! Gayle is well in. A full toss on middle, Gayle mistimes it towards long on. It lands short of that fielder. They take one. The throw is to the bowler's end who whips the bails off. An appeal and it is referred. Time for the replays and they show that Gayle is in. So despite three dots, 9 from the over. Just the 24 needed in 24.
15.6 overs (1 Run) WIDE! Another wide! Outside off, left alone.
Is that a run out? Chris Gayle is well inside the crease. Not out it will be.
15.6 overs (1 Run) WIDE! Well wide outside off, not played at.
15.5 overs (4 Runs) FOUR! Bumrah should have done better! The slog sweep ai out, it goes off the inner half through square leg. Bumrah in the deep runs to his right, dives but pushes it into the ropes.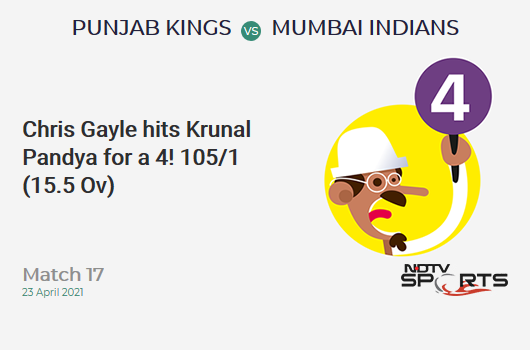 15.5 overs (1 Run) WIDE! Well outside off, left alone.
15.4 overs (1 Run) Fuller and on off, it is pushed down to long off for one.
15.3 overs (0 Run) Three dots in a row! Quicker and outside off, Rahul looks to cut but misses.
15.2 overs (0 Run) Another dot! This lands on the leg pole, Rahul looks to work it on the leg side but misses as it straightens. Hits him high on the pads.
15.1 overs (0 Run) NOT OUT! Rahul never lifted his leg. The dry ball is doing wonders here. This lands outside off and then turns away. Rahul looks to drive it misses. De Kock whips the bails off and appeals. Replays show that the batter is well in.
Match Reports
Topics mentioned in this article