Story Progress
Back to home
Punjab Kings vs Kolkata Knight Riders Live Score Ball by Ball, IPL 2021 Live Cricket Score Of Today's Match on NDTV Sports
Live Updates of Today Match between Punjab Kings vs Kolkata Knight Riders from Narendra Modi Stadium, Motera, Ahmedabad. Check commentary and full scoreboard of the match.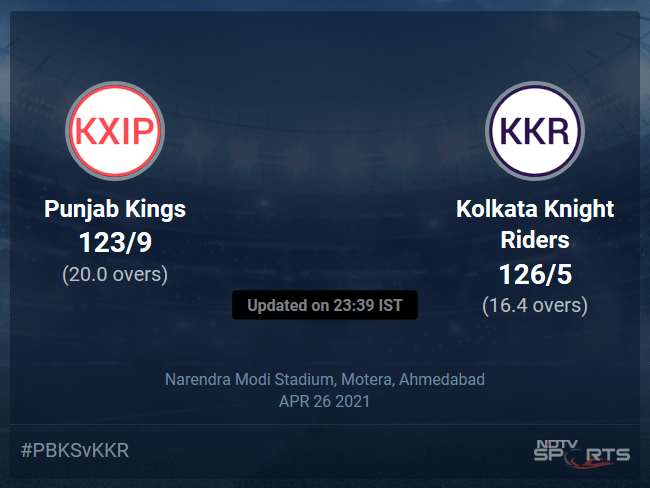 KKR vs PBKS Latest Score
Follow the Indian Premier League 2021 live cricket score on Sports.NDTV.com. After 16.4 overs, Kolkata Knight Riders, chasing a target of 124, are 126/5. Get live score, ball by ball commentary and much more. Keep track of Indian Premier League 2021 today match between Punjab Kings and Kolkata Knight Riders. Everything related to Punjab Kings and Kolkata Knight Riders match will be available on Sports.NDTV.com. Stay updated with Punjab Kings vs Kolkata Knight Riders live score. Do check for Punjab Kings vs Kolkata Knight Riders scorecard. You can get scorecard updates, match related facts. Get quick live updates with ads, Sports.NDTV.com, which is the perfect destination for live cricket score.
That is it from this game. Kolkata begin their Ahmebadad leg with a win that ends their 4-game winning run. Punjab faild to adjust to the new environment and succumbed to another loss. The action in the league continues on Tuesday, 27th April. As Risabh Pant's Delhi takes on Kohli's Banglore. That game begins at 1930 local (1400 GMT). We shall see you then. Till then goodbye and take care.
Eoin Morgan, Kolkata skipper and Man of the Matxh, says winning has not been easy and they have worked really hard, the performance today was really impressive especially with the ball. Adds Punjab are a tough side to play against but they did well to chase it down. Mentions from the 12th and 13th kver of the first innings the wicket was sliding on and it kept getting better and better. Adds giving 4 overs on the trot is something he does not do a lot but Mavi bowled well and he wanted him to bowl to Gayle. States their spinners are variation bowlers, they do not rely a lot on turn and they try and control the line and length and they did that well. Says they hope today is the start of something. Ends by wishing people who are sick well and he says if they stick together, they can beat this.
The win was set-up by the Kolkata bowlers as they managed to restrict Punjab to a paltry score of 123. Shivam Mavi, Sunil Narine, and Varun Chakravarthy were superb as they all went under 6 rpo and grabbed at least one wicket with Narine getting two. Cummins and prasidh Krishna got 2 and 3 wickets each but the duo was expensive. Punjab never got going and managed to reach a respectable total thanks to Chris Jordan. That though was not enough to get them a win.
Kolkata's smiling Rahul Tripathi is caught for a chat. Rahul Tripsrhi says it was an important win after the loses. Adds the bowlers did really well, they did lose a few wickets but they knew if they bat sensibly, they'll chase it down. Adds there was some help for the bowlers but it was coming on better in the second innings. Mentions he thought he was run out as he was late to dive and he was upset but was happy after watching the replay. Ends by saying he was set and he wanted to take a chance, it was a half hearted chance and he played a rash shot but he is happy they chased it down in 17 overs.
Punjab skipper, KL Rahul says it is a tough night, it is never nice to be on a losing side, he is lost for words and they should have adapted. Mentions they could have applied themselves a lot more and expected the batters to be a lot smarter and get an extra 20 to 30 runs. Adds the wicket was a bit two-paced and it also remained up and down and it was difficult to bat with the new ball. Also says good teams assess quickly and they could not do that and he hopes they can learn from their mistakes. Admits the catch taken by Ravi was awesome and they have been a good fielding side and Rhodes has pushed everyone to work hard on that aspect of the game and it is coming off nicely.
A performance full of heart from Punjab but they just did not have enough runs on the board and dew did not help their cause either. Henriques, Shami, Arshdeep and Hooda were all among the wickets. Bishnoi did not get any wicket but was very good. In the end, one cannot be critical of Punjab bowlers as defending 124 needed miracle which they did not get.
Chasing a sub-par target of 124, Kolkata started off awfully as they lost Rana, Gill and Narine all departed in the first three overs. There were fears that Kolkata would mess up this chase. But Tripathi continued his fine form and Morgan found his touch too. Chasing such a low total, the two-time champions needed one solid stand. That is what Tripathi and Morgan's 64-run stand gave. Tripathi was unable to finish things off and neither could Russell. Morgan though stuck till the end and along with Karthik ensured they managed to get over the line.
Finally, Kolkata end their losing run and get back to winning ways. They did make things very difficult for themselves but have got over the line. Punjab will be happy with the fight shown by the bowlers but their batting has failed for the third time this season and that will worry KL Rahul and coach Kumble.
16.4 overs (4 Runs) FOUR! Thumped! Kolkata win it in style! Short and on middle, this is hammered through mid-wicket for a boundary. KOLKATA WIN BY 5 WICKETS!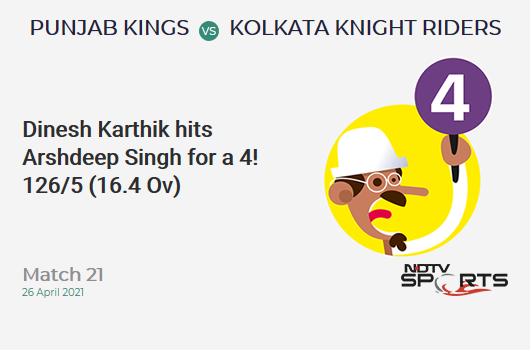 16.3 overs (2 Runs) Only two needed! Shorter and on middle, this is pulled over mid-wicket for a couple.
16.2 overs (4 Runs) FOUR! Just the 4 needed! Full and on off, this hit down the ground for a boundary.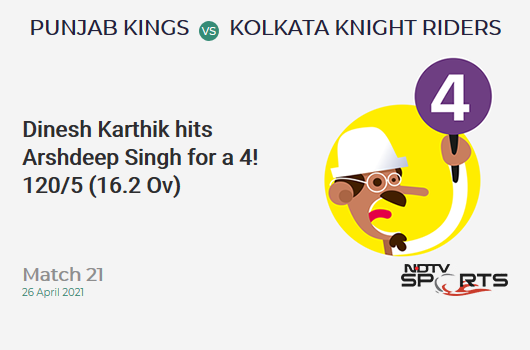 16.1 overs (1 Run) A slower short one, this is pulled through mid-wicket for one.
15.6 overs (1 Run) A single to end! On middle, it is hit down to long on for one.
15.5 overs (6 Runs) SIX! Morgan wants to end it quickly! Also now has 7000 runs in T20s. A lovely shot to bring it up. Tossed up on off, Morgan makes room and lifts it over covers for a biggie.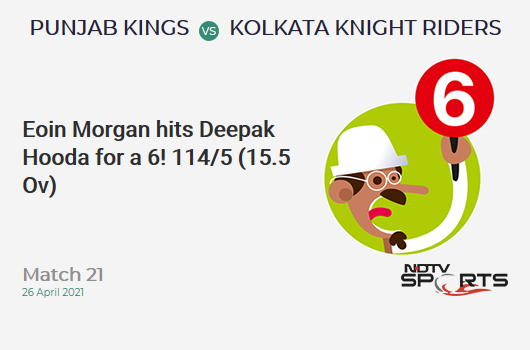 15.4 overs (4 Runs) FOUR! Finds the gap! Powerfully hit. Makes room and this is a full one outside off, it is smashed through covers for a boundary.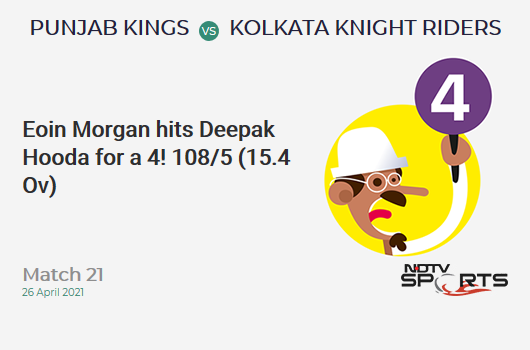 15.3 overs (1 Run) Fuller and on middle, this is hit down to long on for one.
15.2 overs (1 Run) Yet again it is outside off, Morgan chops it through point for one.
15.1 overs (0 Run) Flatter and outside off, Morgan looks to cut but this one stays low and it's a dot.
Match Reports
Topics mentioned in this article