Story Progress
Back to home
Punjab Kings vs Delhi Capitals Live Score Ball by Ball, IPL 2021 Live Cricket Score Of Today's Match on NDTV Sports
Live Updates of Today Match between Punjab Kings vs Delhi Capitals from Narendra Modi Stadium, Motera, Ahmedabad. Check commentary and full scoreboard of the match.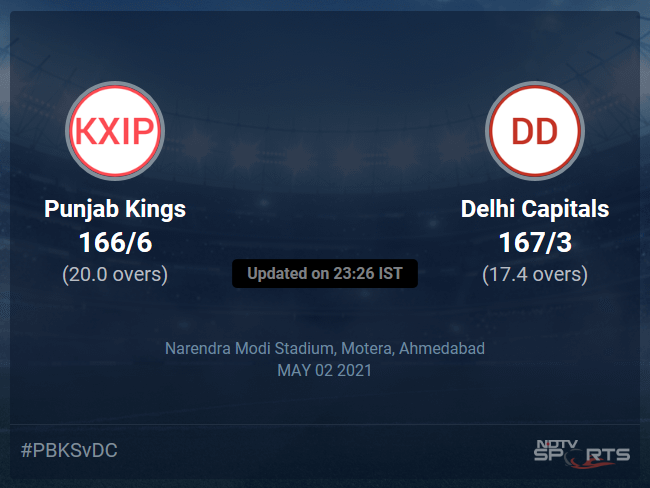 DC vs PBKS Latest Score
Follow the Indian Premier League 2021 live cricket score on Sports.NDTV.com. After 17.4 overs, Delhi Capitals, chasing a target of 167, are 167/3. Get live score, ball by ball commentary and much more. Keep track of Indian Premier League 2021 today match between Punjab Kings and Delhi Capitals. Everything related to Punjab Kings and Delhi Capitals match will be available on Sports.NDTV.com. Stay updated with Punjab Kings vs Delhi Capitals live score. Do check for Punjab Kings vs Delhi Capitals scorecard. You can get scorecard updates, match related facts. Get quick live updates with ads, Sports.NDTV.com, which is the perfect destination for live cricket score.
Right! That's all from the Super Sunday. The action in the Indian T20 League will now move to Monday, 3rd May 2021. Bangalore will take on Kolkata in game number 30. The action will begin at 1930 local (1400 GMT). We will look forward to your company for that game. Until then, it is goodbye from our end. Stay safe and take care.
Mayank Agarwal, the Punjab skipper is the Man of the Match! On KL Rahul, Mayank says that he is going for the surgery and hopes that he comes back soon. Laughs and says that he would have liked to win here. Says that one batter has to bat through and he decided to take the responsibility and thinks that they could not get as many runs as they wanted in the middle overs but feels that they ended well. Tells that he would have loved 2 points but now, they will look forward to the next game and try to win there. On Harpreet Brar, he says that Brar hit a crucial boundary with the bat and he is bowling exceedingly well.
Rishabh Pant, the Delhi captain, starts off by saying that Dhawan and Shaw gave them a very good start and the innings looked better due to them and Pant feels that the wicket was slightly slow in the second innings. Says that it feels good when you have a good start in every game. Feels that the side is settled and they need to try few options for the Kolkata games. Opines that the competition is good and they have a lot of gun bowling and they can't make everyone play. Feels that he is enjoying captaincy and there are people around him who help him. c
The holder of the Orange Cap, Shikhar Dhawan chats here! He says that he is really happy with the way they chased down the score and Smith chipped in nicely and he knew that he had to stay out there till the end and it was a perfectly crafted inning. Adds that once they knew that they can close the game quickly, they looked to wrap up the game by the 19th over but Hetmyer finished it in the 17th over. Feels that it is good to get the Strike Rate up. Says that he looks at his runs and also his Strike Rate too. Tells that he has enjoyed playing with Shaw for 3 years and it is good to watch him play from the other end.
The bowling from Delhi wasn't bad but they failed to close things well. The spinners did a fine job for them and bowled tight overs. Rabada got 3 wickets but took a bit of hammering. Ishant failed to get a wicket and gave away 37 in his 4. And one of those 4 overs was a maiden. Avesh was doing a fine job until he bowled the final over of the innings that saw Punjab score 23 off it. However, the score that they stopped the opposition, their batters made sure they crossed the line easily.
Earlier in the game, Punjab looked struggling after they lost two wickets in the Powerplay. None of their batters could get going but skipper Agarwal made sure he didn't his wicket away and kept going. He reached his half ton and then went big in the final few overs to get the team to a very good total. He was unbeaten on 99 but his knock took the side to a very good total.
The bowling from Punjab wasn't at its best. They failed to get any wickets in the Powerplay and to win defending a total like this, they needed early wickets but they failed. Brar struck in his first ball as sent Shaw back to the pavilion but they needed a couple of quick wickets after that. That did not happen and it was too easy in the end. Meredith and Jordan did pick a wicket apiece but they came late and didn't help them.
Chasing the total, Shaw and Dhawan gave the team a perfect start. The duo added 63 for the opening wicket. Shaw departed in the 7th over but Dhawan continued and along with Smith, kept the scoreboard ticking. The duo added 48 before Smith threw his wicket away but Dhawan didn't. He completed his half-century and took the team over the line.
Two sixes and a boundary to seal the deal from Hetmyer and it is another easy win for Delhi. A walk in the park for them in this run chase like it was for them in their previous game against Kolkata. It was the openers who set the tone in that game and they have done that here too. Dhawan has played a responsible knock to help the team bag two more points and go top of the table.
17.5 overs (1 Run) WIDE. A wide which is way outside the tramline. It is wided and DELHI HAVE WON BY 7 WICKETS!
17.5 overs (1 Run) WIDE! A wayward full toss outside off, Hetmyer swings but misses. Wided. Scores level now!
17.4 overs (4 Runs) FOUR! What a beautiful cover drive. Just 2 more needed now and Hetmyer is in a hurry. A good length ball outside off, Shimron Hetmyer drives this one crisply through extra cover for a boundary.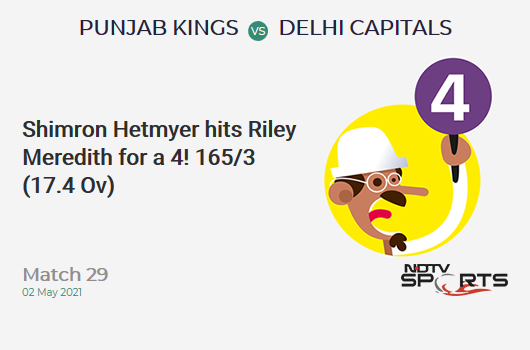 17.3 overs (6 Runs) SIX! WHOOSH! Just 6 more needed now. A short ball, around off, Shimron Hetmyer swivels and hooks this one over the deep mid-wicket fence for a maximum.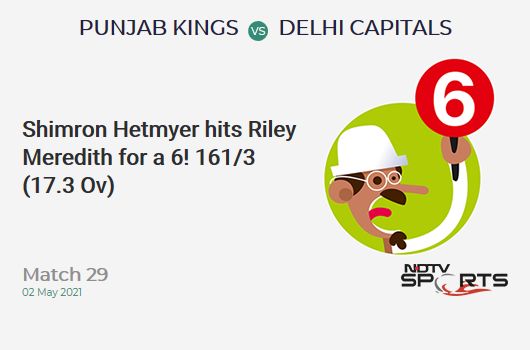 17.2 overs (6 Runs) SIX! WHAM! Shimron Hetmyer wants to wrap the game up here. A length ball, around off, Shimron Hetmyer slams this one over the long off region for a biggie.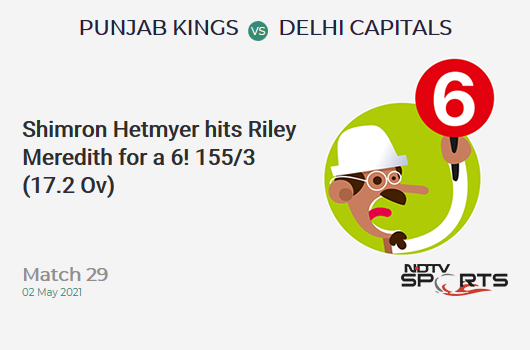 17.1 overs (1 Run) Around off, slogged away to deep square leg for a single.
16.6 overs (0 Run) Short and outside off, Hetmyer looks to pull but gets the under edge, which goes to the mid off region. 19 needed from 18 balls.
16.5 overs (1 Run) On a shortish length and around off, Dhawan looks to hook this one to deep square leg for one.
16.4 overs (0 Run) A length ball around off, pushed to the point region.
Shimron Hetmyer is in next.
16.3 overs (0 Run) OUT! TAKEN! Pant wants to finish things quickly and swings his blade at this but does not time it cleanly. A good length ball, around off, Rishabh Pant looks to slam this one through the leg side but he slices the ball high in the air towards the cover region. Pant loses his bat in the process too as it slips out of his hand. Mayank Agarwal takes the catch there. 20 needed from 21 balls.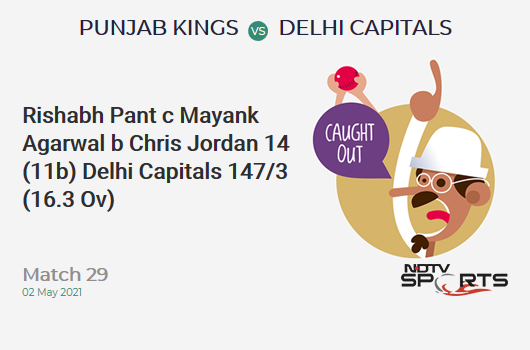 16.2 overs (1 Run) Good length ball outside off, Dhawan slaps this one to sweeper cover for a single.
16.1 overs (2 Runs) Shorter and outside off, Dhawan skips down the track and pulls this to deep mid-wicket. A couple.
15.6 overs (0 Run) Missed out! That was there to be hit. Short and wide outside off, Pant cuts but finds point. 23 needed in 4 overs.
15.5 overs (2 Runs) Short and wide again, this time he hits it wide of cover and the man in the deep. The fielder in the deep runs to his left and keeps it down to two.
15.4 overs (0 Run) Short and wide, Pant cuts but finds cover.
15.3 overs (1 Run) Tossed up and outside off, Dhawan reverse sweeps it towards short third man and takes one.
15.2 overs (1 Run) Floated around off, pushed on the off side for one.
15.1 overs (1 Run) Short and wide outside off, Dhawan punches it to long off for one.
Match Reports
Topics mentioned in this article