Story Progress
Back to home
Punjab Kings vs Chennai Super Kings Live Score Ball by Ball, IPL 2021 Live Cricket Score Of Today's Match on NDTV Sports
Live Updates of Today Match between Punjab Kings vs Chennai Super Kings from Wankhede Stadium, Mumbai. Check commentary and full scoreboard of the match.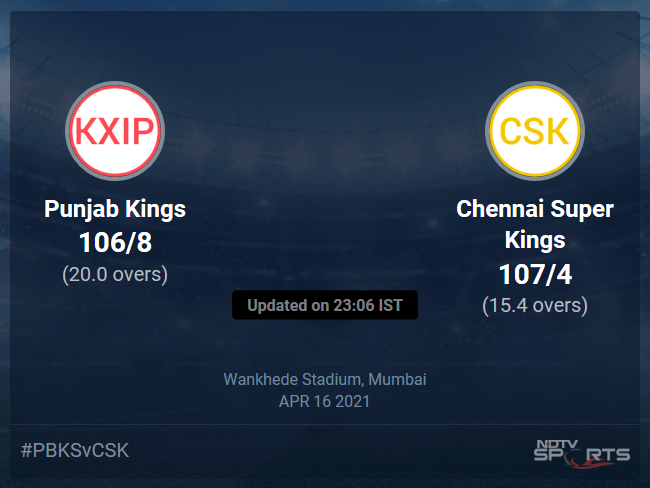 CSK vs PBKS Latest Score
Follow the Indian Premier League 2021 live cricket score on Sports.NDTV.com. After 15.4 overs, Chennai Super Kings, chasing a target of 107, are 107/4. Get live score, ball by ball commentary and much more. Keep track of Indian Premier League 2021 today match between Punjab Kings and Chennai Super Kings. Everything related to Punjab Kings and Chennai Super Kings match will be available on Sports.NDTV.com. Stay updated with Punjab Kings vs Chennai Super Kings live score. Do check for Punjab Kings vs Chennai Super Kings scorecard. You can get scorecard updates, match related facts. Get quick live updates with ads, Sports.NDTV.com, which is the perfect destination for live cricket score.
That is it from this game! Chennai are back and have steamrolled through Punjab to get their first win of the season. Punjab have been handed a thumping loss here and will look to come back stronger from this game. The action in the league continues on Saturday, 17th April. As defending champions, Mumbai takes on 2016 champions and the side yet to win this season, Hyderabad. That game will begin at 1930 local (1400 GMT). That promises to be a cracking game. Make sure to join us for that one. Till then, goodbye and take care!
For his brilliant bowling display, Deepak Chahar is named the Player of the Match. Chahar says that the first wicket pleased him the most as it is a dream ball for every fast bowler as it hit the top of off after pitching on middle. Chahar says that he dreams of that ball. Chahar says he wanted to give fewer runs in the first over. Tells Jadeja is one of the best fielders and only he could have taken Gayle's catch. Chahar says he has the responsibility to bowl the first over and tells he sets the momentum for the game. Tels that Dhoni has shown faith in him. Chahar says as a bowler his plan is to always bowl dot balls and build pressure.
Chennai skipper, MS Dhoni jokes that he is feeling old. Dhoni tells that it has been a long journey and they have played everywhere and adds it has been an interesting journey. Dhoni says that the last time they were happy with Chennai wicket was in 2011. Tells that the ball there does not come on nicely and tells it is difficult to play the big shot. Dhoni says that the wicket in Mumbai is very good but it depends on the conditions as well. Tells there was n dew tonight and the ball moved a lot. Dhoni says that when he is looking to attack he looks to bowl Chahar straightaway as he gets more purchase than anyone else. Tells they have more resource in the side. Dhoni says that they felt that if Moeen plays up in the order it sees them use their resource well. Dhoni says people will talk about who needs to bat where but they need to utilize their resources. Dhoni tells he thought it was high and says that the bowler's input is important to know the impact. Dhoni says that DRS is something to take away howlers from the game.
Stay tuned for the presentation as we hear from Chennai skipper, MS Dhoni and Deepak Chahar who without any surprise will be the Player of the Match.
Earlier in the evening, Deepak Chahar set the tone and laid the foundation for a win as he rattled through Punjab's batting. His 4/13 was just too much for Punjab to comeback from. It looked like Punjab would struggle to get to 75 when they were 26/5. Shahrukh Khan's 47 though gave the total some respectability but in the end, it was just not enough.
Chennai's star batter from the evening, Moeen Ali is caught for a chat. Moeen says that getting the win was the most important thing. Moeen says that his role is to enjoy himself and go out there and time it. Moeen tells he is enjoying the atmosphere and environment. Moeen says he enjoys batting in top 3. Adds batting at 7 is tough but he is happy to do what the team wants. Moeen says he is just practicing to play in good shape and he just looks to time it. Moeen says that it was a great time to bowl and he enjoyed it and he is happy to have got a wicket as well.
Punjab skipper, KL Rahul admits they started off poorly and it was always going to be hard to catch up after losing 5 wickets. Rahul says that the wicket was a lot more sticky and tacky than what it looked like. Credits the Chennai bowlers for bowling the right channel. Tells getting himself run out as a leader was not ideal. Adds the pitch was good enough for 150-160. Rahul says that they have pace in their attack and they want to use that. Tells Meredith and Jhye's performance were positives from this game. Tells they did not have a good first game as they probably were nervous but they executed well and kept the belief. Rahul says they would like to review themselves on the points they talk about. Tells if they have a situation like this then they would look to see how they can improve and learn from their mistakes. Adds it is T20 and there will be big runs barring a few games.
Hardly anything to say about Punjab's bowling. They hardly had anything to bowl and defending 106 in Mumbai was never going to be very realistic. Richardson and Meredith impressed. Shami was the pick of the lot finishing with 2/21 in his 4. Murugan Ashwin and Arshdeep got one each but there just wasn't enough runs to play with.
Chasing a low total of 107, Gaikwad and Faf struggled initially but managed to put on 24 for the opening stand which was good enough for this chase. Gaikwad departed but Moeen looked in great touch since he walked in. His 46 from 31 balls put the game beyond any doubt. He departed with the finish on sight. Raina and Rayudu fell quickly too but it was not early enough to make the Chennai dugout panic as Faf was still out in the middle and managed to see the game off with Sam Curran.
A very comfortable chase for Chennai! They have managed to get their first win of the season and this performance has put out a statement for the rest of the league as well. They have managed to chase this just over 15 overs and that will see their net run rate shoot up nicely. A painful loss for Punjab. They have been outplayed, outclassed and outmuscled in all facets of the game.
15.4 overs (4 Runs) FOUR! Sam Curran finishes it in style! Short delivery on middle, Curran pulls it through square leg for a boundary. CHENNAI WIN BY 6 WICKETS!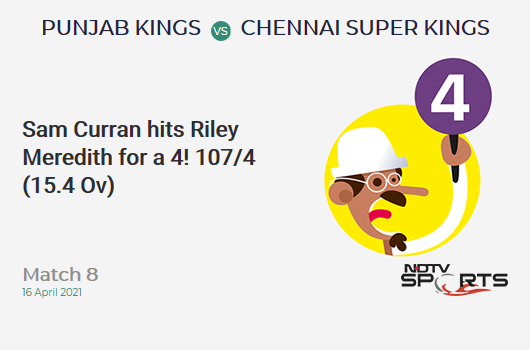 15.3 overs (0 Run) Back of a length on off, Curran taps it to point.
15.2 overs (0 Run) Good length ball on off, Curran keeps it out.
15.1 overs (1 Run) Length delivery on middle, du Plessis flicks it through mid-wicket for a run.
Match Reports
Topics mentioned in this article