Story Progress
Back to home
Mumbai Indians vs Rajasthan Royals: IPL 2021 Live Cricket Score, Live Score Of Today's Match on NDTV Sports
Live Updates of Today Match between Mumbai Indians vs Rajasthan Royals from Arun Jaitley Stadium, Delhi. Check commentary and full scoreboard of the match.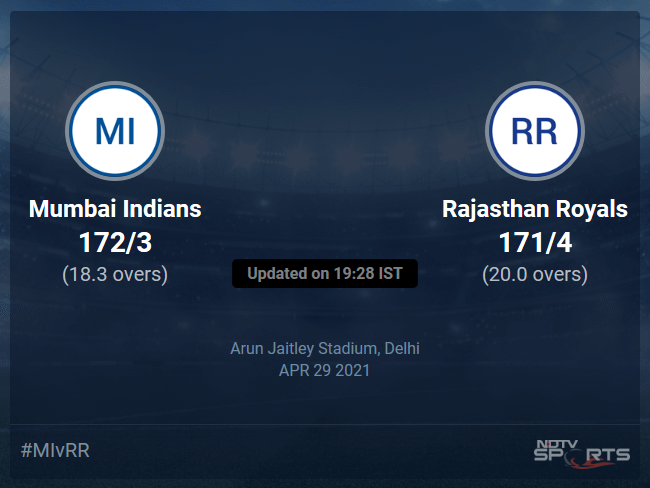 MI vs RR Latest Score
A dedicated team of experts bring you live score, live cricket score, live match update on Sports.NDTV.com. After 18.3 overs, Mumbai Indians, chasing a target of 172, are 172/3. The live updates of Mumbai Indians vs Rajasthan Royals scorecard is also available. It is the perfect platform to follow your favourite teams in Indian Premier League 2021. Keep a track on your favourite batsmen and bowlers through Indian Premier League 2021 today match, ball by ball commentary, Mumbai Indians vs Rajasthan Royals, Mumbai Indians vs Rajasthan Royals live score, Mumbai Indians vs Rajasthan Royals scorecard. Follow the excitement of the Indian Premier League 2021 on Sports.NDTV.com as you can follow live match updates and live cricket score through our platform.
Quinton de Kock is the Player of the Match! That's all we have from this match but don't go too far away as the second match of the evening is about to begin. Hop tabs and catch all the action. Cheers!
Once again the Mumbai bowlers were the focal point! After a troubled beginning in the first 10 overs, they made a resounding comeback and didn't allow Rajasthan the desired finish. Rahul Chahar and Jasprit Bumrah were brilliant in their spells and must be commended for playing a big role in keeping Rajasthan down to 171. During the chase, Quinton de Kock finally spent some time in the middle and regained his lost touch. Plenty of positives for the defending champions along with this victory.
Mumbai return to winning ways! They have pulled off a clinical chase to end their losing streak. It could have been a tricky chase had Rajasthan picked early wickets in the Powerplay but that didn't happen as the pair of Rohit Sharma and Quinton de Kock put on a strong opening stand. That put Mumbai in good stead and then the stand between Krunal and de Kock almost put the chase to bed. Towards the end, Kieron Pollard flexed his muscles and overhauled the target with 9 balls to spare.
18.3 overs (4 Runs) FOUR! Pollard puts the finishing touches in this game! Mumbai are back to winning ways! On the pads, Pollard clips it through fine leg. There is no one in the deep. Convincing win for Mumbai, they WIN BY 7 WICKETS!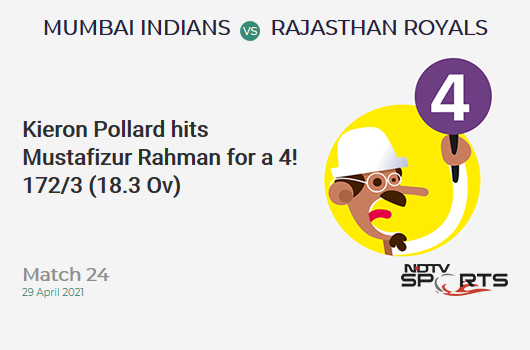 18.2 overs (1 Run) Full toss on middle, de Kock hits it to long on off the lower half for a single.
18.1 overs (4 Runs) FOUR! Valiant chase from Tewatia but to no avail. Full around off, de Kock hits it over extra cover. Tewatia runs from long off and puts a dive but to no avail.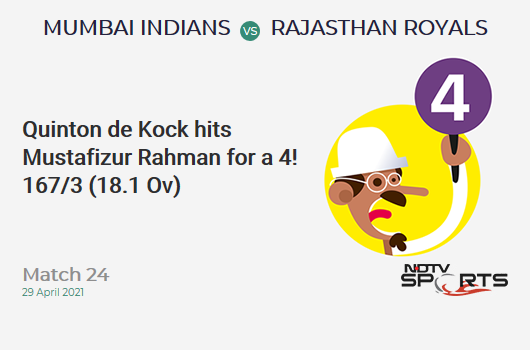 17.6 overs (1 Run) Single to end the over. 9 needed off the last two overs now. Length ball around off, de Kock knocks it to cover and keeps the strike.
17.5 overs (1 Run) Good length delivery around off, Pollard runs it down to third man for a single. Just 10 needed now.
17.4 overs (0 Run) Slower short ball outside off. Pollard slaps it to cover.
17.3 overs (4 Runs) FOUR LEG BYES! This sums up Rajasthan's day! Bouncer on middle, Pollard looks to duck under it. It hits his helmet and goes fine down the leg side for a boundary.
17.2 overs (4 Runs) FOUR! Brilliant from Pollard! Low full toss, almost a yorker. Nothing wrong with the delivery. Pollard is just too good. He goes deep in his crease and wrists it through mid-wicket for a boundary.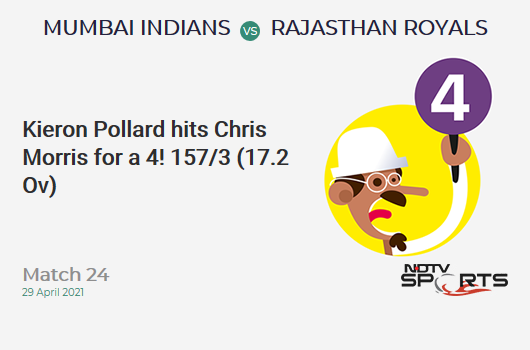 17.1 overs (6 Runs) SIX! How easily has Pollard done that? Shorter around off, Pollard smacks it over covers with the minimum of fuss for a biggie.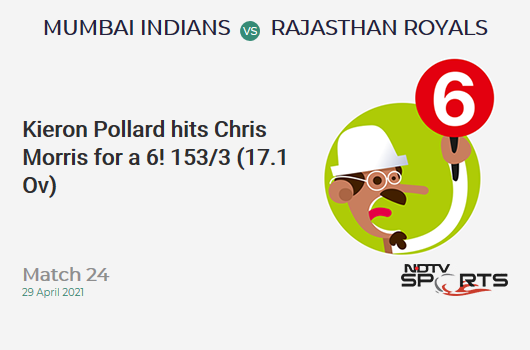 16.6 overs (1 Run) Single to end the over. 25 needed off the last 3 overs. The last ball is full on middle, Pollard milks it past Mustafizur for a single at long on.
16.5 overs (0 Run) Short ball at pace around off. Pollard looks to play but misses. He comes out of his crease to defend. Samson has a shy at the keeper's end but misses.
Kieron Pollard arrives in the middle.
16.4 overs (0 Run) OUT! BOWLED! The Fizz strikes and has the last laugh. It has been a strong comeback from Mustafizur in this over after being hit for a six. A very full ball and this time it is pace on from Mustafizur Rahman. Krunal swings but misses and the ball sneaks under the bat to disturb the stumps. 26 needed in 20, are Rajasthan still in this or is it too little too late?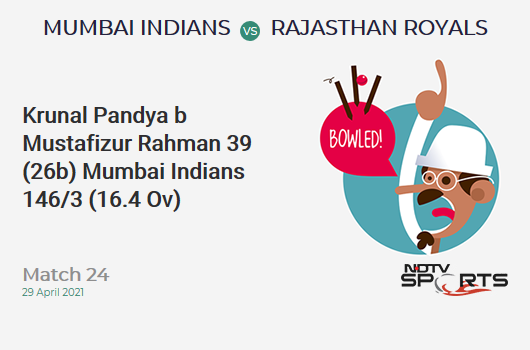 16.3 overs (0 Run) Slower ball bowled into the surface. Krunal looks to smack it through the leg side but misses and gets hit on the thigh pad.
16.2 overs (0 Run) Length ball on off, Krunal blocks it.
16.1 overs (6 Runs) IN THE AIR AND SIX! Full ball around the pads, Krunal swings hard at it. It goes high in the air and gets just over the ropes for a biggie at deep mid-wicket.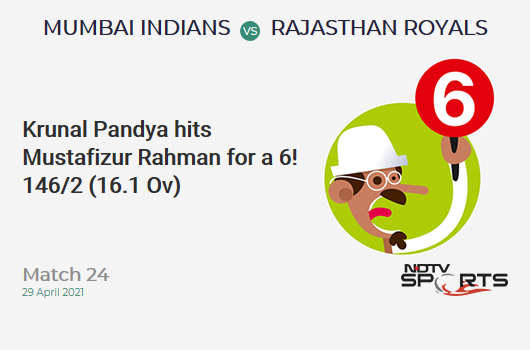 15.6 overs (1 Run) A 137. kph full delivery on middle, Krunal bunts it down in front of mid off and steals a quick run. 9 from the over, 32 needed off 24 balls.
15.5 overs (1 Run) Fullish and on off, de Kock drives it to deep cover for one.
15.4 overs (1 Run) Morris goes short and delivers it outside off, Krunal pulls it down to long on for a single.
15.3 overs (1 Run) Fuller in length and on middle, de Kock flicks it to deep square leg and takes a run. 35 needed off 27 balls.
15.2 overs (1 Run) Full in length and outside off, Pandya lofts his drive over covers for a single.
15.1 overs (4 Runs) FOUR! Again it's a good start to the over for Mumbai. A low dipping full toss outside leg, Pandya does well to get bat on ball and places it superbly behind square leg for a boundary. The 50-run stand comes up!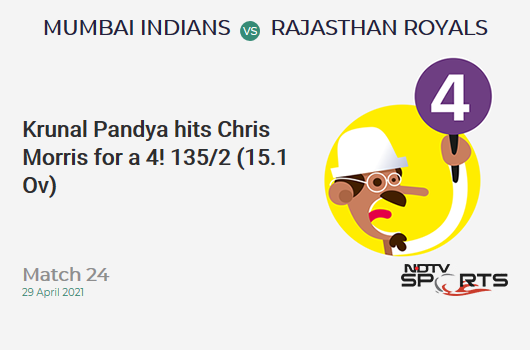 Match Reports
Topics mentioned in this article