Story Progress
Back to home
Mumbai Indians vs Punjab Kings Live Score Ball by Ball, IPL 2021 Live Cricket Score Of Today's Match on NDTV Sports
Live Updates of Today Match between Mumbai Indians vs Punjab Kings from Sheikh Zayed Stadium, Abu Dhabi. Check commentary and full scoreboard of the match.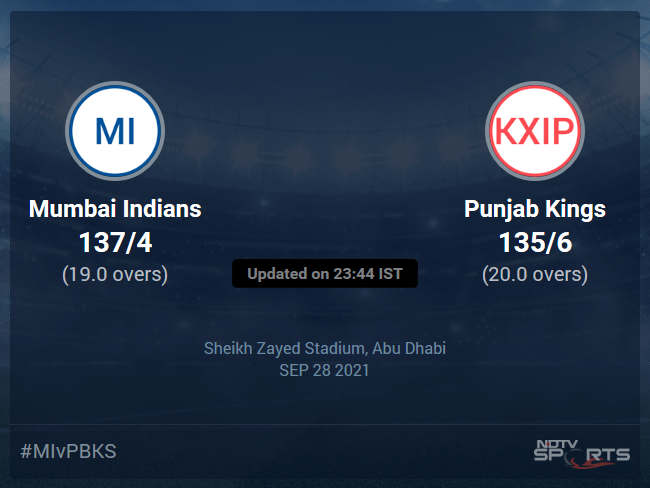 PBKS vs MI Latest Score
Follow the Indian Premier League 2021 live cricket score on Sports.NDTV.com. After 19.0 overs, Mumbai Indians, chasing a target of 136, are 137/4. Get live score, ball by ball commentary and much more. Keep track of Indian Premier League 2021 today match between Mumbai Indians and Punjab Kings. Everything related to Mumbai Indians and Punjab Kings match will be available on Sports.NDTV.com. Stay updated with Mumbai Indians vs Punjab Kings live score. Do check for Mumbai Indians vs Punjab Kings scorecard. You can get scorecard updates, match related facts. Get quick live updates with ads, Sports.NDTV.com, which is the perfect destination for live cricket score.
Right then. That is all we have from this game. The action in the Indian T20 League continues as on Wednesday, 29th September 2021, we will have the clash between Bangalore and Rajasthan at 6 pm local (2 pm GMT). Do join us then. Cheers!
Kieron Pollard is the Man of the Match! He says that his bowling is a bit underrated. Adds that as an individual he tries to do what the team wants and he had his day with the ball. Mentions that he targets certain batters and other specialists are there in the team. He mentions that he doesn't have pace, swing, seam, or spin but uses his brain to get the job done. Mentions that he is getting older but it's nice sometimes to show the young guys how it's done. Ends by saying that they got the two points which is the most important thing.
The Mumbai skipper, Rohit Sharma says that they didn't play to their potential but they stick to each other during this time. Says that they have been in a similar situation previously and they learn from it. Adds that they have a brilliant squad and they play well when asked to. He praises Pandya on the way he played, he says that he is coming after an injury so he needed some time in the middle. Talking about Kishan, he says that it was a tough call to take but he can be back when needed. Laughs while saying that the track is definitely better than what he played in England. Says that the grass is coming off the pitch and it was a good batting pitch. Adds that Pollard has been a key player for so long and today he delivered.
KL Rahul, the losing skipper of Punjab, says that it was a great fight from them. Says that 135 was not enough and they should have posted 170 but they have done well to show fight and the next two games will be very interesting for them. Adds that they have not been able to handle the pressure in the middle but they will learn over time. Says that they try to stay positive and they take one game at a time. Says they just enjoy playing cricket and do not think much of the result. Says they just tell the boys to enjoy their game.
Another good bowling display from Punjab but it was not enough for them to bag the two points. They needed a win here but they could not overpower Mumbai. They started well as Ravi Bishnoi struck in consecutive balls to remove 2 Mumbai batters early on. Then, they kept the pressure building by bowling tight lines and lengths and did not allow the batters of Mumbai to score runs freely. Aiden Markram was decent in his spell, whereas, Arshdeep Singh and Nathan Ellis displayed their class once again with an impressive outing. Mohammed Shami was slightly expensive and could not contain the batters towards the end. In the end, Mumbai did enough to scalp the 2 points on offer.
Usually, the openers of Mumbai have been good in providing a good platform at the start, and they did that well in the last game against Bangalore too, but it did not happen in this game. Rohit Sharma and Suryakumar Yadav fell in consecutive balls and Mumbai were in some trouble. Quinton de Kock and Saurabh Tiwary steadied things slightly before de Kock departed. Tiwary though continued and played very well for his 45, but lost his wicket at the wrong time. The onus fell on the duo of Hardik Pandya and Kieron Pollard and those two kept their calm, scored a couple of boundaries, ensured the game was within grasp and helped their team cross the line.
Finally. Finally, Mumbai have won a game. It has felt like a lifetime, right? Well, that's because Mumbai are just serial winners, so, every time they get a result that isn't a win, it is a surprise. They will be hoping that this win turns around their fortunes and they can continue with the same momentum. Punjab, on the other hand, will be disheartened that they could not cross the line as they have bowled very well, but it was not meant to be.
18.6 overs (6 Runs) SIX! DROPPED! It's all over now! On a length and Hardik Pandya rocks back to pull it. He flat-bats it towards long on where the fielder, Deepak Hooda spills the catch and the ball goes over the ropes. MUMBAI WIN BY 6 WICKETS!
18.5 overs (4 Runs) FOUR! Up and over! Length again, on off and Pandya goes on the back foot. He manages to clear Chris Gayle at mid on and splits the gap at long on and deep mid-wicket. Mumbai have the finishing line in sight now as they need just 5 more!
18.4 overs (2 Runs) Length ball, slapped down towards wide long off for a couple. Great work from the fielder in the deep to save the boundary.
18.3 overs (4 Runs) FOUR! It was always a risky tactic with no third man. Back of a length and around off. This time Pandya waits for it and cuts it over backward point for a boundary.
18.2 overs (0 Run) A golden dot ball! Back of a length and well outside off. Pandya looks to cut and misses yet again.
18.1 overs (1 Run) Length ball, around off, swatted down to long on for one.
17.6 overs (1 Run) Full and straight. Pollard thumps it down to long off, almost taking the umpire out in the process. They get a single and now 16 runs are required off 12 balls.
17.5 overs (6 Runs) SIX! BANG! It was building up to be such a good over for Punjab and then Pollard has ruined it. Arshdeep Singh misses the yorker outside off by a couple of inches and Pollard doesn't let it go unpunished. Pollard just lifts this one over long off for a biggie.
17.4 overs (4 Runs) FOUR! Welcome boundary for Mumbai. Low full toss, wide of off stump. Pollard creams it through covers for a boundary, nobody moved as that raced away to the ropes.
17.4 overs (1 Run) WIDE! Full and down the leg side, Pollard leaves it.
17.3 overs (1 Run) Full and around off, squeezed to deep point for a single.
17.2 overs (0 Run) Back-to-back dot balls! Another perfect wide yorker. There's nothing any batter can do about that one. Hardik Pandya tries but fails to make any contact.
17.1 overs (0 Run) Excellent bowling. Wide yorker and Pandya can't reach it.
16.6 overs (1 Run) This time Pandya does cut away the length ball to the fielder at deep point. He retains the strike with the single. 29 needed in 18 balls!
16.5 overs (0 Run) That one had just extra bounce on it. Another good-length ball and outside off. Pandya hops and looks to cut away but is undone by the pace and the bounce.
Will Nathan Ellis continue? Or will Arshdeep Singh come back on? It is the latter! Arshdeep Singh (3-0-16-0) to bowl out!
16.4 overs (0 Run) Good-length ball, outside off. Pandya can't get any bat on it.
16.3 overs (6 Runs) SIX! What a shot from Hardik Pandya! That body blow has fired him up. Length ball, on middle. Pandya stands tall and whips this one over the deep square leg fence for a maximum.
16.2 overs (4 Runs) FOUR! Well, the previous delivery might have hurt Pandya but he has now hurt Punjab. Marginally short and pulled away with authority into the square leg fence.
16.1 overs (0 Run) Ooooh! That was fiesty from Mohammed Shami. He hits the deck hard on middle and the ball seams in sharply. Pandya can't get out of the way and gets hit on the shoulders. That must have stung.
15.6 overs (1 Run) On a length, angled into the body. Pandya works it to wide long on for a single.
15.5 overs (0 Run) Another dot ball, the pressure starts to build. Back of a length, on off. Hardik Pandya punches it off the back foot but straight to mid off.
Ravi Bishnoi is done for the night. Who will replace him? Mohammed Shami (2-0-14-1), it is!
15.4 overs (1 Run) Another slower ball, on a length, around off. Pollard taps it onto the off side and scampers through for a run.
15.3 overs (0 Run) Well bowled! Banged into the deck and slower, outside off. Kieron Pollard leaves it alone.
15.2 overs (2 Runs) Fullish ball, on the pads and clipped away by Pollard towards deep square leg for a couple.
15.1 overs (0 Run) OUT! CAUGHT BEHIND! It has carried! Nathan Ellis comes in and provides the big breakthrough. What a bowling change from KL Rahul! The third umpire has a check and is happy with the catch. A slower delivery, well outside off. Saurabh Tiwary goes after it and pays the price. Tiwary looks to cut it away but gets a thick outside edge. KL Rahul springs to his left and takes the catch in front of him. Can this be the turning point?
Strategic Time-Out! The game hangs right in the balance. 44 more needed from 29 balls and we are going all the way down the wire. Punjab have bowled well so far but they know that they need to be sharp in these last 5 overs. Mumbai, meanwhile, will be disappointed that they lost Saurabh Tiwary but they still have enough power in the form of Hardik Pandya, Kieron Pollard, and Krunal Pandya to take them home. Also, Kieron Pollard is the new batter in!
Is that a clean catch? KL Rahul certainly thinks so. Both umpires converge and take this one upstairs. Replays show that it is indeed, a clean one. Saurabh Tiwary walks back.
Match Reports
Topics mentioned in this article