Story Progress
Back to home
Kolkata Knight Riders vs Punjab Kings Live Score Ball by Ball, IPL 2021 Live Cricket Score Of Today's Match on NDTV Sports
Live Updates of Today Match between Kolkata Knight Riders vs Punjab Kings from Dubai International Cricket Stadium, Dubai. Check commentary and full scoreboard of the match.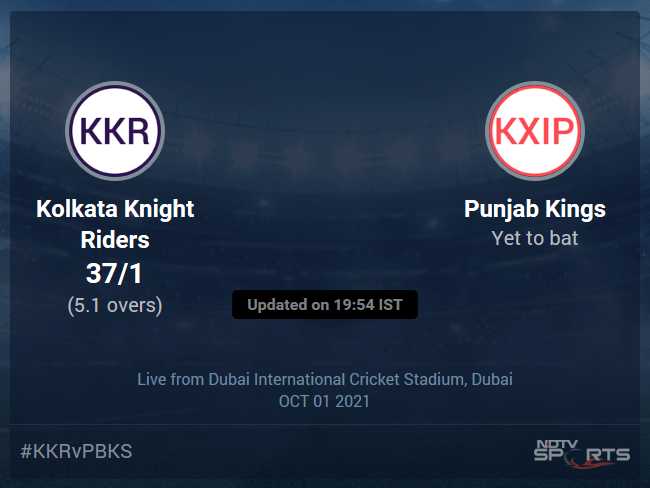 PBKS vs KKR Latest Score
Follow the Indian Premier League 2021 live cricket score on Sports.NDTV.com. After 5.1 overs, Kolkata Knight Riders are 37/1. Get live score, ball by ball commentary and much more. Keep track of Indian Premier League 2021 today match between Kolkata Knight Riders and Punjab Kings. Everything related to Kolkata Knight Riders and Punjab Kings match will be available on Sports.NDTV.com. Stay updated with Kolkata Knight Riders vs Punjab Kings live score. Do check for Kolkata Knight Riders vs Punjab Kings scorecard. You can get scorecard updates, match related facts. Get quick live updates with ads, Sports.NDTV.com, which is the perfect destination for live cricket score.
4.6 overs (1 Run) A single to end the 5th over. Singh concedes 7 off his second over. Slower in pace, on middle and leg, clipped to short fine leg for one.
4.5 overs (1 Run) Back of a length, on middle and leg, Rahul goes back and drops this to mid-wicket for one.
4.4 overs (1 Run) Direct hit might have been tight! Outside off, a length ball, Iyer taps this one towards Ravi Bishnoi at short third man. The batters scamper through for one as Ravi has a shy at the striker's end, but misses.
4.3 overs (4 Runs) FOUR! Clipped away nicely! Iyer has started with a positive mindset! Arshdeep strays and serves a length ball on the pads, not a good delivery keeping in mind that there was no fine leg. Iyer whips this one past short fine leg and gets a boundary.
4.2 overs (0 Run) In the zone outside off, on a length, guided straight to the point fielder by Iyer.
4.1 overs (0 Run) A touch fuller, on middle, Iyer flicks gently, but finds the fielder at mid-wicket.
Will Arshdeep Singh get another over? Yup, he is ready to deliver his second...
3.6 overs (4 Runs) FOUR! Rahul Tripathi gets hold of this one, alright! It was a good over for Shami until the last ball but Rahul takes him on and gets a boundary! Short of a length, around off, Rahul Tripathi smashes this one over wide mid on and the ball goes past the ropes.
3.5 overs (0 Run) Tries to be funky, does Rahul! Served fuller, outside off, Rahul Tripathi shuffles and looks to paddle this to the leg side but he fails to connect as the ball takes the pad and goes to the fielder at first slip.
3.4 overs (1 Run) Iyer makes room by moving to the leg side as Shami hurls a fuller ball, outside off. Iyer carves this one down to third man and collects a single.
3.3 overs (1 Run) Rahul Tripathi skips down the track looking for a big shot but it takes the bottom half of his blade and rolls towards mid on. They cross for a brisk run as Ravi Bishnoi misses his shy at the bowler's end.
3.2 overs (0 Run) Very well bowled from Shami! Outside off this time, on a length, the ball lands and shoots up this time. Rahul looks to punch to the off side but the ball evades his blade, to KL Rahul.
3.1 overs (1 Run) On a length on middle, Venkatesh nudges this towards square leg and takes one.
2.6 overs (2 Runs) Around off and middle, on a length, nipping in, Rahul Tripathi looks to push but gets an inside edge to the left of deep square leg. A couple of runs to end a good over from Arshdeep Singh!
2.5 overs (0 Run) Beaten all ends up! Back of a length, around leg, Rahul Tripathi jumps down the track for a big heave-ho over the leg side but is beaten all ends up.
2.4 overs (2 Runs) Plays late and beats backward point. Arshdeep Singh lands it close to off on a length, Rahul Tripathi allows the ball to come close and then opens the face of his bat late. Two runs taken.
2.3 overs (0 Run) On a length and outside off, angling away, Rahul Tripathi pushes it off his front foot to covers.
2.3 overs (1 Run) Wide! Angling down the leg side, Rahul Tripathi tries to buy some cheap runs off his pads but fails to connect.
Rahul Tripathi walks in next.
2.2 overs (0 Run) OUT! CLEANED HIM UP! 'Balle balle' for Singh very early on! Kolkata are one down very quickly. Arshdeep has impressed every single time he is handed the ball and he starts off with a bang on this occasion too. On a good length, around off, slanting away, Gill looks to push this to the off side but the ball takes the inside edge and crashes onto the furniture behind. Just the start that Punjab would have wanted!
2.2 overs (1 Run) WIDE. Arshdeep Singh sees Gill skipping down the track and serves a length ball, following the batter, Singh though slips it down leg. Gill misses his tuck and it is signalled as a wide.
2.1 overs (0 Run) That's a ripper from Singh to begin! Serves it fuller, outside off, slanting away from the right-hander. Gill plays a lazy looking drive, does not move his feet too and misses his shot.
Bowling change? Yes. The experiment with Fabian Allen lasted for just one over. Here is Arshdeep Singh...
1.6 overs (1 Run) EDGY! Lucky for Gill. Around off, on a fuller length, Gill looks to push it to the off side but the ball takes the inside edge and goes to square leg for one. 7 off Shami's first!
1.5 overs (4 Runs) FOUR! Gill gets a boundary now. He uses his feet well and bags a boundary. Short of a length, outside off, it does not rise too much as Shubman Gill skips down the track and slaps this one through covers.
1.4 overs (0 Run) Some away movement on notice here! On a length, closer to off, it lands and nips away nicely, Gill watches it closely, before making a leave.
1.3 overs (1 Run) On the body, a back-of-a-length delivery, Iyer nudges this awkwardly to square leg and takes a run.
1.2 overs (0 Run) Back of a length, around off, Iyer manages to defend this one back to Shami.
1.1 overs (1 Run) A touch shortish to begin with from Shami, outside off, Gill punches it to covers where Mayank dives and parries it towards mid off. They take a run.
Mohammed Shami to operate from the other end.
0.6 over (4 Runs) FOUR! Iyer gets another boundary! Oh, this lad can bat! The length is full, it is angling away outside off. Venkatesh Iyer slaps this one through covers and the ball speeds away to the fence.
0.5 over (1 Run) Gill gets off the mark too! Fuller on middle, it's eased down to long off for a single.
0.4 over (1 Run) Allen keeps probing with the short length, on middle, Iyer knocks this one to long on and rotates the strike with a single.
0.3 over (0 Run) Flatter, around off and middle, Iyer pushes this to the off side.
0.2 over (0 Run) Darted on middle, Iyer keeps this one out to covers.
0.1 over (4 Runs) FOUR! What a way to get off the mark! Iyer starts off really well. Allen bowls this fuller, gives it some flight, on middle and leg, Venkatesh Iyer whips this one past the square leg fielder, who gives this chase, but fails to stop the ball.
It's time to get the ball rolling. The players are coming on the ground. Shubman Gill and Venkatesh Iyer are the openers for Kolkata. They have been in great form and Kolkata would be hoping for a good start from them. Punjab are beginning with the spin of Fabian Allen. All set, here we go...
Kolkata (Playing XI) - Shubman Gill, Venkatesh Iyer, Rahul Tripathi, Eoin Morgan (C), Nitish Rana, Dinesh Karthik (WK), Tim Seifert (In place of Lockie Ferguson), Sunil Narine, Shivam Mavi (In place of Sandeep Warrier), Tim Southee, Varun Chakravarthy.
Punjab (Playing XI) - KL Rahul (C/WK), Mayank Agarwal (In for Mandeep Singh), Aiden Markram, Nicholas Pooran, Shahrukh Khan (In place of Harpreet Brar), Deepak Hooda, Fabian Allen (In place of Chris Gayle), Nathan Ellis, Mohammed Shami, Ravi Bishnoi, Arshdeep Singh.
Eoin Morgan, the captain of Kolkata, says that it's a challenge to bat first here but the results here haven't been dictated by the toss. Informs about the changes as Lockie Ferguson is out and Tim Seifert comes in, also Shivam Mavi replaces Sandeep Warrier. Regarding the fitness of Andre Russell, Morgan replies that there are two significant blows to them and both Russell and Ferguson are getting monitored day by day. Feels that they will have to rehab really well in order to be fit. Mentions that the pitch here in Dubai has been the most consistent, doesn't look bad and it could be a good wicket for batting. Wants his team to build confidence leading into the other games.
The captain of Punjab, KL Rahul, says that they will bowl first and adds that the wickets have been quite tricky, based on the other games that have happened here, and so, it would be tricky to bat first and they aren't sure what sort of total would be good here. Adds that their bowling group has done really well and their batting has failed to fire. Hopes that they can come together and score some big runs but KL also hopes that they won't have to chase a big total as he wants to restrict Kolkata to around 130-140. Informs that they have three changes as Chris Gayle, Mandeep Singh and Harpreet Brar miss out and Fabian Allen, Mayank Agarwal and Shahrukh Khan replace them.
It's toss time! KL Rahul and Eoin Morgan are in the middle. The latter flips the coin, Rahul calls correctly and PUNJAB ELECT TO FIELD!
PITCH REPORT - Simon Doull and Kevin Pietersen are the pitch inspectors for the evening. Simon says that this is the same surface that they used two nights ago and there is a good even covering of grass and it is a hard surface. Kevin adds that he does not see demons on this deck. Doull ends by saying that as a bowler, if you hit your lengths right, then you will have success.
Just in - Tim Seifert is all set to make his debut for Kolkata. Interesting choice and Kolkata will have to tinker with their team composition to accommodate the Kiwi in the XI.
Who will replace Chris Gayle? There are options like Moises Henriques and Fabian Allen, and Punjab could go with the former for his wealth of knowledge in this format. Allen also offers them a good all-round option but he is a bits and pieces cricketer and possibly not a solution for Punjab's batting woes. Let's see who gets the nod. There are chances that they can completely ignore the overseas options and give an opportunity to the likes of Shahrukh Khan or Jalaj Saxena. Plenty of possibilities and the picture will get clear at the toss.
It's nothing new with Punjab. They are the ultimate underachievers and their inconsistent performance has now become a norm. The close loss against Rajasthan in their first game after resumption would be haunting them at the moment. Since then, they have lost one game and won one, and are reeling in the bottom half with 4 wins. Chris Gayle has left them now citing 'bubble fatigue' but given his ordinary form, this should not be taken as a big blow. Apart from the top 3, their batting has been largely absent and this is the moment for the other batters to make their presence count.
Kolkata are on a mission! Since the resumption of this edition, they have taken down teams like Bangalore, Mumbai and Delhi, and narrowly missed out on taking down Chennai. While Eoin Morgan's bat has been silent, his captaincy has been in roaring form. He has put together a group of fearless cricketers and this group is approaching every game with an aggressive mindset. Be it their batting or their bowling, everything is working in tandem and the 2-time champions would be hoping to keep the same momentum going this evening.
Hello, folks! It's the fight for survival and only the best will survive. The points table of this season's Indian T20 League is looking red-hot at the moment. One spot is already booked by Chennai and the next two places look almost locked at the moment. That leaves only one place vacant and four teams are fighting for it. Currently, Kolkata are the marked team as they acquire the fourth position on the table and Punjab would be looking to upset them this evening to at least get on level points with them. Can they succeed?
Topics mentioned in this article