Story Progress
Back to home
Delhi Capitals vs Chennai Super Kings Live Score Ball by Ball, IPL 2021 Live Cricket Score Of Today's Match on NDTV Sports
Live Updates of Today Match between Delhi Capitals vs Chennai Super Kings from Dubai International Cricket Stadium, Dubai. Check commentary and full scoreboard of the match.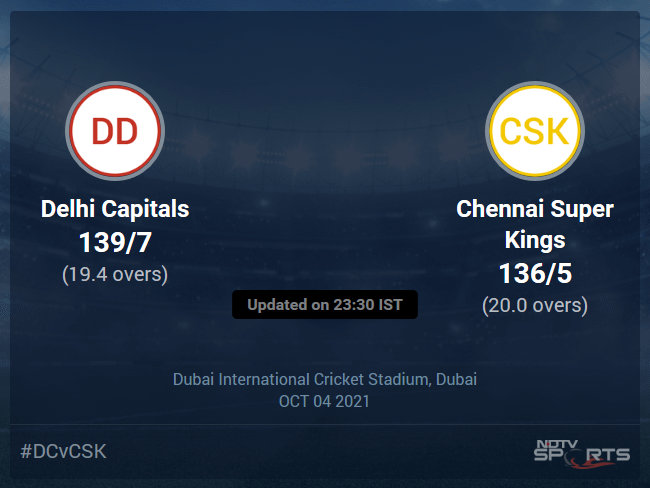 CSK vs DC Latest Score
Follow the Indian Premier League 2021 live cricket score on Sports.NDTV.com. After 19.4 overs, Delhi Capitals, chasing a target of 137, are 139/7. Get live score, ball by ball commentary and much more. Keep track of Indian Premier League 2021 today match between Delhi Capitals and Chennai Super Kings. Everything related to Delhi Capitals and Chennai Super Kings match will be available on Sports.NDTV.com. Stay updated with Delhi Capitals vs Chennai Super Kings live score. Do check for Delhi Capitals vs Chennai Super Kings scorecard. You can get scorecard updates, match related facts. Get quick live updates with ads, Sports.NDTV.com, which is the perfect destination for live cricket score.
Right. That ends proceedings from this game. We are into the endgame of the group stages in the Indian T20 League, 2021 and on Tuesday, 05th October 2021, we will see the clash between two teams who are aiming for that fourth playoff place - Mumbai will take on Rajasthan at 6 pm local (2 pm GMT), but, the build-up will begin earlier. We hope to have your company for that game. Until then, goodbye and take care!
AXAR PATEL IS THE MAN OF THE MATCH! He says that when one bowls, the game plan remains the same but one needs to assess the pace of the pitch. He adds that the opponents were 10 runs short in the Powerplay which helped. Mentions that Ashwin gave him a couple of pointers in the field setting in order to make the batters hit square as the long boundaries were square of the wicket. Says that he is really happy and this game will boost their confidence going into the playoffs.
Rishabh Pant, the Delhi skipper, says that it is not a bad birthday present. Mentions that in the Powerplay, Chennai came hard at them and got away but then they came back stronger bowling good overs. Tells that it was a low total and is glad that they chased it down in the end. Adds that it's a big win for them as they can assure a top-two finish.
Shimron Hetmyer is in for a quick word! He says that he is paid to finish games and is happy that he was able to do that. On the dropped catch, he says he thought he was out but was lucky. Adds that the plan was to take it as deep as possible and target the 19th over. Mentions that it was easy for him as he had faced Bravo earlier as well and is happy that he could score a couple of boundaries off Bravo.
MS Dhoni, the Chennai skipper, says that they were looking to hit closer to 150. Mentions that they failed to accelerate after the 15th-16th over as the platform was nice and feels that it was a tough wicket. Tells that it was a two-paced wicket as some balls come onto you and some don't. Mentions that the taller bowlers were getting movement from the pitch. Adds that it was a very good effort from the bowlers to take the game right till the end. Ends by saying that overall, he is very pleased with the effort from his bowlers.
Chennai did not start off well with the ball but they always know how to bounce back when things were going against them. When things got tough, they did well to take wickets at that point and push Delhi back. They were under the pump early on but took wickets regularly. The 15th over by Shardul Thakur felt like the game-changing one as he took 2 wickets, and also the valuable one of Dhawan, but in the end, they could not do enough to win the game. Ravindra Jadeja had a good outing as he bowled well and took 2 wickets. Thakur ended with figures of 4-0-13-2 as well, stepping up when his team needed him too. Josh Hazlewood and Moeen Ali were efficient too but if they had 15-20 more runs on the board, maybe the result could have been different.
Delhi got off to a good start as Prithvi Shaw was looking to attack but he did not last for long. He lost his wicket in the 3rd over and Dhawan and Iyer steadied things slightly before Iyer gifted his wicket away. Pant and debutant, Ripal Patel played handy knocks and stitched decent stands with Dhawan but did not hang around for long. With the players that Delhi had in their ranks, the fact that Dhawan was still out there, and the final cherry on top of the cake, that the total was not a big one, you would think Delhi would cross the line. But, from a position of 93/3, Delhi slipped to 99/6 and also lost Dhawan, and were under pressure. The onus fell on Shimron Hetmyer and Axar Patel and they did well to take the game to the final over but Patel fell. It did not make a difference as Rabada hit the winning runs and took his team past the finish line.
Well, there we have it! When the top 2 sides in the table clash, it is bound to be a close game, and boy, were we treated to a humdinger! The game went down right to the wire and it is Delhi who have emerged victorious as they have won by 3 wickets and move atop the summit as this victory sees them get to 20 points. Chennai came close to winning this but they just fell short.
19.4 overs (4 Runs) FOUR! Kagiso Rabada punches his hands in the air as he hits the winning runs! Full and sliding down leg, Rabada flicks it into the vacant fine leg fence. DELHI WIN A THRILLER BY 3 WICKETS!
19.3 overs (0 Run) OUT! CAUGHT! The game turns on it's head yet again! With just two needed off 4 balls, Axar Patel looks to play the expansive drive and end proceedings in style. One might question, was that really required? Full and wide, creamed straight to short cover. Moeen Ali takes a brilliant catch under pressure and Patel has to walk back. 2 needed off 3 balls now.
19.2 overs (0 Run) Seam up from Bravo. Length and wide outside off. A swing and a miss from Axar Patel.
19.2 overs (2 Runs) TWO WIDES! Wild delivery from Dwayne Bravo, even he is feeling the pressure. The umpires are discussing whether it's a wide or a no ball as the ball has landed outside the pitch. A wide is signalled in the end. They scamper through for the single as the ball goes to Hazlewood who dives down at short third man.
Kagiso Rabada walks out into the middle.
19.1 overs (2 Runs) Slower and well outside off. Hetmeyer leans in and swats it through the cover region. They come back for the second with ease.
Looks like MS Dhoni is going to come up to the stumps. He calls for his helmet and gets is quickly. He does not want Shimron Hetmyer to venture out of his crease.
18.6 overs (1 Run) Full and on leg stump, Hetmeyer heaves it down to deep mid-wicket for a single. 6 needed off the last over.
18.5 overs (2 Runs) In the air...safe! Back of a length, around off. Hetmeyer looks to go downtown but gets a top edge. The fielders from long on and long off converge but the ball lands safely around mid off. They race back for the second.
6 needed in 6 balls. Dwayne Bravo will bowl the final over. Can he hold his nerve and take Chennai past the finish line?
18.4 overs (6 Runs) SIX! BANG! Is that the game then? Josh Hazlewood continues to hit the length hard and this one is on the hips. Shimron Hetmyer makes room and dispatches it over the square leg fence for a biggie. 9 needed now off 8 balls.
18.3 overs (0 Run) Another dot ball! Back of a length, on leg and cramps Hetmeyer for room. Shimron Hetmyer looks to swing across but misses and gets hit on his body.
18.2 overs (1 Run) Short again and Axar Patel pulls it behind square on the leg isde for a single.
18.1 overs (0 Run) Banged into the pitch and Patel can't get the pull shot away. The fielder at short mid-wicket is sharp and has a shy at the bowler's end but misses. If that had hit, Hetmeyer was a goner.
17.6 overs (1 Run) Full and straight, drilled down to long on for a run. 16 needed off 12 balls.
17.5 overs (0 Run) Full and sliding onto leg stump. Patel looks to play a cross-bat shot but misses and gets hit on the pads. A huge appeal but turned down, maybe sliding down leg. The ball rolls towards backward point and Hetmeyer wants the single but they don't get it.
17.4 overs (1 Run) A bit of cat and mouse going on between Bravo and Hetmeyer. Hetmeyer steps out of the crease and Bravo pulls back the length and bowls a slower one. Hetemyer works it towards mid on for a single.
Who will bowl the penultimate over? Josh Hazlewood, it is.
17.3 overs (4 Runs) DROPPED AND FOUR! Could that be the game? A low full toss, around off. Hetmeyer gets low and looks to clear long on. He gets it off the toe end of the bat and straight down the throat of the substitute fielder, Krishnappa Gowtham. He spills it and to make matters worse for Chennai, the ball goes into the fence.
17.3 overs (1 Run) WIDE! Oh dear! This is an attempted slower ball, but way outside the tramline on the off side. Wided.
17.2 overs (4 Runs) FOUR! Full and straight, Bravo goes searching for the yorker but serves a half-volley. Shimron Hetmyer hangs back and pummels it back over the bowler's head for a boundary.
17.1 overs (0 Run) Full and very wide again. Hetmeyer comes down the pitch and outside off again. A swing and a miss and no wide called this time.
17.1 overs (1 Run) WIDE! Bravo starts off with a full and wide one, a bit too wide. Hetmeyer did move a long way outside off but the umpire calls a wide.
16.6 overs (1 Run) Slower one, banged into the pitch. Hetmeyer looks to pull but is deceived by the lack of pace. He manages to guide it to the left of short fine leg, where Josh Hazlewood puts in the dive to stop it. A single to end the over and just five off it.
16.5 overs (1 Run) On top of off, Patel opens the face of the bat and steers it to third man for one.
Will Moeen Ali bowl out or will we see Dhoni make a change? Yes, he will! Dwayne Bravo is into the attack to bowl the 18th over!
16.4 overs (0 Run) A golden dot ball at this stage. Length again, around off and tapped to mid off.
16.3 overs (1 Run) A length ball this time and on off. Hetmeyer taps it through mid-wicket for a run.
16.2 overs (1 Run) Yet another single, Delhi need boundaries which they aren't able to get. Full and straight, punched gently back past the bowler for a single.
16.1 overs (1 Run) Pitched up, on off and crunched to mid on. Hetmeyer sets off for the quick single but Axar Patel hesitates a bit but they scamper through in the end.
15.6 overs (1 Run) Shorter one, on off and cut away off the back foot through cover-point for a single. 33 needed off 24 balls.
15.5 overs (0 Run) Ali holds this one back a bit and slides it in on leg stump. Hetmeyer looks to block but misses and gets rapped on the pads. Chennai players appeal but the umpire is unmoved.
15.4 overs (1 Run) On off and eased down the ground for another one.
15.3 overs (1 Run) 'Catch' is the shout from MS Dhoni but it's safe. Flatter one, on middle and Hetmeyer chips it towards sweeper cover for a single.
15.2 overs (2 Runs) A touch short and wide, Hetmeyer whacks it through the cover region and Hazlewood cuts it out. Two taken.
15.1 overs (0 Run) Tossed up, on middle and pushed to covers.
Match Reports
Topics mentioned in this article