Story Progress
Back to home
Delhi Capitals vs Chennai Super Kings: IPL 2021 Live Cricket Score, Live Score Of Today's Match on NDTV Sports
Live Updates of Today Match between Delhi Capitals vs Chennai Super Kings from Dubai International Cricket Stadium, Dubai. Check commentary and full scoreboard of the match.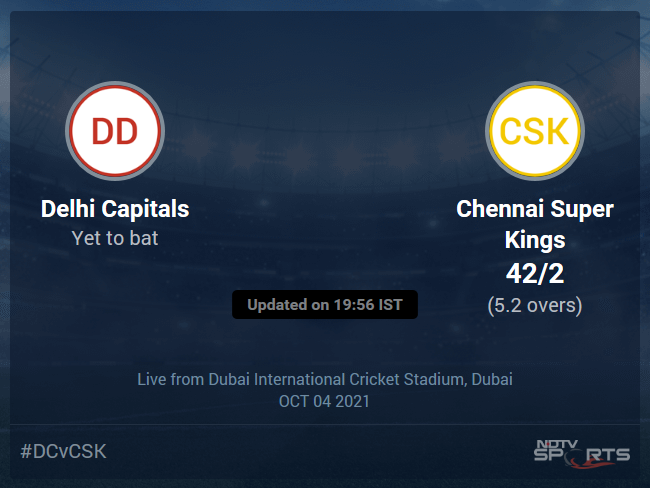 DC vs CSK Latest Score
A dedicated team of experts bring you live score, live cricket score, live match update on Sports.NDTV.com. After 5.2 overs, Chennai Super Kings are 42/2. The live updates of Delhi Capitals vs Chennai Super Kings scorecard is also available. It is the perfect platform to follow your favourite teams in Indian Premier League 2021. Keep a track on your favourite batsmen and bowlers through Indian Premier League 2021 today match, ball by ball commentary, Delhi Capitals vs Chennai Super Kings, Delhi Capitals vs Chennai Super Kings live score, Delhi Capitals vs Chennai Super Kings scorecard. Follow the excitement of the Indian Premier League 2021 on Sports.NDTV.com as you can follow live match updates and live cricket score through our platform.
4.6 overs (2 Runs) A touch short, outside off, Robin Uthappa takes on the pull shot and heaves it to the left of deep square leg for a couple of runs.
4.5 overs (0 Run) On off, RU keeps this one out.
Moeen Ali is the new man in.
4.4 overs (0 Run) OUT! CAUGHT! The man-in-form, Ruturaj Gaikwad has been sent back here! An easy catch for Ashwin and the centurion from the last game goes back for just 13. He looked to take Nortje on, but falls in the process. Slightly short this time, around off, Ruturaj Gaikwad looks to pull this one over mid-wicket, but only mistimes this one high in the air towards mid-wicket. Ravichandran Ashwin moves across to his right and gulps this down. Both the Chennai openers have taken the long walk back and Delhi will look to continue this.
4.3 overs (1 Run) Good-length ball, on off, knocked to the left of mid on for a quick single.
4.2 overs (0 Run) Around off, worked to the leg side.
Anrich Nortje comes back into the attack.
4.1 overs (2 Runs) On a shortish length, outside the off pole, Uthappa punches this one behind point and they run well to come back for the second.
3.6 overs (1 Run) 6 off this over! On a length on the pads, whipped to deep square leg for one.
3.5 overs (0 Run) On middle, pushed back to Rabada.
3.4 overs (0 Run) Fuller, around middle and leg, Robin looks to flick but misses. The ball takes the pad and goes to the leg side. An appeal for LBW but turned down. Kagiso tries to convince Pant to take the review but the skipper does not take it. Looked to be missing leg.
3.3 overs (1 Run) Back of a length, around off, guided to third man for one.
3.2 overs (4 Runs) FOUR! Delightful. Such a good cricketing shot. Overpitched delivery, outside off, Ruturaj Gaikwad just creams this one through mid off and gets a boundary.
Change from both ends as Kagiso Rabada comes into the attack.
3.1 overs (0 Run) Right on the money, is Rabada! Around off, on a length, Gaikwad taps it down on the deck.
2.6 overs (1 Run) A good over from Patel comes to an end, 4 runs and a wicket off it. Around off, tossed up, eased to long off for one.
2.5 overs (1 Run) Robin Uthappa is underway! Around off, pushed to point for a quick run.
Robin Uthappa comes in at number 3.
2.4 overs (0 Run) OUT! TAKEN! Axar Patel strikes in his very first over and Faf du Plessis has been sent packing. The Protea found the only fielder in the deep and this is a good bowling change by Pant. Patel hurls across a shortish ball, around off, quicker too, Faf du Plessis rocks back and pumps this one towards the deep mid-wicket region. No distance on this and Shreyas Iyer in the deep, runs to his right, gets low and pouches this.
2.3 overs (0 Run) Around off, floated, du Plessis checks his shot to the cover region.
2.2 overs (1 Run) Another single as this is milked down to long off.
A change in the bowling straightaway. Axar Patel comes in to replace Anrich Nortje.
2.1 overs (1 Run) Starts with a flatter ball, around off, pushed through covers for one.
1.6 overs (0 Run) Fuller, around off, RG nudges this to the mid-wicket fielder. 10 off Khan's first one.
1.5 overs (1 Run) On a length, around off, swinging away, pushed to the left of point for one.
1.4 overs (4 Runs) FOUR! Another one. This one was asking to be hit and Faf does not miss out. Shortish, around off, it does not rise too much, Faf du Plessis camps back and then cracks this one through mid-wicket.
1.3 overs (0 Run) Outside off, pushed to the cover fielder this time.
1.2 overs (4 Runs) FOUR! SLAPPED! Faf du Plessis gets off the mark with a boundary! On a length this time, outside off, there is width offered and Faf du Plessis crunches this one behind point for a boundary.
1.2 overs (1 Run) WIDE. Too full, wider outside off, left alone. Wide signalled.
1.1 overs (0 Run) Short of a length, around off, the ball lands and shapes back in this time, Faf looks to fend this one away but misses as the ball hits his gloves and goes to the off side. Avesh goes to Faf and ensures he is okay. All good.
Avesh Khan to steam in from the opposite end.
0.6 over (4 Runs) FOUR LEG BYES. An expensive start by Nortje. On the pads, on a length, Ruturaj Gaikwad looks to flick but the ball takes the pad and goes past Pant to the fine leg fence. 16 off this one.
0.5 over (0 Run) Fullish, outside off, RG looks to dig this one out but fails to do so.
0.4 over (4 Runs) EDGY FOUR! He gets a lucky boundary now but he will not care. Outside off, on a length, Ruturaj Gaikwad skips down the track and swings at this. The ball catches the outside edge and flies away to the third man fence.
0.3 over (2 Runs) Ruturaj Gaikwad opens his account! Around off, on a length, punched sweetly past extra cover for a couple of runs.
0.3 over (1 Run) WIDE. Way outside off, RG reaches out but fails to get bat on this. Wided.
Review taken by Chennai for an LBW decision. UltraEdge shows there's no bat involved. BallTracker shows that the ball was doing too much and missing leg stump. The decision is reversed and Chennai retain their review as well.
0.2 over (0 Run) NOT OUT! The review saves Gaikwad and he does not go back this early in the game. Around off again, on a length, Ruturaj Gaikwad looks to clip this to the leg side but gets beaten as he gets pinged on the pad. An appeal and after a couple of seconds of thinking, the umpire raises his finger. It looks to be out but Faf du Plessis presses Gaikwad into taking the review. A good decision as UltraEdge shows no bat and Ball Tracker shows the ball to be missing the wickets. A smile on Gaikwad's face and the on-field decision has been overturned.
0.2 over (5 Runs) FIVE WIDES! A freebie and Chennai open their account. Norjte steams in and slips in a length ball down the leg side, Ruturaj Gaikwad looks to clip this but misses. Pant dives to his left but fails to stop it. The ball runs away to the ropes.
0.1 over (0 Run) OH! What a ripper to begin. Hello, Ruturaj Gaikwad, says Nortje! Around off, on a good length, it lands and nips in wonderfully, Ruturaj Gaikwad looks to defend but the ball seams in and misses his inside edge, goes over the middle pole to Pant.
We are ready for play. The umpires make their way out in the middle followed by the Delhi players. Ruturaj Gaikwad and Faf du Plessis are the openers for Chennai. Anrich Nortje to get us underway with the ball.
Chennai (Playing XI) - Ruturaj Gaikwad, Faf du Plessis, Moeen Ali, Ambati Rayudu, Robin Uthappa (In place of Suresh Raina), MS Dhoni (C/WK), Ravindra Jadeja, Dwayne Bravo (In place of Sam Curran), Shardul Thakur, Deepak Chahar (In place of KM Asif), Josh Hazlewood.
Delhi (Playing XI) - Shikhar Dhawan, Prithvi Shaw, Shreyas Iyer, Rishabh Pant (C/WK), Ripal Patel (Debut) (In place of Steven Smith), Shimron Hetmyer, Axar Patel, Ravichandran Ashwin, Kagiso Rabada, Anrich Nortje, Avesh Khan.
MS Dhoni, the Chennai skipper, says that they wanted to bat first but were not too sure regarding the same as the deck feels slightly tacky. Informs that they have quite a few changes in this game as Dwayne Bravo replaces Sam Curran, Deepak Chahar comes back for KM Asif and Suresh Raina has a back injury and Robin Uthappa replaces him. Says that it is important to mentally be ready to play 3 games in 5 days but the boys are geared up for his game. Opines that finishing in the top two is important and if you have a bad day, then you have another shot at making the finals.
The Delhi skipper, Rishabh Pant says that they will bowl first. Mentions that whatever they are doing, it's working for them and they will just focus on their basics. Informs that there is one change. Ripal Patel comes in for Steven Smith. Adds that it is always great learning from MS Dhoni but right now he is a rival and they will just focus on the game.
It's TOSS time! MS Dhoni and Rishabh Pant have made their way out into the middle. Heads is what MS calls and it falls tails. DELHI ELECT TO BOWL FIRST!
PITCH REPORT - Matthew Hayden and Simon Doull are inspecting the deck. Simon Doull says that it is the same surface that Hyderabad and Kolkata played on. Matthew Hayden opines that there is nothing wrong with the wicket but there is no great deal of spin available. Adds that the ball is coming on nicely and it's a pitch of two halves, in the first ten overs, it's nice to bat on but the surface could slow down as the innings progresses. Opines that the batters should make the most of the batting powerplay.
An interesting thing for both teams will be to see if they make a plethora of changes or if they go ahead with the same team with which they played in the last game. Steven Smith was not at his best in the last game and we might see Sam Billings make his way into the playing XI. Delhi's bowling looks really solid and it will be a surprise if they do tinker with the same. Chennai, on the other hand, suffered a blip in their last clash against Rajasthan but will be wanting to bounce back. Will Dwayne Bravo make a comeback after their last loss? Who will he replace though? The picture should be more clearer, come the toss.
In terms of how this game will shape up, keeping in mind the table, luckily, for these two teams, they have nothing at stake, as they have both qualified to the playoffs and now are just playing to ensure that they finish in the top two places. A win here should, more or less, confirm their place in the top two places for sure. No pressure on the cards for these two and they will be looking to go out there, have some fun, put in their all and hopefully, win the game and add two more points to their kitty.
MS Dhoni vs Rishabh Pant. The old guard vs the new fire. What a clash we have on our hands today. It is the battle of one of the most prolific and iconic wicketkeepers and captains who will be facing off against one of the most exciting young players to grace the Indian game. Also, the cherry on the top of the cake is that the best and most consistent performers in the Indian T20 League lock horns. Chennai and Delhi will be brushing shoulders and this should be a very exciting clash. On that note, a warm welcome to the coverage of this game.
Topics mentioned in this article