Story Progress
Back to home
Chennai Super Kings vs Punjab Kings: IPL 2021 Live Cricket Score, Live Score Of Today's Match on NDTV Sports
Live Updates of Today Match between Chennai Super Kings vs Punjab Kings from Dubai International Cricket Stadium, Dubai. Check commentary and full scoreboard of the match.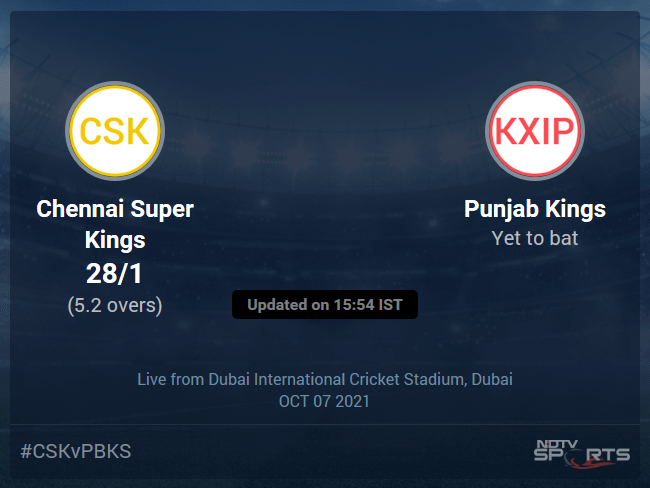 CSK vs PBKS Latest Score
A dedicated team of experts bring you live score, live cricket score, live match update on Sports.NDTV.com. After 5.2 overs, Chennai Super Kings are 28/1. The live updates of Chennai Super Kings vs Punjab Kings scorecard is also available. It is the perfect platform to follow your favourite teams in Indian Premier League 2021. Keep a track on your favourite batsmen and bowlers through Indian Premier League 2021 today match, ball by ball commentary, Chennai Super Kings vs Punjab Kings, Chennai Super Kings vs Punjab Kings live score, Chennai Super Kings vs Punjab Kings scorecard. Follow the excitement of the Indian Premier League 2021 on Sports.NDTV.com as you can follow live match updates and live cricket score through our platform.
4.6 overs (0 Run) Slower one, on middle and off at 119.4 kph, Moeen plays late and taps it down to point. Superb over.
4.5 overs (0 Run) A bit uppish. Full in length around off, angling away, Moeen drives it on the up but fails to find the gap. It goes rolling to extra cover.
4.4 overs (0 Run) Back of a length around off, at 138.4 kph, Moeen defends it from the back foot to extra cover.
4.3 overs (0 Run) Moeen gets hurried up! Shami bangs it in short, around off, Ali mistimes his pull shot in the air. Luckily for him, the ball doesn't carry to mid on.
4.2 overs (0 Run) Around off on a length, Moeen stays on the back foot and defends it down on the surface.
4.1 overs (1 Run) Shortish and on middle, Faf du Plessis uses his wrists to work it towards square leg. It's straight towards the fielder but they still cross for a risky run.
3.6 overs (1 Run) A touch short and close to off, angling away from the batsman, du Plessis plays late and guides it towards short third man. Mayank Agarwal makes a diving stop and prevents a boundary. A single to end a successful over for Arshdeep Singh.
Moeen Ali walks out to bat.
3.5 overs (0 Run) OUT! Gaikwad has been bounced out yet again! Arshdeep provides Punjab with the first breakthrough. Digs in a short delivery, around off and climbing onto the batsman at 131 clicks, Ruturaj Gaikwad tries to pull but it takes the top edge and flies to mid-wicket. Shahrukh Khan is waiting there with open arms. He catches it with ease and Chennai lose their first wicket.
3.4 overs (1 Run) Faf uses his feet for this delivery. The length is short and the line is on middle and off, du Plessis mistimes his shot to mid off for a single.
3.3 overs (1 Run) Angling away from the batsman, on a length, Gaikwad taps it down in front of point and takes a single.
3.2 overs (2 Runs) This one is served around middle and leg, Ruturaj Gaikwad flicks it wide of short fine leg and takes a couple of runs.
3.1 overs (1 Run) Back of a length around middle and off, du Plessis stands across inside the crease and tickles it behind square leg for a single.
Arshdeep Singh comes into the attack now. He replaces Harpreet Brar.
2.6 overs (1 Run) Streaky! Shami delivers it on a length around off, du Plessis clears his front leg to heave it over the leg side but only manages an outside edge. It goes to third man and they take a run. 3 good overs from Punjab!
2.5 overs (0 Run) A 139.6 kph yorker around off, Faf du Plessis digs it out back to the bowler.
2.4 overs (0 Run) Play and a miss! Faf du Plessis tries to be adventurous but fails to execute his shot. On a length and outside off at 133 clicks, Faf shuffles across for the paddle scoop but it beats his bat.
2.3 overs (1 Run) Around middle and leg, on a length, it's easily worked around the corner for a single at square leg.
2.2 overs (0 Run) Shortish and on off, Gaikwad pushes it with an angled bat to backward point.
2.1 overs (0 Run) Slightly short and around off, angling in, Gaikwad defends it from the back foot to point.
1.6 overs (0 Run) Quicker and fuller on off, Faf du Plessis walks forward and drives but finds the extra cover fielder. A good comeback by Brar.
1.5 overs (1 Run) Flatter and on the pads, tucked behind square leg for a single.
1.4 overs (0 Run) Aerial but safe! Flatter and fuller around middle, Ruturaj Gaikwad top-edges his attempted sweep shot. The ball loops in the air but doesn't carry to short fine leg.
1.4 overs (2 Runs) Two wides! Another one skidding down the leg side, the latter fails to work it around and the keeper also fumbles. Ruturaj Gaikwad calls his partner for a run.
1.3 overs (0 Run) Fires in a quicker one, on middle and leg, angling down, du Plessis fails to keep it out and is hit on the pads.
1.2 overs (1 Run) Short in length, around off, Ruturaj Gaikwad steps back to cut but finds the point fielder. Either side of that fielder and that would have been a boundary. They cross.
1.1 overs (4 Runs) FOUR! Straightaway Ruturaj Gaikwad is on the attack. Full and flighted on middle, Gaikwad skips down the track and smashes it over wide mid on. Chris Jordan gives the chase, tries his best to pull it back but fails to do so cleanly. The ball has touched the fence.
Harpreet Brar will bowl from the other end.
0.6 over (0 Run) Full and on middle, angling in, du Plessis gets behind the line and blocks it safely. 3 from the first over!
0.5 over (1 Run) Unconvincing from Ruturaj Gaikwad. Short and around middle, Gaikwad walks down to work it away but fails to middle his shot. The ball kisses the gloves and falls safely behind square leg. They cross.
0.4 over (0 Run) Again an inside edge. Shami goes fuller and serves it on off, Gaikwad looks to defend but it takes the inside edge. The ball deflects off his pads to covers.
0.3 over (0 Run) Lands it on a length close to off, shaping in a bit, Ruturaj Gaikwad tries to defend close to his body but gets an inside edge onto the pads.
0.2 over (1 Run) Du Plessis also opens his account immediately. Fuller and on middle, Faf bunts it down in front of mid on and scampers across to the other end.
0.1 over (1 Run) Chennai are away straightaway! Shami starts with a delivery that is a little too straight in line, on a length and angling down, Ruturaj Gaikwad clips it off his pads to deep backward square leg for a single.
We are set for the game to begin! The players of Punjab are in a huddle before dispersing on the field! Ruturaj Gaikwad and Faf du Plessis are the opening batters for Chennai who are at the crease! Mohammed Shami to start the proceedings with the ball. Here we go...
Chennai (Unchanged Playing XI) - Ruturaj Gaikwad, Faf du Plessis, Moeen Ali, Ambati Rayudu, Robin Uthappa, MS Dhoni (C/WK), Ravindra Jadeja, Dwayne Bravo, Shardul Thakur, Deepak Chahar, Josh Hazlewood.
Punjab (Playing XI) - KL Rahul (C/WK), Mayank Agarwal, Aiden Markram, Sarfaraz Khan, Shahrukh Khan, Moises Henriques, Harpreet Brar, Chris Jordan (In for Nicholas Pooran), Mohammed Shami, Arshdeep Singh, Ravi Bishnoi.
MS Dhoni, the skipper of Chennai, says that it's tough to maintain fitness but it looks good and there are no concerns as such. Informs that they are playing the same XI as the wicket looks good and heat is a factor and they would have batted first anyway. On playing for Chennai next season, Dhoni smiles and says that we will see him in yellow, playing or not, he is not sure, as there are a lot of uncertainties coming up, two new teams are coming and they don't know the retention policy. Hopes it is good for everyone.
KL Rahul, the captain of Punjab, says that they are bowling first as that will allow them to know the target. Adds that the middle order has tried its best but has not delivered at times and it has not been able to soak the pressure. Tells that they are a talented bunch of players and as a young group, this is something they can learn and improve on. Informs that Chris Jordan is replacing Nicholas Pooran in the XI.
Toss - MS Dhoni and KL Rahul are in the middle. The former flips the coin, Rahul calls Heads and it has come down as Heads. PUNJAB ELECT TO FIELD!
Pitch report - Pommie Mbangwa is down there inspecting the conditions. The Zimbabwean starts by informing the obvious - It's very hot! He shares that they are using pitch number 3 for this encounter, which means they are moving away from the centre - 60m boundary on one side and 73m on the other. The batters will have to smartly pick their areas for the big shots. Batters will enjoy this, reckons Pommie.
One team has got the ice cream and wants a cherry on the top while the other team is still struggling to get hold of the ice cream. That's the situation of Chennai (eyeing the top 2 finish) and Punjab (hoping for a backdoor entry to the playoffs) currently on the table of the 2021 Indian T20 League. To be inconsistent has become second nature to Punjab and the UAE leg has been no different. For Chennai, they seem to have taken their foot off the pedal slightly in the last two games. It's hard to say that they have lost steam as the fighting instinct remains their second nature and the last match against Delhi was a good example of that. They fought well and this kind of workout before the playoffs ain't a bad practice. Anyway, in this afternoon heat of Dubai, both teams will have different motives to achieve. Who will succeed? Only time will tell.
Topics mentioned in this article