Story Progress
Back to home
Chennai Super Kings vs Mumbai Indians: IPL 2021 Live Cricket Score, Live Score Of Today's Match on NDTV Sports
Live Updates of Today Match between Chennai Super Kings vs Mumbai Indians from Dubai International Cricket Stadium, Dubai. Check commentary and full scoreboard of the match.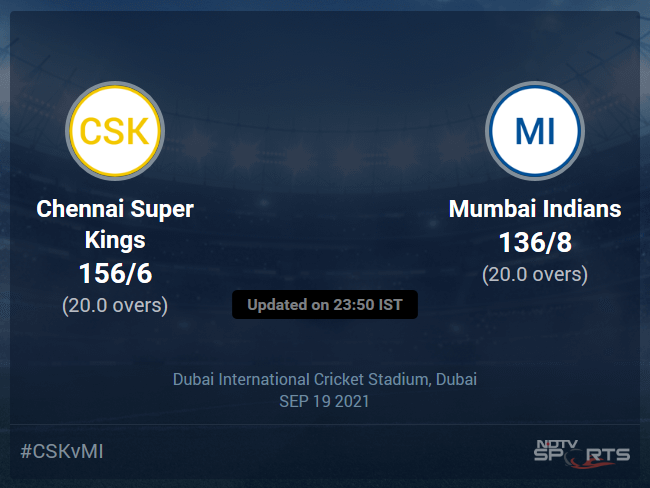 CSK vs MI Latest Score
A dedicated team of experts bring you live score, live cricket score, live match update on Sports.NDTV.com. After 20.0 overs, Mumbai Indians, chasing a target of 157, are 136/8. The live updates of Chennai Super Kings vs Mumbai Indians scorecard is also available. It is the perfect platform to follow your favourite teams in Indian Premier League 2021. Keep a track on your favourite batsmen and bowlers through Indian Premier League 2021 today match, ball by ball commentary, Chennai Super Kings vs Mumbai Indians, Chennai Super Kings vs Mumbai Indians live score, Chennai Super Kings vs Mumbai Indians scorecard. Follow the excitement of the Indian Premier League 2021 on Sports.NDTV.com as you can follow live match updates and live cricket score through our platform.
That concludes the proceedings for this match. Chennai have jumped to the top on the points table now and this win against Mumbai will give them some extra boost. The next game on Monday, 20th September 2021 is going to see the clash between Kolkata and Bangalore in Abu Dhabi. The action will begin at 6 pm local (2 pm GMT) but you can join us in advance for the build-up. Cheers!
Ruturaj Gaikwad is chosen for the Man of the Match award! Says it is one of his best innings till now as they were under a lot of pressure and he had to grind, take it deep and create partnerships. States they targeted 120-130 but then 140 looked possible and then 150. Also says the Chennai team gives him a lot of confidence and they back him and it helps a lot. Further says that the Lankan tour also helped him. Shares the ball was moving around at the start so he had to go after the spinners and it came off. Ends by saying the dropped catch at that stage of de Kock could have been crucial but he is happy it did not cost them.
MS Dhoni, the victorious captain of Chennai, says that at that point of time when they were 24/4, they wanted something respectable on the board. He praises Gaikwad and Bravo's knocks to take them to 156 and calls it a tremendous effort. On the surface, MS replies that it was two-paced and was slightly difficult for the new batsmen at the start. Agrees that it was tough to come back from there but some sensible batting and a very good finish took them to a good total. Talks about the batting depth of Chennai but calls it sensible that one guy batted through to the end. Dhoni also says that one of the conscious attempts is to finish the overs in time, so the choice of the bowlers also depend on it sometimes. Regarding Ambati Rayudu's fitness, Dhoni shares that he was smiling, so he has not broken his arm, some rest and he should be back.
Dwayne Bravo also comes up for a chat. Says that it is a good feeling, against Mumbai, it is always like a final and starting off with a win is good. Adds he was just trying to protect himself in the final stages of the CPL and when he came here, he had one session of bowling and he felt good. Mentions that he bats lower down the order and for him it is about winning the moments, if there are 12 balls left, then he looks to capitalize on those 12 balls and if there are 11 overs left, he looks to stay out there. Credits the way Ruturaj Gaikwad played and says he has been a star performer for them. Adds that he batted really good and has a big appetite for runs. Ends by saying he is pleased they got over the line.
Kieron Pollard, the stand-in captain of Mumbai, says he felt it got away in the middle but things like this happen in cricket. Mentions that Ruturaj Gaikwad played really well and he batted them out of the game. Admits they did not finish off well with the ball. Tells that the wicket was a good one, there was assistance at the start and they did make use of it but could not continue. Further says that Chennai's batsmen tried to continue the momentum throughout which they didn't do. States that they kept losing wickets and they needed someone to play deep. Talks about a few soft dismissals and feels that they should have avoided. Ends by saying there are 6 games to go and he hopes to turn it around.
This game appeared done and dusted very early once Chennai lost their four wickets inside the Powerplay. But Ruturaj Gaikwad took the charge and formed useful stands to keep Chennai afloat in their batting innings. A strong finish handed them a challenging total, not to forget Dwayne Bravo's scintillating cameo, and their bowlers turned on the heat. Mumbai also lost three wickets in the first six overs and it was a big task for them from thereon. Saurabh Tiwary held one end strongly but the wickets kept falling at the other end. The biggest blow came in the form of Kieron Pollard's wicket and after that, it just became too tough for the defending champions to deal with the required rate. Tiwary stayed till the end but failed to take his team home. Deepak Chahar with the new ball and Dwayne Bravo in the middle and death overs were very impressive and finished with five wickets between them.
Excellent defense from Chennai and they avenged their last loss against Mumbai. This is only the second occasion in the history of this tournament that a team batting first was 4 down for 24 but still went on to win the game. Take a bow, Chennai. Take a bow, Ruturaj Gaikwad!
19.6 overs (1 Run) CHENNAI WIN! Another slower one, full and on middle, Jasprit Bumrah flicks it across the line and Suresh Raina makes a half-stop at mid-wicket. They cross for a run. That's it, Chennai win by 20 runs!
19.5 overs (0 Run) Bravo nails the yorker, on middle, Bumrah digs it out on the surface.
19.4 overs (0 Run) OUT! Another one bites the dust! The Bravo-Raina combo has one more wicket. Slower one, full and around off, dipping in, Chahar tries to heave but there is no elevation on his shot. A simple catch for Suresh Raina at short mid-wicket. Jasprit Bumrah has walked out.
19.3 overs (1 Run) Fullish and outside off, Saurabh Tiwary dances down the track but only manages to push it as far as mid off. Only a run. Fifty for Saurabh Tiwary but this game has slipped away.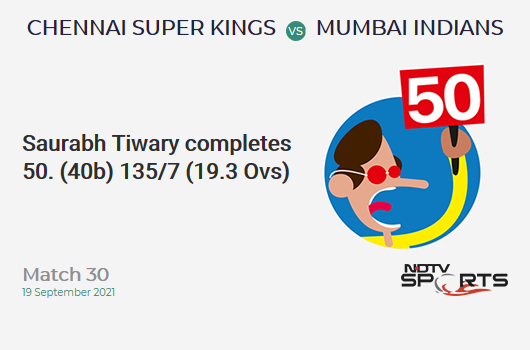 19.2 overs (0 Run) OUT! Caught in the deep! Dwayne Bravo delivers it on a length, slower in pace, as expected, Adam Milne tries to chance his arms, swings his bat across the line but it comes from the bottom half of his blade. Krishnappa Gowtham (sub for Ambati Rayudu) makes no mistake near the fence at deep mid-wicket.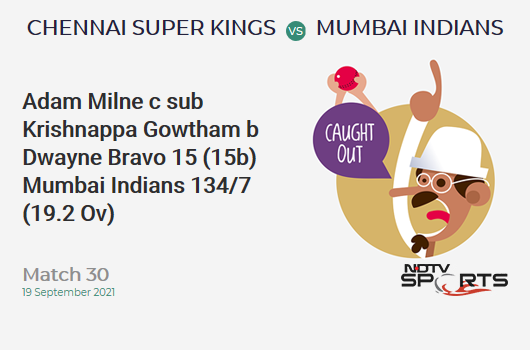 Saurabh Tiwary has a word with Adam Milne. 23 needed off 5 balls.
19.1 overs (1 Run) Not the best result, Saurabh Tiwary is off strike. Fuller and outside off, it's driven square of the wicket on the off side for a single.
Dwayne Bravo to bowl the final over. 24 needed off 6 balls. Saurabh Tiwary is on strike.
18.6 overs (0 Run) DOT! Swing and a miss from the Kiwi. Fuller and outside off, the pace is right up there, 133 clicks, Milne attacks it with all his might but fails to connect.
18.6 overs (1 Run) Wide! Thakur has lost his range. Another wayward delivery, short and way wide outside off, Adam tries to cut but misses.
18.6 overs (1 Run) Wide! Shardul Thakur loses his grip and delivers it way wide outside off, Milne leaves. This one is called a wide. 25 needed off 7.
18.5 overs (0 Run) Slower one, short and around leg, Milne shapes up to pull but fails to connect. Not called a wide. Thakur is lucky.
18.4 overs (6 Runs) SIX! No need to be cheeky if you have the power! Thakur delivers it on a length and wide outside off, slower in pace, Milne latches onto it and launches it over wide long off.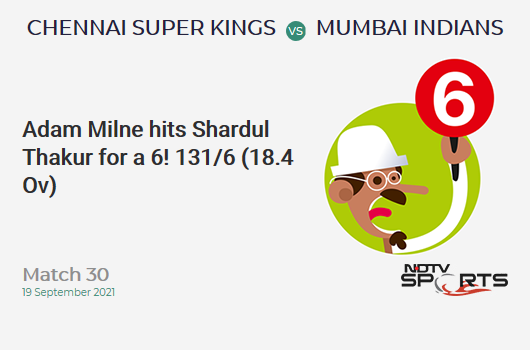 18.3 overs (2 Runs) Fullish and outside off, Adam Milne tries to be adventurous. Attempts to be cute with his paddle scoop but it takes the inner half and rolls in the gap at mid-wicket. Two taken.
18.2 overs (1 Run) Fuller and wider outside off, hammered down to long off for a single.
18.1 overs (4 Runs) FOUR! Saurabh Tiwary is certainly keeping Mumbai in the game. Full in length and wide outside off, Tiwary drills his drive through covers and finds the fence.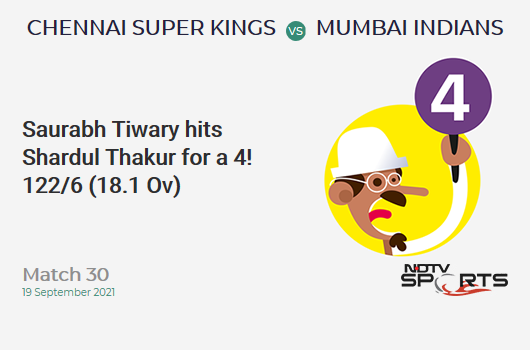 17.6 overs (1 Run) Fuller and outside off, lofted over covers for one. 39 needed off 12 balls. All on Saurabh Tiwary's shoulders now.
17.5 overs (1 Run) On a length around middle, Milne goes hard at it and mishits it through mid on for a single.
17.4 overs (1 Run) PUT DOWN! MS Dhoni has put down the catch, that's a rare sight. This one is on a length and outside off, angling away, Saurabh Tiwary shuffles across the stumps for the paddle scoop but it takes the top edge. The ball loops in the air towards short fine leg, Dwayne Bravo is present there but Dhoni comes running in, probably calls for the catch but fails to hold on. Bravo is disappointed, that was his catch, he was right under that one. Could be a costly miss. The batsmen have crossed.
17.3 overs (2 Runs) Well played in the end. Saurabh Tiwary makes a premeditated move across the stumps and Chahar follows him outside off with a very full delivery. Tiwary makes late adjustment and squeezes it through point for a couple.
17.2 overs (4 Runs) FOUR! A much-needed boundary for Mumbai. Fractionally short and close to off, Saurabh Tiwary camps back and clubs it down the ground. It races away to the long off fence in a flash. 44 needed off 16 balls.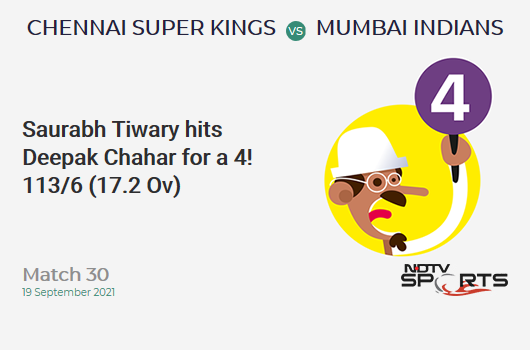 17.1 overs (1 Run) On a length around middle and leg, angling down, Milne tries to heave but misses. He is hit high on the pads and the ball rests near the surface. They cross for a leg bye. Chahar limps back to his mark.
Chahar steams in to bowl but pulls up. Seems cramps. A bit of stretching and Deepak Chahar is ready to bowl.
Deepak Chahar is back on. 2/9 in his 3 overs so far. 49 needed off 18 balls.
16.6 overs (1 Run) On a length and around off, Milne stays back and hits it firmly past the bowler to long off. A single is taken. Top over by Josh Hazlewood to finish his spell.
16.5 overs (0 Run) Fuller and angling in on off, Adam pushes it back to the bowler.
16.4 overs (1 Run) On a length around middle, Saurabh Tiwary hangs on the back foot and smashes it over mid on for a single.
16.3 overs (1 Run) The Aussie goes short and the Kiwi brings out the pull shot. No timing though. It goes over square leg and they cross.
16.2 overs (0 Run) Angles it in, around off and on a length, Milne pushes it firmly but back towards the bowler.
16.1 overs (1 Run) On a length and outside off, it's forced through point for a single.
Bowling change. 53 needed off 24 balls and here comes Josh Hazlewood back into the attack.
15.6 overs (0 Run) Well stopped by DJ! A near-yorker on off, Milne forces it back towards the bowler who dives across to his right to make a partial stop.
15.5 overs (1 Run) Very full and wide outside off, Saurabh leans and drives it through covers for a single.
15.5 overs (1 Run) Wide! Another attempted slower one but this time the radar of the bowler is wrong. Way too wide outside off, Tiwary allows it through.
15.4 overs (1 Run) Milne gives the charge and yorks himself. He somehow digs it out at the last moment and pushes it past the diving bowler to long on. Another single.
15.3 overs (1 Run) Bravo goes fuller and outside off, Saurabh Tiwary squeezes his drive to sweeper cover for a run.
15.2 overs (2 Runs) Slightly short, around off and angling away, Saurabh Tiwary stays back and smashes it down towards long off. A couple taken as Moeen Ali mops it up in the deep.
15.1 overs (1 Run) A slower one, full and close to off, Adam drives it down through mid off and takes a single.
Match Reports
Topics mentioned in this article