Story Progress
Back to home
Chennai Super Kings vs Mumbai Indians Live Score Ball by Ball, IPL 2021 Live Cricket Score Of Today's Match on NDTV Sports
Live Updates of Today Match between Chennai Super Kings vs Mumbai Indians from Dubai International Cricket Stadium, Dubai. Check commentary and full scoreboard of the match.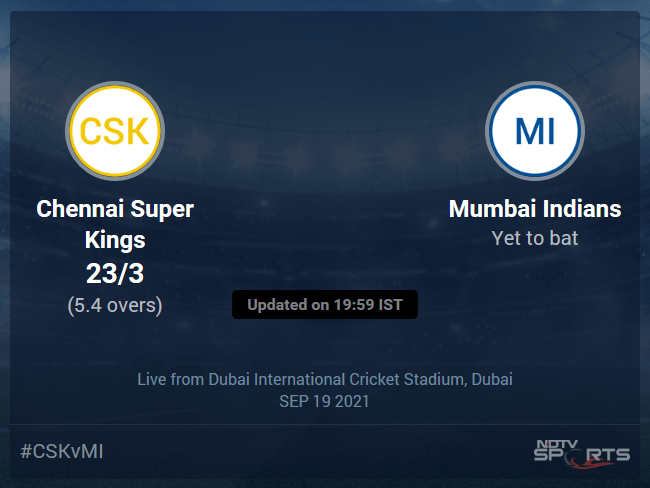 MI vs CSK Latest Score
Follow the Indian Premier League 2021 live cricket score on Sports.NDTV.com. After 5.4 overs, Chennai Super Kings are 23/3. Get live score, ball by ball commentary and much more. Keep track of Indian Premier League 2021 today match between Chennai Super Kings and Mumbai Indians. Everything related to Chennai Super Kings and Mumbai Indians match will be available on Sports.NDTV.com. Stay updated with Chennai Super Kings vs Mumbai Indians live score. Do check for Chennai Super Kings vs Mumbai Indians scorecard. You can get scorecard updates, match related facts. Get quick live updates with ads, Sports.NDTV.com, which is the perfect destination for live cricket score.
4.6 overs (0 Run) Almost chops it on! Shorter and outside off, Ruturaj looks to guide it down to third man. Not enough room to play that, he gets an under-edge, the ball lands just beside the off pole and goes to the keeper.
4.5 overs (4 Runs) EDGY FOUR! Chennai don't mind how they come as long as they come! Ruturaj Gaikwad comes down the track and makes room. Boult bowls it full and outside off, Gaikwad looks to go over covers but it flies off the outside edge and down to the third man fence.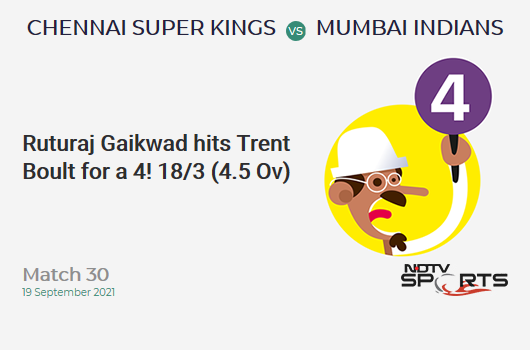 4.4 overs (0 Run) Outside off, Gaikwad guides it to point.
4.3 overs (1 Run) Goes short and on middle, Dhoni pulls it down to fine leg and takes one.
4.2 overs (1 Run) Angled into the pads, Ruturaj Gaikwad works it through square leg and gets to the other end.
4.1 overs (1 Run) Dhoni is underway! Length and on off, he pushes it through covers for one.
3.6 overs (0 Run) A dot to end! Back of a length and on middle, defended. A wicket-less over for a change for Mumbai.
3.5 overs (0 Run) Length again and outside off, this one zips through. Gaikwad looks to push at it but is beaten.
3.4 overs (0 Run) Outside off, length. Left alone.
3.3 overs (4 Runs) FOUR! Finally, Chennai have something to cheer about! Can this get them going? Short and on middle, Ruturaj Gaikwad pulls, it is more off the upper part of the bat, no fielder in the deep square leg region. Fine leg does run across to his left but he has no chance.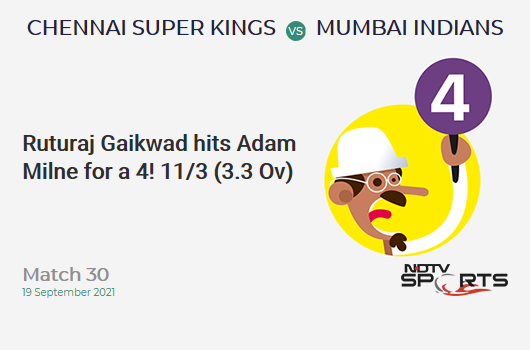 3.2 overs (0 Run) A yorker now on middle, Gaikwad jams it out to mid on.
3.1 overs (0 Run) Length and on off, blocked.
MS Dhoni walks out to bat now! Can the skipper lead a recovery?
2.6 overs (0 Run) OUT! CAUGHT! Raina's struggle comes to an end! This is one inning he would not want to watch again! A well-planned wicket for Mumbai. Boult worked up Raina with a few sharp short ones, exposing his weakness and gets him with a length ball. It is on middle, Raina once again makes room and swings his bat across the line. This one shapes away a bit and comes off the bottom of the blade. It flies to point where Rahul Chahar makes no mistake. A big chunk of wood also came off as Raina made contact. A broken bat and a sad knock.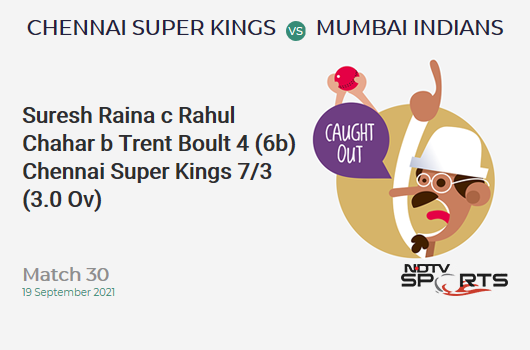 2.5 overs (0 Run) Goes short again and on the body, Raina nudges it to leg gully.
2.4 overs (4 Runs) EDGY FOUR! Raina seems to be rattled by those two short balls. Yes, he gets off the mark with a boundary but it is an ugly one! Length and shaping away. Raina clears his front leg and swings, this goes off the outside edge down to the third man fence for another boundary.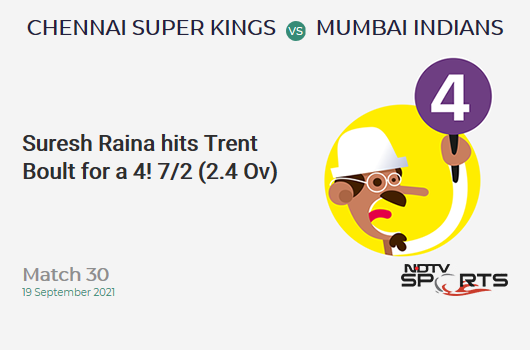 2.3 overs (0 Run) No foot movement! That is what a short ball does. However, the last one was called one for the over so Boult probably was going to go full here. It is outside off and shapes away. Raina just has a push at it away from the body and misses.
2.2 overs (0 Run) Yet another short one, this is a lot quicker and on the body, ducked under.
2.1 overs (0 Run) Very predictable! Welcomes Raina with a short one and on the body, it is worked to square leg. There is a square leg and a leg gully too for him.
Physio comes out! Ambati Rayudu is in a lot of pain. He is going out, retired hurt. Suresh Raina replaces him at the crease.
1.6 overs (1 Run) That is nasty! Rayudu is floored. This is quite short, Rayudu looks to sway away from the line of fire by leaning back but is hit on the left arm. The ball deflects towards short fine leg and they cross.
1.5 overs (0 Run) Goes short and on middle, Rayudu pulls but to short leg. That one again came slowly off the surface.
1.4 overs (0 Run) Nothing slow about that one! That was very quick. Close to 140 KPH. It is on a length and around off, extra bounce and also skids through. Rayudu does well by dropping his hands at the very end.
Ambati Rayudu walks out to bat now!
1.3 overs (0 Run) OUT! CAUGHT! Moeen Ali also goes without scoring and Milne is the one who gets a wicket. He does not take long to make an impression. This seems to have come slow off the surface. It is shorter and outside off at 141.2 kph. Ali slashes at it from the back foot but this goes more off the toe end of the bat and towards Saurabh Tiwary at covers. He dives across and takes it. Chennai are in big trouble here. First a Kiwi removes an Aussie and now another Kiwi takes out an English player. Indian T20 League is up and running in style.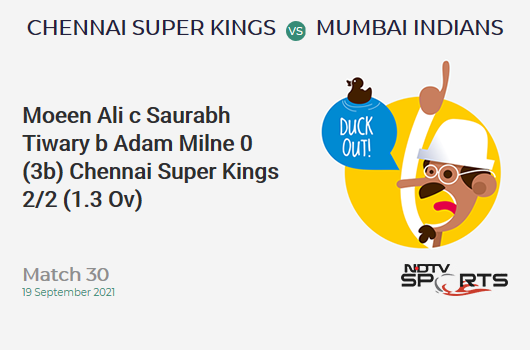 1.2 overs (0 Run) That was nippy! Length and on off, this one jags back in. Ali looks to flick but gets hit high on the pads.
1.1 overs (1 Run) Outside off, Ruturaj Gaikwad pushes at it away from his body, it goes off the outer half down to third man for one.
Adam Milne to steam in from the other end. Watch out for his pace!
0.6 over (0 Run) Another good nut to end and Boult starts off with a brilliant first over. Fuller and it shapes away from outside off. Left alone.
Who will walk out at number 3? Moeen Ali it is! Two slips in place.
0.5 over (0 Run) OUT! TAKEN! Faf du Plessis goes for a duck and Boult once again gets a wicket in the first over. A huge one as we all know how good Faf du Plessis has been for Chennai. This is slightly shorter in length and just outside off. Faf goes after it but does so away from his body. This goes more off the outer half and straight to short third man where Adam Milne takes an easy catch. Perfect start for Mumbai. Boult just loves Dubai. He did not have the best of times in India in the first phase but he starts off brilliantly here.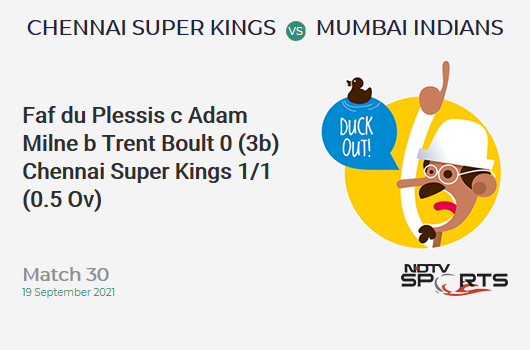 0.4 over (0 Run) Angles this one across, lands it on middle and on a length, Faf plays it to point.
0.3 over (0 Run) Drags his length back a little and lands it on middle, it's defended by Faf.
0.2 over (1 Run) A huge appeal but turned down! Going down leg! Boult goes fuller this time but the line is way too straight. Ruturaj Gaikwad looks to flick but misses. It hits the pad and goes down to third man. The bowler appeals and in the meantime, Faf calls his partner through for a run. Chennai are underway with a leg bye.
0.1 over (0 Run) A little bit of swing for Boult! Also, he begins right on target! This starts on off and it tails back in. It is on a length. Gaikwad does not plant his front foot across and defends it with the movement.
Let's get going now! The players have arrived in the middle. Mumbai complete a quick huddle with Kieron Pollard giving his boys a pep talk. Ruturaj Gaikwad and Faf du Plessis are the openers for Chennai. Trent Boult to begin proceedings with the ball. All in readiness, here we go...
A quick chat with Moeen Ali. The English all-rounder is very excited to be back. He feels they are in a good position and hopes he can keep contributing. Adds he has got good rest and is all ready to go. States for him it is all about keeping it simple, enjoy the batting and the role he has been given by his side is exciting. Regarding his bowling plans on a lush green surface, Moeen replies that he will still try to spin the ball but it is more about the length. Also says the big boundaries help a lot. Ends by saying Mumbai have amazing players and Chennai will have to play really well to beat them.
Mumbai (Playing XI) - Quinton de Kock (WK), Suryakumar Yadav, Ishan Kishan, Anmolpreet Singh, Saurabh Tiwary, Kieron Pollard (C), Krunal Pandya, Adam Milne, Rahul Chahar, Jasprit Bumrah, Trent Boult.
Chennai (Playing XI) - Faf du Plessis, Ruturaj Gaikwad, Moeen Ali, Suresh Raina, Ambati Rayudu, Ravindra Jadeja, Dwayne Bravo, MS Dhoni (WK/C), Shardul Thakur, Deepak Chahar, Josh Hazlewood.
Kieron Pollard, the stand-in skipper of Mumbai, says it is a good toss to lose, he was not sure what he wanted to do. Adds Rohit Sharma is fine and we will see him sooner rather than later. Further says that Rohit is the captain of the ship and Kieron is just standing in for him today. Mentions they started to gain momentum in the last two games, now it is the most important part of the tournament and the players are looking forward to this. Informs that Rohit Sharma and Hardik Pandya are not playing, and Anmolpreet Singh will be making his debut.
MS Dhoni, the captain of Chennai, says it looks like a good wicket so they feel putting up a target is a better option. States it is the same for everyone, most of the players either go and perform for their country or play for some franchise so he can't say if the break is a good one or not and it is all about adjusting to the conditions. Mentions it all comes down to how good you play on that particular day and they are focused on doing the basics right. Informs Sam Curran is not there and the overseas players are Faf du Plessis, Moeen Ali, Josh Hazlewood and Dwayne Bravo.
It's toss time! Kieron Pollard has stepped out along with MS Dhoni. Up goes the coin and it has fallen in favour of MS Dhoni. CHENNAI ELECT TO BAT!
Milestone for Jasprit Bumrah! This is going to be his 100th match for Mumbai and he is being handed over a special cap. Also, there are talks surrounding Rohit Sharma, who was seen walking gingerly a while back. Is he fit to lead the champions? We will get to know soon.
Pitch report - Simon Doull and Kevin Pietersen are near the pitch! The Kiwi says that it is really hot and you have to bat first here. Further mentions that plenty of wickets have fallen to the fast bowlers on this pitch over the years. KP says the wicket looks a good one, it is lush green and the team batting first won most of the games last time around but Pietersen would prefer chasing. Let's see what Rohit or Dhoni decide...
Arguably, the best T20 League in the world is set to become a part of your life again. Your evening will be occupied with some sumptuous matches and everything else will take a back seat. And the best League is starting with the best match - Mumbai vs Chennai! Two champion teams, great rivals and currently in the top four of the table - What more do you want? This clash will bring the roof down, just like their last clash, and let's hope for a pulsating contest as Indian T20 League announces its return.
Happy days are here again! Forget everything that halted the 14th edition of the Indian T20 League. It's back and it's back with the force of excitement and enthusiasm. Let's unpause this season by blowing the iconic Pepe el Trompeta!!! We're sure, just by reading, that tune would have started to play in your minds and hearts. Hold on to that sound and officially resume what we fondly call - India Ka Tyohar!
Topics mentioned in this article