Story Progress
Back to home
Chennai Super Kings vs Kolkata Knight Riders Live Score Ball by Ball, IPL 2021 Live Cricket Score Of Today's Match on NDTV Sports
Live Updates of Today Match between Chennai Super Kings vs Kolkata Knight Riders from Dubai International Cricket Stadium, Dubai. Check commentary and full scoreboard of the match.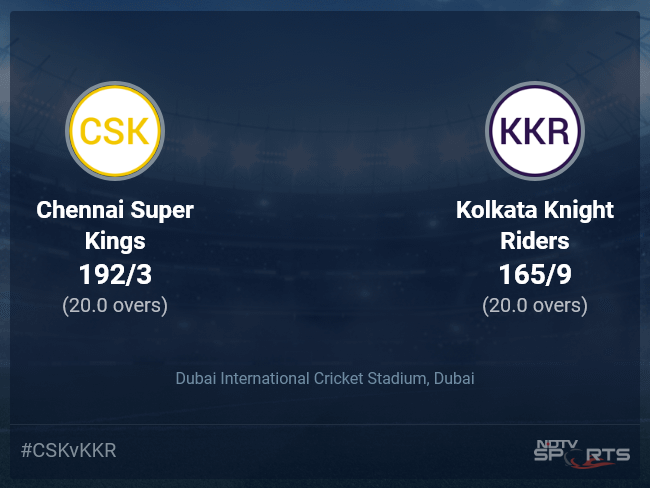 KKR vs CSK Latest Score
Follow the Indian Premier League 2021 live cricket score on Sports.NDTV.com. After 20.0 overs, Kolkata Knight Riders, chasing a target of 193, are 165/9. Get live score, ball by ball commentary and much more. Keep track of Indian Premier League 2021 today match between Chennai Super Kings and Kolkata Knight Riders. Everything related to Chennai Super Kings and Kolkata Knight Riders match will be available on Sports.NDTV.com. Stay updated with Chennai Super Kings vs Kolkata Knight Riders live score. Do check for Chennai Super Kings vs Kolkata Knight Riders scorecard. You can get scorecard updates, match related facts. Get quick live updates with ads, Sports.NDTV.com, which is the perfect destination for live cricket score.
It's time to bring down the curtain on the 14th season of the Indian T20 League. Things won't be the same in the next edition with this League set to go through plenty of changes. As the saying goes, onwards and upwards. The next pitstop for all of us is the ICC Men's T20 World Cup 2021 and it's starting from 17th October with the match between Oman and Papua New Guinea at 2 pm local (10 am GMT). We would love to have your company again. Until then, it's goodbye and cheers!
Sourav Ganguly hands the trophy to MS Dhoni! As usual, MS quickly hands it to someone else, seems it's Deepak Chahar on this occasion. They all line up for the cameras. You will get to see plenty of these photographs in the coming days on social media. Time to celebrate!
The crowd goes bonkers as MS Dhoni comes up for an interview! MSD starts by praising Kolkata for the way they bounced back and feels that the break really helped them. Tells that Chennai shuffled a few players and it was important to define responsibilities. Tells that every final is special and you can also say they are the most consistent team that loses in the final, but in those games, there were moments that they lost. Shares that this was something they made a conscious effort to improve on. Hopes that Chennai will keep working on it in future as well. Adds that they didn't talk a lot and it was more about one-on-one sessions and it was more relaxed. Feels that the moment you get into a team room, the pressure starts to build. States that the practice sessions have been brilliant where they have communicated with the boys. Thanks the fans and says that this is something you crave as cricketers. Hopes that next season they will go back to Chepauk. On leaving his legacy behind, Dhoni chuckles and replies he is not sure he has left it behind just yet.
Stephen Fleming, the Chennai head coach, says that getting over the line was one of the challenges and he is happy to get over the line. Adds that they value youth but in pressure situations, the experience can add so much. States that they are comfortable playing experienced guys as well as youth. Says that they involve gut feelings and instincts, and need to understand players. States that years have gone by and this is a wonderful tournament and he is pleased to be with one franchise.
Eoin Morgan, the Kolkata skipper, says that he is extremely proud of the fight that they showed throughout the tournament and their character epitomizes Kolkata's values and is very happy with the support from the management and thanks the fans as well, as they supported them throughout. On their openers, Morgan shares that they have been outstanding and says that Gill is a classy player and Iyer is a good find and he has a good shoulder on his head. On Rahul Tripathi, Morgan says that he picked up an injury in this game but he gave it his all in the last couple of games.
Brendon McCullum, the head coach of Kolkata, collects the runners-up award on behalf of his team. The Kiwi is super proud of how they have played and he congratulates Chennai as they have won the title and have been a strong side. Adds that they will remember this for a while, even though they did not win. Feels that losing in the final means that there is a lot of what-if questions but he is happy with how the young Indian boys stepped up and they got a couple of things right and is super proud of an amazing campaign. Hopes that they can continue to play the same the next year and appreciates the support from the team management.
Ruturaj Gaikwad is the proud owner of the Orange Cap for smashing 635 runs in this edition at an average of 45.35 and a strike rate of 136.26.
Harshal Patel wins the Purple Cap for picking 32 wickets in this season and is also chosen for the MVP award. In a recorded message, Patel thanked everyone and said that it means a lot to him and added that it would have been nicer had they qualified for the final. He thanked all the support staff and the team members for backing him.
Faf du Plessis is the Man of the Match! The South African says that he is really grateful and is feeling proud of what they have achieved this season. Shares that it was a great day and it was his 100th game in the Indian T20 League which makes it even more special. Adds that he has loved his time with Chennai and it's a great place to play cricket. Tells us that number 4 in the trophy cabinet is really good. On Ruturaj Gaikwad, Faf replies that he is a special talent and Indian cricket is blessed to have him. Further says that Gaikwad has got a great head on his shoulders, he is humble and has a super bright future.
Stay tuned for the presentation...
Ravindra Jadeja says he is feeling amazing and they have worked very hard to win the title and it feels good to finally win it. On his catch of Narine, Jadeja says that it went very high and he looked at Moeen and just went for the catch and is happy to have taken it and that catch changed the momentum for them. Shares that Bravo is going to entertain them the whole night.
Dwayne Bravo says that he is very happy with the effort. Adds that they have continuity and belief in the squad and they believe in the core of the squad. Tells that in 4 years, they have won two titles and this was a complete team effort. Says that he does not get nervous and the players have performed well in different phases. Tells that du Plessis and Gaikwad have been brilliant and scoring more than 500 runs is special. Goes on to say that getting an extra day's rest was important for them.
Deepak Chahar says that there were ups and downs this season. Adds that he is very happy winning this tournament. Goes on to say that there was dew but it was important to handle pressure in a big game like this. States that they capitalized with the bat. Mentions that they have qualified almost every season and they were confident of doing well. States that they all play for MS Dhoni and he is the captain of the ship.
Josh Hazlewood says that he is feeling fantastic and it's awesome to be a part of Chennai. Adds that he has learnt heaps and there are a lot of seniors to learn from, especially DJ Bravo. Shares that he will have a little bit of downtime and then he will jump straight into the T20 World Cup and he has got a good preparation heading into it on these pitches.
Robin Uthappa is feeling grateful. Says that it was a lean last season for them and it was important to play well in 2021. Adds that he just wanted to contribute to the team's success and wanted to take advantage of the start in this game. Mentions that Chennai have a secured atmosphere in the group and there is clarity of thoughts which is very important. Feels that the players not playing in the XI create the atmosphere.
Ruturaj Gaikwad says that it's a great feeling to win the Orange Cap and also the trophy. Mentions that he is feeling great and shares that they didn't have a great last season but they believed in themselves and they are happy that it happened in this season. Adds that he has not changed his batting style and is confident about his shots. Mentions that there are times when you have to dig deep and carry the team.
Moeen Ali says that he is feeling amazing and can't describe it in words. Calls Gaikwad an amazing player and tells that he is so calm and hopes that he will represent India in the future. Praises Dhoni for his captaincy and the way he backed him. Tells that you cannot buy experience and it's a great team to be a part of.
Plenty of interviews lined up...
What a season for Chennai! They have bounced back brilliantly from the disappointment of 2020 and added yet another trophy to their cabinet. After losing the toss, it was important for Chennai to start well. Ruturaj Gaikwad and Faf du Plessis did the job and then the latter extended his stay in the middle. Robin Uthappa and Moeen Ali showed the right intent to never let the tempo down and Chennai managed a big total on the board. Their bowling was below-par at the start and MS Dhoni dropping Venkatesh Iyer for a nought cost them in the first half. But it was always a matter of one breakthrough and as soon as that arrived, Chennai forced a collapse. From the wreckage to recovery, in a nutshell, that was the story with the ball for Chennai as all their bowlers struck the right chords in the second half. Shardul Thakur brought the first two wickets and the rest chipped in as well to run away with the trophy.
Kolkata had a mountain of a target to conquer and they started in the best possible manner. Once again Shubman Gill and Venkatesh Iyer provided them with an excellent platform of 91 runs but the chase nosedived after Iyer's departure. Rana came and went in no time and Narine too failed to contribute. It was a steady procession of wickets for Kolkata as Chennai squeezed them under the scoreboard pressure. Middle order was the soft underbelly of Kolkata and that was tickled by Chennai to gain the winning control on this final. Twice in this chase, they lost two wickets in one over and you cannot afford that in a demanding chase. The defeat was not just inescapable but imminent.
CHENNAI ARE THE CHAMPIONS! They've etched their name on the trophy for the fourth time in the history of this tournament. What a clinical performance! Their players are jumping in celebration, absolute scenes out there, you can feel the excitement in the air. The party has just begun and it will go deep into the night.
19.6 overs (1 Run) CHENNAI WIN BY 27 RUNS! Dwayne Bravo bowls a near-yorker around off, Ferguson digs it out to the leg side and crosses. Whistle Podu for Chennai! MS Dhoni smiles and the dugout erupts. Yet another feather in Dhoni's cap, this is his fourth title and he has achieved it in his 300th T20 match as captain. Take a bow, legend!
Varun Chakravarthy is the last man in!
19.5 overs (0 Run) OUT! Wicket number 9 goes down! Fullish and outside off, slower in pace, Shivam Mavi mistimes his heave in the air and Deepak Chahar completes the catch safely at deep mid-wicket. Can Chennai pick the final wicket on the last ball?
19.4 overs (0 Run) Play and a miss! Bravo continues to bowl slower, around middle and leg, Shivam Mavi tries to play the paddle scoop but misses.
19.3 overs (1 Run) Aerial but safe! One of many variations of Bravo. Fuller and wide outside off, Ferguson is early into the shot and flicks it in the air over mid-wicket. A single is taken.
19.2 overs (1 Run) A yorker around off, nicely nailed by DJ, Mavi brings his bat down and squeezes it through cover-point for a run.
19.1 overs (0 Run) Bravo delivers it full and around middle and leg, the angle is taking that down, Mavi attempts to flick but misses. It goes through his legs to Dhoni.
18.6 overs (0 Run) Good-length ball outside off, Ferguson misses his swing. 31 needed in the last over.
31 needed off the final over. Dwayne Bravo is entrusted the responsibility to bowl the final over. It should be Chennai's game from here, but can Kolkata script an unlikely win?
18.5 overs (6 Runs) SIX! Powered! Short ball around off, Ferguson smacks it over wide long on for a biggie. Dhoni is not understanding what is Thakur trying to do. The skipper isn't looking happy.
18.4 overs (2 Runs) Low full toss outside off, Ferguson drives it to deep cover for a couple.
18.4 overs (1 Run) WIDE! Another one outside off, Ferguson does not play at that. Another wide. Just delaying the inevitable.
18.4 overs (1 Run) WIDE! A slower ball way outside off, Ferguson lets it go. Wided.
18.4 overs (5 Runs) NO BALL AND FOUR! Full toss above the waist on the pads, Ferguson swings it to deep backward square leg for a boundary. A Free Hit will follow.
18.3 overs (0 Run) Full toss outside off, Ferguson misses his drive.
18.2 overs (1 Run) Slower ball on off, Mavi defends it to covers for one.
18.2 overs (1 Run) WIDE! Full outside off, Mavi looks to drive but misses. Wided.
18.1 overs (0 Run) Good-length ball outside off, Mavi looks to cut but gets a bottom edge. It rolls behind in front of the keeper.
Shardul Thakur to bowl the penultimate over! Can he end with a 5-fer?
17.6 overs (1 Run) Slower ball outside off, Mavi guides it through backward point for a single.
17.5 overs (6 Runs) SIX! Mavi with another! He is showing that he can bat! Bravo dishes a juicy full toss on the pads, Mavi powers it over deep square leg for a biggie.
17.4 overs (6 Runs) SIX! Mavi has decided to enjoy himself here! Full and outside off, Mavi lifts it over deep point for a biggie. One of the spectators has touched the ball so it has to be changed as per the new Covid protocol.
17.3 overs (4 Runs) FOUR! Too late for Kolkata! Very full outside off, Mavi slices it over short third man for a boundary.
17.2 overs (0 Run) Very full outside off, Mavi looks to drive but misses.
17.1 overs (1 Run) Full outside off, Lockie plays it to long on for one.
Dwayne Bravo to bowl now. 2-0-8-0 are his numbers so far!
16.6 overs (0 Run) Full ball outside off, Mavi drives it to extra cover. Hazlewood is done for the night and his figures read 4-0-29-2.
16.5 overs (1 Run) Full toss on the pads, Ferguson heaves it to deep square leg for one.
16.4 overs (1 Run) Full ball on off, Mavi defends it to covers for a single.
16.3 overs (0 Run) OUT! CAUGHT! Brilliance in the field from Deepak Chahar and that should be it for Kolkata! What an effort from Deepak Chahar though! Simply terrific! Short ball on the pads, Morgan pulls it to deep square leg. Chahar comes across, jumps and catches it. He sees himself going over and throws the ball back up. He goes over the rope, comes back in and completes the catch. The third umpire takes a look at it and is happy with the effort. So, Kolkata lose their 8th wicket.
Is that a clean catch? If it is, Deepak Chahar has pulled off a stunner. Yes, clean catch, it is! The skipper of Kolkata walks back and that should seal the deal for the Men in Yellow!
16.2 overs (0 Run) Good-length ball on the pads, Morgan looks to heave it away but it goes off the pads to the leg side. Refuses to take the single.
16.1 overs (0 Run) Slower ball around off, Morgan goes for a huge slog but misses.
Who bowls now? It is Josh Hazlewood (3-0-27-1)!
15.6 overs (2 Runs) Just over extra cover! Short ball outside off, Ferguson lifts it over extra cover. Gowtham, the substitute fielder, goes after it but fails to reach it. Two taken.
15.5 overs (0 Run) Slower short ball around off, Ferguson is too early into his shot. It takes the inside edge and goes back to the keeper.
Out walks Lockie Ferguson!
15.4 overs (0 Run) OUT! CAUGHT! Another wicket goes down and the dream for Kolkata is crumbling. Tripathi had no option but to go for the big shot and he perishes. Good-length ball on middle, Tripathi looks to go over long on but does not time it well at all. Moeen Ali has no problems in taking it in the deep.
15.3 overs (2 Runs) On a length outside off, Tripathi drives it on the up towards deep cover. Tripathi hobbles back for two.
15.2 overs (0 Run) Good-length ball around off, Tripathi guides it to short third man. A dot ball.
15.1 overs (1 Run) Good-length ball outside off, Morgan cuts it through point for a single.
Match Reports
Topics mentioned in this article