Story Progress
Back to home
Chennai Super Kings vs Kolkata Knight Riders: IPL 2021 Live Cricket Score, Live Score Of Today's Match on NDTV Sports
Live Updates of Today Match between Chennai Super Kings vs Kolkata Knight Riders from Dubai International Cricket Stadium, Dubai. Check commentary and full scoreboard of the match.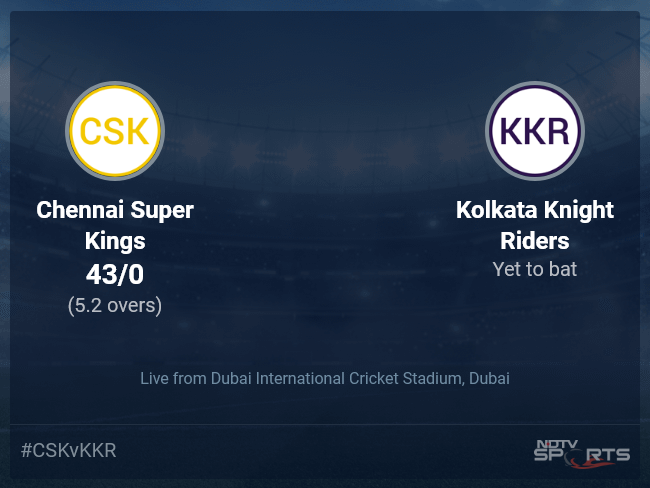 CSK vs KKR Latest Score
A dedicated team of experts bring you live score, live cricket score, live match update on Sports.NDTV.com. After 5.2 overs, Chennai Super Kings are 43/0. The live updates of Chennai Super Kings vs Kolkata Knight Riders scorecard is also available. It is the perfect platform to follow your favourite teams in Indian Premier League 2021. Keep a track on your favourite batsmen and bowlers through Indian Premier League 2021 today match, ball by ball commentary, Chennai Super Kings vs Kolkata Knight Riders, Chennai Super Kings vs Kolkata Knight Riders live score, Chennai Super Kings vs Kolkata Knight Riders scorecard. Follow the excitement of the Indian Premier League 2021 on Sports.NDTV.com as you can follow live match updates and live cricket score through our platform.
4.6 overs (1 Run) Fuller and around off at 137.4 clicks, du Plessis eases it to extra cover and keeps strike with a single.
4.5 overs (4 Runs) FOUR! Up and over mid on! Back of a length, around off, Faf du Plessis attempts for an aerial shot, doesn't get hold of it but has just enough to clear mid on. Another boundary results.
4.4 overs (1 Run) Edgy! Full and around off, shaping in, Ruturaj Gaikwad pushes inside the line and edges it towards short third man. The fielder dives to make the stop and they cross.
4.3 overs (1 Run) On a good length, around off and moving back in a bit, Faf sits back and plays it down to covers. They take another run.
4.2 overs (1 Run) Fractionally short and around off, shaping in, Ruturaj Gaikwad taps it down to short third man and pinches a single. He is now the leading run-scorer of this season! Outstanding.
4.1 overs (0 Run) Shortish and on off, angling in, Ruturaj Gaikwad pulls from the crease, not much timing and it goes to mid-wicket.
3.6 overs (0 Run) Swing and a miss! Short and wide outside off, at 151.2 kph, Faf du Plessis tries to slam it over point but misses. 12 from this over, 25 in the last two. Chennai are maximizing the Powerplay overs after a slow start.
3.5 overs (4 Runs) FOUR! Brilliant from Faf! Top shot. Lockie Ferguson serves it in the slot, on a length and around off, du Plessis crunches it past the diving mid off fielder for a boundary.
Does Shakib Al Hasan bowl his third over on the trot? Nopes. Shivam Mavi has a change of ends.
3.4 overs (1 Run) On middle, turned in the gap on the leg side for a single.
3.3 overs (4 Runs) FOUR! Quality shot! The quicker you bowl, the faster you travel. A very full ball, around middle and leg at 151 clicks, Ruturaj Gaikwad steps back to make room and squeezes it out through point for a boundary.
3.2 overs (1 Run) Risky single! Back of a length, outside off, Faf du Plessis stands back and plays a mistimed punch to cover-point. They attempt for a quick run and Eoin Morgan has a shy at the striker's end. Misses by a big margin.
3.1 overs (2 Runs) Starts with a fuller delivery on middle, Faf du Plessis does well to work it towards deep square leg, to the left of the fielder in the deep and it's an easy couple.
2.6 overs (1 Run) Tossed up around off, Faf du Plessis drills it down to long off and collects another single. 13 from the over!
2.5 overs (1 Run) Fuller and around off, it's dragged off the inner half to long on for a single.
So, just the one over for Mavi as Lockie Ferguson replaces him.
2.4 overs (0 Run) Short and around middle, Gaikwad goes deep inside the crease to cut but finds point.
2.3 overs (6 Runs) SIX! This one has gone the distance! Flatter and shorter on middle, skidding in, Ruturaj Gaikwad goes deep inside the crease and hammers it all the way over mid-wicket.
2.2 overs (4 Runs) FOUR! Good shot! Tossed up ball on middle, Ruturaj Gaikwad goes down on one knee and smashes his sweep shot through square leg.
2.1 overs (1 Run) Oops! That has missed the leg stump by a whisker and Dinesh Karthik has also failed to collect the ball. Floated one, full and on middle and skidding in, Faf du Plessis steps back to make room and drive but fails to connect cleanly. It sneaks behind, DK is a bit late and fails to collect. They cross and it's given as a bye.
1.6 overs (0 Run) Beaten again! A touch short and outside off, at 139.3 kph, Ruturaj Gaikwad hangs on the back foot and tries to cut but misses. A fine second over bowled by Shivam Mavi.
1.5 overs (0 Run) Pitches it up and around off at 139.5 kph, Ruturaj Gaikwad presses forward and pushes it to mid off.
1.4 overs (0 Run) Swing and a miss! Well bowled. Mavi hurls it on a good length around off and gets it to straighten off the seam, Ruturaj Gaikwad tries to loft it with a straight bat but is beaten all ends up.
1.3 overs (2 Runs) Misfield! On a shortish length and close to off, Gaikwad plays late and guides it towards short third man off the outer edge. Varun Chakravarthy misfields and concedes a couple of runs.
1.2 overs (1 Run) Mavi errs in line on this occasion, it's a little too straight and du Plessis wastes no time in using his wrists. He works it through square leg and collects a single.
1.1 overs (0 Run) Right on the button. Mavi begins with a delivery around off, on a length and angling in, Faf du Plessis presents a straight bat in defense.
0.6 over (0 Run) Short this time, wide outside off, Gaikwad cuts but picks out the backward point fielder. A good first over by Shakib.
0.5 over (0 Run) Quicker one, around off, Ruturaj Gaikwad gets back and pushes it out to the off side. Not in the gap.
Shivam Mavi to operate from the other end.
0.4 over (4 Runs) FOUR! First of the final. Short and around leg, drifting down with the arm, Ruturaj Gaikwad goes down on one knee and sweeps it powerfully to the deep square leg fence.
0.3 over (1 Run) Shakib dishes out an arm ball, flat and on middle, du Plessis gets back and turns it in front of square leg for a single.
0.2 over (0 Run) Loopy and full, wide outside off, Faf du Plessis mistimes his drive back to the bowler.
0.1 over (1 Run) Shakib begins with a flighted delivery, full and around off, Gaikwad gets forward and drives it gently to mid off. They scamper across for a quick run. Chennai are up and running!
Are you readyyyyyy? The grand finale of the Indian T20 League, 2021 is close to getting underway. First, the Kolkata players make their way out into the middle and look to spread out to their respective positions out on the field. Faf du Plessis and Ruturaj Gaikwad will open the innings for Chennai and they stride out now. It will be some spin to get this final underway as Shakib Al Hasan will begin proceedings with the ball. Here he comes...
Did you know? Kolkata have won all six matches when they were chasing a target in the UAE leg of this edition. They have got the chance to execute their winning formula again. But... if we consider the last 13 finals of the Indian T20 League, the team batting first has won 8 times. Who has the advantage?
Brendon McCullum, the Kolkata coach, is up for a chat. The Kiwi says that he just tries to spend time with the guys and make sure that they follow the processes and they are relaxed as well. Adds that they pick them off one by one and spend a lot of time, but it is not easy. Goes on to say that being in a bubble has been beneficial for them. States that enjoyment is the key and when they came for the second half, they needed to let go of the past and trust the team. Adds that he truly believes that they can win.
MS Dhoni, the Chennai skipper, says that they wanted to bowl first as well. Feels that initially the ball stops a bit and as the game progresses, it settles down slightly. Adds that they cannot control the toss and are prepared for both. Tells us that it has been a long journey and mainly with the franchise cricket and it feels good to complete 300 T20 games as captain. Informs that they are playing the same team. Regarding having a few extra days to relax is good or bad, Dhoni replies that often what really dictates terms is the result and mentions that they are equipped to deal with any situation.
The captain of Kolkata, Eoin Morgan, says that they will bowl first and the wicket looks good, slightly dry and there has been dew in the last couple of games. Adds that it takes hard work and determination to win any trophy and this has been a 2-year journey for Kolkata to try and lift the trophy and they will try to give it their all. Informs that they are unchanged from the last game. Tells that the fact that they are in the final means that his captaincy has been good, but he has been short on runs with his batting and hopes that he comes good today.
Chennai (Unchanged Playing XI) - Ruturaj Gaikwad, Faf du Plessis, Moeen Ali, Ambati Rayudu, Robin Uthappa, MS Dhoni (C/WK), Ravindra Jadeja, Dwayne Bravo, Shardul Thakur, Deepak Chahar, Josh Hazlewood.
Kolkata (Unchanged Playing XI) - Shubman Gill, Venkatesh Iyer, Rahul Tripathi, Nitish Rana, Eoin Morgan (C), Dinesh Karthik (WK), Sunil Narine, Shakib Al Hasan, Lockie Ferguson, Shivam Mavi, Varun Chakravarthy.
Toss - MS Dhoni and Eoin Morgan are in the middle for the all-important toss. MS flips the coin, Heads is the call and it is Heads. KOLKATA ELECT TO BOWL!
Pitch report - Simon Doull and Matthew Hayden are near the surface to inspect the conditions. The Kiwi starts by saying that both sides would like to bowl first as that has been the trend here in Dubai (the last 8 matches have been won while chasing). Hayden adds that this is a cracking wicket and he reckons that 170 is on the cards. Simon Doull reminds us that Chennai defended 156 on this very pitch which was last used on 19th September. He signs off by saying that it looks a belter.
You can't ignore the leadership of Dhoni and Morgan. Their bats have largely remained silent but their captaincy has been roaring. As Harsha Bhogle tweeted a day back - 'In franchise T20 cricket, a good captain is almost worth two players!' Mahi or Moggie, whose captaincy will steal the show this evening?
Battle of the heavyweights! Both Chennai and Kolkata have displayed excellent consistency in this edition, the former from the start and the latter in the second phase. The roadmap to the finale for them has been quite similar. Batting of the top order and the variety in the bowling attack are the main reasons for their success and there have been odd contributions from the middle order as well. However, the middle order batting has been the soft underbelly for these two sides and that area could be targeted this evening. Who will stand taller?
We all know how Eoin Morgan scripted England's renaissance in the shorter formats of the game, and how Brendon McCullum revived New Zealand's fortunes with his aggressive style of captaincy. When two people of the same quality meet, they end up building a winning team. It took time but eventually, Kolkata have blossomed into a fearless unit, capable of taking down any team. They've two trophies so far but it's been so long that they reached this grand stage. Now the time has come to end this drought and add the third title to their name.
MS Dhoni has built a legacy for himself and under him, Chennai have seen more highs than lows. 2020 was an aberration in the rich history of this franchise under MSD but they quickly left that behind and once again find themselves on the cusp of glory. It was vintage Dhoni in Qualifier 1 and his 6-ball winning cameo sent the world of cricket into a frenzy. The fire is still burning and everyone would be wishing for one final firework from him. You never know, this could be Dhoni's last League game as a player for Chennai. Enjoy till it lasts!
Chennai versus Kolkata! If not Mumbai, these two teams know how to win trophies and repeat it as well. One more piece of silverware is waiting to dazzle their cabinet but only one can have it - who will it be? Will Dubai get painted in 'Yellove' or are we going to see the City of Gold glitter in 'Purple and Gold'? All the answers lie ahead.
That much-awaited evening has finally arrived! Dubai, a city known for its riches, is going to witness this incredible moment of one team getting crowned as the champions of this amazing League. This season has been full of drama and fun, and let's wish for a game worthy of a grand finale. On that note, allow us to welcome you all for one last time in the 14th edition of the Indian T20 League. Sit back and enjoy all the action...
Topics mentioned in this article