Story Progress
Back to home
Sunrisers Hyderabad vs Mumbai Indians Live Score Ball by Ball, IPL 2020 Live Cricket Score Of Today's Match on NDTV Sports
Live Updates of Today Match between Sunrisers Hyderabad vs Mumbai Indians from Sharjah Cricket Stadium, Sharjah. Check commentary and full scoreboard of the match.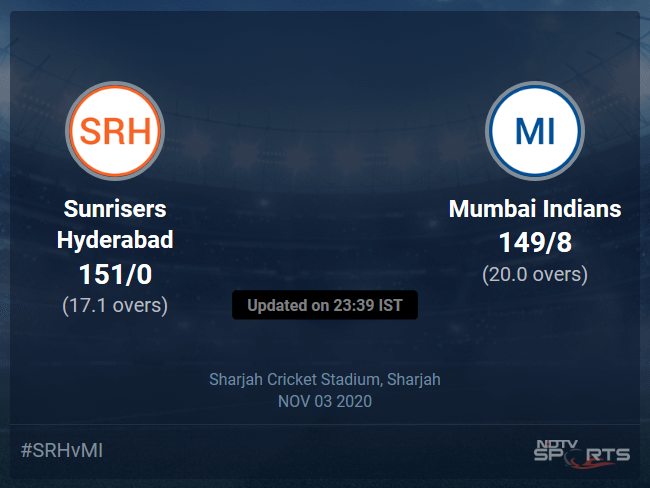 MI vs SRH Latest Score
Follow the Indian Premier League 2020 live cricket score on Sports.NDTV.com. After 17.1 overs, Sunrisers Hyderabad, chasing a target of 150, are 151/0. Get live score, ball by ball commentary and much more. Keep track of Indian Premier League 2020 today match between Sunrisers Hyderabad and Mumbai Indians. Everything related to Sunrisers Hyderabad and Mumbai Indians match will be available on Sports.NDTV.com. Stay updated with Sunrisers Hyderabad vs Mumbai Indians live score. Do check for Sunrisers Hyderabad vs Mumbai Indians scorecard. You can get scorecard updates, match related facts. Get quick live updates with ads, Sports.NDTV.com, which is the perfect destination for live cricket score.
Right then, we are done and dusted with the league stage of this year's Indian T20 League. Four teams, Mumbai, Delhi, Hyderabad and Bangalore have survived the high demand of this tournament and now they will get ready for the playoffs. Next up, Mumbai will be in action again as they lock horns with Delhi in Qualifier 1 on the 5th of November in Dubai. The match will start at 1800 local (1400 GMT). Do join us for all the updates. Cheers!
The Man of the Match for this game is Shahbaz Nadeem. He starts off by saying that he has been playing this way from the past couple of years and he was looking to give his 100 percent in all the games and it worked out this evening. Adds that he has been working hard on his carrom ball for some years and he thought about bowling them against the Mumbai left-handers. Talking about his round-arm action, Nadeem replies that it bounces sometimes when it pitches on the seam part and adds that it depends on how you release the ball. Tells that when you contribute for your team, you feel good and he feels that everyone in the bowling unit has been performing well. Mentions that it is a small ground but with the pitch turning slow, if you bowl in the right areas, it works.
The winning skipper of Hyderabad, David Warner, starts off by saying that he is feeling good now especially after what happened in the game against Punjab. The Aussie is happy that they restricted Mumbai to just 150. Credits his bowlers for their performance and as the openers, they just wanted to see the game through. Feels there is a good atmosphere in the dressing room and the whole management is a family and they have a never give up attitude. Says that even though there are injuries, they still find a way. Reminds that Kane Williamson missed out last year and Jonny Bairstow took his place and was absolutely fantastic. Mentions that with Saha opening and they are finding a good balance now. Shares that in 2016 also they were in a similar position where they had to win all the game to win the title. Adds that the whole team is passionate and they came out very motivated in this game also. Tells that he prides himself to give a good start to them and fortunately, the last couple of games have been great. Talking about the next encounter against Bangalore says that they are a great team and he is excited about that challenge.
Hyderabad's mentor and batting coach, VVS Laxman is in for a quick chat! He says that he is proud of the entire group and especially after that game against Punjab. Adds that the bowlers after losing Bhuvneshwar Kumar, have stepped up. Praises Saha for his performances since he has started playing. Mentions that they wanted to keep things simple and they took each game as it came and there was a lot of energy when they were fielding. Laxman is very proud of the team as the positivity was always on show. Feels that Warner leads from the front and that in the last three games, he has played really well. Further says that Warner is an amazing person in the dressing room. About their next encounter, VVS replies that they know that Bangalore are a good side and even though they beat them in the last game, this will be different. Tells that they are confident and will look to stick to their basics.
Mumbai skipper, Rohit Sharma says that it was not the day to remember and calls it probably the worst performance of the season for them. Mentions that losing wickets at the start didn't make it easier. Admits that they didn't play good cricket. Rohit is happy to be back, was going through some tough times and is looking forward to playing some more cricket here. Informs that his hamstring is absolutely fine. Regarding the dew factor, Sharma replies that they play at Wankhede, where there is always dew and you can't be demotivated with the toss, you still have to come out and execute the skills and have the belief. Adds that when you take wickets in the Powerplay it becomes tough and they have seen that in this season. Shares that Boult and Bumrah were just rested and they are absolutely fine. Tells that it's a funny format and it's always right to focus on the present and leave this performance behind. Calls it a good challenge to play against Delhi.
Earlier in the evening, Hyderabad's bowling was also on the money. They were focused and motivated and hardly put any foot wrong. Their bowling in the middle overs especially was incredible and they finished well at the backend as well. Superb work with the ball and it was nicely backed up by their openers. Hyderabad now jump to the number 3 position in the table and will be delighted with the way they have peaked in the past few games.
A target of 150 was scaled down by the Orange team without breaking a sweat. David Warner and Wriddhiman Saha showed positive intent and gathered 56 runs in the Powerplay. From there onward, it was all too easy. Mumbai's bowling wasn't too penetrative and they struggled throughout. Dew could be a factor but they were poor right from the start. A day to forget for the defending champions.
Outstanding victory for Hyderabad! It was a stroll in the park for them against the best team of this edition and they have stormed into the playoffs. Kolkata are the last team to get knocked out now.
17.1 overs (4 Runs) FOUR! HYDERABAD WIN BY 10 WICKETS! They are in the playoffs and their dugout is roaring in delight. A flatter and shorter delivery around off, Warner camps back and smacks it through covers for a boundary.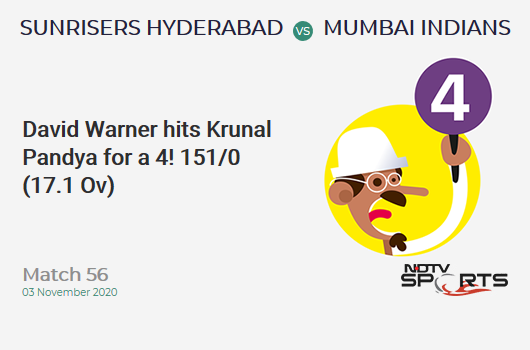 16.6 overs (0 Run) Beats the batsman with a slower delivery. A length ball on middle, angling in, Saha tries to work it on the leg side but misses. It deflects off his pads to point. Dot ball to finish the over. 3 more needed.
16.5 overs (1 Run) Angles in a length ball on middle, Warner tucks it to deep mid-wicket for a single.
16.4 overs (0 Run) Swing and a miss! Again a short delivery outside off, Warner jumps and tries to cut but misses.
16.3 overs (1 Run) Back of a length ball on middle and leg, slower in pace, Saha helps it through square leg for a comfortable run.
16.2 overs (0 Run) Shortish and outside off, cut straight to point.
16.1 overs (1 Run) A shortish length ball in the line of the stumps, Warner jumps back and smashes it to deep point for one.
15.6 overs (1 Run) In the air... SAFE! Short delivery outside off, Warner stands back and then plays the upper cut. It's aerial and Coulter-Nile charges forward from third man. It falls in front and he does well to stop it from racing away. A single taken, 6 more needed.
15.5 overs (0 Run) Spears in a full length ball on off, Warner once again is deep inside the crease as he mishits his shot back to the bowler.
15.4 overs (1 Run) A half-tracker once more by James, it's around middle, Saha swivels on one leg and directs his pull shot behind square leg for a single.
15.3 overs (1 Run) Shortish again, wide outside off, Warner hangs back and cuts it behind backward point. The third man fielder is quite square and hence only a run.
15.2 overs (4 Runs) FOUR! Effortless! Back of a length ball around off, Warner uses the angle to his advantage and nails his pull shot to the wide long on fence. Only 9 needed more.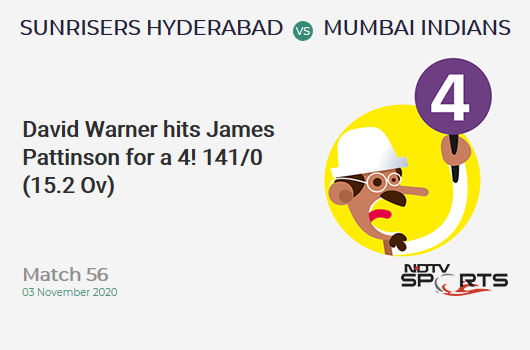 15.1 overs (0 Run) Pattinson hurls in a very full ball wide outside off, Warner moves back to make room and ends up failing to put bat on ball.
Match Reports
Topics mentioned in this article