Story Progress
Back to home
Sunrisers Hyderabad vs Mumbai Indians: IPL 2020 Live Cricket Score, Live Score Of Today's Match on NDTV Sports
Live Updates of Today Match between Sunrisers Hyderabad vs Mumbai Indians from Sharjah Cricket Stadium, Sharjah. Check commentary and full scoreboard of the match.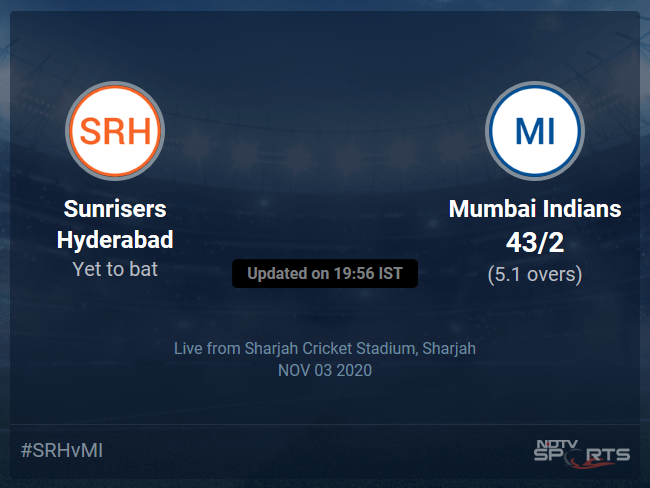 SRH vs MI Latest Score
A dedicated team of experts bring you live score, live cricket score, live match update on Sports.NDTV.com. After 5.1 overs, Mumbai Indians are 43/2. The live updates of Sunrisers Hyderabad vs Mumbai Indians scorecard is also available. It is the perfect platform to follow your favourite teams in Indian Premier League 2020. Keep a track on your favourite batsmen and bowlers through Indian Premier League 2020 today match, ball by ball commentary, Sunrisers Hyderabad vs Mumbai Indians, Sunrisers Hyderabad vs Mumbai Indians live score, Sunrisers Hyderabad vs Mumbai Indians scorecard. Follow the excitement of the Indian Premier League 2020 on Sports.NDTV.com as you can follow live match updates and live cricket score through our platform.
4.6 overs (0 Run) Fuller in length and outside off, pushed off the front foot to covers. Dot ball to end an eventful over, 16 runs and a prized scalp of Quinton in it for Hyderabad.
4.5 overs (0 Run) Sandeep switches to 'round the wicket for the new batsman and angles in a full ball on middle, Kishan defends it back.
Ishan Kishan walks out with his blade now for Mumbai.
4.4 overs (0 Run) OUT! De Kock drags it on! Luck factor for the bowler. He attempts for a wide yorker probably but ends up slipping a low full toss outside off, Quinton finds another boundary-scoring opportunity but this time his attempted drive is not from the middle of the bat. It takes the inside edge and cannons onto the stumps. A disappointing end. Sandeep won't mind it!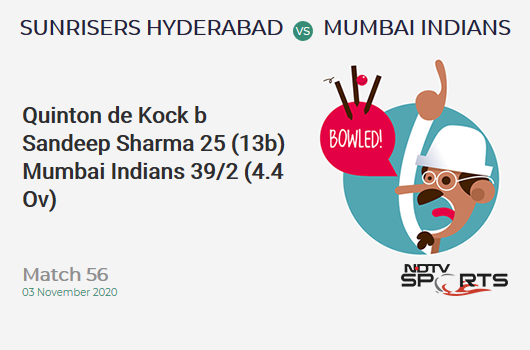 4.3 overs (6 Runs) SIX! Oh my goodness! Quinton is on the attack. He reads the change in pace, finds the ball to be on a length around off and he heaves it with all his might over wide long on.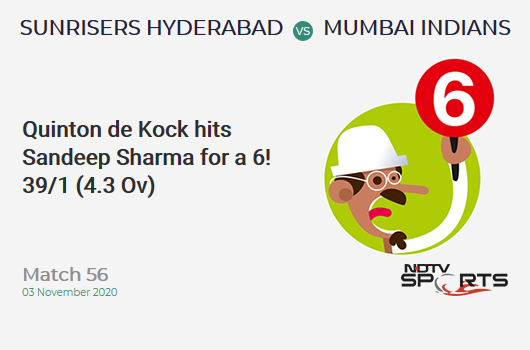 4.2 overs (6 Runs) SIX! This is the Quinton special! Slightly short and around leg, de Kock swivels on the back foot and plunders it over square leg for a biggie. 10 from the first two balls, pressure on Sandeep.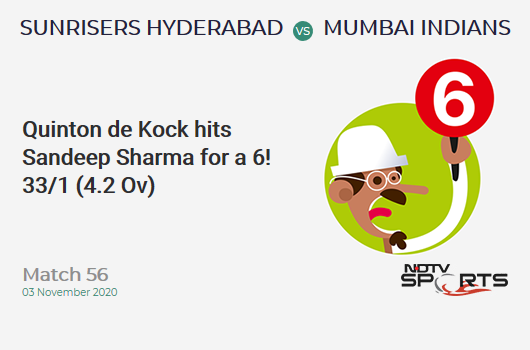 4.1 overs (4 Runs) FOUR! Well played! Sandeep senses the charge and serves it full and wide outside off. De Kock still manages it reach it and drills it through extra cover.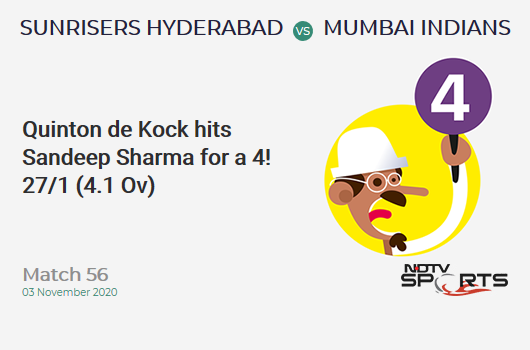 3.6 overs (0 Run) Fullish and close to off, Suryakumar pushes it back past the bowler to mid off. Another tidy over by Hyderabad.
3.5 overs (2 Runs) This one is in the zone outside off, Yadav lifts it over extra cover. Warner chases it down from mid off and they collect a couple of runs.
3.4 overs (0 Run) Short and wide outside off, Surya tries to cut but misses.
3.3 overs (0 Run) Shortish around middle and leg, SKY moves across the stumps to ease it behind square leg but misses.
3.2 overs (4 Runs) FOUR! Shot full of confidence! Fuller length ball on middle, Yadav picks it up and flicks it stylishly in front of square leg for a fabulous boundary.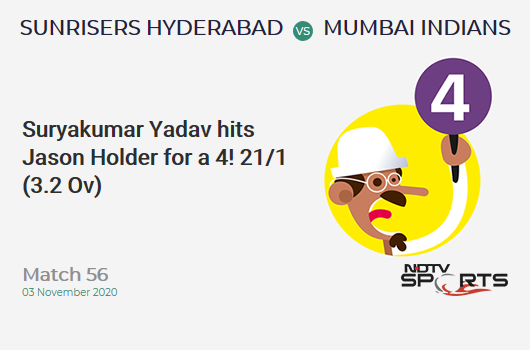 3.1 overs (1 Run) Digs in a short ball on middle, de Kock stands tall and pulls it firmly in front of square leg. Samad makes a sliding stop in the deep and they cross.
2.6 overs (0 Run) Pitches it up and around off, it's driven off the front foot to mid off. End of a successful over for Sandeep, 6 runs and a wicket from it!
2.5 overs (0 Run) Fullish on off, pushed off the front foot to the off side.
2.4 overs (4 Runs) FOUR! In the air... but in the gap! Good timing on that shot. Back of a length delivery on off, Yadav punches it aerially and times it superbly through extra cover. Opens his account with a boundary.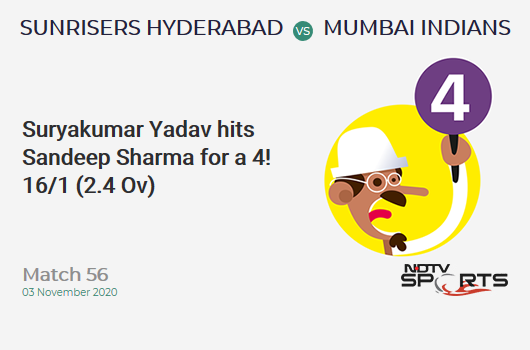 Who will walk in for Mumbai now? Will it be Kishan or Suryakumar? It will be the latter as Suryakumar Yadav makes his way out into the middle.
2.3 overs (0 Run) OUT! Rohit's comeback lasts for only 7 balls. Sandeep once again leaves his impact in the Powerplay. He delivers it on a fuller length around leg, a knuckle ball. Probably, it stops a bit after hitting the deck. Rohit moves back to make some room and then attempts to loft it over mid off. Fails to get the desired connection and Warner moves across to his right and completes an easy catch inside the ring. Early blow to Mumbai!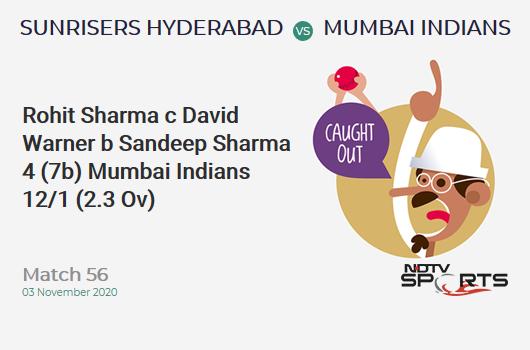 2.2 overs (1 Run) Keeps it full in the hope of some movement but it's too full, not allowing the ball any time to do it's bit. De Kock whips it to deep mid-wicket for a run.
2.1 overs (1 Run) Fullish and around off, it's knocked down to long on for a run.
1.6 overs (1 Run) Aerial but safe! A length ball around off, Rohit tries to play a lofted shot but loses his shape a bit. Ends up spooning it over covers and it falls in front of the sweeper. A single taken to close another 5-run over.
1.5 overs (1 Run) Short in length and outside off, it's cut through backward point for a single.
1.4 overs (2 Runs) Superb stop! Well done, Samad. Holder over-pitches on the leg stump line and de Kock flicks it through mid-wicket. The ball races away and so does Samad to his right. He puts in a dive and saves two for his team.
1.3 overs (0 Run) Tries to be innovative but it doesn't come off for Quinton. Holder delivers a length ball around off, de Kock walks across with an attempted paddle shot but fails to connect. A bit of arrogance displayed by the South African.
1.2 overs (1 Run) This time Holder angles a length ball into the batsman, Rohit walks across slightly and nudges it through backward square leg for one.
1.1 overs (0 Run) Good length ball outside off, with the usual extra bounce that Holder generates, Rohit punches it from the back foot to covers.
Who will partner Sandeep Sharma with the new ball? It will be Jason Holder.
0.6 over (0 Run) Back of a length ball on off, de Kock pushes it on the up but it goes safely to the right of mid off. End of a decent first over by Sandeep.
0.5 over (4 Runs) FOUR! The South African is off the mark! Pure timing on this flick shot. Sandeep is too straight with his line, de Kock turns inside the crease and eases it in front of square leg for a glorious boundary.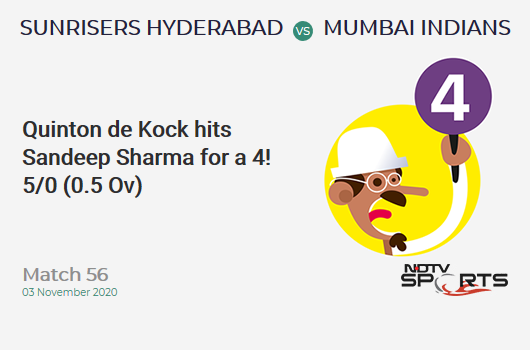 0.4 over (0 Run) Pitches it up and outside off, Quinton drives with good timing but finds the cover fielder.
0.3 over (0 Run) Lands it on a length around middle and off, de Kock stands back and defends it from the inside part of his bat. It rolls behind towards the keeper.
0.2 over (1 Run) Good shot! Full again, around middle and off, Rohit presents a straight bat and pushes it back past the bowler. A quick run taken to open Mumbai's account.
0.1 over (0 Run) A bit of swing straightaway. Sandeep hurls it full and outside off, Rohit leans forward to drive but it goes off the inner half of his blade to mid on.
We're all set to get underway. Quinton de Kock gets his usual batting partner back as he is joined by fit-again Rohit Sharma. As expected, Sandeep Sharma will take the ball first-up. Let's play...
Hyderabad (Playing XI) - David Warner (C), Wriddhiman Saha (WK), Manish Pandey, Kane Williamson, Priyam Garg, Jason Holder, Abdul Samad, Rashid Khan, Shahbaz Nadeem, Sandeep Sharma, T Natarajan.
Mumbai (Playing XI) - Rohit Sharma (C), Quinton de Kock (WK), Ishan Kishan, Suryakumar Yadav, Saurabh Tiwary, Krunal Pandya, Kieron Pollard, Nathan Coulter-Nile, James Pattinson, Rahul Chahar, Dhawal Kulkarni.
One of the shining stars of this season for Mumbai, Suryakumar Yadav is up for a chat. He says that it is one of the great tournaments in the world and people talking about you is obviously great. Adds that every time you go in, you have to start from scratch and he loves to do it again and again. Further says that nothing changes for this match as going into the playoffs they don't want any complacency and finish on a high. Regarding the star-studded team support staff, Yadav replies that be it on the field or off the field, whenever you approach them, it's great to spend time with them.
Mumbai skipper, Rohit Sharma says that throughout the tournament there has been a lot of talk regarding the toss but they want to focus on how they play and take the toss out of the picture. Tells that it looks like he is fit and fine. Shares that they have rested a couple of key bowlers, Jasprit Bumrah and Trent Boult are not playing and James Pattinson and Dhawal Kulkarni are in. Further informs that he is back in the XI replacing Jayant Yadav.
Hyderabad skipper, David Warner talks about the dew factor and his decision to field first is mainly due to that reason. Adds that they have to beat the best to get to the playoffs. Informs that they have made a single change, Priyam Garg comes in for Abhishek Sharma.
Toss - Rohit Sharma is back to lead Mumbai. He walks out to the centre alongside David Warner. Hyderabad elect to field!
Pitch - This pitch has played very differently in Sharjah. The scores have come down mightily if we look at it from the start. It has slowed down and the mindset of the batsmen has also changed as the tournament has progressed. This pitch has a bit of more moisture, looks dark and it doesn't have the same exciting shine. Batting under lights could be easier.
We're down to the last game of the league stage but by no means it's of least importance. Get into the shoes of Hyderabad and you would realise the significance of Match 56 of this year's Indian T20 League. The Orange team has the destiny in its own hands, no permutations and combinations, simply win and book a place in the playoffs. Sounds easy? Here comes the harder part, their last match is against Mumbai, yes, the defending champions, who have already topped the table and secured a place in Qualifier 1. So, all the pressure is on Warner's boys, the Blue brigade will be relaxed, they might even rest some key players and test their bench strength. If that happens, that would hand Hyderabad a slight advantage, however, the fringe players are often full of motivation to prove themselves and they can spoil the party of the 2016 champions. Let's cut the drama short, get ready for a blockbuster game. All the updates here, stay tuned...
Topics mentioned in this article