Story Progress
Back to home
Royal Challengers Bangalore vs Kolkata Knight Riders Live Score, Over 16 to 20 Latest Cricket Score, Updates
Live Updates of Today Match between Royal Challengers Bangalore vs Kolkata Knight Riders from Sharjah Cricket Stadium, Sharjah. Check commentary and full scoreboard of the match.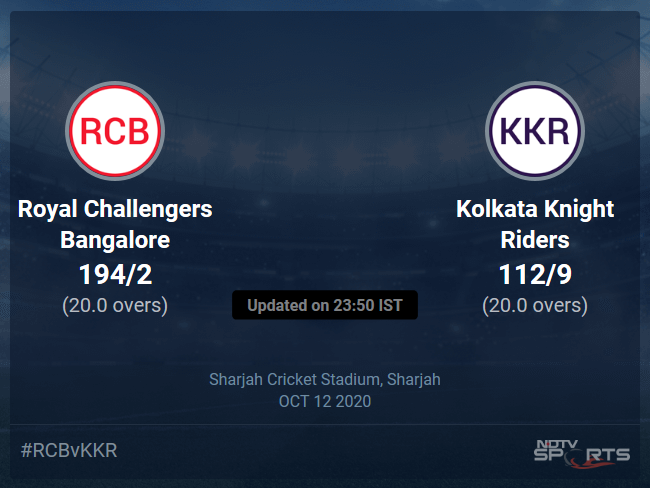 RCB vs KKR Latest Score
A dedicated team of experts bring you live score, live cricket score, live match update on Sports.NDTV.com. After 20.0 overs, Kolkata Knight Riders, chasing a target of 195, are 112/9. The live updates of Royal Challengers Bangalore vs Kolkata Knight Riders scorecard is also available. It is the perfect platform to follow your favourite teams in Indian Premier League 2020. Keep a track on your favourite batsmen and bowlers through Indian Premier League 2020 today match, ball by ball commentary, Royal Challengers Bangalore vs Kolkata Knight Riders, Royal Challengers Bangalore vs Kolkata Knight Riders live score, Royal Challengers Bangalore vs Kolkata Knight Riders scorecard. Follow the excitement of the Indian Premier League 2020 on Sports.NDTV.com as you can follow live match updates and live cricket score through our platform.
So, a one-sided entertainer it was, with Bangalore trumping over Kolkata comfortably. 28 matches done, 28 more to go before the league stage of the tournament wraps up and the knockout stage takes over. On Tuesday, 13th October 2020, Warner's men take on Dhoni's Chennai. Round 1 in this edition went to Hyderabad. Which way will Round 2 go? The match starts at 1800 Local (1400 GMT) but join us well before for the build-up. Until then, take care and good night.
AB de Villiers is the MAN OF THE MATCH. Says that he is happy with his performance. Admits that he was lucky in the last game. Is happy that he contributed in this game. To be honest, AB says that the aim was for around 150, even though they knew that it was not going to be enough. In they end, we got close to 200, he says. Adds that keeping the energy going is really difficult. De Villiers states that he is really enjoying keeping and is really excited to don the gloves again. Feels that there is a different perspective that one has as a keeper. Says that he worked really, really hard to be the best. De Villiers says that he always had that attitude.
Virat Kohli, the VICTORIOUS BANGALORE SKIPPER, says that it was a great victory against a good side in the League. Says that the bowling attack looks a lot more potent with Morris coming back in, Chahal playing the way he does. States that it is not the usual Sharjah pitch. The talk was to get around 160 but they got 194 in the end. Says that the preparation was really good. Kohli says the 3-3.5 week camp helped. The coaches did well. Adds that the mindset and the intensity this time around is really positive. Says that if the bowling unit is strong, one can do really well. On de Villiers, Kohli says that he hit the ball so beautifully. On a pitch like that, to bat like that, only AB can do like that, he reckons. Bangalore got to 195 after just thinking 160-165 purely because of AB's genes, says Kohli. The skipper further feels that this momentum needs to be taken forward and needs to be sustained. Says that it is easy to lose focus and steam and that it is important to maintain it.
Washington Sundar is down for a chat. Says that it is a nice win and that he and Chahal bowled well. Says that in the middle phase of the tournament there will be assistance for the bowlers and that he and Chahal capitalized on that. Says that he has been working on a consistent length, does not want to work on too much. Jokingly says that he does not have to bowl to AB de Villiers but was a little nervy that he had to bowl to Russell in this game. Adds that he has learned a lot from Kohli, has been 3 years under him. Finishes by saying that there is a lot to learn in the tournament still.
Dinesh Karthik, Kolkata's captain, says that the only ball is the perfect in-swinging yorker, you miss it, it hits the stumps. Says that the team needs to sit down, discuss the few things that need to be done better. There are a few days and so they can ponder, he says. States that the Indian T20 League is a very difficult tournament and the teams that persist manage to pull it off. Karthik adds that there are days where things go off well, then there are days where they do not go off well.
Earlier, after winning the toss, Kohli made it clear that he wanted to bat first. Their openers got them to a decent start but the pedestal for the innings was set by the de Villiers-Kohli partnership. In fact, more so by the former's blitzkrieg. It got Bangalore to 194/2 at the end of their 20 overs. And their bowlers complemented it outstandingly well. A big 82-run win in the end. Stay tuned for the presentations.
Bangalore's bowlers were top-notch with the ball. They complemented the batsmen really well. Excellent fielding from Kohli's men as well, save the lone drop from Padikkal of Russell at long off. Everyone finds a mention in the wickets column. Chahal, Morris and Sundar were absolutely phenomenal. Udana, who came in late, managed a wicket, but was on the expensive side. But it does not matter when the victory margin was blaringly huge.
Andre Russell capitalized on the drop catch from Padikkal and landed a couple of blows. But just a couple of fours and a lone six is what he could manage. 16 from 10 balls and he was back in the hut. Too much for the big man himself though. Tripathi, languishing again, lower down the order could not do much. The asking rate was too much, too improbable. In the end, Kolkata did manage to prevent themselves from getting bowled out. But that hardly matters in such a tournament, as Dhoni himself said, in his last chat. Better to get out playing the glory shots rather than seeing yourselves safe in a chase by playing till the end, for nothing.
Kolkata suffered an early blow in the demanding chase. Banton, coming in his first game this edition, fell to Saini for just 8 runs. Just as a partnership was building between Gill and Rana, the latter fell. Kolkata were 51/2 at the end of 8 overs then. Gill, Karthik and Morgan, all followed in quick succession and it looked almost done and dusted for Kolkata. Except...Russell was still there!
An excellent finish for Bangalore. A huge win, 82 runs. The batsmen were exceptional early on and the bowlers have done their job to perfection, restricting Kolkata to 112/9. A big, big win for Kohli's men. Will give them good momentum which the skipper was seeking, given the slew of games that they play in the coming week.
19.6 overs (1 Run) Overpitched, wide outside off, squeezed through for a single. The misery ends. The game is closed. BANGALORE WIN BY 82 RUNS. 9 more than what AB de Villiers scored.
19.5 overs (0 Run) Outside off, pushed to point again but this is fielded.
19.4 overs (1 Run) Outside off, played through point where a misfield reduces Kolkata's deficit by a run.
19.3 overs (1 Run) Yorker, around off, squeezed through the covers for a single.
19.2 overs (1 Run) Slower ball, around off, Varun heaves it to the leg side for a single.
19.1 overs (0 Run) A full ball, tailing in, Chakravarthy looks to flick but misses and is hit on the pads. Udana starts to appeal but that was going down leg by a mile.
Prasidh Krishna is the only batsman left. Isuru Udana will bowl the only over left.
18.6 overs (0 Run) OUT! BOWLED! Morris cranks up his pace, gets it up to 140 kph, lands it full outside off, Nagarkoti looks to swing but misses. The ball takes the inside edge and shatters the stumps. Number 9 down.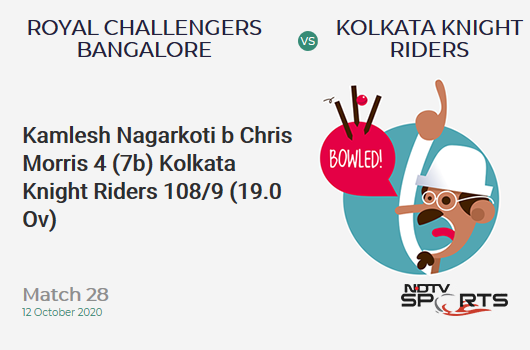 18.5 overs (1 Run) Slower ball, outside off, on a length, pushed towards point for a single.
18.4 overs (1 Run) Another yorker, dug out. It goes between his legs to the leg side and a run is stolen.
18.3 overs (1 Run) Yorker, outside off, squeezd through cover for a single.
18.2 overs (1 Run) A low full toss, Kamlesh backs away and is early into his swing, mistiming it through mid on for a single.
18.1 overs (0 Run) Yorker, around off, Nagarkoti digs it out.
17.6 overs (0 Run) NOT OUT. After numerous angles, the third umpire is finally convinced that the ball hit the ground. A low full toss, Chakravarthy flicked it through mid-wicket where Virat Kohli acrobatically flung himself to his left at short mid-wicket. He took the catch but then smiled and said that he was not sure whether it was a catch. Saini was pretty much convinced that it was not and was happy trudging off. But the umpires referred it upstairs and one replay did show the ball going in but then dropping down.
Is that a catch by Super V? Virat Kohli is not sure. The umpires refer it upstairs and the soft signal is out. Pretty difficult to say. Because the ball seems to be dangling onto his palms but also looks to be touching the ground. There isn't any conclusive angle and the third umpire is not sure. Ahhh... we have one angle. We can see some part of the ball touching the ground. NOT OUT is the decision.
17.5 overs (2 Runs) A short ball, outside off, Varun backs away and punches it behind point for a couple.
17.5 overs (1 Run) WIDE. Way down the leg side but that is because Saini is following the batsman who keeps backing away. However, this is a mile down and de Villiers does really well to dive to his left to stop the ball.
17.4 overs (0 Run) Follows the batsman down the leg side, Chakravarthy cannot get it away.
17.3 overs (1 Run) Yorker, on middle and leg, helped to the leg side for a run.
17.2 overs (1 Run) Outside off, punched through point for a single.
17.1 overs (0 Run) Around middle, watchfully defended.
Varun Chakravarthy walks out at number 10, to try and help Kolkata reduce their defeat margin.
16.6 overs (0 Run) OUT! CAUGHT. A fantastic running catch by Chris Morris. He can bowl, he can bat and boy, he surely is a gun fielder. A length ball, slower in pace, around off, Tripathi looks to heave but it comes off the toe end of the bat. It barely reaches long on but Morris comes running in, judges the catch and then dives, putting his 6-feet-4-inch body on the line.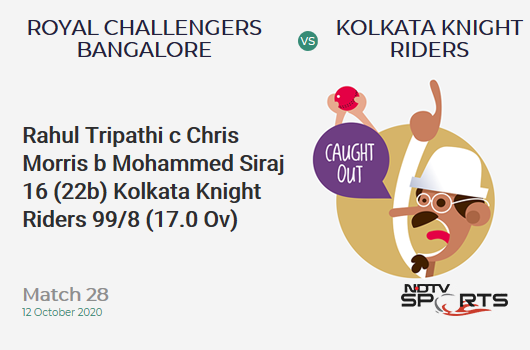 16.5 overs (0 Run) A short ball, outside off, Tripathi looks to play the upper cut but misses.
16.4 overs (0 Run) A short ball, outside off, RT pulls it to deep mid-wicket but does not run.
16.3 overs (4 Runs) FOUR! Clean hitting. A length ball, outside off, Tripathi leans and lofts it over cover for a boundary. Nearly went all the way.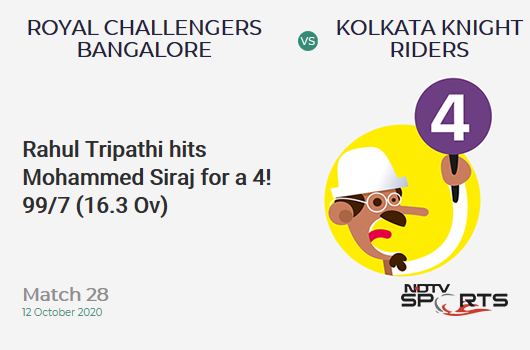 16.2 overs (0 Run) Outside off, Rahul looks to pull but gets a bottom edge on the bounce, back to the bowler.
16.1 overs (0 Run) A short ball, around middle, Tripathi looks to pull but misses and is hit on the body.
Mohammed Siraj returns. 2-0-20-0 so far.
15.6 overs (0 Run) CAUGHT AND BOWLED? Nope. No one is going anywhere. Chahal gets down and throws the ball up in the air and we innocent people feel that he has taken a return catch. Now, comes the replay from the striker's point of view. Outside off, Kamlesh goes back and looks to punch. It is uppish, but lands in front of Chahal. 4-0-12-1 for the spin wizard. Terrific.
15.5 overs (1 Run) Tossed up, wide outside off, driven towards sweeper cover for a run
15.4 overs (1 Run) Short and outside off, Nagarkoti goes back and like a proper top-order batsman, punches it towards long off for a single.
15.3 overs (1 Run) Again, slower through the air, the batsman has played his shot and the ball has come after that. Rahul looks to sweep but misses and the ball goes off his body towards point. A leg bye taken.
15.2 overs (2 Runs) Thrown up, outside off, carved to sweeper cover for a couple.
15.1 overs (0 Run) Full and down the leg side, Tripathi looks to sweep but misses and is hit on the pads.
Match Reports
Topics mentioned in this article