Story Progress
Back to home
Kolkata Knight Riders vs Kings XI Punjab Live Score Ball by Ball, IPL 2020 Live Cricket Score Of Today's Match on NDTV Sports
Live Updates of Today Match between Kolkata Knight Riders vs Kings XI Punjab from Sharjah Cricket Stadium, Sharjah. Check commentary and full scoreboard of the match.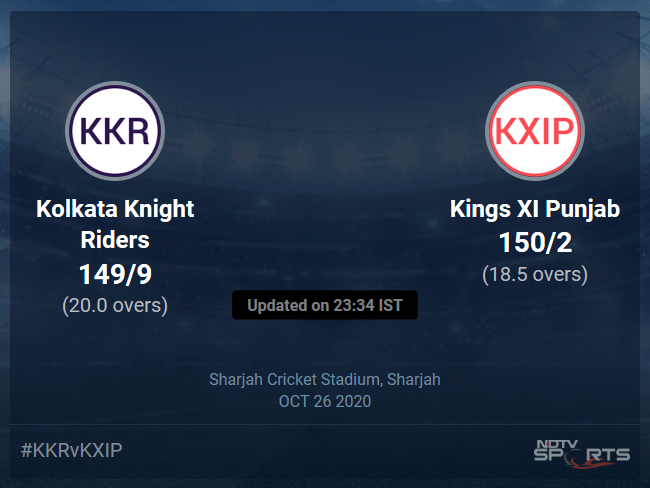 KXIP vs KKR Latest Score
Follow the Indian Premier League 2020 live cricket score on Sports.NDTV.com. After 18.5 overs, Kings XI Punjab, chasing a target of 150, are 150/2. Get live score, ball by ball commentary and much more. Keep track of Indian Premier League 2020 today match between Kolkata Knight Riders and Kings XI Punjab. Everything related to Kolkata Knight Riders and Kings XI Punjab match will be available on Sports.NDTV.com. Stay updated with Kolkata Knight Riders vs Kings XI Punjab live score. Do check for Kolkata Knight Riders vs Kings XI Punjab scorecard. You can get scorecard updates, match related facts. Get quick live updates with ads, Sports.NDTV.com, which is the perfect destination for live cricket score.
So that is it from this game! Punjab move to the 4th spot and Kolkata slip to one spot below them. We have another exciting game on Tuesday as Delhi take on Hyderabad. It is an important game for both sides. So do join us as that game begins at 1800 local (1400 GMT). Till then, take care and goodbye!
Chris Gayle is named Player of the Match award for his fine knock! Gayle is all smiles and then says that he has been working hard, hitting the gym as well. Tells that it's all about the team and they still have a long way to go. On him running quick singles and doubles, Gayle says that it was important to adjust. Praises Mandeep for his superb knock. Says that he wanted to ease the pressure off him. Tells that it has been tough for him, losing his father. Adds that he wanted to win it for him and it was a special moment when he pointed skywards after getting to his half-century. Says that Narine has got him out quite a few times in the past but this wicket wasn't suitable for him and he wanted to make the most off it. Mentions that the coaches asked the senior members to step up for these games and is happy he could do so. Ends up by saying that the youngsters in the team are telling him not to retire.
Punjab skipper, KL Rahul, smiles and says that the entire team is really happy. Says they had a belief that things can turn around and the entire unit needs to be praised and not just one. Says that it is really difficult to stay away from family and then in the bubble. On Mandeep, he says that it has been a rough time for him but he stayed till the end and surely has made his father proud. On the two leg spinners doing well, Rahul mentions that Kumble is their coach so it is no surprise. Tells that he has worked really hard with both the spinners. Praises the entire support staff for the efforts they have put behind the scene. On Gayle, Rahul says that it was a hard call to leave him out from the first game. Adds that he always keeps the youngsters happy and positive and brings a lot to the dressing room. On the remaining games, Rahul says that they want to take one game at a time and wants to keep the momentum from here to the next game.
Mandeep Singh is caught for a quick chat! Says that this game was a very special one. Remembers his father and tells that his father used to tell him to always finish the game and remain not out. Says that he spoke to skipper Rahul before the game and told him that he wanted to play his natural game and adds KL supported him well. On batting with Gayle, Mandeep says that it was fun batting with him. Says that he told Gayle to never retire.
Kolkata skipper, Eoin Morgan, says that Punjab struck early and pushed them on the back foot. Feels they did well to counter-attack but adds they should've added more. Feels 180-190 would've been a great score. Tells they just kept losing wickets regularly. Hopes to adjust well in Dubai. Tells that their fate is in their hands only as if they can win the remaining two games, they can be in a good position.
The Kolkata bowling began brilliantly! Their bowlers kept it tight initially. Wickets is what they needed but that did not come. They did get Rahul but had no answers to the Gayle-Mandeep partnership. To be honest the bowlers can't be blamed. It was a poor batting effort from Kolkata and 150 was never going to be easy to defend on a wicket which was good to bat on and boundaries which are quite short.
A very convincing win for Punjab to make it 5 in 5! To be honest this total was always under par and it proved to be at least 30 runs short from being a competitive total. Rahul and Mandeep started things off slowly but that was fine when you are chasing 150. Rahul departed but then Gayle walked out and took the game by its scruff. He attacked the spinners who were managing to keep it tight till then and his innings not only released the pressure but got Mandeep going too. In the end, the two added a 100-run stand with both scoring half tons. Gayle did fall towards the end but Mandeep and Pooran ensured there were no more wickets to fall and took their side over the line.
18.5 overs (1 Run) Here's the winning run! Shortish and around middle, Pooran hops and drops it towards the leg side and takes a single. PUNJAB WIN BY 8 WICKETS!
18.4 overs (1 Run) A single now and the scores are level. Shortish and around off, Mandeep pushes it towards point and takes a quick single.
18.3 overs (1 Run) This time he pushes the ball towards third man for a single. Just 2 needed now.
18.2 overs (0 Run) Superb delivery! Full and just outside off, Pooran looks to defend but misses.
18.1 overs (0 Run) OUT! TAKEN! Gayle goes but he has done his job. A slower bouncer from Ferguson, Gayle first wants to leave it alone but at the last moment tries to run it down to third man. He knows the fielder is inside the ring. However, the ball hits the upper part of the bat and lobs towards short third man. Krishna does well to move forward and take the catch.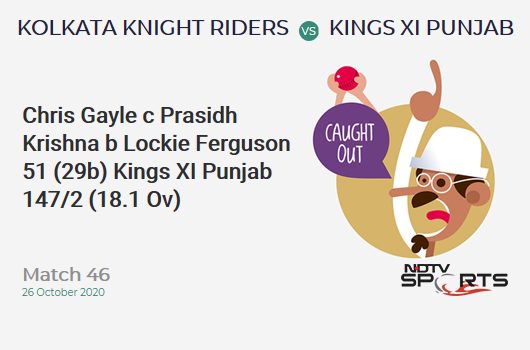 17.6 overs (6 Runs) SIX! BOOM! What a shot! Mandeep at his best. Cummins misses the yorker, by just but it is good enough for Mandeep. He gets under it and powers it over mid-wicket for a biggie. Just 3 needed in 12 balls.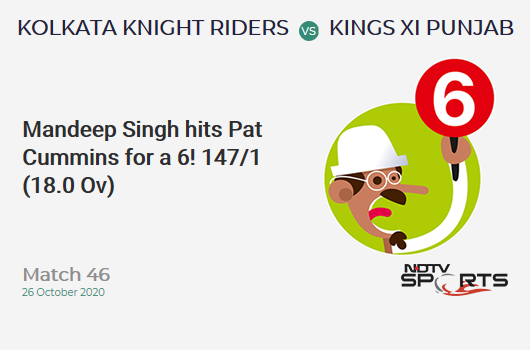 17.5 overs (0 Run) Banged short and on middle, Mandeep tries to upper cut but misses.
17.4 overs (4 Runs) FOUR! Top shot! Full and wide outside off, Mandeep slams it over extra cover and finds the fence.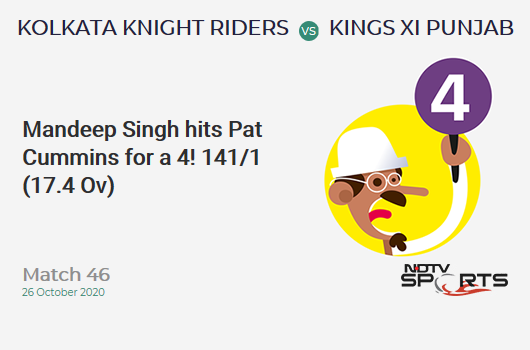 17.3 overs (0 Run) Full and wide outside off, Mandeep looks to reach out and squeeze but misses.
17.2 overs (1 Run) Very full and on middle, flicked down to long on for a single.
17.1 overs (0 Run) Nicely bowled! A yorker on off, Gayle jams it out.
16.6 overs (1 Run) Leg bye to end the over! Short and around middle, Gayle looks to help it towards fine leg but is beaten for pace. The ball hits his pad and goes to third man. 13 off the over. Just 14 more needed.
16.5 overs (1 Run) Full and on middle, flicked through square leg for a run.
16.4 overs (1 Run) FIFTY FOR GAYLE! 2nd in the tournament for the Universe Boss! Full and outside off, Gayle looks to drive but gets an inside edge towards the keeper who fumbles. The ball goes behind and they take a  single. He flashes the BOSS written on his bat towards dug out with a big smile on his face. 25-ball half-century for Gayle.
16.3 overs (0 Run) Landed on a good length and around middle, tucked towards mid-wicket.
16.2 overs (6 Runs) SIX! BANG! Gayle wants to finish it off quickly. Full and outside off, Gayle thumps it over long off for a biggie.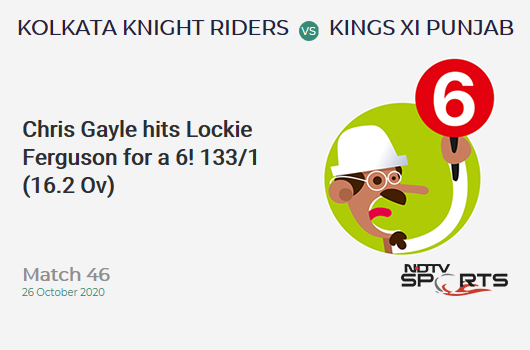 16.1 overs (4 Runs) FOUR! Not from the middle but Gayle won't mind. Short and around off, Gayle looks to pull but gets a top edge that flies over short fine leg for a boundary.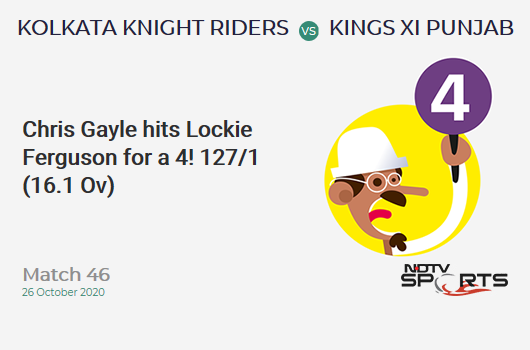 Lockie Ferguson returns. 2-0-17-0 are his figures so far.
DRINKS! 27 needed in 24 balls. Mandeep Singh has crossed his half ton. Gayle is in a mood too. Punjab are on the course of a win here. Only some sort of magic can change things around for Kolkata. And we have seen magic happening in this tournament. Are we in for something again? Or will these two take the team home easily?
15.6 overs (4 Runs) FOUR! Excellent shot! Short delivery on middle, Singh pulls it over mid-wicket for a boundary.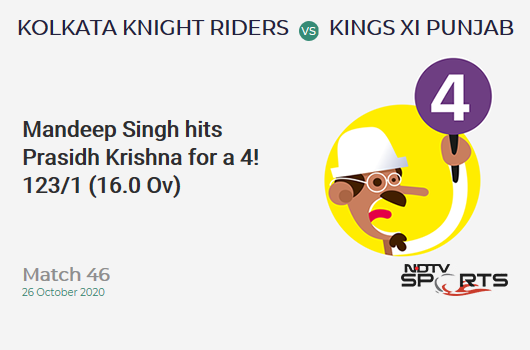 15.5 overs (1 Run) Back of a length on off, Gayle pushes it towards covers for a run.
15.4 overs (1 Run) 50 for Mandeep Singh! It has been a great innings from him so far! Full delivery on middle, Mandeep flicks it through mid-wicket for a single. Looks up in the sky and dedicates the knock to his late father whom he lost just a few days back.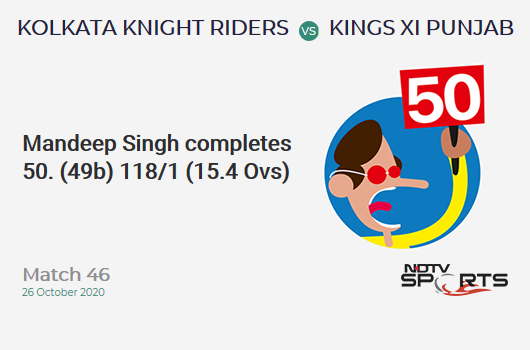 15.3 overs (0 Run) Length delivery on off, Singh keeps it out.
15.2 overs (4 Runs) FOUR! That is smashed! Short ball on middle, Mandeep pulls it over mid-wicket for a boundary.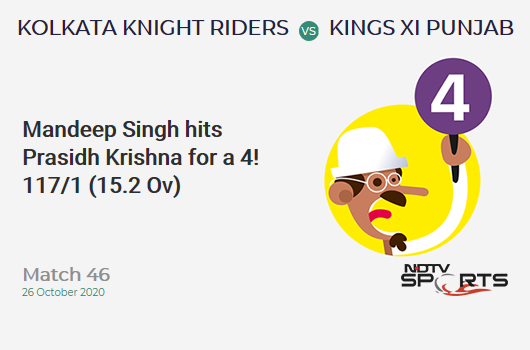 15.1 overs (0 Run) Back of a length on off, Mandeep keeps it out.
Prasidh Krishna is back on. 2-0-14-0 from him so far.
Match Reports
Topics mentioned in this article