Story Progress
Back to home
Delhi Capitals vs Chennai Super Kings Live Score Ball by Ball, IPL 2020 Live Cricket Score Of Today's Match on NDTV Sports
Live Updates of Today Match between Delhi Capitals vs Chennai Super Kings from Sharjah Cricket Stadium, Sharjah. Check commentary and full scoreboard of the match.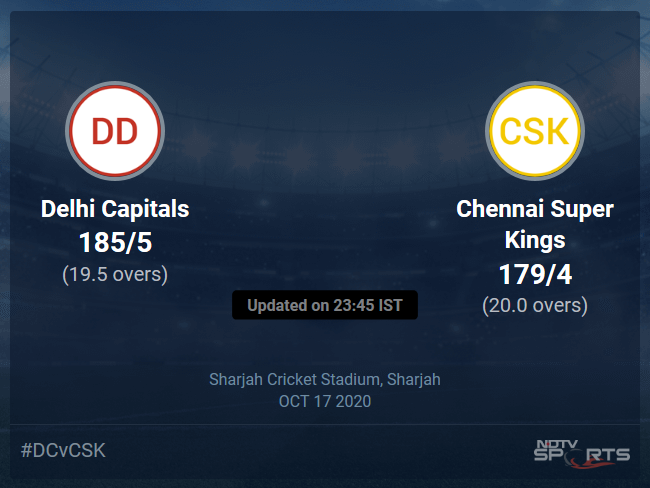 CSK vs DC Latest Score
Follow the Indian Premier League 2020 live cricket score on Sports.NDTV.com. After 19.5 overs, Delhi Capitals, chasing a target of 180, are 185/5. Get live score, ball by ball commentary and much more. Keep track of Indian Premier League 2020 today match between Delhi Capitals and Chennai Super Kings. Everything related to Delhi Capitals and Chennai Super Kings match will be available on Sports.NDTV.com. Stay updated with Delhi Capitals vs Chennai Super Kings live score. Do check for Delhi Capitals vs Chennai Super Kings scorecard. You can get scorecard updates, match related facts. Get quick live updates with ads, Sports.NDTV.com, which is the perfect destination for live cricket score.
That's all from this game then! Two super games! Both went to the final over and both ended with a six! However, the action in the Indian T20 League is not stopping. Another double-header day is on its way. On Sunday, 18th October 2020, Hyderabad will meet Kolkata in Abu Dhabi while in the second encounter, Mumbai will take on Punjab in Dubai. The first game will begin at 1530 IST while the second match will start at 1930 IST. However, we will be up and ready with the build-up pretty early for you all. Join us for those games. Until then, it is goodbye from our side.
Shikhar Dhawan, MAN OF THE MATCH for his superb unbeaten ton, maiden one in the League, states that it feels very special, it is a very special moment. He feels very happy. Adds that he wanted to continue the same form  entering this game. Says that he keeps a positive mindset and looks to score more runs. Adds that he has improved and plays with courage, without a fear of getting out. Dhawan states that fitness is very important. Adds that due to corona, it helped him give some space to work on himself mentally and physically.
Shreyas Iyer, the VICTORIOUS DELHI SKIPPER, says that he was lost for words. Adds that it was amazing to see how Axar struck towards the end even though Dhawan was there in the middle. Overall, a terrific win, says Iyer. Lauds Axar Patel as an unsung hero and says that he is privy to Patel's meticulous preparation before any match. States that the team gels well. That has been the highlight of this edition, says Iyer. States that Dhawan's knock gives him belief that there is someone to steer the side till the end.
Marcus Stoinis is up for a chat. He says that it got tight towards the end. Says that the plan was to attack the ball from his area but adds he is disappointed as he got out. On one of his mishit going over the fence, Stoinis says that his bat is a good one and he also swings really hard and terms it a good combination. Feels that they are winning the games and hence one can say it is easy but feels nothing is easy. Tells that Axar had not got many opportunities to bat but he delivered here and adds he is bowling well too.
MS Dhoni, Chennai's skipper, says that the option to give the last over was only between Curran and Jadeja, he decided to give it to the latter. States that there was just enough dew, not a lot. Dhoni says that Curran's last over, the way he bowled, he needs to be convinced of how he can bowl yorkers. States that the coaching staff focus a lot on nailing the yorkers right during the practice sessions. And the way Curran bowled towards the end, it should boost his confidence on that note, Dhoni states.
Earlier, after winning the toss, Dhoni opted to bat first. They started off on a mixed note but some good striking in the middle and exceptional one towards the end, courtesy Jadeja, saw them post 179. It was a very good total but fumbles in the field and some poor bowling in the middle and the death overs meant that Delhi coasted home, capitalizing on those errors. What a win for Iyer's men. Stay tuned for the presentation ceremony.
It was a really tough day in the office for the Chennai bowlers. They need to go back to the drawing board and revisit where they went wrong after having the match in their clutches. Their fielding too was unimpressive. They dropped Dhawan 4 times and he made them pay badly for that. Coming to the bowlers, Chahar was impressive, 2/18 from his 4 overs, starting off with a wicket maiden. Curran, Thakur and Bravo managed a wicket each but the former two were on the expensive side, along with Karn Sharma. Bravo bowled well but an injury forced him out of play towards the end and that meant Dhoni could not avail his services towards the end, especially for the crucial last over. That could have changed things quite a bit, in Chennai's favour, probably.
But Stoinis perished after a cameo of 24. The game swung towards Chennai's favour then, one would reckon, but Dhawan was still out in the middle. Carey walked in after Stoinis' dismissal but he had a minimal impact, departing for just 4 in the penultimate over. In walked Axar Patel, Dhawan got to his maiden League ton later on. A fantastic knock from him. 17 needed off the last over. Clean striking from Patel sees Delhi past the finish line.
Delhi started off on a not-so-good note. They lost Shaw early, in just the second ball of the chase. Rahane walked in later, he looked good, but departed after just making 8. After that, Dhawan and his skipper stitched a crucial innings together. Dhawan got to his third half-ton on the trot in this edition. Iyer was not at his usual blistering best, probably still recovering from the injury. It was a good 68-run partnership between these two before Iyer was dismissed. Then walked Stoinis, he and Dhawan were taking the Chennai bowlers to the cleaners.
What a finish to the game! What a fabulous chase it was, especially in the end. A cracking way to finish. Delhi, their march continues. Axar Patel, take a bow. Delhi move back to the top of the table with 14 points.
19.5 overs (6 Runs) SIX! WOW! Out of here! What a way to end the game! The last ball is given a bit of air by Jadeja, Axar reaches out and launches it over long on for a huge six. What a win! DELHI WIN BY 5 WICKETS!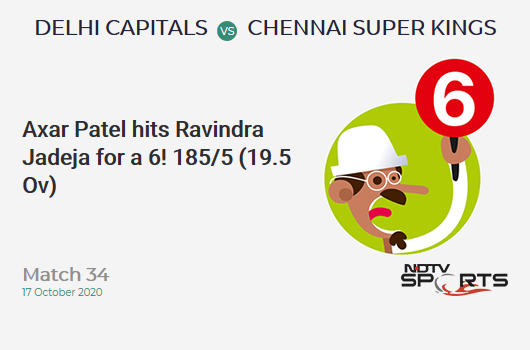 19.4 overs (2 Runs) Two now and scores are level! Shortish and outside off, Axar swipes it through mid-wicket and scampers back for a couple.
19.3 overs (6 Runs) SIX! Take that! Pressure? What pressure? Axar says I don't care! Short and outside off, he reaches out and slams it over wide long off for a biggie. Just 3 needed now.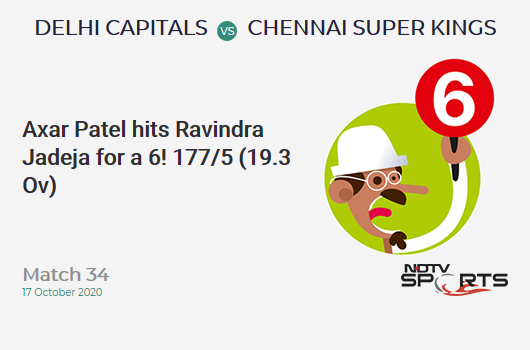 19.2 overs (6 Runs) SIX! BANG! Axar Patel connects one and sends it over the fence. Jadeja bowls it short and around off, Axar goes back and pumps it over mid-wicket. One more six and Delhi will be very close.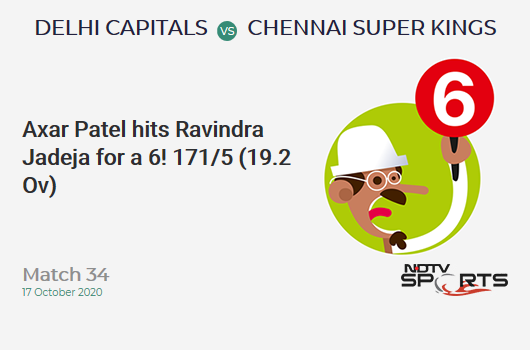 19.1 overs (1 Run) Flatter and around off, Dhawan looks to slog it on the leg side but the ball takes the inner half and goes to fine leg. Just a run. 15 needed.
19.1 overs (1 Run) WIDE! Harsh call! Flatter and outside off, Dhawan looks to force it on the off side but misses. Wided by the umpire. Jadeja is not pleased.
Ravindra Jadeja to bowl the final over. Interesting call from the Chennai skipper. Can he defend 16 in this over?
18.6 overs (1 Run) 100 for Shikhar Dhawan! Full ball on off, Dhawan lofts it over mid off for a single. 17 needed from the final over.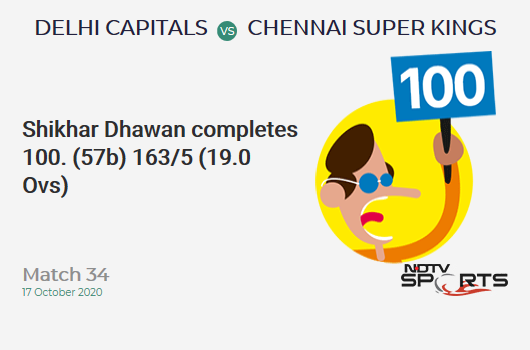 18.5 overs (0 Run) NOT OUT! Flat line when the ball passes the bat! Dhawan stays. Good use of the review. Full and wide outside off again, Dhawan moves to the off side and tries to sweep again. He misses this time and the ball goes behind. Dhoni takes the catch and appeals. The finger goes up. Dhawan reviews straightaway.
Dhawan opts for a review. He was given out caught behind by the on-field umpire. Ultra Edge is in, what does it say? Flat line as the ball passes the bat....NOT OUT. Decision reversed!
18.4 overs (1 Run) They will get only a run. Another excellent wide yorker. Axar can only dig it through off side for single.
18.3 overs (1 Run) A single! Brilliant bowling from Curran. Nails the wide yorker. Dhawan does well to force it to sweeper cover for a run. 19 in 9. Delhi need a boundary.
18.3 overs (1 Run) WIDE! Fires this one way outside off. Dhawan lets it be. Wided.
18.2 overs (0 Run) DOT! Nearly chopped on! Very full and wide outside off, Dhawan looks to reach out and drive but gets an inside edge. The ball goes past his stumps to the keeper.
Who will walk out to bat now? Axar Patel it is. 2 left-handers in the crease again.
18.1 overs (0 Run) OUT! CAUGHT! Carey departs! Curran with the wicket. A low full toss around off, Carey just flicks it, doesn't do it with a lot of power. He just kind of checks his shot. The ball goes to the left side of the long on fielder. Faf is the man there. He hardly drops. He moves to his left and takes a tumbling catch. 21 needed in 11 balls.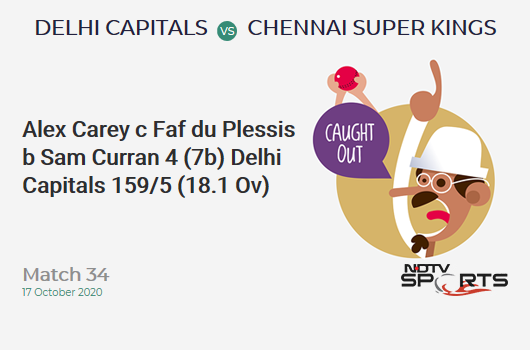 Sam Curran will bowl the pressure over. Pressure for both Chennai and Delhi. Carey needs to give the strike to Dhawan and allow him to finish in elan. Dot balls at this stage will not bode well for Delhi. They need to be wary of that.
17.6 overs (4 Runs) FOUR! Dhawan ends it in style for Delhi. Low full toss outside off, Dhawan moves to the off side and sweeps it over square leg for a boundary. This is a much-needed boundary. Dhawan's highest total in the Indian T20 League. Just 2 away from his maiden ton. 21 needed in 12 balls.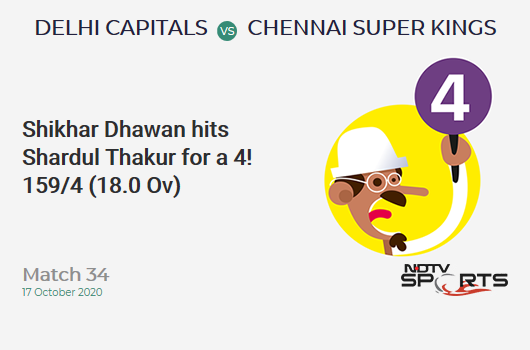 17.5 overs (1 Run) Only a run! Length and around off, Carey can only force it down to long off for a run. Can Thakur end it well?
17.4 overs (1 Run) Just a single! Full toss outside off, Dhawan strokes it towards sweeper cover for one. Good over so far.
17.3 overs (2 Runs) A couple! Low full toss outside off, Dhawan drills it through mid on. Jadhav from long on does well to move to his right and save two for his side.
17.2 overs (1 Run) Shouts of catch it but it does not go that far in the air. Around off, fullish, stroked uppishly towards deep mid-wicket. It falls well short and they take a single.
17.1 overs (0 Run) Length ball on the leg pole, Carey looks to play at it but misses to get hit on the thigh pad.
16.6 overs (0 Run) Excellent finish from Curran though. Yorker, around off, dug back to the bowler.
16.5 overs (0 Run) Full toss on off and middle, Dhawan comes down the track and hits it back to the bowler. Had he stayed where he was it would have been a no ball for being above the hip height.
16.4 overs (6 Runs) SIX! Goodness, me! Just brilliant. Full on middle and leg, Dhawan presents the full face of the bat and smashes that mightily over long on.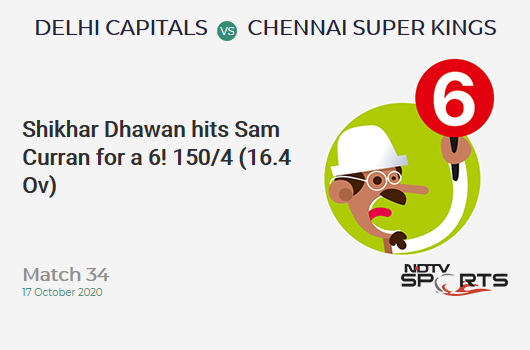 16.3 overs (4 Runs) FOUR! What a great shot. He is striking it well, Dhawan. Full ball around off, he lifts it supremely well, gets it between deep mid-wicket and wide long on.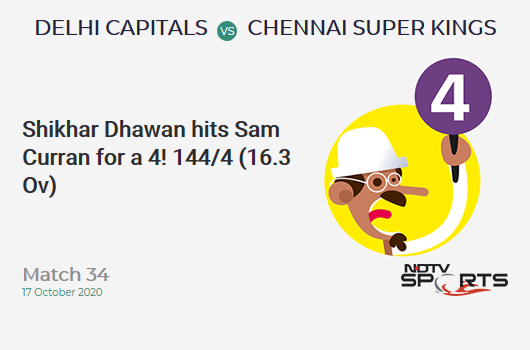 16.2 overs (1 Run) Full on off and middle, turned towards mid-wicket for a run.
16.1 overs (0 Run) Length ball on top of the stumps, Alex Carey moves across and looks to paddle it over towards fine leg but fails to connect.
Sam Curran to bowl his third over. 2-0-20-0 so far.
15.6 overs (1 Run) Single to end the over! Good length ball around off, Carey pushes it towards point and calls for a risky run. There's a shy at the bowler's end but Jadeja misses. 41 needed in 24 balls.
15.5 overs (1 Run) Good length ball around off, stroked through mid off for a single.
DRINKS! Interesting, just as it looked like these two would steal the match away from Chennai, Rayudu drops Dhawan, the 4th time the latter has been shelled so far. But then, a couple of balls later, makes it up by holding onto a skier from Stoinis. Chennai would be happy that they have got one of the dangerous guys out. They have a good chance to grab a victory if they can get Dhawan further. The required rate is close to 10 and that will strangulate Delhi further and minimize their chances. Alex Carey walks out to bat now.
15.4 overs (0 Run) OUT! CAUGHT! Rayudu gobbles it this time. A short ball again, Stoinis goes for the pull again. Gets a top edge this time. The ball balloons high towards mid-wicket. Rayudu comes ahead and takes the catch easily. A much-needed wicket for Chennai. 43 more needed for Delhi in 26 balls.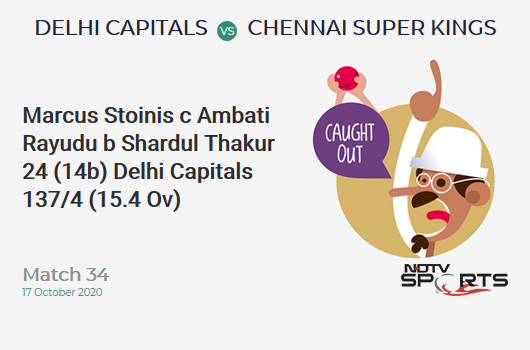 15.3 overs (6 Runs) SIX! Here's the insult to injury! Thakur should've had a wicket to his name on the last ball but that didn't happen. And now, he is smashed for a six. A short ball around off, Stoinis goes for the pull. He doesn't time it as well as he would've liked but he manages to clear Faf du Plessis at long on.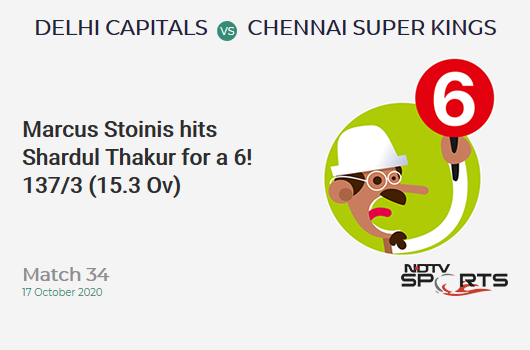 15.2 overs (1 Run) DROPPED! Dhawan gets another life. Rayudu is the culprit this time. That was an easy chance. Shake of the head from him. Full and wide outside off, Dhawan drills the drive straight to Rayudu at extra cover. He gets both hands but the ball pops out. How costly will this be?
15.1 overs (1 Run) Good length ball outside off, pushed towards cover-point for one.
Match Reports
Topics mentioned in this article