Story Progress
Back to home
Chennai Super Kings vs Mumbai Indians: IPL 2020 Live Cricket Score, Live Score Of Today's Match on NDTV Sports
Live Updates of Today Match between Chennai Super Kings vs Mumbai Indians from Sharjah Cricket Stadium, Sharjah. Check commentary and full scoreboard of the match.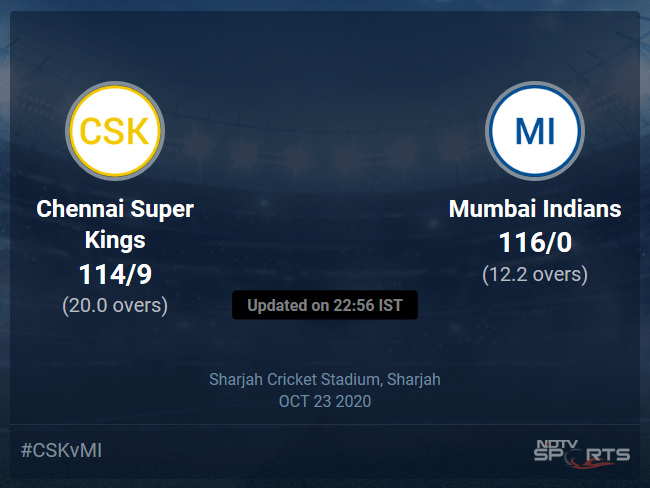 CSK vs MI Latest Score
A dedicated team of experts bring you live score, live cricket score, live match update on Sports.NDTV.com. After 12.2 overs, Mumbai Indians, chasing a target of 115, are 116/0. The live updates of Chennai Super Kings vs Mumbai Indians scorecard is also available. It is the perfect platform to follow your favourite teams in Indian Premier League 2020. Keep a track on your favourite batsmen and bowlers through Indian Premier League 2020 today match, ball by ball commentary, Chennai Super Kings vs Mumbai Indians, Chennai Super Kings vs Mumbai Indians live score, Chennai Super Kings vs Mumbai Indians scorecard. Follow the excitement of the Indian Premier League 2020 on Sports.NDTV.com as you can follow live match updates and live cricket score through our platform.
Right then, that's it from Match 41. What a one-sided affair the 2nd round of El Clasico was between Mumbai and Chennai. The former have bulldozed their way to the top with a strong NRR while the latter has to head back home in most respects now. How sad to see the second most successful side in the League meet such a fate! Anyway, moving on, Saturday, 24th October 2020, sees a return to double headers. In the 1st game, Kolkata take on Delhi at Abu Dhabi and later Punjab take on Hyderabad in Dubai. All the action starts at 1400 Local (1000 GMT) then. We hope to have your company again then. Until then, take care and good night.
For his wreckage at the top, Trent Boult, 4/18 from his 4 overs is the MAN OF THE MATCH. Says that it is a new franchise, different personnel and he is enjoying it. Is happy with the way it is going. States that it was about pitching it nice and full. On the swing factor, Boult says that he is lucky to be getting it upfront in his very first over. Boult believes that it comes down to accuracy when bowling. Keep it accurate and the batsmen will find it hard to go out against you, he says.
The VICTORIOUS SKIPPER, Kieron Pollard, to share his thoughts now. On what does he feel about winning 15 matches on the trot as a captain, Pollard jokingly says who's counting and then laughs a little. States that he was working closely with the team and is pleased that it came off well in this game. Adds that it was important to rein in Chennai later on as they had done well to recover. States that it is a total team effort. Finishing the game without any uncertainties was fantastic, Pollard reckons. On the Net Run Rate factor, Pollard says that it has been spoken many times and always want to finish in the top 2 in the points table. He further adds that the 2 points are more important, winning games are more important. Once those are taken care of, Pollard believes that the NRR takes care of itself. Adds that everything is fine in the dressing room. States that he will discuss this game now in the dressing room and then formulate the plan on how to go about for their next game.
Stay tuned for the presentation ceremony.
Ishan Kishan is up for a chat. He says that he was trying to be positive. In the middle, he was talking with Quinny on how to play - should he keep knocking the ball around or play the big shots. Adds that he has enjoyed batting with de Kock and has learnt a lot from him. In the off season, Kishan says that he did a lot of hard work. States that he was playing the shots according to how the ball landed. Says further that no game against Chennai is an easy one and that Mumbai were keeping their focus on the process.
MS Dhoni, Chennai's skipper, says that losing by 10 wickets does hurt. Says one must see what has been going around them. This season itself has not gone well for the side, Dhoni states. He says that his side has been doing everything but sometimes such things happen in the tournament, cannot do much about it. Dhoni further adds that when a bit of luck on your side is always good, which was not there on Chennai's side. On not playing on the home ground being a reason for Chennai not doing well, Dhoni says that if one sits down and analyzes why someone has not done well, one can come up with 100 reasons. States that when 3-4 batsmen in the side don't do well, it becomes hard on the side. States that such things do happen and it is important to go back to the process. Need to put up with the tough times with a smile, he says. Hopes that it might turnaround in the next 3 games. On the next season, Dhoni says there are a lot of ifs and buts, where the venue will be etc. States that the coming 3 games provides the ideal opportunity for the youngsters, in terms of exposure and in terms of experimenting to see who fits in well. On Mark Nicholas's aspirations of seeing Dhoni hit a good 50 or 60 in some game, Dhoni smiles and says that he will be playing in every game, without directly addressing his question.
Earlier, after winning the toss, Mumbai opted to field. It was a horror start for Chennai. They had slumped to 43/7 towards the end of the 9th over. After that, they managed to stitch a recovery of sorts, posting 114/9, courtesy of Curran and some useful little knocks from Thakur and Tahir towards the end. But it was never going to be enough against a champion side like Mumbai. The Men in Blue and Gold coasted home with ease, with 10 wickets to spare.
There was nearly no way the Chennai bowlers were going to spring a surprise, that too against the calibre of a side like Mumbai. They barely put up a fight. The fielding was not upto the mark, defending a low total. None of the bowlers showed any intent. They could not manage a single wicket!
Chasing 115, it was always going to be a relatively easy chase for Mumbai's destructive batting line-up. Ishan Kishan and de Kock came out with intent and aggression. The pair was in a hurry to wrap this up with the Indian southpaw going after the Chennai bowlers to rub salt in their wounds. He finished unbeaten on 68 from 37 balls and de Kock was clinical with the bat as well, unbeaten on 46 from 37 balls. Mumbai won comfortably in the end with a good 45 balls to spare.
The first time Chennai have lost a league game by 10 wickets! Demolition, humiliation and complete annihilation! That is what Mumbai have done to Chennai! It was a game of men against boys and the experienced side of Chennai were made to look like kids. A comprehensive 10-wicket win for Mumbai and they overtake Bangalore and Delhi to sit top of the pile.
12.2 overs (4 Runs) FOUR! De Kock finishes the game in style! Good length ball on middle and off, Quinton uses the angle to pull it over square leg to get a boundary. MUMBAI WIN BY 10 WICKETS!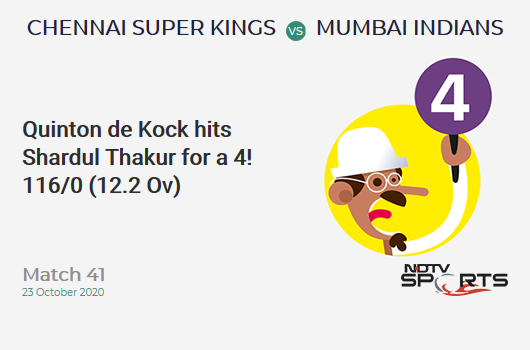 12.1 overs (0 Run) Good length ball around off, de Kock punches it but cannot go past cover.
11.6 overs (1 Run) Edged and a single. Fuller on off, the ball pitches and shapes away a bit from de Kock. He looks to play it straight but the ball goes off the outside edge towards third man for a single. Quinny will keep the strike. 3 needed now.
11.5 overs (0 Run) Length ball on middle, de Kock taps it back to the bowler now.
11.4 overs (0 Run) Good length ball around off, de Kock taps it to the left of cover-point.
11.3 overs (1 Run) Slower ball outside off, Kishan punches it to long on for one.
11.2 overs (1 Run) On middle and leg, de Kock tucks it to the on side and rotates the strike. Just 5 needed now.
11.1 overs (1 Run) Good length ball which comes in with the angle. Kishan swats it using the angle but there is a man at deep backward square leg, so just a single.
10.6 overs (0 Run) Good length ball on off, de Kock defends it off the upper half of his bat.
10.5 overs (1 Run) DROPPED! Gaikwad's horror day continues. Very full on the pads of Kishan. He flicks it upishly to short mid-wicket. Ruturaj Gaikwad there jumps, gets both his hands to the ball but cannot hold onto it. Single taken.
10.4 overs (1 Run) Thakur pulls his length back, de Kock milks it to long off for one.
10.3 overs (6 Runs) SIX! Smashed! De Kock now has joined Ishan Kishan in the mission to go back to the hotel room early. Full around off, de Kock lofts it over covers for a biggie.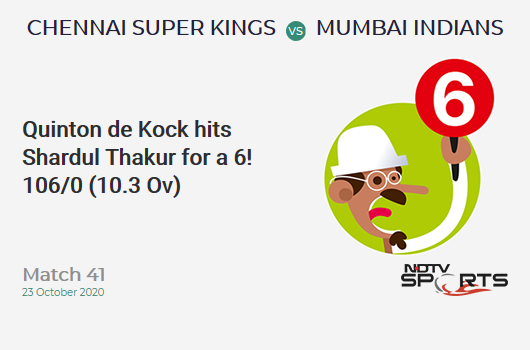 10.2 overs (1 Run) Crunched but the fielder at short cover gets a hand to it and takes pace off the ball. Full around off, Kishan crunches his drive through extra cover. The man at short cover dives and gets his hand to it. Making it easy for Deepak Chahar in the deep to stop it. Just a single.
10.1 overs (1 Run) Good length ball around off, de Kock runs it down to third man for one.
Match Reports
Topics mentioned in this article