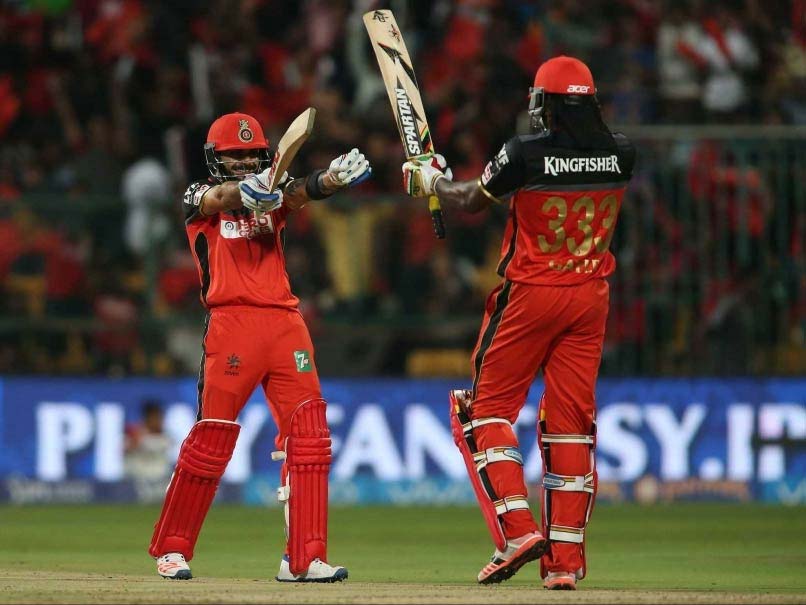 Chris Gayle is still a big ticket, no doubt.
© AFP
When you look at the Royal Challengers Bangalore (RCB) line-up, you are often left wondering as to why they would be at the bottom of the heap, as they ended last year. Not just that, the fact that they haven't ever lifted the world's richest franchise cricket trophy would surely not go down well with the team management. Needless to say, so hard decisions are on the cards and some big names will be in the headlines, for sure. One such name would be Chris Gayle, as experts are beginning to think.
With the IPL 2018 Player Retention to be finalised, it may not be a big surprise if the West Indian superstar does not qualify as an automatic choice for RCB.
As things stand, three names look to be favourites for retention - skipper Virat Kohli is a no-brainer, while leg-spinner Yuzvendra Chahal has made a serious mark for himself in limited-overs cricket.
It is also inconceivable that AB de Villiers will be left out of the equation. He has the ability to change things single-handedly, and RCB desperately needs such senior players.
That would take care of the cap of the three players who can be retained. This would essentially leave Gayle in the Right to Match (RTM) list, at best.
There too, his form and fitness may be things of concern. While Gayle did hammer a massive century in the Bangladesh Premier League in December, he has struggled to stay in the playing XI of the West Indies squad.
Chris Gayle is still a big ticket, no doubt. But RCB have bigger concerns. This may well reflect in the 2018 Player Retention.