Story Progress
Back to home
IPL Highlights, SRH vs RCB: Bowlers Shine As SRH Beat RCB By 5 Runs
IPL SunRisers Hyderabad vs Royal Challengers Bangalore highlights: SRH beat RCB by five runs in a last-over thriller.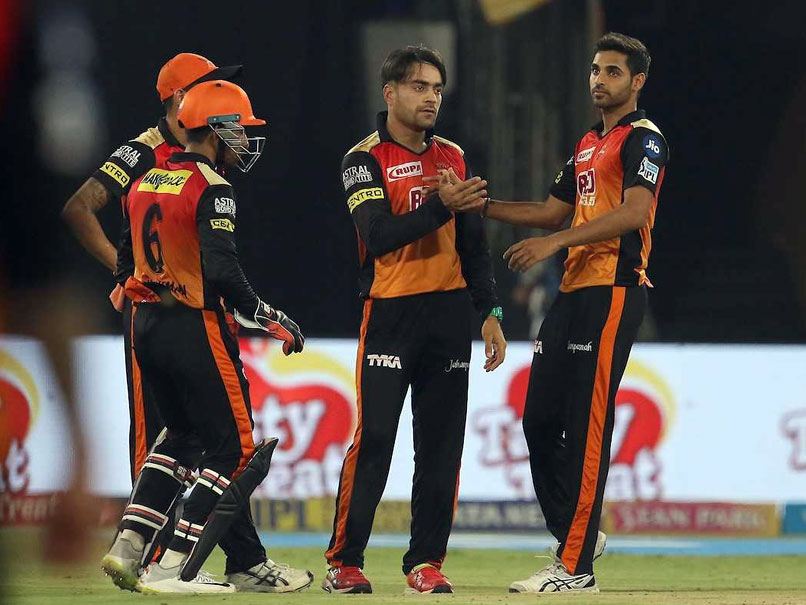 SRH vs RCB highlights: The match was played at the Rajiv Gandhi International Stadium.
© AFP
Table-toppers SunRisers Hyderabad produced yet another spirited bowling effort after skipper Kane Williamson's crucial half-century to beat Royal Challengers Bangalore by five runs and virtually assure themselves a place in the play-offs of the Indian Premier League on Monday night. SunRisers not only register their fifth consecutive win of the tournament today but also defended yet another low total riding on the performance of their excellent bowling unit. (Scorecard)
(Play IPL Fantasy Cricket & Win Cash Daily!)
Earlier, skipper Kane Williamson struck a vital half-century before pace duo of Mohammed Siraj and Tim Southee joined hands to help RCB bundle out SunRisers for a modest 146. Williamson scored 56 off 39 balls while Shakib made 35 but it was Siraj (3/25) and Southee's (3/30) fiery spell that eventually put brakes on SunRisers' charge.
Sent into bat, SunRisers did not have the best of starts as they lost openers Alex Hales (5) and Shikhar Dhawan (13) early. To make matters worse for the hosts, Manish Pandey (5) too didn't last long, handing out a simple catch to skipper Kohli off Yuzvendra Chahal (1/25) in the ninth over.
Thereafter, SunRisers captain Williamson and Shakib stitched 64 runs off just 50 balls for the fourth wicket to keep the hosts afloat. While Shakib played the second fiddle, Williamson showcased his class striking the balls to all parts of the ground without taking any undue risk. 
IPL 2018 highlights of SunRisers Hyderabad vs Royal Challengers Bangalore match, straight from Hyderabad
23:40 IST: Thank you for joining us for the live blog.
23:38 IST: And it is all over! Bhuvneshwar castles Grandhomme on the last ball as SRH win the tie by 5 runs.
23:37 IST: RCB need 6 in 1 ball. Grandhomme on strike, Bhuvneshwar the bowler.
23:37 IST: RCB need 7 in 2 balls. Can Mandeep win it for his team?
23:36 IST: RCB need 8 in 3 balls.
23:35 IST: Three runs in the first two ball. 9 off 4 required.
23:34 IST: Royal Challengers Bangalore need 12 runs off 6 balls.
23:28 IST: Royal Challengers Bangalore need 19 runs in 21 balls.
23:27 IST: Four! Bhuvneshwar bowls a yorker but de Grandhomme gets the toe-end of the bat as the ball runs away to the ropes.
23:24 IST: Royal Challengers Bangalore need 25 off 18 balls.
23:22 IST: SAFE! Rashid Khan strikes. He bowls a flighted delivery, de Grandhomme looking to heave leans forward, loses his balance and Saha behind the stumps takes off the bails in a flash. But the replay shows that he had his foot grounded.
23:20 IST: Six! Colin de Grandhomme is taking the attack to the opposition, smokes Rashid Khan for two consecutive maximums on the leg-side. Is this the over for RCB?
23:18 IST: RCB are currently dealing in singles and doubles. RCB need 39 off 24 balls.
23:13 IST: Four! Mandeep Singh slams Sandeep Sharma for a boundary in the deep mid-wicket area as the fielder fails to collect the ball. Captain Kane is not impressed nor is the bowler. 
23:10 IST:  Sandeep Sharma into his last over.
23:04 IST: Brilliant over from Sandeep Sharma, concedes just two runs. SRH have come back in the game with their magnificent bowling. Can they register another win or will RCB over haul the target?
22:58 IST: Royal Challengers Bangalore 85/5 after 12 overs.
22:56 IST: OUT! Back of a length delivery from Siddarth Kaul, Moeen Ali pulls and gets a thin bottom edge as Saha, behind the stumps, completes a good catch. Huge appeal from the keeper and the bowler and the umpire raises his finger.
22:52 IST: Royal Challengers Bangalore need 67 runs in 54 balls.
22:49 IST: OUT! After Shakib, Rashid Khan joins in the act. Googly from Rashid cramps de Villiers up, who was trying to carve the ball out but only managed to drag the ball onto the stumps. Rashid, Kane Williamson and the whole of the SRH squad are elated.
22:45 IST: OUT! Shakib has sent the dangerous Kohli back in the hut. Shakib provides width, Kohli cuts it with great power as the ball flies towards the short third man. Yusuf present at that position sticks his right arm in the air and catches the ball out of thin air.
22:40 IST: Strategic timout -- Royal Challengers Bangalore 71/2 in 9 overs.
22:38 IST: Huge appeal for caught behind as De Villiers tried pulling Rashid Khan. Umpire is not interested as SRH opt for the review. Replay shows that the ball had not brushed the bat. SRH lose a review and drop a catch in the same over.
22:37 IST: DROPPED! Kohli plays this leg break off the back foot and ends up edging it straight to Kane Williamson at slips, who gets hurried and lets the ball go in between his hands.
22:35 IST: 8 overs gone, Royal Challengers Bangalore need 83 runs in 72 balls
22:30 IST: OUT! Sandeep Sharma bowls a slower ball and Vohra shuffles across the stumps, pulls and drags the ball back into the stumps. Kaul will be relieved as he had dropped Vohra an over earlier.
22:27 IST: Dropped. Manan Vohra pulls Rashid Khan for a maximum, miscues and Kaul at the boundary fails to collect the ball.
22:26 IST: Rashid Khan, right-arm leg break, comes into the attack.
22:24 IST: End of the powerplay -- RCB 55/1 after the sixth over.
22:21 IST: Four! Kohli charges down the wicket and smacks Siddarth Kaul over the deep mid-wicket area for a boundary. Rashid Khan chased the ball but got beaten.
22:18 IST: Four! Shakib provides a bit of width, Kohli waits and edges the ball past the keeper for a cheeky boundary. Smart cricket from Kohli.
22:17 IST: Six! Kohli dances down the wicket and slams the ball straight down the ground. Immaculate timing from the RCB captain.
22:16 IST: Four! Shakib bowls a short delivery and Kohli reads the ball early, gets in the position early and hammers the ball for a boundary.
22:14 IST: Four! Virat Kohli the new man in gets in the flow as he drives Bhuvneshwar with pure timing for a boundary.
22:12 IST: OUT! Shakib fires the ball in on and around the middle and leg stump, Parthiv sweeps, misses and gets rapped on the pads.
22:10 IST: Four! Shakib bowls full on middle and leg and Parthiv launches him straight down the ground for a boundary. Parthiv is taking the attack to the opposition.
22:09 IST: Four! Floated delivery from Shakib gets punished. Parthiv reads the ball early and slog sweeps for a boundary.
22:07 IST: Four! Bhuvneshwar goes full and Parthiv slaps the ball straight down the ground and beats the diving fielder at mid-on. RCB 14/0 after the second over.
22:05 IST: Four! Bhuvneshwar strays on the pads and Parthiv Patel flicks him for a boundary.
22:04 IST: Royal Challengers Bangalore 5/0 after the first over.
22:00 IST: Wide! Sandeep Sharma strays a bit too much on the leg side as the umpire calls it a wide ball.
21:59 IST: Sandeep Sharma is opening the bowling for SunRisers Hyderabad.
21:58 IST: Welcome back to the chase. Manan Vohra and Parthiv Patel opening the batting for Royal Challengers Bangalore.
21:46 IST: SunRisers Hyderabad 146 all out (Williamson 56, Shakib 35; M Siraj 3/25) in 20 overs.
21:45 IST: OUT! Southee gets a wicket on the last ball of the innings as Sandeep Sharma is trapped before the wicket for a duck.
21:42 IST: Run-Out! Siddharth Kaul attempts the second run but gets sent back by Bhuvneshwar Kumar.
21:39 IST: Run-Out! Rashid Khan falls short of the crease in an attempt to take the second run.
21:38 IST: BOWLED! Siraj gets his third wicket as Saha misses the connection and the stumps are all over the place.
21:35 IST: Six! Half-volley from Siraj, Wriddhiman Saha, the batsman in, makes space for himself and smacks Siraj for a maximum.
21:32 IST: OUT! Siraj angles the ball in, Yusuf goes for the big one, misses and the ball crashes into the stumps. Yusuf was beaten for pace. Siraj is elated; SRH slump further. 
21:30 IST: Four! Back-to-back boundaries for Yusuf Pathan off Southee. Both the short deliveries got pulled away with authority.
21:28 IST: OUT! Short delivery does the trick. Shakib pulls the short one straight to the fielder.
21:24 IST: 11 off the over, SRH 123/4 after 17 overs.
21:23 IST: Four! Siraj bowls full on the wicket, Shakib shuffles and guides the ball past the man at short fine. Magnificent shot.
21:22 IST: Four! Siraj bowls on the pads and Shakib heaves him away for a boundary. A much-needed boundary for the SRH. Shakib and Yusuf Pathan in the middle will have to bat till the end in order to ensure a competitve total. 
21:17 IST: OUT! Kane Williamson was looking to smokes Umesh for a maximum, miscues and Mandeep Singh takes a good catch in the deep. SRH captain departs after a well made fifty. SRH 112/4 in 16 overs.
21:14 IST: Four! Slower ball from Umesh Yadav and Williamson creams him for a lofted boundary over the cover for a boundary.
21:11 IST: SRH 105/3 after 15 overs.
21:10 IST: Kane Williamson scores his 8th IPL fifty.
21:09 IST: Six! Chahal bowls full and wide, Williamson, down on one knee, sweeps him for a flat maximum. Brilliant from the SRH captain. 
21:07 IST: Six! Umesh drifts on the pads again, Williamson shuffles and slams the ball away for a maximum. Poor bowling from Umesh Yadav.
21:05 IST: Four! Umesh Yadav bowls on the pads and Williamson glances the ball away for a boundary. Fine leg has no chance.
20:57 IST: De Grandhomme concedes eight runs in his first over. SRH 76/3 in 12 overs.
20:54 IST: Four! Shakib welcomes Colin de Grandhomme with a boundary. De Grandhomme bowls wide and short, Shakib stays back and cuts the ball. He won't miss out on these.
20:53 IST: Free-Hit! Chahal bowls a no-ball and it is a free hit for the home team. Chahal bowls wide, Williamson on strike, manages to strike the straight to Chahal. Missed opportunity.
20:50 IST: Huge appeal for stumping from Parthiv but Williamson seems confident. The replay shows that the SRH captain had his foot back in time. Huge relief for the home team.
20:49 IST: Four! Chahal bowls a short delivery and Williamson pulls him with power for a boundary. The man at deep square leg boundary chases but loses the race.
20:47 IST: SRH 61/3 after 10 overs.
20:46 IST: Four! Shakib dances down the wicket and lifts Moeenstraightt down the wicket for a beautiful boundary. Much -needed boundaries for the home side.
20:45 IST: Four! Shakib waits for the wide ball, and cuts the ball at the last moment past the fielder at point.
20:42 IST: Shakib Al Hasan is the new batsman in.
20:40 IST: Strategic timeout -- SunRisers Hyderabad 48/3 after 8.2 overs.
20:38 IST: OUT! Chahal tosses the ball up, Manish Pandey leans forward looking to defend the ball but manages to guide it straight to Kohli at short cover, who takes a good catch.
20:33 IST: RCB have been on point with their bowling today. Yuzvendra Chahal concedes just four runs in his first over. 
20:29 IST: Manish Pandey is the new man in.
20:27 IST: OUT! Short delivery from Mohammed Siraj, Dhawan looking to ease the pressure, pulls straight to the man at deep backward square leg. SRH 38/2 in 5.5 overs.
20:22 IST: Four! Southe bowls a knuckleball outside of off, Williamson leans in and drives him beautifully for a boundary. This will ease the pressure.
20:19 IST:  After a costly first over, Umesh Yadav concedes just five runs in his second over. 
20:13 IST: Four! Kane Williamson, the new batsman in, gets off the mark in style. Southee strays on the leg side and Williamson tickles the ball past the keeper for a boundary.
20:11 IST: BOWLED! Tim Southee bowls a cross-seamer, Hales looking to work the ball through the on-side, misses and the ball goes in between the pads and the bat and crashes into the stumps. Kohli is pumped up! SRH 15/1 in 2.3 overs.
20:08 IST: Four! Alex Hales joins in on the fun. Umesh Yadav bowls a full length delivery, Hales stands tall and lifts him over the covers for a two-bounce boundary.
20:06 IST: Four! After a couple of good deliveries, Umesh Yadav, the new bowler, bangs the ball in short and Dhawan pulls it handsomely for the first boundary of the night.
20:03 IST: SunRisers Hyderabad 4/0 after the first over.
20:00 IST: First ball -- Moeen Ali bowls a short delivery, Hales rocks back and punches the ball down the ground for a single. 
19:59 IST: Moeen Ali opening the bowling for Royal Challengers Bangalore.
19:58 IST: Alex Hales and Shikhar Dhawan opening the batting for SunRisers Hyderabad.
19:35 IST: Playing XI for both the teams --
Sunrisers Hyderabad: Alex Hales, Shikhar Dhawan, Kane Williamson (c), Manish Pandey, Shakib Al Hasan, Yusuf Pathan, Wriddhiman Saha (w/k), Bhuvneshwar Kumar, Rashid Khan, Siddarth Kaul, Sandeep Sharma
Royal Challengers Bangalore: Parthiv Patel (w/k), Manan Vohra, Virat Kohli (c), AB de Villiers, Mandeep Singh, Moeen Ali, Colin de Grandhomme, Tim Southee, Umesh Yadav, Mohammed Siraj, Yuzvendra Chahal
19:34 IST: Williamson -- Fairly similar looking wicket, we would have looked to bowl first, but I think the wicket will stay good. We have played on a variety of surfaces and the team has needed to adapt to the changes. We are playing the same XI.
19:32 IST: Virat Kohli -- We will bowl first. It's all about restricting the team batting first, the teams chasing have always done well. It looks like a nice pitch to play on. The bowling was good in the last couple of games, we just need to support them in the field. The batting has been good, with 175-180 been the average score, which wins you most games. We have got two changes, Manan Vohra replaces Murugan Ashwin, Moeen Ali replaces Brendon McCullum.
19:30 IST: Royal Challengers Bangalore captain Virat Kohli wins toss, elects to field vs SunRisers Hyderabad. 
19:15 IST: We are minutes away from the toss, stay tuned.
19:00 IST: Hello and welcome to the live blog of the match between SunRisers Hyderabad and Royal Challengers Bangalore straight from Hyderabad.
Pacer Umesh Yadav has been in great touch this season for RCB and occupies the third spot in the wicket-taker list with 13 scalps to his name. Spinner Yuzvendra Chahal hasn't been able to perform well as he only has seven wickets to his name.
Promoted
Meanwhile, SRH have been prolific with both bat and ball. They've clicked as a unit and their skipper Williamson has led from the front. He has accumulated 354 runs in 9 matches.
He has the backing of a talented unit of bowlers who have been successful in defending low totals this season. Bowlers Bhuvneshwar Kumar, Rashid Khan, Siddarth Kaul and Shakib Al Hasan have not let their team and captain down
Topics mentioned in this article