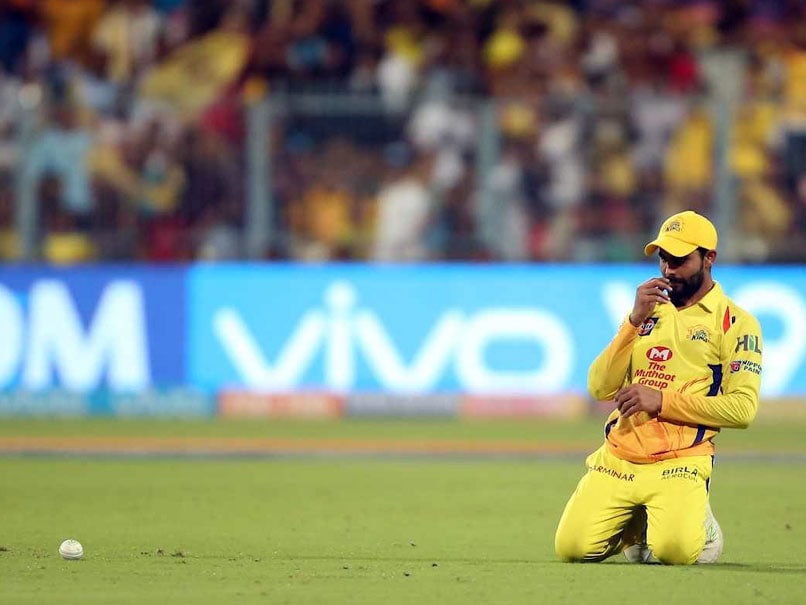 Ravindra Jadeja is not in his prime form in the IPL 2018 season.
© BCCI
India all-rounder Ravindra Jadeja is not in his prime form in the ongoing Indian Premier League (IPL) 2018 season. Till now, Jadeja has scored only 59 runs from the nine matches that he has played and has only stuck thrice with the ball. However, he has managed to overshadow his shortcomings with the bat and the ball with his magnificent fielding, saving crucial boundaries and runs for his team. But it was not Jadeja's day on the field as he dropped consecutive catches of Sunil Narine during Chennai Super Kings' (CSK) clash against Kolkata Knight Riders (KKR) at the Eden Gardens on Thursday night.
The incident happened in the second over of the game when KM Asif bowled a backed of a length delivery outside off and KKR opener Narine hit the ball straight to Ravindra Jadeja at mid-off, who not only dropped the catch in the first attempt but also failed to collect the ball in the second attempt as well.
Jadeja's fielding faux pashttps://t.co/9oxFJjvi7a

— Faizal Khan (@faizalkhanm9) May 3, 2018
Ravindra Jadeja's nightmare did not end there as Asif followed with a similar delivery and Narine played the same shot only for Jadeja to drop the KKR opener for the second time as CSK captain MS Dhoni stood in disbelief behind the stumps.
At the end of the over, Suresh Raina, Ambati Rayudu and Sam Billings made sure to come up to Jadeja and pat him on the back to boost his morale.
Following the dropped catches, CSK fans questioned Jadeja's place in the playing XI.
Dear @msdhoni & @SPFleming7, will you please let us know the role of Jadeja? Why he is in CSK's playing XI? What is his role actually? A batsman or bowler? Be it whatever, he is doing terrible things. Please DROP him.

— Dhoni's Boy (@anilSmsd7) May 3, 2018
Dhoni to Jadeja after the match#KKRvCSK pic.twitter.com/EmReU1Pl7x

— RS (@AwaraRish) May 3, 2018
Sir Jadeja taking catch#CSKvKKR pic.twitter.com/pdGz0E66na

— (@AndColorPockeT) May 3, 2018
Jadeja can't bat. Jadeja doesn't get to bowl. Jadeja still plays 8 games in a row. Find someone who loves you the way Dhoni loves Jadeja.

— Ojas Rohit's Warrior Korde (@Ojasism) April 30, 2018
Dhoni wont drop Jadeja, no matter how many Jadeja drops.

— Manoj Mehta (@notmanoj) May 3, 2018
Although Jadeja did make amends as he removed Narine for 32 in the seventh over to the game to give himself a reprieve.
Meanwhile, CSK lost the match by six wickets against KKR at the Eden Gardens on Thursday night.
CSK will next host Royal Challengers Bangalore at the Maharashtra Cricket Association's International Stadium, Pune on May 5 and Kolkata Knight Riders will face Mumbai Indians at the Wankhede Stadium on May 6.