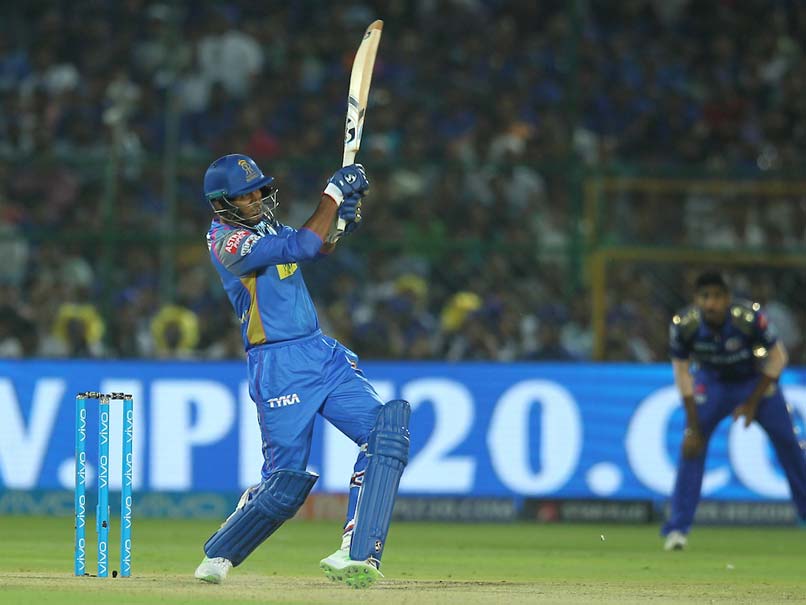 RR vs MI Live Match: Rajasthan Royals claimed 6 wickets in last 5 overs.
© BCCI
Krishnappa Gowtham produced a blinder of a knock after Sanju Samson and Ben Stokes smartly negotiated a slow track as Rajasthan Royals pulled off a nail-biting three-wicket win over Mumbai Indians in an Indian Premier League (IPL) match, in Jaipur on Sunday. The pitch was not conducive for stroke-making but Samson (52) and Stokes (40 off 27) added 72 runs for the third wicket to push their side close to the finish line and the hosts eventually crossed it with two balls to spare. Gowtham conjured up an unbeaten 11-ball 33-run knock under pressure, hitting two sixes and four fours to seal a thrilling win for his side. It was not a big target on board as the hosts chased 168 but the wicket had slowed down considerably and required a lot of patience to score runs. 
Mumbai Indians captain Rohit Sharma won the toss and opted to bat against Rajasthan Royals in an Indian Premier League (IPL) clash at the Sawai Mansingh Stadium in Jaipur on Sunday. While the visitor's line up remained unchanged, hosts Rajasthan brought in Dhawal Kulkarni and Jofra Archer for Stuart Binny and Ben Laughlin. MI lost Evin Lewis in the first over but Suryakumar Yadav and Ishan Kishan produced a 129-run partnership to put their team on course for a big score. However, Rajasthan had other plans as they claimed 6 wickets in last 5 overs to restrict their opposition to 167/7 in 20 overs.
Rajasthan Royals will aim to bounce back after suffering two consecutive losses, while Mumbai Indians will be in search of their second win when they face-off in an Indian Premier League (IPL) match in Jaipur on Sunday. With two wins and three defeats, Rajasthan are placed fifth with four points, while Mumbai are sixth with one win in four games. But the good thing for Mumbai is that their sole win came in their last match - a 46-run win over Royal Challengers Bangalore on Tuesday. Hence, Rajasthan have a lot to worry about. Rajasthan started their IPL 2018 campaign on a poor note, hammered by Sunrisers Hyderabad by 9 wickets. They, however, gained momentum and registered two back-to-back wins against Delhi Daredevils and Royal Challengers Bangalore. Later, Kolkata Knight Riders and Chennai Super Kings outclassed them by seven wickets and 64 runs respectively. (SCORECARD)
IPL 2018 highlights of Rajasthan Royals vs Mumbai Indians match, straight from Sawai Mansingh Stadium, Jaipur
23:48 IST: It's all over. Rajasthan Royals beat Mumbai Indians by 3 wickets.
23:46 IST: WICKET! Jofra Archer c and b Hardik Pandya 8(9)
23:42 IST: 150 up for Rajasthan Royals in the 19th over. This one is going down to the wire. What a cameo Gowtham is playing. 18 off the over.
23:39 IST: 15 off the over as Gowtham hits Mustafizur Rahman for a SIX and a FOUR. There is still hope for RR as they need 28 in 12 balls.
23:35 IST: WICKET! Klaasen c Ishan Kishan b Mustafizur 0(1)
23:33 IST: This match has witnessed excellent death bowling from both the teams. Just when Rajasthan Royals were comfortably placed in the chase of 168, Bumrah claimed 2 wickets in an over.
23:32 IST: WICKET! Jos Buttler b Bumrah 6(8)
23:30 IST: WICKET! Samson c Hardik Pandya b Bumrah 52(39)
Batsman @IamSanjuSamson brings up his FIFTY off 36 balls. Also, he's back as the orange cap holder #RRvMI. pic.twitter.com/UO3hr6eM3x

— IndianPremierLeague (@IPL) April 22, 2018
23:20 IST: 50 up for Sanju Samson off 36 balls. His 9th in IPL
After 15 overs, RR are 118/3
23:20 IST: Rajasthan Royals' Sanju Samson takes over the Orange Cap from Royal Challengers Bangalore skuipper Virat Kohli
23:16 IST: Ben Stokes shuffled across to the off side to try and clip it off his toes, but missed.
23:13 IST: WICKET! Stokes b Hardik Pandya 40(27)
After 14 overs, RR are 110/2
23:13 IST: Rajasthan Royals are cruising towards the target at the moment, need 58 runs in 36 balls
After 13 overs, RR are 102/2
23:06 IST: 100 up for Rajasthan Royals in the 13th over. They need 67 runs in 42 balls
After 11 overs, RR are 86/2
22:55 IST: Ben Stokes is now taking on Mitchell McClenaghan with a SIX and a FOUR.
After 9 overs, RR are 63/2
22:47 IST: Tidy over for Mumbai Indians, just 5 runs off it. But Rajasthan are placed comfortably. They need 110 from 72 balls.
After 8 overs, RR are 58/2
22:43 IST: Another good over by Mustafizur Rahman. Just 5 runs off it.
After 7 overs, RR are 53/2
22:40 IST: 50 up for Rajasthan Royals in the 7th over.
After 6 overs, RR are 43/2
22:35 IST: The pressure was building on Rahane and the fielder was pushed to the edge of the circle. It was another cutter, around middle and leg.
22:30 IST: WICKET! Rahane c Krunal Pandya b McClenaghan 14(17)
After 5 overs, RR are 36/1
22:27 IST: 9 runs from Krunal Pandya's over. Ajinkya Rahane and Sanju Samson will now have to accelerate the scoring rate as they seem to be well-settled now.
After 4 overs, RR are 27/1
22:24 IST: Good over from Mustafizur Rahman at this stage of the game, just 6 runs off it.
After 3 overs, RR are 21/1
22:16 IST: Sanju Samson is the new man in. And he starts off with a boundary
22:15 IST: Wicket! In the air and caught at mid-on. Absolute nothing shot from Rahul Tripathi off Krunal Pandya. Rajasthan Royals 14/1 in 2.2 overs vs Mumbai Indians 
22:10 IST: Just four runs off the over. Rajasthan are 13/0 after two overs. 
22:09 IST: Rajasthan Royals are 9/0 after the first over in 168 chase
22:05 IST: Ajinkya Rahane and Rahul Tripathi are at the crease for Rajasthan Royals and Mitchell McClenaghan to start the proceedings for Mumbai Indians
22:00 IST: So, Rajasthan Royals need to chase 168 in 20 overs. Will not be easy but they must be desperate to win this game 
Mumbai Indians score 167/7 in 20 overs
21:48 IST: Excellent death bowling from Rajasthan Royals.
Last 4 overs: 37 runs and 6 wickets in last 5 overs.
After 19 overs, MI are 159/7
Three wickets on his #IPL debut and @craig_arch be like pic.twitter.com/75S75jhqpF

— IndianPremierLeague (@IPL) April 22, 2018
21:43 IST: Three wickets in an over for Jofra Archer and what a performance in his debut game.
21:40 IST: WICKET! McClenaghan b Jofra Archer 0(1)
21:39 IST: WICKET! Hardik Pandya b Jofra Archer 4(2)
21:38 IST: First IPL wicket for Jofra Archer
21:36 IST: WICKET! Krunal Pandya c Klaasen b Jofra Archer 7(6) 
After 18 overs, MI are 154/4
21:34 IST: Pollard hits Unadkat for SIX runs. It was a good length on middle, and angling across Pollard. Just enough width to free his arms, and he smacked it over the non-striker's head.
After 17 overs, MI are 141/4
21:32 IST: Rajasthan have pulled the things back in a superb fashion.
After 16 overs, MI are 137/4
21:30 IST: The 16th over bowled by Jaydev Unadkat turned out to be the most eventful of the match so far.
Unadkat lured Yadav to play way too early as Buttler grabbed another skier.
Soon after, Rohit Sharma was run-out for a first-ball duck! Full on off, and Rohit pushed it to the cover for a quick single. Rahane collected, dived forward, and threw it under-hand as Rohit was way short of his crease.
21:22 IST: WICKET! Rohit run out (Rahane) 0(1)
21:21 IST: WICKET! Suryakumar Yadav c Buttler b Unadkat 72(47)
After 15 overs, MI are 135/2
21:14 IST: Wicket number 2 for Kulkarni. It was a full toss outside off and Ishan Kishan opened the face of his bat's face to ramp it over the keeper. Mistimed it and Jos Buttler caught it to break the 129-run partnership.
21:14 IST: WICKET! Ishan Kishan c Buttler b D Kulkarni 58(42)
After 14 overs, MI are 129/1
21:10 IST: Nothing is going right for Rajasthan Royals so far. They have been dropping catches, misfielding and have not been able to contain Mumbai Indians batsmen. If SK Yadav and Ishan Kishan continue to go at the same rate, MI will easily reach 200 in 20 overs.
After 13 overs, MI are 121/1
21:03 IST: 50 up for Ishan Kishan, his 2nd in the IPL.
After 12 overs, MI are 112/1
20:58 IST: Another good over for Gowtham, give away just 8 runs.
After 11 overs, MI are 104/1
20:52 IST: 100 up for Mumbai Indians in the 11th over.
Yadav played a pull-shot early that was in the air for quite some time. It wen straight to Gowtham at long on but he dropped it. What a blunder!
After 10 overs, MI are 93/1
20:44 IST: Suryakumar Yadav brings up his 3rd IPL fifty in 29 balls.
After 9 overs, MI are 75/1
20:42 IST: Ishan Kishan welcome Ben Stokes with a SIX. Good length on middle and he was quick to swivel, got his front leg up, and then muscled it over square leg.
After 8 overs, MI are 64/1
20:38 IST: Suryakumar Yadav looks in excellent touch here. Has been connecting with the ball quite well and his placements have been quite exceptional.
After 7 overs, MI are 52/1
20:33 IST: 50 up for Mumbai Indians in the 7th over.
After 6 overs, MI are 43/1
20:30 IST: A decent over from Jaydev Unadkat, who has been quite expensive for Rajasthan Royals so far this season. Gives away 8 runs.
After 5 overs, MI are 35/1
20:24 IST: That was one wristy blow from SK Yadav for a SIX. Full and straight, SK flicked the ball over the backward square leg.
20:23 IST: Ishan Kishan has begun to flex his muscles by smashing Kulkarni for a SIX. It was a 116 kph off-cutter on middle and leg. Kishan came in charging and sent the ball into the stands over long-on.
After 4 overs, MI are 17/1
20:17 IST: Jofra Archer bowls his first over in IPL and gives away just 6 runs. It has been a slow start for Mumbai Indians so far.
After 3 overs, MI are 11/1
20:13 IST: First SIX of the match came off Suryakumar Yadav's bat in the form of a clean swing into the stands. It was full, on middle and leg. SK lifted the ball cleanly over mid-on for the maximum.
After 2 overs, MI are 4/1
20:09 IST: Krishnappa Gowtham managed to keep things under control early on and gave away just 3 runs in the over.
After 1 over, MI are 1/1
20:05 IST: Excellent start for Dhawan Kulkarni as he removed dangerous Evin Lewis for a golden duck. It was an overpitched half-volley outside off and Lewis wanted to play it through cover. Lewis did not move his feet and the ball got a thick inside edge and rattled the stumps.
20:02 IST: WICKET! Lewis b D Kulkarni 0(1)
20:00 IST: Suryakumar Yadav and Evin Lewis come out to bat for Mumbai. Dhawal Kulkarni opens the attack for Rajasthan.
Teams:
Rajasthan Royals (Playing XI): Ajinkya Rahane(c), Heinrich Klaasen, Sanju Samson, Ben Stokes, Jos Buttler(w), Rahul Tripathi, Krishnappa Gowtham, Jofra Archer, Dhawal Kulkarni, Shreyas Gopal, Jaydev Unadkat
Mumbai Indians (Playing XI): Suryakumar Yadav, Evin Lewis, Ishan Kishan(w), Rohit Sharma(c), Krunal Pandya, Kieron Pollard, Hardik Pandya, Mitchell McClenaghan, Mayank Markande, Jasprit Bumrah, Mustafizur Rahman
19:30 IST: Mumbai Indians skipper Rohit Sharma wins toss, elects to bat vs Rajasthan Royals in Jaipur
Update from Jaipur - @mipaltan have won the toss and have elected to bat first against @rajasthanroyals #MIvRR pic.twitter.com/zUTI1Wgrj7

— IndianPremierLeague (@IPL) April 22, 2018
In the past two matches, neither Rajasthan's batsmen nor their bowlers have delivered. Against KKR, they could only post 160 and allowed the visitors to chase down the target with ease. Against CSK, Rajasthan bowlers were taken to cleaners by veteran Australian all-rounder Shane Watson, who blasted a 106 off 57 deliveries. Rajasthan then were bowled out for 140, with no one, barring Ben Stokes (45) offering any resistance. Skipper Ajinkya Rahane has looked good but has not been converting good starts into big scores. Sanju Samson, Stokes and Rahul Tripathi have been inconsistent. Rajasthan's bowlers - K. Gowtham and Ben Laughlin - have performed well while leggie Shreyas Gopal has also been economical. But they have not performed well together in a single match. Jaydev Unadkat also needs to raise his level to live to the expectations of the franchise.
The visiting side at the Sawai Man Singh Stadium, Mumbai lost all the first three matches. First, against Chennai Super Kings (CSK) in the season opener, then to Sunrisers Hyderabad and to Delhi Daredevils before overcoming RCB with a supreme batting show. Rohit Sharma (94 off 52) and West Indian Ervin Lewis (65) powered Mumbai to 213. Mumbai then restricted RCB to 167 as Virat Kohli's magnificent 92 went in vain.
In the upcoming match, they will hope that the win will begin a series of good days as Mumbai lost the two of their encounters in the last over.
Mumbai bowlers Mustafizur Rehman, Jasprit Bumrah, Mayank Markande and Krunal Pandya did well to contain a heavy-batting side like RCB and will aim to repeat the good work against Rajasthan.
The squads:
Rajasthan Royals: Heinrich Klassen, Benjamin Stokes, Jaydev Unadkat, Sanju Samson, Jofra Archer, Krishnappa Gowtham, Jos Buttler, Ajinkya Rahane (Captain), Darcy Short, Rahul Tripathi, Dhawal Kulkarni, Zahir Khan Pakteen, Ben Laughlin, Stuart Binny, Dushmantha Chameera, Anureet Singh, Aryaman Vikram Birla, Midhun S, Shreyas Gopal, Prashant Chopra, Jatin Saxena, Ankit Sharma, Mahipal Lomror.
Mumbai Indians: Rohit Sharma (c), Jasprit Bumrah, Hardik Pandya, Kieron Pollard, Mustafizur Rahman, Suryakumar Yadav, Krunal Pandya, Ishan Kishan, Rahul Chahar, Evin Lewis, Saurabh Tiwary, Ben Cutting, Pradeep Sangwan, Jean-Paul Duminy, Tajinder Singh, Sharad Lumba, Siddhesh Lad, Aditya Tare, Mayank Markande, Akila Dananjaya, Anukul Roy, Mohsin Khan, MD Nidheesh, Mitchell McClenaghan, Adam Milne.