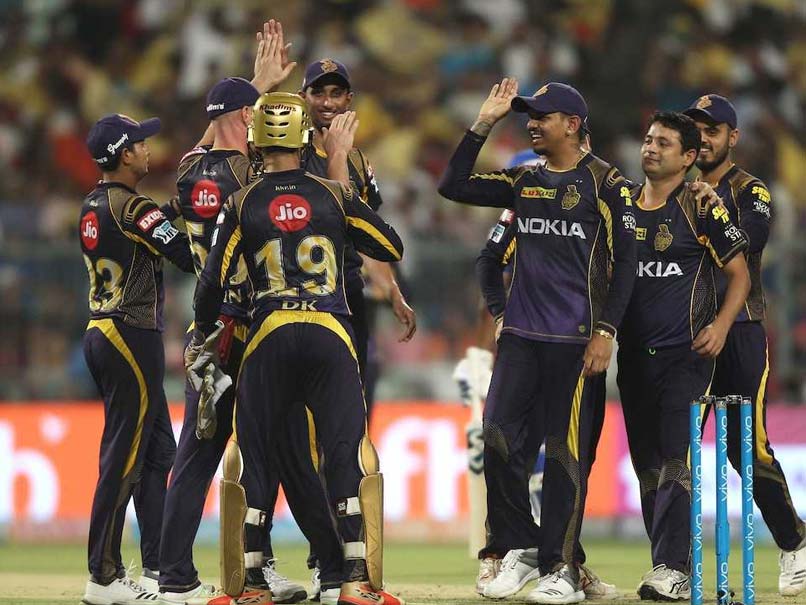 Kolkata Knight Riders will have to win their remaining three games to make it to the playoffs
© BCCI
Kolkata Knight Riders (KKR) suffered two consecutive defeats at the hands of Mumbai Indians (MI) in a space of three days and slipped to the fifth spot on the Indian Premier League (IPL) 2018 Points Table. However, KKR captain Dinesh Karthik firmly believes that his side has a great chance of making it to the IPL playoffs. With three more game to go, KKR now have to win all of them in order to proceed to the knockout stages. "I am very disappointed. But there are three games and we take one game at a time," Karthik said.
"So if we win the games I know we have a great chance of getting to the playoffs. I believe in that and want my teammates to believe in that," the KKR captain asserted.
After a massive 102-run defeat, KKR's net run rate has plummeted to -0.359, the worst among eight teams in the tournament.
"After this game, our run rate has taken a hit. We will take a call as the run rate has come to minus now. If we play three good games, it will go up," Karthik said.
Ishan Kishan's 21-ball 62 in the middle overs, which powered MI to a mammoth 210/6, took the game away from KKR, Karthik said.
"He changed the run rate and played some nice shots. We bowled in an area he could have got out but he took on the bowlers at that stage."
"We succumbed to pressure and played a few bad shots and lost too many wickets in the Powerplay. When you lose too many wickets in the Powerplay, it's always going to be hard," Karthik remarked.
Left-arm spinner Kuldeep Yadav, on whom KKR depend a lot, was hit for four consecutive sixes in the 14th over which turned the game in favour of MI. Kuldeep, a regular for India across formats, went for 43 runs in three overs.
"He is somebody who brings in a lot of control in the middle overs," Karthik said about Kuldeep.
"And when he goes for runs it's hard. This game he went for a few runs, in the middle they took him down a little bit but these things happen in a game of cricket.
"He gets picked in all three formats and he is a confident young guy. He knows it's one of those bad days which every bowler has in a T20 format."
KKR next play Kings XI Punjab on May 12 at Holkar Cricket Stadium, Indore.
(With IANS inputs)