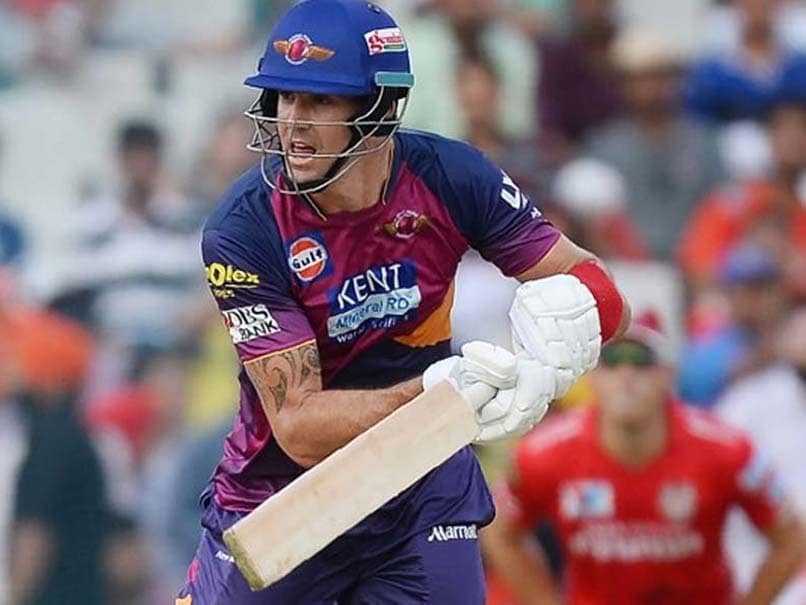 Kevin Pietersen is all set to make his IPL debut with the microphone
© BCCI
"I shared the commentary box with Michael Clarke for Channel 9 during South Africa vs Australia series in November. We had a wonderful time. Pup and I had just come out of international cricket. I am still playing in terms of franchise cricket and we will be able to bring the modern day thought pattern in a fairly fresh way," Pietersen told PTI.
He has played for Royal Challengers Bangalore, Delhi Daredevils and Rising Pune Supergiants in the IPL but is happy to be in the cooler confines of the commentary box having played in the Big Bash and Pakistan Super League.
"I played in Australia, played in Dubai and I am coming to India for a week and then I have family commitments. I have golf to play, holidays to go. Then I will come back to India. My life doesn't wait for worry of games of cricket," one of England's greatest batsman said.
"I would still be in a wonderful position that I am able to share my knowledge of the game on TV. I will not be jealous of not being able to play. It will be lot cooler in the commentary box," he laughed.
Pietersen said Extraaa Innings is another interesting concept that he will be exploring for the first time.
"It's something that you watch when you are in India. As a foreign player, I am not good with my hindi. So I have to catch up as a lot of hindi is spoken. It is a show full of entertainment and action-packed. Everyone is very informed about the game. Extra innings really engages everybody and bring razzmatazz, action, music along with performances on the field," he said.
List of commentators for IPL 2017: Sanjay Manjrekar, Scott Styris, Ravi Shastri, Pommie Mbangwa, Sunil Gavaskar, Simon Doull, L Sivaramakrishnan, Anjum Chopra, Danny Morrison, Isa Guha, Michael Hussey, Lisa Sthalekar, Matthew Hayden, Melanie Jones, Micheal Clarke, Murali Kartik, Brett Lee, Kevin Pietersen, Brendon Julien, Darren Ganga
(With inputs from PTI)