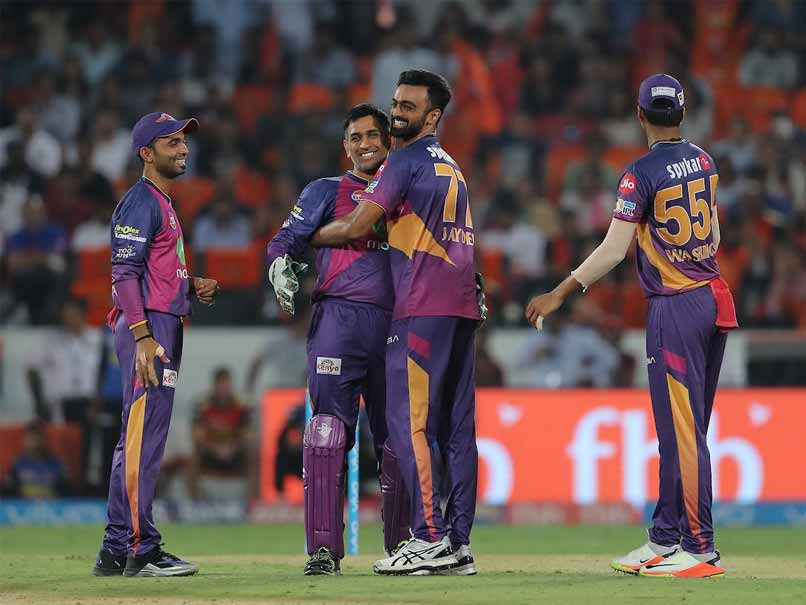 IPL highlights, SRH Vs RPS: Jaydev Unadkat helps Pune beat Hyderabad by 12 runs.
© BCCI
A brilliant bowling performance from Rising Pune Supergiant (RPS) saw them beat Sunrisers Hyderabad (SRH) by 12 runs at the Rajiv Gandhi International Cricket Stadium, Hyderabad on Saturday. Failing to capitalise on the flying start given by Shikhar Dhawan (19) and David Warner (40), SRH couldn't keep up with the required run-rate. Courtesy of disciplined Pune bowling, Hyderabad were not allowed to score runs at will. With wickets falling at regular intervals, Sunrisers Hyderabad lost their momentum. Yuvraj Singh scored the highest for Hyderabad, 47, while Jaydev Unadkat took his first IPL hat-trick in the last over of the game and finished with figures of five for 30. After this win, Pune are placed second on the table with 16 points. (SCORECARD)
Catch all the highlights of Sunrisers Hyderabad vs Rising Pune Supergiant in Hyderabad here:
19:37 IST: And it is done, Pune beat Hyderabad at home by 12 runs. Jaydev Unadkat takes 4 for 30 in his four over. Hyderabad finish for 136 for nine.
19:36 IST: Hat-trick! Jaydev Unadkat dismisses Buhvaneshwar Kumar with a slower ball. 
19:34 IST: Out!! Caught and bowled by Jaydev Unadkat as Rashid Khan was trying to go big. Unadkat on a hat-trick ball. Hyderabad need 13 in 3 balls.
19:32 IST: Out!! Length delivery from Unadkat, Bipul heaves it for a six and Ben Stokes completes a catch on the ropes. Hyderabad need 13 in 4 balls.
19:32 IST: Good slower first delivery from Unadkat, dot for Hyderabad.
19:30 IST: Last over to go, Hyderabad need 13 runs. Bipul Sharma and Rashid Khan out in the middle.
19:28 IST: Ben Stokes bowls a huge wide, Hyderabad getting back into the game with singles and doubles in every ball.
19:23 IST: Out!! Unadkat gets his second wicket of the over. Full from Unadkat, Ojha slashes it high as Ben Stokes completes a good catch. Hyderabad need 22 runs in 12 balls.
19:20 IST: Six! Naman Ojha dispatches Unadkat for a huge 88 metre maximum straight down the ground.
19:18 IST: Out! Unadkat gets the danger man Yuvraj Singh. Looking to cut the ball for a six, miscues the shot and Tripathi completes a good catch. Hyderabad stand at 117 for 5 in 17.1 overs.
19:16 IST: Three overs to go, Hyderabad need 32 runs, required run rate of 10.67.
19:13 IST: Six! Slower bouncer from Dan Christian and Yuvraj dispatches it for a maximum.
19:10 IST: Sunrisers Hyderbad need another 41 runs in 24 balls to win the game.
19:07 IST: Four! Yuvraj heaves Imran Tahir over deep mid-wicket for a boundary.
19:06 IST: Close chance! Yuvraj tying to sweep, the ball takes an outside edge and flies just over short fine leg. 
19:02 IST: With six overs to go, Sunrisers Hyderabad need 53 runs more with the required run rate hovering around 9.
19:00 IST: Out! Wrong one from Tahir, Moises Henriques trying to cut the ball, drags the ball onto his stumps.
​18:57 IST: Six! Cross seam delivery from Ben Stokes, Yuvraj hits it straight over the bowler's head for a maximum.
18:53 IST: Out! Ben Stokes gets the important of David Warner. Hyderabad skipper departs for 40. Sunrisers need 66 runs in 46 balls.
18:49 IST: Four! Stepping down the pitch, Warner slaps the ball down the ground for a much needed boundary; brings up the 50-run partnership between David Warner and Yuvraj Singh.
18:47 IST: Very good come back from Shardul Thakur, gives away only two runs in this second over.
18:43 IST: 10 overs gone, Pune need 75 runs in 60 balls.
18:39 IST: After nine overs, Hyderabad stand at 69 for two.
18:38 IST: Four! Yuvraj Singh hits the ball for a boundary at deep extra cover.
18:36 IST: Four! Length ball from Shardul Thakur, Yuvraj slashes at the ball and edges it past the wicket-keeper for a boundary.
18:33 IST: Imran Tahir concedes 10 runs off his first over.
18:28 IST: Six! David Warner welcomes Imran Tahir with a huge maximum straight down the ground.
18:26 IST: Another good over from Pune. Ben Stokes concedes only two runs.
18:22 IST: At the end of the powerplay, Hyderabad stand at 47 for two.
18:21 IST: Back-to-back boundaries from David Warner. Captain leading from the front. 
18:20 IST: Four! David Warner brings up his 500 runs in IPL with a boundary off Washington Sundar.
18:18 IST: Four! Short and wide form Stokes, Yuvraj guides the ball over the in-field for his first boundary.
18:16 IST: Out! Ben Stokes on fire as WIlliamson takes the long walk back. Hyderabad stand at 29 for two after 4.3 overs.
18:15 IST: Four! Full-toss from Stokes and Kane Williamson edges it for a boundary.
18:13 IST: Clean bowled!! Failing to read the angle, ball crashes into the stumps. Ben Stokes sends Shikhar Dhawan packing for 19. Hyderabad stand at 25 for one after 41. overs. 
18:11 IST: Brilliant over from Washington Sundar, concedes only two runs.
18:06 IST: Six! Unadkat bowls in Dhawan's arc, and he dispatches it for a maximum.
18:01 IST: After the first over, Hyderabad stand at 11 for no loss.
18:00 IST: Four! Advancing down the track, Dhawan hits the ball through covers for his second boundary.
17:59 IST: Four! Wide from Unadkat and Dhawan slams the ball for a boundary on the off-side.
17:58 IST: Warner gets off the mark in the very first ball.
17:57 IST: Jaydev Unadkat in leading the bowling attack for Pune.
17:56 IST: David Warner and Shikhar Dhawan opening the batting line-up for Hyderabad.
17:55 IST: Welcome back to the second innings of the match between Hyderabad and Pune.
17:41 IST: Good bowling performance from Hyderabad restrict Rising Pune Supergiant to 148 for eight at the end of 20 overs.
17:38 IST: Out! Slower ball from Siddharth Kaul, Shardul Thakur swings and sends the ball straight down the throat of David Warner.
17:37 IST: Out! Looking to go big, Dhoni swings, ball takes an outside edge and carries comfortably to Naman Ojha.
17:36 IST: Four! Making room for himself, Dhoni chips the ball over the in-filed for a boundary.
17:34 IST: Run Out! Mix up between Dhoni and Tiwary and Pune lose a wicket in the last ball of the 19th ball. Tiwary departs for 9.
17:32 IST: Six! Full and wide from Bhuvaneshwar Kumar, Dhoni slaps the ball away for a second maximum.
17:30 IST: Six! Short from Bhuvaneshwar yet again and Dhoni whacks it for a maximum.
17:29 IST: Four! Short from Bhuvaneshwar Kumar, Dhoni pulls it for a boundary.
17:26 IST: Chants of 'Dhoni' 'Dhoni' reverberates in the stadium whenever Dhoni takes the strike.
17:23 IST: Four! Short of length from Bhuvaneshwar Kumar, Manoj Tiwary gets on top and guides the ball towards the ropes.
17:18 IST: Out! Kaul gets his second wicket of the over. Looking to heave, Dan Christian sends the ball high up in the air, Rashid Khan takes a comfortable catch. Pune stand at 105 for five after the 16th over. 
17:17 IST: Four! Dan Christian drives Kaul for a boundary in his first ball. 
17:13 IST: Out!! Wide full ball from Kaul, Steve slashes the ball to short third man and Bipul Sharma makes no mistake this time. Steve Smith departs for 34. Pune stand at 101 for four. 
17:10 IST: 15 overs gone, Pune stand at 100 for three.
17:08 IST: Out! Rashid Khan makes a come back, Stokes looking to heave Rashid Khan for a maximum, misses, and the ball crashes into the leg stump. Stokes departs for 39 runs.
17:07 IST: Poor poor decision from the umpire! Ben Stokes edges the ball to Naman Ojha, good appeal from Rashid Khan but the umpire turns the appeal down.
17:03 IST: Four! Ben Stokes reverse sweeps Kaul for a well struck boundary on the off-side.
17:02 IST: Steve Smith and Ben Stokes bring up their 50-run partnership in 40 balls.
17:00 IST: After 13 overs, Pune stand at 86 for two.
16:58 IST: Six! Stokes on the backfoot, slams Bipul for a maximum.
16:52 IST: Big over for Pune, Bipul Sharma concedes 17 runs off his third over.
16:50 IST: Consecutive sixes from Ben Stokes. Bipul Sharma is being taken to the cleaners.
16:49 IST: 10 overs done, Pune stand at 51 for two. The visitors need to start hitting in order to post a decent total on board.
16:48 IST: Dropped! Bhuvneshwar Kumar drops a low catch at short fine-leg. Steve Smith lives again. 
16:47 IST: Pune reach their 50-run mark in 9.4 overs. Hyderabad bowlers are doing a good job with their bowling.
16:38 IST: Eight overs gone, Pune stand at 43 for two. Hyderabad not allowing the batsmen to free their arms.
16:32 IST: Out! Bipul Sharma tosses the ball up, Rahane sweeps and Yuvraj Singh runs in and takes a comfortable catch. Pune stand at 39 for two after 6.4 overs.
16:30 IST: With just a single boundary in the powerplay, Pune after six overs stand at 35 for one.
16:28 IST: Six! Rahane breaks the deadlock, hits the first boundary of the innings. 
16:27 IST: Ashish Nehra walks off the field due to injury, Moises Henriques to complete the over.
16:19 IST: Some brilliant bowling by Hyderabad, four overs gone and Pune are still to hit a boundary.
16:17 IST: Dropped! Bipul Sharma puts down a sitter as Steve Smith shuffles and hits the ball straight at him. Smith lives!
16:14 IST: A very slow start from Supergiant vs Hyderabad. Pune stand at 12 for one after the third over.
16:08 IST: Run out! Bipul Sharma hits the wicket as Tripathi falls short off the crease. Pune stand at six for one after 1.5 overs.
16:04 IST: Quiet start from Bhuvaneshwar, concedes only three runs. Pune stand at 3 for zero after the first over.
16:00 IST: Good start from Bhuvaneshwar, good shape of the ball as Rahane defends.
15:59 IST: Bhuvaneshwar Kumar starting the proceedings for Sunrisers.
15:58 IST: Rahul Tripathi and Ajinkya Rahane opening the batting line up for Pune.
15:57 IST: Players and Umpires making their way out in the middle.
15:45 IST: David Warner's daughter wishing him luck before the match.
15:40 IST: Playing XI for Supergiant.
RPS XI: A Rahane, R Tripathi, S Smith (C), M Tiwary, B Stokes, M Dhoni (W), D Christian, W Sundar, S Thakur, J Unadkat, I Tahir #SRHvRPS

— NDTV Live Scores (@CricketNDTVLive) May 6, 2017
15:39 IST: Playing XI for Sunrisers.
SRH XI: D Warner (C), S Dhawan, K Williamson, Y Singh, M Henriques, N Ojha (W), R Khan, B Sharma, B Kumar, S Kaul, A Nehra #SRHvRPS

— NDTV Live Scores (@CricketNDTVLive) May 6, 2017
15:37 IST: Team changes: For Hyderabad, Bipul Sharma comes in for Deepak Hooda and Ashish Nehra comes back in place for Mohammad Siraj. There are no changes for Pune.
15:35 IST: Fun Fact -- Supergiant Rahul Tripathi is 48 runs short of becoming the 2nd player to score 400 runs in debut season.
15:31 IST: Hyderabad captain David Warner wins toss, elects to bowl against Pune.
15:28 IST: It's toss time!
15:22 IST: Hello and welcome to the live blog of the match between Sunrisers |Hyderabad and Rising Pune Supergiant in Hyderabad, India.
While Rahul Tripathi's brilliant 93 in their last match against Kolkata guided Pune to win at the Eden, he will be expected to come good on Saturday too.
Ben Stokes has also lived up to the billing of being the costliest buy when he smashed his maiden ton against Gujarat.
The Pune bowling, led by Jaydev Unadkat, has been disciplined and they need to perform on Saturday to be able to stop orange cap holder Warner.
Though Hyderabad hasn't performed well in away matches, they intend to take full advantage of playing at home with a strong batting line-up consisting of Warner, Shikhar Dhawan, Moises Henriques and Kane Williamson.
With purple cap holder Bhuvneshwar Kumar and young Afghan find Rashid Khan leading the bowling attack, Pune better be wary.