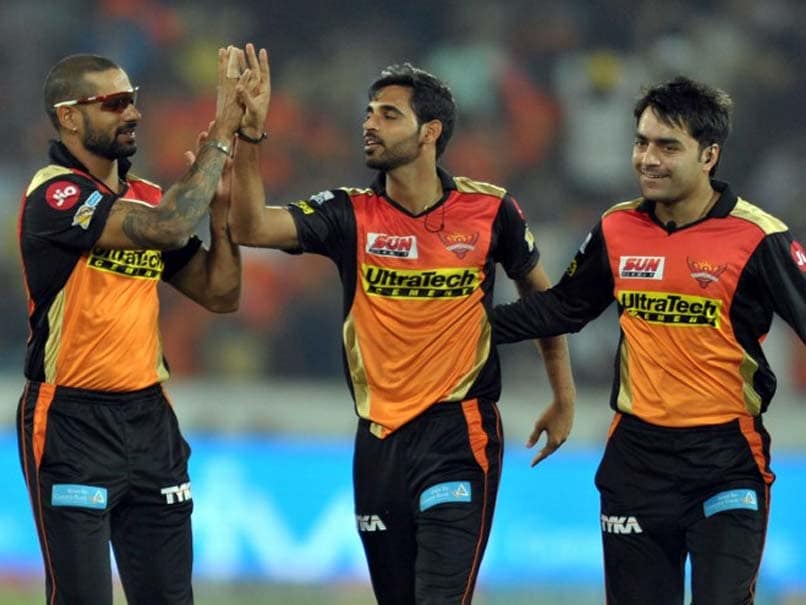 IPL highlights, SRH vs KXIP: Hyderabad beat Punjab by five runs in a thrilling contest.
© BCCI
Sunrisers Hyderabad (SRH) pulled off a thrilling five-run win over Kings XI Punjab (KXIP) at the Rajiv Gandhi International Stadium in Hyderabad on Monday in the Indian Premier League (IPL). Chasing 160 to win, Punjab lost Hashim Amla in the very first ball courtesy Bhuvneshwar Kumar's excellent swinging delivery. Following that Hyderabad bowlers kept on tightening the noose around Punjab batsmen and put them under tremendous pressure which resulted in slow flow of runs and fall of wickets. But, it was the resilient Manan Vohra who kept the fight going for his team. Scoring 95 off 50 balls, Vohra brought back his team back from the dead as Punjab needed only 16 runs from the last two overs after earlier needing to score at a run rate of over 12. 
But a game changing spell from Bhuvneshwar Kumar snatched the win away from Punjab. Bhuvneshwar finished with figures of five for 19 -- the second five-wicket haul of IPL 2017 -- from his stipulated four overs, including the most important wicket of Manan Vohra. Assisting Bhuvneshwar was Afghan spinner, Rashid Khan, who dismissed Miller and Wriddhiman Saha cheaply for 1 and 0, respectively. But he was taken for 21 runs in his last overs, which ruined his figures. With this win SRH recorded their third win in five games and are placed third in the points table. For Punjab, this was their third consecutive loss and are now fifth in the table.
Catch all the highlights of SRH vs KXIP in Hyderabad.
23:40 IST: Thank you for joining us today. Please do tune in for tomorrow's big match between Gujarat Lions and Royal Challengers Bangalore in Rajkot.
23:35 IST: Bhuvneshwar Kumar is adjudged the Man of the Match for his spell of 5/19.
23:33 IST: And it's done! Kaul clean bowls Ishant Sharma for the last wicket. Sunrisers Hyderabad beat KXIP by 5 runs.
23:31 IST: Tension building up in the last over. Kaul bowls two wides in three balls.
23:28 IST: Punjab need 11 runs from the last over. Kaul in the attack.
23:27 IST: Bhuvneshwar Kumar completes his bowling for 5 for 19 from 4 overs.
23:24 IST: LBW!!! Bhuvneshwar Kumar traps Vohra right in front of the wicket. Dims Punjab's hopes in the game.
23:22 IST: Out! Bhuvneshwar Kumar keeping Hyderabad in the game. Gets the yorker right and the stumps are all over the place.
23:21 IST: Crucial overs for Hyderabad!! Kings XI Punjab need 16 runs in 12 balls. 
23:17 IST: Six! Vohra blasting the bowlers all round the park!
23:15 IST: It's raining boundaries and maximum's for Punjab. Manan Vohra turning on the heat at Rajiv Gandhi International Stadium, Hyderababd.
23:13 IST: Manan Vohra dropped by Shikhar Dhawan off Bhuvneshwar Kumar! Punjab's hopes alive!
23:12 IST: Out! Sigh of relief for Hyderabad, Bhuvneshwar Kumar sends Mohit Sharma packing.
23:10 IST: 21 runs from Rashid Khan over. Manan Vohra fighting the battle all alone!
23:09 IST: Back-to-back maximum from Manan Vohra! Annihilating the bowlers!! 
23:08 IST: Boundary!! Vohra targets Rashid Khan now.
23:07 IST: 20 off the Sran over, much need big over for Punjab. KXIP need 56 runs in 30 balls​.
23:06 IST: Four! Hooda misfield brings u-p Punjab's 100 runs.
23:05 IST: Six! Straight down the ground, Vohra hammers Sran. Brings up his fifty.
23:02 IST: Six! Mohit Sharma slams his first maximum of the innings, clobbers Sran.
23:01 IST: Great chance dropped by Nabi. Manan Vohra gets a life.
22:59 IST: Out! Looking for a maximum, Axar slashed at the wide ball from Henriques and Dhawan completed the catch. Punjab 82 for 6, required rate over 12.
22:54 IST: Four! Back-to-back boundaries for the young gun. Punjab 80 for 5 (13)
22:53 IST: Four! Vohra shifting gears, hammers Nabi for a boundary.
22:51 IST: Punjab need 93 off 48 balls. Tough times for PUnjab with half of side back in the pavilion.
22:50 IST: For Punjab last three overs fetched them 6 runs and lost 3 wickets. Some class bowling by SRH bowlers.
22:47 IST: Dropped!! Nabi drops Axar Patel off his own bowling.
22:44 IST: Clean Bowled!! Rashid Khan is tearing through the middle order of Punjab. Wriddhiman Saha sent for duck. After ten overs Punjab 62 for 5.
22:42 IST: Clean bowled! Rashid Khan strikes and sends David Miller back. Quicker delivery from the Afghan kid does the trick for SRH.
22:38 IST: Yuvraj Singh dives in to save crucial runs for his team. Pulls back the ball just on the boundary rope. 
22:35 IST: Clean bowled!! Mohammad Nabi clinches the big wicket of Eoin Morgan.nabi
22:34 IST: Just 4 of Siddarth Kaul over. Hyderabad bowlers are pitching in good overs after good overs, time for Punjab to hasten their chase of runs.
22:28 IST: After seven overs, Kings XI Punjab stand at 53 for 2. Required run rate 8.23.
22:23 IST: Four! Consecutive boundaries for Vohra. Rashid Khan humled in his first over.
22:22 IST: Six! Sweet sound of the bat as Vohra smokes Rashid Khad miles into the sky.
22:21 IST: Four! Vohra smacks Rashid Khan for a boundary.
22:19 IST: 10 runs from the Nabi over. Hyderabad 32 for 2 after 5.
22:16 IST: Six! Top shot from Morgan, welcomes Nabi with a maximum.
22:15 IST: Good start from Siddarth Kaul, only 5 runs from his first over. 
22:07 IST: Out! Trying to put Bhuvneshwar Kumar for a maximum, Maxwell miscues the ball and Warner does the rest. Punjab 16/2 (2.5)
22:02 IST: Four! This time Maxwell clobbers Sran down the ground.
21:59 IST: Four! Barinder Sran gets whacked by Manan Vohra on the off side.
21:55 IST: OUT!!! Rapped on the pads and the umpire raises his finger. Amla goes in the very first ball of the innings. Big blow for the visiting team
21:52 IST: Kings XI Punjab openers are at the crease now. Hashim Amla and Manan Vohra to start the proceedings.
21:38 IST: Hyderabad posts a total of 159 for 6 in 20 overs. David Warner lone warrior with 70 runs off 54 balls.
21:37 IST: Six! Rashid Khan smashes the ball over long on to end SRH's innings.
21:36 IST: Six! Warner heaves it over long off and Eoin Morgan lets the ball through.
21:35 IST: Out! Trying to drag from outside of the off stump, Nabi perishes.
21:34 IST: Mohammad Nabi takes two runs, his first runs of the IPL career.
21:33 IST: Last over of the first innings. Nabi on strike, Warner desperate to get back on the strike.
21:31 IST: Four! Short from Mohit and Warner slams it straight to the boundary.
21:30 IST: Out! Bouncer from Mohit Sharma, Hooda tries to pull, Sandeep Sharma gets hold of the ball. Hyderabad 140/5 (18.4)
21:28 IST: Four! With two overs to go, Warner reverse sweeps the ball towards square boundary.
21:25 IST: Four! Hooda drives the ball beautifully. 10 runs off the Axar Patel over.
21:18 IST: Four! David Warner brings up his 34th IPL half-century. Hyderabad 121 for 4.
21:12 IST: Stumped!! Cariappa traps Ojha, sends him back to pavilion.
21:11 IST: After 15 overs, SRH stand at 108 for 3.
After 15 overs, we're at 108/3. Last 5 overs have been at a RR of 10.80. Good going troops! #OrangeArmy #RiseOfOrange #SRHvKXIP

— SunRisers Hyderabad (@SunRisers) April 17, 2017
21:06 IST: Four! Juicy little full toss from Ishant Sharma and Warner puts it away - 100 up for Hyderabad.
21:03 IST: Six! Naman Ojha comes down the wicket, smokes the ball for a biggie, sweet sound off the bat.
21:00 IST: Four! Warner cuts Sandeep handsomely through the point.
20:58 IST: Ojha heaves the ball on the leg side, falls just short of Mohit Sharma.
20:56 IST: Four! Naman Ojha puts the ball away on the long leg boundary to finsih the Axar Patel over with a boundray.
20:51 IST: Four! Warner pulls Cariappa on one knee on the square boundary.
20:50 IST: Four! First boundary for Naman Ojha.
20:49 IST: After 10 overs, SRH stand at 54 for 3. Hyderabad need to pull their socks up.
20:45 IST: Out!! Wicket of consecutive ball for Axar and it's the big man Yuvraj Singh who is walking back on a first ball duck.
20:44 IST: Out!! Moises Henriques is sent packing by Axar. The Australian came down the track and missed it completely. Easy stumping for Saha. SRH are 50/2 in 9.1 overs.
20:40 IST: Six!! Warner gets down on one knee and reverse sweeps Cariappa for a maximum. Much-needed boundary for Hyderabad. SRH are 50/1 in 9 overs.
20:38 IST: Just two runs from the Mohit Sharma. Brilliant bowling from the Punjab pacer. Warner has been completely shackled.
20:35 IST: Three dot balls from Mohit, runs coming at a premium for SRH right now. 
20:33 IST: After seven overs, Hyderabad stand at 40 for 1.
20:32 IST: Four! Reverse sweeping Cariappa, Warner hits a boundary.
20:30 IST: Punjab bowlers are doing a good job with the ball, not allowing Hyderabad batsmen to free their arms.
20:25 IST: Moises Henriques comes out in the middle to replace Shikhar Dhawan.
20:24 IST: Out! Mohit Sharma bowls a slow bouncer, trying to pull the ball, Dhawan puts the ball in Wriddhiman Saha's gloves. Hyderabad 25 for one.
20:19 IST: Just three runs coming off the Ishant Sharma over. Brilliant bowling.
20:12 IST: Four! Dhawan pulls Sandeep for a beautiful boundary.
20:07 IST: Ishant Sharma is the new bowler in for KXIP.
20:05 IST: After first over Sunrisers Hyderabad stand at 3 for zero.
20:01 IST: Sandeep Sharma starts the proceeding for KXIP.
20:00 IST: Shikhar Dhawan and David Warner have opened the batting for Sunrisers Hyderabad.
#DavidWarner and #GlennMaxwell pose for a picture ahead of the #SRHvKXIP encounter in Hyderabad. #OrangeArmy #RiseOfOrange pic.twitter.com/Uj9CUAGKJ2

— SunRisers Hyderabad (@SunRisers) April 17, 2017
19:50 IST: Here are the playing XI for both the teams.
#IPL Match 19 - Here are the Playing XIs for @SunRisers vs. @lionsdenkxip #SRHvKXIP pic.twitter.com/iT2vBRM3QJ

— IndianPremierLeague (@IPL) April 17, 2017
19:48 IST: Kings XI Punjab win toss and elect to field against Sunrisers Hyderabad.
19:45 IST: Hello and welcome to the live blog of the match between Sunrisers Hyderabad and Kings XI Punjab.
SRH's misfortunes are not for any lack of trying on Warner's part. He is second on the batting list with 165 runs from four innings. Shikhar Dhawan and Moises Henriques have contributed as well. Rashid Khan has been great with the ball as wall with seven wickets so far in the tournament while the veteran Ashish Nehra is effective too. So essentially, it is just some things going wrong at specific times that has been the difference between winning and losing for SRH. As for KXIP, their bowlers have struggled. Varun Aaron is way too expensive and the rest the three Sharma's - Ishant, Mohit and Sandeep - have been moderate at best.