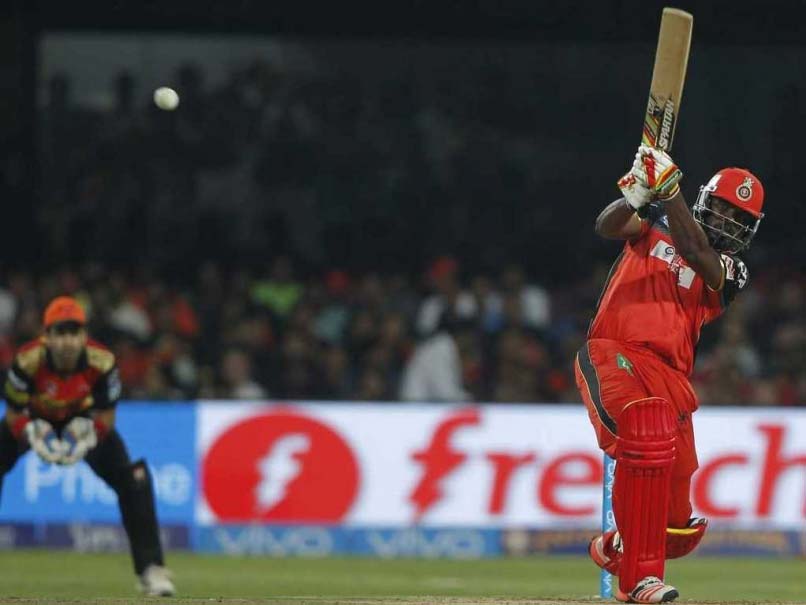 Hyderabad got the better off Bangalore in the IPL Opener
© BCCI
Riding on half-centuries from Yuvraj Singh (62) and Moises Henriques (52) Sunrisers Hyderabad got to a mammoth total of 207 at the end of their alloted 20 overs. For Bangalore, Yuzvendra Chahal was the pick of the bowlers who returned with figures of 1 for 22. Bangalore got off to a great start but lost wickets at regular intervals that did not do any good to their run chase. At the end, the Shane Watson-led side were bowled out for 172, giving Hyderabad a 35-run victory in the IPL opener.  (Scorecard)
Highlights, SRH vs RCB straight from Hyderabad, India
23:46 IST: Out! That is it. Hyderabad win by 35 runs. Bangalore will be disappointed with that batting effort. All out for 172. Bhuvi finished with 2 for 27.
23:42 IST: Wicket! Bhuvi strikes again. This time Mills only finds the Hyderabad captain Warner at mid-on. Nine down now.
23:41 IST: Six! Mills gets it away over point and it has gone all the way.
23:38 IST: Wicket: Nehra removes Sreenath Aravind. Picks up his 100th wicket.
23:35 IST: Wicket! Nehra getting his man. It is the dangerous Watson. Low full toss and all Watson could do was to find the man at covers.
23:33 IST: Bangalore need 54 off 18 balls.
23:31 IST: Wicket: The drop did not cost many for Hyderabad. Binny departs. Bhuvi strikes for the hosts.
23:29 IST: Dropped! Binny goes for the big one and gets it off the toe of the bat. It was a skier and Ojha gets under it and spills it.
23:28 IST: Bhuvi comes back on. Bangalore need 57 off 24 balls.
23:26 IST: Four! Watson playing a captain's knock here.
23:24 IST:  Binny this time joins his captain. Six more! Cutting needs to bowl a lot fuller.
23:22 IST: Short from the leg-spinner and Watson opens his shoulders. Puts it away and it has gone all the way. Six!
23:21 IST: Binny goes for the sweep. Misses the ball altogether. That was close. Just pitched outside off-stump. Great bowling from Rashid Khan here.
23:20 IST: Stuart Binny is the new batsman.
23:18 IST: Wicket: Bipul Sharma comes on and gets a wicket almost immediately. Sachin Baby makes his way back to the dressing room.
23:15 IST: Sachin Baby joins his captain in the middle.
23:10 IST: Wicket: Rashid strikes again. Head going for the big one but skies that one to Yuvraj at long on.
23:09 IST: Full toss from Rashid and Head is not the one to miss out on those. Four!
23:07 IST: Rashid Khan comes back on.
23:05 IST: So the captain comes out to the middle. Shane Watson gets off the mark almost immediately. Seven from the over.
23:02 IST: Wicket: Jadhav going for the second run is well short of his crease. Brilliant piece of fielding from Ben Cutting. Direct hit and Jadhav was always struggling.
22:58 IST: Great batting by Jadhav. Just using the pace of Nehra and guides it through deep backward square-leg for a boundary. Nehra just not getting his line right.
22:56 IST: So far runs coming in singles at the moment.Just as we speak Jadhav gets one away for a boundary.
22:54 IST: Nehra comes back on to the attack.
22:48 IST: Travis Head joins the party. Gets that one away for a boundary. Henriques bowls an off cutter but Head was up to the task.
22:44 IST: Bangalore 85 for 2 in 9 overs.
22:40 IST: Good over from Cutting turned out to be expensive at the end. Jadhav gets a six off the fifth ball to end the over with 9 runs.
22:39 IST: Short from Rashid and Jadhav quick to pounce on that. Gets a boundary.
22:37 IST: So two new men at the crease. Kedar Jadhav and Travis Head would look to build a partnership.
22:34 IST: Big wicket! Gayle departs in trying to up the ante. Caught at long on. Did not get hold of that and Hooda strikes for Bangalore.
22:31 IST: Gayle comes down the wicket and hits Hooda over the top for a six.
22:28 IST: Wicket! Inside edge back on to the stumps. Mandeep Singh departs. Rashid Khan strikes for Hyderabad.
22:25 IST: Rashid Khan comes on to the attack.
21:22 IST: A good over from Ben Cutting ends in a boundary. Gayle looking dangerous here.
22:19 IST: Another huge six from Chris Gayle. Bhuvneshwar pitches it up and gets the treatment.
22:16 IST: Huge! That is Gayle at his very best. That ball has gone way back into the stands. Not a good sight for Nehra.
22:15 IST: Great shot from Mandeep Singh. Up and over mid-on for a boundary. Nehra is proving to be expensive here.
22:11 IST: Gayle gets his first boundary of the match.
22:09 IST: Great second over by Bhuvneshwar Kumar. Only one of that over.
22:05 IST: Good first over for Royal Challengers Bangalore. Two fours to start things off. Mandeep Singh off and away almost immediately. Not a great start for Nehra. Concede 11 off the first over.
22:03 IST: So both the openers are out there in the middle. Chris Gayle and Mandeep Singh to start things off for Bangalore.
22:02 IST; Ashish Nehra with the new ball for SRH
21:51 IST: Sunrisers Hyderabad score 207 for 4 (Yuvraj 62, Henriques 52) in 20 overs vs Royal Challengers Bangalore in the event opener
21:49 IST: Cutting finishing things off in style. So SRH post 207 in their 20 overs.
21:43 IST: Wicket: That was a quick ball from Mills, cramped Yuvraj for room and cleans him up. Yuvi departs.
21:40 IST: Add four more to the total. Good work with the wrists from Yuvraj as the ball races away to the fine-leg boundary. Follows it up with a six over square-leg.
21:37 IST: Full and Yuvraj down in one knee gets it away through point. Four more! Brings up his 11th fifty in style.
21:32 IST: Deepak Hooda the new man in, in place of Henriques gets off the blocks in style. SIx over mid-wicket. Chahal should have taken that one in the boundary but all he does is chips it over like a goal-keeper over the boundary.
21:29 IST: Short again from Mills and Yuvraj puts it away in style. Four More!
21:27 IST: In the air and falls safely. Yuvraj survives. Chahal unlucky.
21:20 IST: Wicket! Henriques goes for the big one but only manages to hit it straight to the man at long-off. Chahal strikes.
21:18 IST: Chahal comes back on.
21:16 IST: Again a slower ball and Henriques gets it away for a six. This is a big over for Hyderabad. Two sixes in the over. Brings up his third fifty in IPL.
21:13 IST: Short and Yuvraj picks it up and deposits it into the stand. Six More! Arvind the culprit. Bowls the back of the hand slower ball but it is too short.
21:11 IST: After 14 overs SRH are 132 for 2.
21:10 IST: Watson comes on to that attack. And Yuvraj welcomes him with a boundary.
21:04 IST: Dropped: Yuvraj goes for the pull and Arvind drops a dolly at deep sqaure-leg.
21:02 IST: A Six, followed by a four! This is vintage Yuvraj.
21:00 IST: That is Yuvraj for you. Picks it up off his legs for a boundary.
20:58 IST: Yuvraj gets off the mark with a single.
20:55 IST: Yuvraj Singh is the next man in.
20:53 IST: Wicket! Dhawan comes down the track, did not get hold of that and the man at long on makes no mistake. Stuart Binny strikes for Bangalore.
20:52 IST: Stuart Binny comes on and Dhawan welcomes him to the crease with a boundary.
20:49 IST: Great over from Aniket. Just gave away four singles in that over.
20:46 IST: Aniket comes back on for RCB.
20:41 IST: Sunrisers Hyderabad 84 for 1 in 9 overs.
20:39 IST: Chahal bowls it wide and Dhawan just about makes contact with the bat. Lucky escape there for Dhawan.
20:38 IST: Six! Henriques comes down the track and that goes all the way.
20:36 IST: Travis Head comes on to the attack.
20:34 IST: Meanwhile Sanjay Manjrekar is enjoying his commentary gig.
It's still the same sport but something about the IPL. It's different. Great crowd, lot of noise! Time to get the commentary voice pitch up.

— Sanjay Manjrekar (@sanjaymanjrekar) April 5, 2017
20:32 IST: Hyderabad 60 for 1 in 6.2 overs. Going at 9.47 runs per over.
20:28 IST: Back to back boundaries for Dhawan, Make it four for the over. It is now a great start for SRH.
20:26 IST: Aravind bowls it back of a length down the leg-side and Henriques puts it away for a boundary. This is a good start for SRH.
20:22 IST: Sreenath Aravind replaces Mills
20:20 IST: Great first over by Chahal. Gives away  only 4 runs in his first over.
20:19 IST: So first change of the match. Chahal comes on.
20:18 IST: Mills is making his mark on his IPL debut. In his first two overs, he has given away only 12 runs.
20:17 IST: The wicket looks very good for batting.
20:16 IST: Tymal Mills, one of the big buys of the tournament, needs to come to the party for RCB.
20:14 IST: Moises Henriques is the new man in and gets off the mark in style. Four more!
20:11 IST: Wicket: Aniket follows it up with a ball wide outside off-stump and all Warner could do is to hit it straight to point. So first wicket for RCB.
20:10 IST: Poor from Aniket. Bowls a no ball and it is a free hit. Warner takes full advantage of that. Deposits it into the stand. First six of the match.
20:09 IST: Vintage Warner there. Right over mid-on for a boundary.
20:07 IST: Aniket Choudhary to share the new ball with Mills.
20:03 IST; Warner times it through point for a boundary. First runs on the board. Warner and SRH are away in style.
20:00 IST: David Warner to take the first ball. Tymal Mills with the new ball.
19:58 IST: So both the openers, David Warner and Shikhar Dhawan are out there in the middle.
19:53 IST: Sunrisers had won both the matches last season against Bangalore.
19:50 IST: Head to Head: Sunrisers Hyderabad have won five times compared to four by Royal Challengers Bangalore
19:37 IST: Here is a look at the playing eleven for the match.
Here are the Playing XIs for Match 1 - @SunRisers vs @RCBTweets #IPL #SRHvRCB pic.twitter.com/XqbvvivwC5

— IndianPremierLeague (@IPL) April 5, 2017
19:35 IST: Warner all but set for the big match.
.@SunRisers are warming-up ahead of the first match against @RCBTweets #IPL #SRHvRCB pic.twitter.com/7qiTouzH3d

— IndianPremierLeague (@IPL) April 5, 2017
19:30 IST: David Warner to spin the coin. Shane Watson calls it right. Royal Challengers have won the toss and they have decided to bowl first.
19:29 IST: It is a cloudy evening in Hyderabad.
19:21 IST: The toss will take place in ten minutes.
19:08 IST: Jackson moves to the beats of 'Kala Chasma' now.
19:05 IST: Actress Amy Jackson takes centre stage. Dancing to the tunes of 'Saara Zamana, Haseeno ka deewana'
18:58 IST: Sunrisers Hyderabad captain David Warner comes on to the stage with the IPL trophy. Virat Kohli is also there with him. Hyderabad are also the defending champions of the Indian Premier League.
#SpiritofCricket at #IPL - #Viratkohli & #davidwarner pic.twitter.com/dUevlFhJoI

— IndianPremierLeague (@IPL) April 5, 2017
18:50 IST: I can't believe IPL has completed 10 years. It is a great achievement. When the first season was announced I never thought it would so big: Sachin Tendulkar
18:49 IST: Big cheer for Sachin again.
18:48 IST: If you are playing the game of cricket, you should entertain, feels Virender Sehwag
18:47 IST: The atmosphere is no way inferior to the football World Cup final, says former India captain Sourav Ganguly.
18:46 IST: Great atmosphere, says VVS Laxman.
18:45 IST: Golf cart rides for the Indian legends.
18:42 IST: All the former cricketers are slowing making their way to the middle. A big cheer for the local boy VVS Laxman. Sachin Tendulkar is the next man in line.
18:37 IST: So IPL 10 kicks off with the song, "Baar Baar Haan, Bol Yaar Haan" from Lagaan.
18:37 IST: The celebrities taking the stage at Bangalore, Indore and Mumbai is yet to be confirmed. The first match at Bangalore and Indore is on the 8th of April while Mumbai will host their first match on the 9th of April.
18:35 IST: This year will, however, see the younger stars in action, while Amy Jackson will be performing in Hyderabad.
18:32 IST: Each of the opening ceremonies will see a different Bollywood star performing just like the other seasons. Earlier editions have witnessed Hrithik Roshan, Priyanka Chopra, Deepika Padukone, and Shah Rukh Khan taking part.
18:30 IST: "The various segments of the ceremony will be on our culture, the culture and tradition of the host cities as also highlighting the high points from the last nine editions of the tournament. We will also have performances from Bollywood stars, spirit of cricket signing, etc.," Rajiv Shukla said.
18:25 IST: IPL chairman Rajeev Shukla announced on Monday that, unlike the past seasons, when the tournament always began with a massive opening extravaganza, this year would be different as that the league plans to host eight different opening ceremonies. "It would be unfair to say it was my idea. All the members sat together and decided to have separate opening ceremonies across all the host cities to give the fans an opportunity to witness the opening of the 10th edition of the IPL live," Shukla said.
18:24 IST: This year will be special in a lot many ways. A grand opening ceremony has been planned for the tenth edition of the IPL as the tournament completes a decade.
18:22 IST: Hello and welcome to the opening ceremony of the tenth edition of the Indian Premier League.
They have also lost star batsman KL Rahul for the whole tournament owing to injury. In addition, RCB's young batsman Sarfaraz Khan will most likely be unavailable for the entire season after hurting himself on the field during a practice match in Bengaluru.
Sarfaraz Khan was expected to partner Chris Gayle in the absence of Kohli.
As Kohli is likely to miss the first few matches in the tournament, the team has named Shane Watson as its captain in the interim.
Sunrisers Hyderabad, on the other hand, are determined to repeat last year's magic to grab the title. Hyderabad has one of the most formidable batsmen in IPL in its skipper David Warner, who led from the front last season.
Though Warner was not in the best of forms during Australia's recently-concluded tour of India, he did score well in the match at Dharamshala. And he is expected to be a key player for Hyderabad.
Warner opens batting in the company of Shikhar Dhawan, who is keen to make a mark after losing his berth in the Indian national side.
Dhawan was impressive in the recent Deodhar Trophy and would look to carry the good form into the IPL.