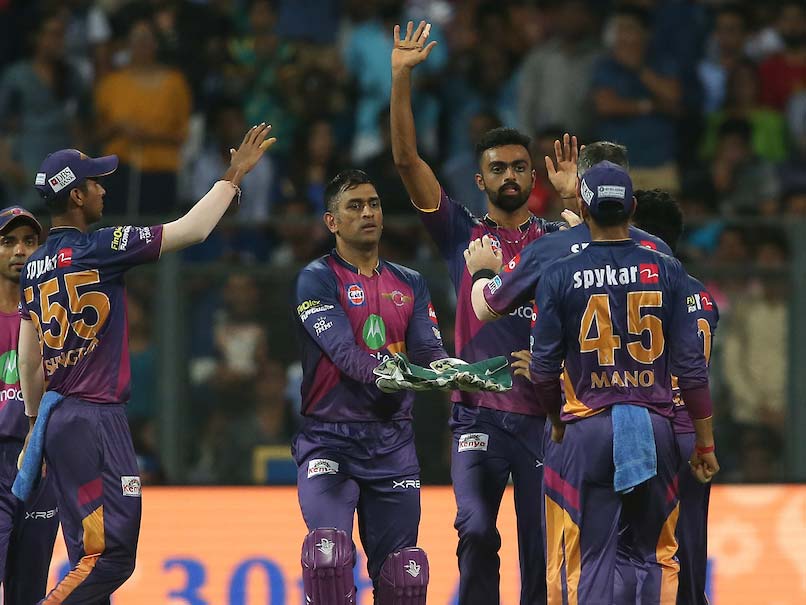 IPL highlight, RPS Vs RCB: Bangalore collapses yet again, lose to Pune by 61 runs.
© AFP
Rising Pune Supergiant (RPS) beat Royal Challengers Bangalore (RCB) by 61 runs in the 34th match of Indian Premier League (IPL) game in Pune. Disciplined Pune bowling tightened the noose around the Bangalore batsmen and didn't let them score runs freely. Regular wickets for Pune and poor batting display, yet again, from Bangalore saw them lose two crucial points. With this defeat Bangalore are virtually out of the tournament. Imran Tahir, Lockie Ferguson and Dan Christian along with other bowlers, shared the spoils of the game. For Bangalore, Virat Kohli scored the highest (55) and for Pune, Tahir finished for 3 for 18 from his four overs. After this win, Pune stay at the fourth position with 10 points on the table.(SCORECARD)
Catch all the highlights of RPS Vs RCB in Pune, here:
19:22 IST: And its all over, Pune win by 61 runs and gain two important points.
19:21 IST: Close shave for Chahal as the slower delivery from Christian just misses the stumps by a whisker.
19:20 IST: Bangalore need 69 runs off 4 balls. The game is virtually over for the visiting team.
​19:12 IST: Out! Dan Christian sends resilient Virat Kohli (55) back home. Bangalore 84 for nine.
19:11 IST: Dropped! Manoj Tiwary drops Virat Kohli off Christian.
19:08 IST: Bangalore need 76 off the last three overs. Pune bowlers doing pretty good job with their bowling.
19:07 IST: Out! Failing to read the wrong one by Tahir, Badree lets the ball crash into the stumps. Bangalore 82 for eight, 16.5 overs.
19:06 IST: Six! Kohli brings up his half century with a maximum on the leg side.
19:05 IST: The asking rate is above 21 for RCB, it seems that their batting led the team down. 
18:59 IST: Seventh wicket down for Bangalore! Kohli remains the lone fighter at the crease. Challengers need 87 runs in 30 balls.
18:58 IST: Bangalore have not hit a boundary since 9 overs.
18:52 IST: Time for Virat Kohli to display his batting skills and take his team over the finishing line.
18:47 IST: Out! Pawan Negi caught by Dan Christian off Imran Tahir at long-on as Kohli watches his team crumble from the other end. Bangalore 61 for six.
18:45 IST: Bangalore need 98 more runs to win from 48 balls with 5 wickets remaining.
18:43 IST: Royal challengers Bangalore might fall behind on the run chase as the required rate is above 12.
18:38 IST: 10 overs gone, Royal Challengers Bangalore need 109 runs in 60 balls.
18:36 IST: Out! Bangalore crumbling down yet again. Stuart Binny falls prey to Ferguson short ball. Bangalore 48 for five after 9.5 overs.
18:31 IST: Out! Steve Smith takes a brilliant low catch off Washington Sundar to dismiss Sachin Baby. Bangalore in trouble as they stand 47 for four after nine overs.
18:23 IST: Run-out! Miscommunication between Kohli and Jadhav over a misfield, and Lockie Ferguson catches Jadhav short of the crease.
18:19 IST: Good first over from Imran Tahir, concedes only four runs.
18:14 IST: Six over done! Challengers stand at 39 for two in 158 chase vs Pune.
18:12 IST: Four! Short ball from Christian, and Kedhar Jadhav gets off the mark with a boundary.
18:07 IST: Out! Lockie Ferguson sends AB de Villiers back cheaply as Tiwary completes a sharp catch at short mid-off. Bangalore 32 for two, 4.4 overs.
18:03 IST: After four overs, Challengers stand at 30 for one.
17:57 IST: Back-to-back boundaries from Kohli!! Chahar bowls loose on the pads and Kohli flicks it way for a boundary.
17:55 IST: Four! Wide from Chahar and Kohli doesn't miss many.
17:54 IST: Out! Jaydev Unadkat sends Travis Head back to pavilion. Inside edge from Head, as the ball clips the bail.
17:51 IST: Four! Bit of width from Unadkat and Kohli drives him for a his first boundary.
17:49 IST: Decent start for Pune bowlers, concede only four runs off the first over.
17:45 IST: Deepak Unadkat is leading the bowling attack for Pune.
17:44 IST: Virat Kohli and Travis Head opening the batting line up for Challengers.
17:43 IST: Welcome back to the second innings of the match between Rising Pune SUpergiant and Royal challengers Bangalore.
17:26 IST: First innings done, Pune score 157 for three.
17:24 IST: Four! outside edge off Tiwary's bat, ball runs down to third man for a lucky boundary.
​17:22 IST: Midfield! Aravind kicks the ball to run Dhoni out, but Pune takes a quick single. 
17:20 IST: Four! Lucky inside edge for Tiwary as the ball runs down towards the boundary rope.
​17:14 IST: Six! Dhoni slams the ball down the ground with authority. 
17:11 IST: Four! Tiwary getting into the action too. Pulls Milne at the fine leg boundary.
17:08 IST: Four! Dhoni square cuts Milne for a boundary in the first ball, pressure on the bowler.
17:07 IST: Last four overs of the first innings, MS Dhoni and Manoj Tiwary standing tall for Pune.
17:04 IST: After 16 overs, Pune stand at 115 for three.
16:56 IST: Out! Binny sends Smith packing for 45. Pune 108 for three after 13.5 overs.
16:54 IST: Four! Smith dealing in boundaries now. Cuts the ball beautifully.
16:53 IST: Four! Smith changing gears now. Flicks Binny for a boundary at deep mid wicket.
16:51 IST: Big six! Good footwork from Tiwary as he sends the ball flying out of the park.
16:50 IST: Pune need to up their ante against Bangalore!
16:49 IST: Four! Back-to-back boundaries for Smith. Gets three boundaries in three balls. 
16:47 IST: Six! Smith breaks the deadlock, smacks Badree for a maximum on one knee.
16:42 IST: 10 overs gone, Pune 67 for two.
16:37 IST: Four! Straying on the pad, Manoj Tiwary, the new batsman, guides the ball for boundary. 
16:36 IST: Out! Pawan Negi gets rid of Rahul Tripathi (37). Caught behind by Kedhar Jadhav. Pune stand at 58 for two after 8.2 overs.
16:31 IST: Virat Kohli experimenting with his bowlers. Introduces his sixth.
16:24 IST: After six overs, Pune stand at 43 for one.
16:23 IST: Four! Tripathi taking the bowlers to task. Couple of steps down the track and hits the ball for a well timed boundary.
16:22 IST: Four! Tripathi welcomes Yuzvendra Chahal with a boundary on the off-side.
16:17 IST: Six! Tripathi on one knee, slams Aravind for a big maximum.
16:15 IST: Four! Steve Smith comes out to bat and flicks the ball for his first boundary.
16:14 IST: Out! Full toss from Badree, Rahane looking to sweep, top edges the ball to Milne at short fine leg. Pune 18 for one after 3.1 overs.
16:13 IST: Bangalore miss first real chance. Tripathi steps down the wickets, pulls and Virat Kohli puts down a sitter at mid-wicket.
16:12 IST: Four! Short from Milne again, Tripathi guides the ball towards fine leg.
16:10 IST: Four! Short from Milne, and Tripathi hits his first boundary.
16:08 IST: After two overs, Pune stand at nine runs for no loss.
​16:07 IST: Midfield from Milne and Pune take two runs. Slow start for the Pune batsmen.
16:05 IST: Decent start for Adam Milne, concedes only four runs.
15:59 IST: Adam Milne to lead the bowling attack for RCB.
15:58 IST: Rahul Tripathi and Ajinkya Rahane opening the batting for RPS.
15:57 IST: Both teams and umpires make their way out to the field.
15:55 IST: Team changes: For RPS Deepak Chahar comes in place of Shardul Thakur. Lockie Ferguson replaces Faf du Plessis. For RCB Chris Gayle, Mandeep Singh and Aniket Choudhary are out. Stuart Binny, Sachin Baby and Adam Milne come in.
15:47 IST: Supergiant warming up before their home game
15:46 IST: Challengers warming up before their game
15:45 IST: Here are the playing XIs for both team
15:30 IST: Royal Challengers Bangalore captain Virat Kohli wins toss, elects to bowl against Rising Pune Supergiant.
15:25 IST: It's toss time! 
15:22 IST: Hello and welcome to the live blog of the match between Rising Pune Supergiant and Royal Challengers Bangalore in Pune.
RPS are slightly better off with eight points from eight games with four wins in their kitty. But even RPS has been inconsistent at one level. They have been good on certain days and very ordinary on other days. Virtually, it will be very difficlut for Virat Kohli and Co. to make it to the playoffs now as they have to do soemthing extraordinary to make it there. Every game is a do-or-die for Pune, one loss will push them away from the play-off reckoning.