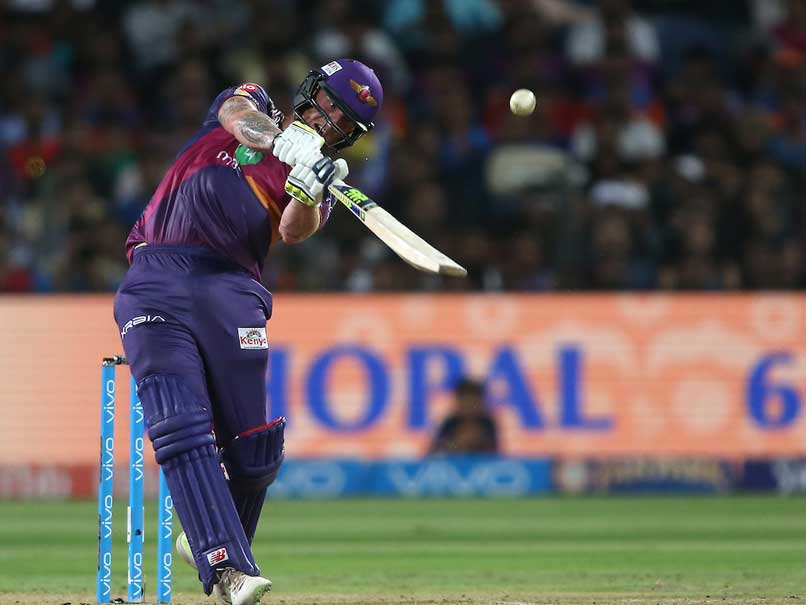 IPL highlights, RPS Vs GL: Pune beat Gujarat by 5 wickets to earn two important points
© BCCI
Ben Stokes' maiden IPL century powered Rising Pune Supergiant (RPS) to a crucial five-wicket win over Gujarat Lions (GL) in an Indian Premier League game in Pune on Monday night. Gujarat Lions picking up three early wickets at the start of the Pune innings put the home team on the backfoot. However, patient batting from MS Dhoni and a brilliant century from Ben Stokes (103 not out) helped Pune overhaul the target and beat the Lions. For Gujarat, Basil Thampi finished with figures of 2 for 35. Ben Stokes was adjudged the Man of the Match. The win helps Pune maintain their fourth position in the points table while Gujarat are sixth. (SCORECARD)
Catch all the highlights of RPS Vs GL in Pune here:
23:48 IST: Thank you for reading our live blog. Please do come back tomorrow for another Indian Premier League match where Delhi Daredevils take on Sunrisers Hyderabad, at Feroz Shah Kotla.
23:45 IST: Ben Stokes was adjudged the Man of the Match. 
23:30 IST: And it is all done! Dan Christian wins the match for Pune with a huge six on the leg side. Pune finish 167 for 5 in 19.5 overs.
23:29 IST: Pune need 2 off 3 balls! Exciting last over!
23:27 IST: Four! Ben Stokes slams Faulkner for a boundary on the off side to bring up his maiden IPL century!
23:26 IST: Ben Stokes has brought the stadium back to life with his thunderous yet patience knock! Need 2 runs to complete his maiden century.
23:24 IST: Pune need more 8 runs in 6 balls, Ben Stokes key for Pune.
23:23 IST: Six! Ben Stokes is turning on the heat in Pune, smokes the ball straight down the ground!
23:20 IST: Six! What a start to the second last over, full toss from Thampi, Stokes smokes it for huge maximum straight down the ground.
23:19 IST: Pune need 25 more runs to win from last two overs vs Gujarat.
23:17 IST: Four!! Giving himself room, Christian slashes the ball past Faulkner for a boundary.
23:14 IST: Stokes taking the match to the last over. Pune need more 36 runs off 18 balls.
23:13 IST: Four! Straight down the ground from Ben Stokes.
23:10 IST: Out!! Slower wide ball from Thampi, Dhoni hits the ball straight to McCullum at long off boundary. ben Stokes remain the lone fighter. Pune 118 for 5, 16.1 overs.
23:06 IST: Four! Stokes slices the ball over mid-off for a boundary. Pune edging closer to a win.
23:05 IST: Six! Smith misses his length, Stokes hits the ball for a maximum.
23:03 IST: Pune need 60 off 30 balls, high time for Dhoni and Stokes to start firing!!
23:02 IST: Chants of 'Dhoni', 'Dhoni' reverberates across the Maharashtra Cricket Association International Stadium.
23:01 IST: Six! Short form Faulkner, Dhoni gets into position early and pulls him for a maximum.
22:57 IST: Pune need to start hitting, as they need 72 runs off 36 balls. Currently they stand at 90 for four.
22:53 IST: Ankit Soni completes his spell with figures of zero wickets for 16.
22:49 IST: Four! Wide from Smith and Stokes hits the ball for a boundary on the off-side.
22:47 IST: Ben Stokes brings up his 2nd IPL half century off 38 balls. Pune stand at 73 for four.
22:43 IST: Half a way through, Pune need 95 off 60 balls.
22:41 IST: Six! Back-to-back maximum for Stokes puts Jadeja on pressure.
22:40 IST: Six! Right in the slot, Stokes smokes Jadeja for a 89 metre maximum.
22:39 IST: Brilliant bowling display from Soni, concedes only a run! Pune on the backfoot.
22:36 IST: Good comeback from Jadeja after the boundary, five dot balls to end the over. Pune need 111 of 72 balls.
22:34 IST: Four!! MS Dhoni welcomes Jadeja with a boundary off a an over-pitched delivery.
22:24 IST: Out!! Tripathi and Stokes involved in a massive mix-up and the former has to take the long walk back. Tripathi has just thrown away his wicket when it seemed Pune were getting back on track.
22:23 IST: Four!! Short and wide from Faulkner and Stokes punishes it for another boundary.
22:20 IST: Four! Tripathi cuts Pradeep for a boundary. 2nd boundary of the over. RPS are 37/3 in 5 overs.
22:18 IST: Six! Bouncer from Sangwan, Stokes times it well to pull it for a maximum.
22:16 IST: After four overs, Pune stand at 24 for three.
22:13 IST: Four! Stokes pulls Thampi for a boundary in the first ball of the over.
22:09 IST: Four! Picture perfect straight drive from Stokes off Sangwan.
22:04 IST: LBW! Basil Thampi strikes, removes Manoj Tiwary for a duck! Pune struggling as they stand 10 for three after 1.3 overs.
22:02 IST: After the first over, Pune stand at 8 for two.
22:01 IST: Out! ! Good directed bouncer from Sangwan, Steve Smith loses his wicket as he looked to hook the ball over short fine leg fielder. Sangwan gets two wickets in his first over.
22:00 IST: Four! Steve Smith flicks Sangwan for a beautiful boundary.
21:59 IST: LBW! Sangwan traps Rahane before the wicket. Pune stand at 4 for one in 0.4 overs.
21:58 IST: Four! High on the pads, Rahane guides the ball for his first boundary as he completes 4000 runs in T20 cricket.
21:57 IST: Pradeep Sangwan is leading the bowling attack for Gujarat.
21:56 IST: Rahul Tripathi and Ajinkya Rahane opening the batting line up for Pune.
​21:55 IST: Welcome back to the second innings of the match.
21:42 IST: Stay tuned for the second innings.
21:41 IST: Bowled! Jaydev gets his third wicket as he cleans up Soni. Gujarat Lions 161 all out in 19.5 overs.
21:39 IST: Run-out! Dinesh Karthik falls short off the crease as Dhoni hits the stumps. Gujarat 161 for nine.
21:38 IST: Four! Slower delivery from Unadkat, Karthik switch hits the ball for a cheeky boundary.
21:36 IST: Last over to go for Gujarat!
21:35 IST: Four! Down the track, Karthik hits the ball for a boundary on the leg side.
21:32 IST: Gujarat failing to capitalise on the flying start, have to start hitting to put a big total on board in the last two overs.
21:31 IST: Out!! Jaydev Unadkat takes two in an over. Pradeep Sangwan falls prey to a slower delivery. Gujarat 148 for eight, 17.5 overs.
21:28 IST: Out!! Seventh wicket falls for Gujarat as James Faulkner takes the long walk back to the pavilion. Gujarat 146 for seven, 17.2 overs.
21:27 IST: Pune's disciplined bowling has halted the flow of runs for Gujarat.
21:19 IST: After 16 overs, Gujarat stand at 140 for six.
21:15 IST: Out! Bouncer from Christian, Jadeja top edges the ball straight to Jaydev Unadkat at short fine leg.
Match 39: WICKET! Ravindra Jadeja c Jaydev Unadkat b Daniel Christian 19 (12b). Gujarat Lions 135/6 (15.0 Ovs). pic.twitter.com/lFHlSZIGNt

— NDTV Live Scores (@CricketNDTVLive) May 1, 2017
21:08 IST: Four! On the pads from Thakur, Jadeja guides the ball to the boundary on the leg side.
21:04 IST: Four! Jadeja shimmies down the pitch, slams Stokes for a boundary straight down the ground.
20:59 IST: Out!! Full length ball from Thakur, McCullum giving himself room slices the ball straight to the fielder at point boundary. Gujarat 109 for five after 11.5 overs.
20:57 IST: Four! Karthik beautifully drives the ball for a boundary.
20:49 IST: Bowled! Tahir is unstoppable ! Clean bowls Dwayne Smith first ball. Gujarat 94 for four after 10 overs.
20:47 IST: Out! Looking to play the ball on the leg side, edges the ball back to Tahir. Gujarat 94 for three after 9.5 overs. 
20:45 IST: Six! Finch hits Tahir for a maximum.
20:44 IST: Six! McCullum on the charge, flat bats Christian for a maximum at square leg boundary.
20:42 IST: Four! Aaron registers his first boundary, slams Christian at the long on boundary.
20:38 IST: Out! Brilliant throw from Ajinkya Rahane sends Gujarat Lions skipper Suresh Raina home. Gujarat stand at 71 for two after 8 overs.  
20:30 IST: Four! Charging down the track, McCullum ferociously hits Thakur for a boundary.
20:27 IST: At the end of powerplay, Gujarat stand at 55 for one.
20:26 IST: Out! Maestro strikes! Tahir sends Kishan (31) packing.
20:25 IST: Two in a row! Kishan is absolutely fearless.
20:24 IST: Four! Low full-toss from Imran Tahir, Kishan sweeps him for a boundary.
20:19 IST: Six! McCullum in hyper-drive mode now, smacks Stokes for a maximum at the long on boundary.
20:18 IST: Four! McCullum makes room for himself and tickles the ball down to the third man for a cheeky boundary.
20:16 IST: Six! A good length ball from Washington Sundar and Kishan dispatches the ball for a huge maximum on the leg side.
20:15 IST: Four! Close as Ishan Kishan get an inside edge as the ball just misses the wickets to get to the rope.
20:13 IST: After three overs, Gujarat stand at 24 for zero.
20:12 IST: Six! Short from Unadkat, Kishan pulls the ball for a maximum.
20:07 IST: Brilliant comeback from Pune, Washington Sundar concedes only a run.
20:04 IST: Good start for Gujarat Lions as they score 11 runs in the first over for no loss.
20:03 IST: Safe! Slower ball from Unadkat, McCullum defends, the ball lands short of Steve Smith.
20:01 IST: Four! Wide from Unadkat and McCullum flat bats the ball for the first boundary.
19:59 IST: Jaydev Unadkat leading the bowling attack for Pune.
19:58 IST: Ishan Kishan and Brendon McCullum opening the batting line-up for the Lions.
19:53 IST:  Here is the playing XI of the Lions
GL XI: I Kishan, B McCullum, S Raina (C), A Finch, D Smith, D Karthik (W), R Jadeja, J Faulkner, A Soni, P Sangwan, B Thampi #RPSvGL

— NDTV Live Scores (@CricketNDTVLive) May 1, 2017
19:52 IST: Here is the Supergiants playing XI
RPS XI: A Rahane, R Tripathi, S Smith (C), M Tiwary, M Dhoni (W), B Stokes, D Christian, W Sundar, J Unadkat, S Thakur, I Tahir #RPSvGL

— NDTV Live Scores (@CricketNDTVLive) May 1, 2017
19:43 IST: Team changes: For Pune, Ben Stokes and Shardul Thakur find their place back in the team. For Gujarat, Dwayne Smith replaces Andrew Tye and Pradeep Sangwan comes in place of Irfan Pathan.
19:40 IST: Trivia: Rising Pune Supegiant have never beaten Gujarat Lions in IPL.
19:32 IST: Supergiant captain Steve Smith wins toss, elects to bowl against Lions.
19:27 IST: It's toss time!
19:25 IST: Hello and welcome to the live blog of the match between Rising Pune Supergiant and Gujarat Lions
Defending just 157 runs, RPS found a 'secret weapon' in New Zealand tearaway Lockie Ferguson, who bowled four overs for figures of 2/7! Imran Tahir then sorted the rest out with a three-wicket haul.GL would be unhappy about losing a match where they recovered so splendidly and pulled off a Super Over. Nevertheless, they are now again beginning to look competitive, with youngsters like Ishan Kishan and Basil Thampi impressing with bat and ball respectively. But they would need Suresh Raina and company to come good in every match from now if they want to see the knockout stage of the tournament. That starts with their match with RPS, a must-win for both sides.