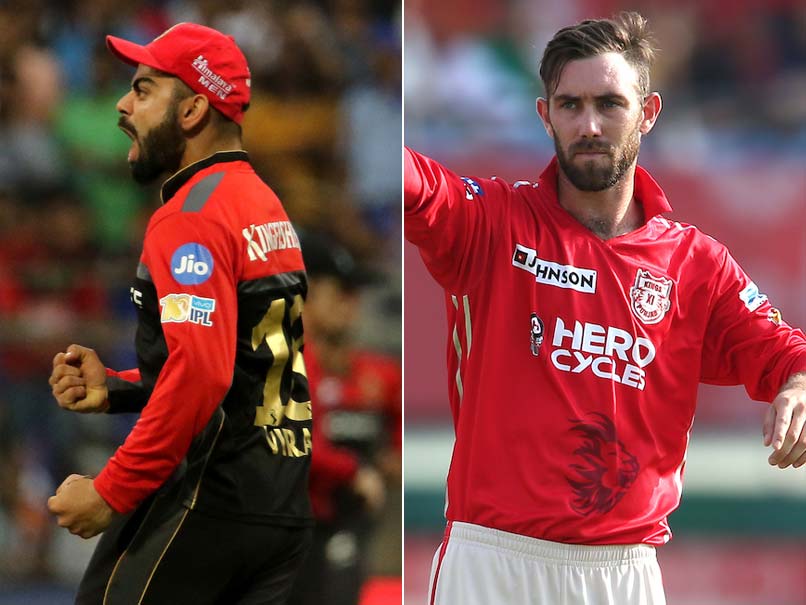 Axar Patel powered Kings XI Punjab to a fine win over the Royal Challengers Bangalore.
© BCCI
Kings XI Punjab (KXIP) defended a modest total as Royal Challengers Bangalore crashed to their fifth straight defeat in the Indian Premier League on Friday. Axar Patel (38*) was the top scorer for Punjab, and also contributed with the ball for the visitors, picking up three wickets. Mandeep Singh (46) was Bangalore's highest scorer after Virat Kohli, Chris Gayle and AB de Villiers were all dismissed cheaply by Sandeep Singh. Speaking after the match, Kohli said he hadn't experienced so many batting collapses ever in his career. The RCB captain stated that he had no idea how to describe such a batting performance. (SCORECARD)
IPL highlights between RCB vs KXIP
23:34 IST: That's it from us. Do join us for the double-header on Saturday. Adios!
23:27 IST: That's RCB's fifth loss on the trot in the IPL. KXIP live to fight another day.
23:21 IST: OUT! Choudhary is dismissed and KXIP win the match by 19 runs. Shocking batting performance from RCB.
23:17 IST: Axar strikes! The left-arm spinner picks up two wickets in as many balls. First Negi and then Badree. KXIP are one wicket away from a win.
23:04 IST: RCB pick up two fours off the 15th bowler bowled by Aaron.
22:53 IST: Negi hits Aaron over the extra cover region for a four.
22:48 IST: WICKET! Maxwell cleans up Mandeep Singh. RCB six down. Stunning fightback from KXIP!
22:45 IST: OUT! Axar strikes as Watson edges one to the keeper. RCB lose their 5th wicket.
22:39 IST: FOUR! Mandeep cuts a wide one from Mohit for a boundary.
22:33 IST: OUT! Mohit strikes, Jadhav departs. RCB in a spot of bother. Watson is the new man in.
22:29 IST: Jadhav and Mandeep have steadied the RCB after the Big 3 were dismissed.
22:13 IST: Out! AB de Villiers comes down the track but only manages to get the outside edge. Sandeep Sharma strikes again for Punjab.
22:11 IST: FOUR! AB smacks the ball straight down the ground for a boundary off Sandeep.
22:07 IST: FOUR! Mandeep powers Aaron's ball over point for a much-needed boundary.
22:03 IST: OUT! Kohli is cleaned up by Sandeep Sharma. That's huge wicket!
21:52 IST: Wicket! Gayle departs and Sandeep Sharma draws first blood for Punjab.
21:51 IST: Both the Bangalore openers are out there in the middle. Mandeep Singh will open with Chris Gayle. Sandeep Sharma to start the proceedings for Punjab.
21:50 IST: And we are back for the run-chase.
21:34 IST: 19 runs came from the last over. KXIP end with 138/7 in 20 overs vs RCB.
21:32 IST: FOUR! Axar goes straight down the ground for another boundary.
21:31 IST: FOUR! Axar pulls Watson's short ball for a boundary. Superb batting by the left-hander.
21:30 IST: SIX! Axar goes over the long on boundary for a maximum off Watson's bowling.
21:28 IST: Choudhary bowls a wicket maiden. That's the 19th over. The left-arm pacer has been impressive.
21:21 IST: OUT! Watson cleans up Saha. KXIP lose their 6th wicket.
21:17 IST: Axar and Saha need to stay till the end in order for KXIP to put up a competitive total.
21:10 IST: 10 runs came off that Chahal over.
21:08 IST: SIX! Axar clobbers Chahal's delivery for a massive six over long on. That was in the slot and got the deserved treatment.
21:05 IST: KXIP are 84/5 in 15 overs vs RCB
21:03 IST: OUT! Maxwell attempts another reverse sweet, but is caught off Chahal's bowling. Huge wicket for RCB
20:55 IST: FOUR! Maxwell reverse sweeps Negi for a boundary.
20:52 IST: OUT! Vohra goes for the big one and is caught by AB de Villiers. Chahal gets his first wicket.
20:48 IST: Solid comeback from Watson. The Aussie completes a tidy over.
20:43 IST: Excellent first over from Chahal. KXIP are 55/3 in 10 overs vs RCB
Lifeline for @Wriddhipops! Goes down the track, completely misses the ball, fortunately the keeper can't take advantage. #RCBvKXIP

— Kings XI Punjab (@lionsdenkxip) May 5, 2017
20:36 IST: SIX! Vohra clobbers Negi for a maximum. What a shot!
20:32 IST: OUT! Marsh is caught at long off. Negi bags a wicket in his first over. KXIP three down.
20:27 IST: KXIP are 35/2 in 5 overs vs RCB
20:25 IST: Badree into the attack. Vohra caps off his over with a boundary.
20:23 IST: 10 off Watson's first over.
20:19 IST: FOUR! Marsh drives Watson's full delivery through the covers for a boundary.
20:18 IST: OUT! Aravind strikes for RCB. Guptill is caught in the deep by Negi.
20:12 IST: Another tidy over from Choudhary. The left-arm pacer has been impressive so far.
20:10 IST: Punjab pick up two boundaries off Aravind's over.
20:07 IST: Marsh and Guptill at the crease for Punjab.
20:05 IST: OUT! Amla edges one to the keeper. Choudhary is delighted. The keeper did not appeal, but Amla walked off.
20:02 IST: Aniket Choudhary takes the new ball for RCB.
19:37 IST: Virat Kohli wins the toss and opts to bowl first.
19:29 IST: RCB are playing for pride, while KXIP need full points to progress.
19:28 IST: Hello and welcome to our live cricket blog for Match 43 of the IPL between RCB and KXIP.