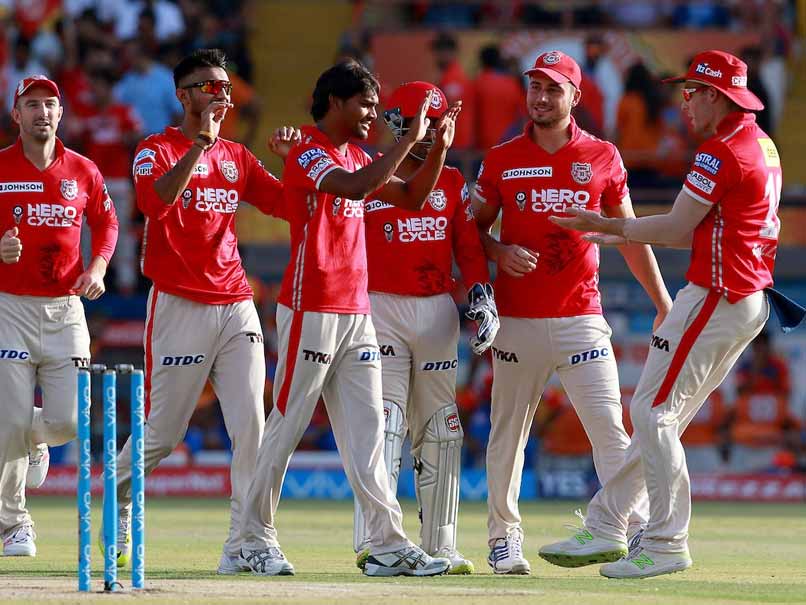 IPL highlights, GL Vs KXIP: Punjab beat Gujarat by 26 runs.
© BCCI
Kings XI Punjab (KXIP) beat Gujarat Lions (GL) by 26 runs in an Indian Premier League game on Sunday. Chasing the total of 188, Gujarat lost Brendon McCullum in the first over and then lost Aaron Finch in the sixth. Suresh Raina (32) and Dinesh Karthik (58) kept the fight going for the home team but the required run rate, which was initially in control, kept on rising. Punjab took wickets in quick succession to put Gujarat on the back foot and edged closer to a win. With this win Punjab climb to the fourth position with six points while Gujarat languish at the bottom of the table with four points. (SCORECARD)
Catch all the highlights of Gujarat Lions Vs Kings XI Punjab in Rajkot, here:
19:28 IST: Kings XI Punjab win by 26 runs as Gujarat finish 162 for seven in 20 overs.
19:25 IST: Four! Swing from Thampi, ball takes an inside edge for a boundary.
19:24 IST: Excellent 19th over from Mohit Sharma, concedes only five runs. Gujarat need 36 from the last over.
19:18 IST: With the required run rate over 20, Gujarat need 41 runs from the last two.
19:12 IST: Four! Karthik switch hits Sandeep for a boundary, brings up his half-century. Gujarat need 47 runs in 18 balls.
19:11 IST: Bowled! Sandeep Sharma gets his yorker right and the stumps are all over the place. Tye departs for 22 (12).
19:10 IST: Four! Big swing from Tye as he top edges the ball for a boundary behind the keeper.
19:08 IST: Four! Karthik sweeps Sandeep for a boundary on the leg side.
19:05 IST: 16 overs done, Gujarat need 61 runs in 24 balls. The home team need some big hitting to control the required run rate.
18:59 IST: Four! Tye sweeps for a boundary off Axar.
18:58 IST: Six! Andrew Tye takes the aerial route! Dispatches Axar for a maximum.
18:57 IST: Gujarat Lion need 83 off 36 balls. 
18:53 IST: Out! Akshdeep Nath departs for a duck off Cariappa. Gujarat 102 for six.
18:51 IST: Out! Dwayne Smith departs cheaply for four runs off four balls. Punjab edging closer to win.
18:47 IST: Out! Cariappa takes a low catch off his own bowling to send Jadeja back. Gujarat in spot of bother.
18:43 IST: Four! Jadeja cuts Axar handsomely for a boundary!
18:40 IST: Half of the second innings done as Gujarat need 107 runs in 60 balls.
18:39 IST: Four! Slower ball from Stoinis and Karthik pulls it away for a boundary.
18:34 IST: Out! Captain dismisses captain. Suresh Raina pulls Axar Patel and Maxwell takes a well controlled catch on the boundary. Gujarat 70 for three in 9.0 overs.
18:32 IST: Four! Karthik pulls away a lose delivery, welcomes Axar Patel with a boundary.
18:29 IST: After eight overs, Gujarat Lions stand at 63 for two. Going slow at the moment, the home team have to up the ante.
18:23 IST: Four! Karthik smashes the ball through the gap for a boundary.
18:20 IST: Four! Dinesh Karthik gets off the mark with a boundary on the leg side.
18:16 IST: Out!! Good low catch from Marcus Stoinis to send Aaron Finch back to the pavilion. Gujarat 46 for two, 5.4 overs.
18:10 IST: Four! Raina pouncing on every delivery! No stopping the runs coming from him.
18:08 IST: Six!  Beautiful batting display from Finch as he carves the ball for a maximum.
18:02 IST: Four! Guiding the ball through point, Raina gets a boundary.
17:59 IST: Four! Short from Sandeep and Raina smacks the ball with authority.
17:58 IST: Four! High on the pads and Raina dismisses the ball for a boundary. Gujarat after two overs stand at 14 for one.
17:52 IST: Out! Sandeep Sharma gets his man, traps McCullum before the wicket to send back the danger man.
17:51 IST: Four! Brendon McCullum starts the innings with a crunching boundary on the off side.
17:50 IST: Brendon McCullum and Aaron Finch opening the batting line-up for Gujarat Lions.
17:49 IST: Sandeep Sharma is starting the proceedings for Punjab.
17:48 IST: Welcome back to the second innings of the match.
17:29 IST: Kings XI Punjab finish 188 for seven in 20 overs.
17:28 IST: Six! Low full toss from Thampi, and Wriddhiman Saha dispatches it for a maximum.
17:22 IST: Out! Smith gets his man Axar Patel, Aaron Finch takes the catch. Punjab 174 for six.
17:21 IST: Six! Third consecutive boundary for Axar off Dwayne Smith!!
17:20 IST: Four! Big swing of the bat, ball takes an outside edge and goes past the wicket-keeper.
17:19 IST: Ahh! Beautiful shot from Axar patel, gets in right in the slot and Axar crunches it on the leg side.
17:16 IST: Out! Slower delivery from Tye, Stoinis heaves it for McCullum to take the catch.
17:14 IST: For Punjab last 10 balls have given them 15 runs, Gujarat consistent with their bowling.
17:13 IST: Three overs to go for the end of first innings, Punjab 152 for four.
17:12 IST:  Four! Axar slams Thampi for a boundary straight down the ground. Punjab looking to post a big total on board.
16:59 IST: Out! Two wickets in three balls, Jadeja traps Maxwell in front of the wicket! Punjab 132 for four.
16:58 IST: Four! Maxwell dealing in boundaries right now.
16:56 IST: Out! Hashim Amla flat hits straight towards the bowler as Shubham completes a regulation catch.
16:55 IST: Six! Huge maximum on the on side from Maxwell.
16:54 IST: Six! Maxwell hammers Shubham for huge maximum straight down the ground.
16:51 IST: After the end of 13th over, Punjab stand at 114 for two.
16:50 IST: Four! Inside out shot from Amla, puts the ball through extra covers.
16:46 IST: Rare miss field from McCullum as the ball keeps low and passes through his hands for a boundary.
16:44 IST: Six! Maxwell pulls Thampi over deep square leg for a maximum.
16:41 IST: Four! Hashim Amla pulls fine and brings up his half century against Gujarat.
16:38 IST: Out! Knuckle ball from Andrew Tye as Marsh flicks the ball straight Raina.
16:35 IST: After 9 overs Punjab stand at 80 for the loss of one wicket.
16:34 IST: Back-to-back boundaries for Amla, ball keeping on the pads, Amla guides it for a boundary on the leg side.
16:33 IST: Six! Little bit of flight from Jadeja, and Amla hits the ball with the spin towards extra covers for a biggy.
16:30 IST: Four! Dancing down the track, Marsh creates room and slaps the ball on through covers.
16:29 IST: Six! Display of pure power hitting from Shaun Marsh, clubs Shubham on the off side.
16:27 IST: Good first over from Ravindra Jadeja, concedes only three runs.
16:24 IST: Six! Amla targeting Tye in his first over, slams the ball for a maximum over long on.
16:23 IST: Four! Second boundary in three balls for Amla, opens the blade and guides the ball.
16:22 IST: Four! Amla welcomes Andrew Tye with a boundary straight down the ground. Walking down the pitch Amla slaps the ball.
16:20 IST: Four! Marsh cuts the ball handsomely through the point as the ball reaches the rope like a rocket.
16:17 IST: Four! Shaun Marsh muscles the ball on the leg side for a boundary.
16:07 IST: Four! Shaun Marsh the new man gets his first boundary in his second ball. 
16:05 IST: Out! Nathu Singh gets his first in form of Vohra as the ball kisses the outside edge and Dinesh Karthik completes the catch. Punjab 11 for one (1.3 overs)
Dinesh Karthik first wicket-keeper to claim 100 dismissals in #IPL history!#GLvKXIP

— Mohandas Menon (@mohanstatsman) April 23, 2017
16:03 IST: Four! Amla gets the ball past the in-field, gets second boundary of the over. Punjab 11 after the first over.
16:01 IST: Four! Hashim Amla crunches the ball through the covers for the first boundary of the innings.
16:00 IST: Shubham Agarwal leading the bowling attack for Gujarat Lions.
15:59 IST: Hashim Amla and Manan Vohra opening for the KXIP against Gujarat Lions.
15:58 IST: Players and umpires making their way out to the middle. Let's go!
15:46 IST: Playing XI for Gujarat Lions:
GL XI: A Finch, B McCullum, S Raina, D Karthik, DR Smith, R Jadeja, A Nath, S Agarwal, A Tye, B Thampi, N Singh

— IndianPremierLeague (@IPL) April 23, 2017
15:45 IST: The playing XI for Punjab for the match:
KXIP XI: H Amla, M Vohra, G Maxwell, W Saha, S Marsh, MP Stoinis, A Patel, KC Cariappa, T Natarajan, M Sharma, Sandeep Sharma

— IndianPremierLeague (@IPL) April 23, 2017
15:40 IST: KXIP warming up before their away game against Lions.
15:38 IST: Gujarat warming up before their match against KXIP.
15:35 IST: Few changes for both teams. For Gujarat Lions, Akashdeep Nath, Shubham Agarwal, Nathu Singh come in the squad. For KXIP KC Cariappa, Manan Vohra and Natarajan come in the playing XI.
15:31 IST: Gujarat Lions win toss and elect to bowl against Kings XI Punjab.
15:30 IST: It's toss time!
15:25 IST: Hello and welcome to the live blog of the match between Gujarat Lions and Kings XI Punjab from Rajkot.
It largely will be a battle of batting strength, with the formidable GL names like Raina, Brendon McCullum, Aaron Finch and Dwayne Smith to take one KXIP skipper Glenn Maxwell, in the company of Hashim Amla, coming off a century in the last game, and also the likes of Marcus Stoinis and David Miller.
But the issue for both sides has been their bowling, which shows why GL are just one step off the bottom of the points table and KXIP are also not too well placed.
Of all the bowlers on display, only GL's Andrew Tye and Basil Thampi have made an impression, but not in the same match. Ravindra Jadeja is not in best form yet, so his potential to take wickets regularly has not been reached yet.
The Sharma's - Ishant, Mohit and Sandeep - have not really worked for KXIP, nor has Varun Aaron. No wonder Maxwell is left shaking his head when targets close to 200 are hauled in so easily.