Story Progress
Back to home
IPL Highlights, DD vs GL: Samson, Pant Power Delhi To 7-Wicket Win vs Gujarat
Sanju Samson (61) and Rishabh Pant (97) took the Gujarat bowlers to the cleaners as Delhi chased down the target of 209 with 15 balls to spare at the Feroz Shah Kotla Stadium in Delhi.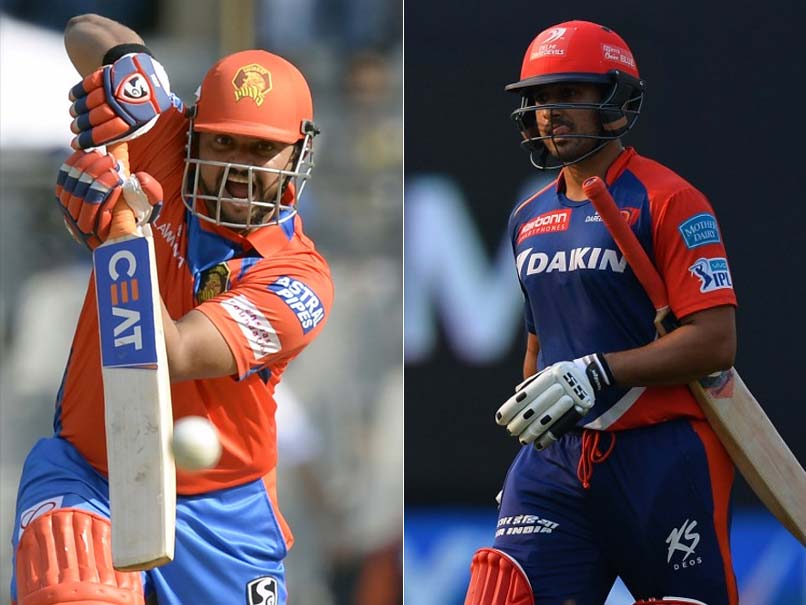 IPL Highlights: Delhi Daredevils beat Gujarat Lions by seven wickets with 15 balls to spare in Delhi
© BCCI
Sanju Samson (61) and Rishabh Pant (97) took the Gujarat bowlers to the cleaners as runs came thick and fast for the hosts. Delhi lost their captain Karun Nair early in the tall run-chase but Samson and Pant took the attack to the opposition and brought the asking rate down to run a ball in no time. At the end Delhi won by seven wickets with 15 balls to spare. Earlier, Suresh Raina (77) and Dinesh Karthik (65) put together a century-run stand to take Gujarat to a mammoth 208 for 7 in 20 overs.  (SCORECARD)
IPL Highlights and updates between DD vs GL straight from Delhi, India.
23:36 IST: SIx!Anderson finishes off in style. Delhi 214 for 3 in 17.3 overs , beat Gujarat by 7 wickets.
23:33 IST: Six!Thampi strays down the leg-side and Iyer helps it for a maximum.
23:31 IST: Six!It is raining sixes here at the Feroz Shah Kotla stadium tonight. Now Corey Anderson joins the list.
23:25 IST: SIx!Now Iyer gets into the act. Smashes it over mid-off for a maximum.
23:17 IST:Corey Anderson joins Shreyas Iyer in the middle.
23:16 IST: Wicket!Pant looking for the big hit, gets a thick outside edge and Thampi gets the breakthrough.
23:14 IST:Shreyas Iyer is the new batsman for Delhi.
23:12 IST: Four!Up and over cover. Pant picks up another boundary.
23:11 IST: Six!But Pant is still here and he continues the onslaught.
23:10 IST: Wicket!Jadeja strikes for Gujarat but all too late for the visitors. Samson departs.
23:05 IST: Four!Dwayne Smith comes on but no change in the end result. Pant and Samson are taking turns in hitting boundaries. Pant pulls it in front of square and the fielder at the deep had no chance whatsoever.
23:02 IST: Six!Jadeja goes wide of the stumps this time. The result the same.Samson is on a roll here.
23:01 IST: Six!Ravindra Jadeja comes on and Samson greets him with a maximum.
22:59 IST: Another maximum!Pant and Samson are in trouble at the moment. Runs coming thick and fast for Delhi at the moment.
22:58 IST: Six!That has gone seven rows back. Huge hit from Pant. Poor bowling from Faulkner. Slower ones are becoming too predictable at the moment.
22:56 IST: Six!Pant picked up the slower one from Faulkner early and deposits it into the stands.
22:56 IST: Four!Flicked away by Pant for a boundary.
22:55 IST: SIxteen coming of that Ankit Soni over. Delhi 113 for 1 in 10 overs.
22:52 IST: Six!Samson is dealing in boundaries at the moment. Just stand and deliver.
22:51 IST! Six!Short again and Samson is too good a player to miss out on those opportunities.
22:47 IST: Six!Short from Raina and it was asking to be hit. Pant makes no mistake and brings up his fifty with that hit.
22:46 IST: Four!Short and Pant stands up tall and hits it through covers. Poor fielding at the deep gives him a boundary. Dwayne Smith was the fielder.
22:44 IST: Six!Pant goes downtown and it goes for a maximum. Great hit.
22:41 IST:Ankit Soni is the new bowler.
22:40 IST: 10 coming of the Raina over. Delhi 73 for 1 after 7 overs.
22:39 IST: Six!Samson goes big and it sails over the long on fielder.
22:38 IST:Suresh Raina comes on to the attack.
22:34 IST:Only five coming of James Faulkner's first over.
22:32 IST: After 5 overs Delhi are 58 for 1.
22:30 IST: Four!Short again and Pant late cuts it through the third man region.
22:28 IST:Two back to back sixes for Pant. Sangwan is the culprit.
22:27 IST: Six!Thampi sliding down the leg side and Samson just helps it over backward square-leg for a boundary.
22:22 IST: Six!Wide outside off-stump and Pant hits it over extra-cover for a maximum.
22:20 IST:RIshabh Pant is the new man in for Delhi. After 3 overs Delhi are 25 for 1.
22:19 IST: Wicket!Short from Sangwan and Nair tries to upper cut the ball, gets a thin edge and Karthik behind the stumps makes no mistake. Delhi lose their first wicket.
22:16 IST: Six!Great pick up shot from Karun Nair. That's gone all the way.
22:15 IST:Only four coming of that Thampi over.
22:11 IST:Thampi to share the new ball with Pradeep Sangwan. Sanju Samson to take strike.
22:10 IST:So 11 coming off the first over.
22:06 IST: Four!! Delhi are off and rolling!Delhi skipper Nair pierces the off-side field for his team's first boundary.
21:50 IST: Two back to back sixes for Jadeja. Gujarat Lions reach 208 for 7 after 20 overs.
21:49 IST: Six! Jadeja goes big and clears the fence easily.
21:47 IST: Wicket!Faulkner departs and Anderson picks up his first wicket.
21:43 IST: Wicket!Finch goes for the big shot, didn't quite get it off the middle of the bat and Pant runs a long way and takes a good catch. Rabada strikes once again.
21:38 IST: Four!Finch hooks and finds the gap.
21:36 IST:Ravindra Jadeja is the new batsman.
21:35 IST: Wicket!Kishan departs trying to up the ante. Cummins picks up his second wicket.
21:33 IST: Four!Welcome boundary for Gujarat. After a few quiet overs, Finch gets one away through the fine-leg region.
21:26 IST:Ishan Kishan joins Aaron Finch in the middle.
21:24 IST: Gujarat Lions 164 for 4 in 15 overs.
21:19 IST: Wicket!Karthik goes for the big one and Corey Anderson plucks it out of thin air. What a catch at mid-off! Cummins gets his first wicket.
21:15 IST: Four!Finch gets off the mark in style.
21:14 IST:Aaron Finch is the new man in.
21:13 IST: Six!Slashed and slashed hard. Karthik is taking Shami to the cleaners here.
21:12 IST: Four!Shami sliding down the leg-side and Karthik times it beautifully through the on-side region.
21:11 IST: Run Out!Mix-up between Karthik and Raina and a brilliant piece of fielding from Rabada. Hits the stumps directly. Raina is short of his crease.
21:10 IST: Four!Full and wide from Shami and Karthik hits it through the line.
21:09 IST: A single to mid-wicket and that brings up Dinesh Karthik's 14th IPL fifty.
21:06 IST: Six!Karthik pulls and gets plenty on it to clear the fence.
21:04 IST:Corey Anderson comes on to the attack.
21:01 IST:Add four more to the total. This time Raina finds the gap on the on-side.
21:00 IST: Six!Karthik now goes inside out and hits it over covers. Expensive over from Nadeem.
20:59 IST:Shabaaz Nadeem comes back on and Karthik welcomes him with a six.
20:57 IST: Six!Raina goes straight this time and clears the fence easily.
20:54 IST: Six!Raina goes for the slog sweep and connects well. Deposits it into the stands.
20:53 IST: After 10 overs Gujarat Lions are 93 for 2.
20:50 IST: Four!Karthik cuts and cuts well. Poor effort in the deep from Sanju Samson.
20:48 IST: Raina turns it away for a couple and reaches his 31st fifty in IPL.
20:44 IST:Karthik this time gets into the act. First a four and hits the next one for a six. Amit Mishra gives away 13 runs off his first over.
20:41 IST: Gujarat Lions 64 for 2 after 7 overs.
20:39 IST: Dropped! This time it is Marlon Samuels at mid-wicket. Raina survives once again. Shami would considers himself unlucky here.
20:34 IST: Four!Raina gets one away for another boundary.
20:31 IST: Four!Karthik comes down the track and hits Cummins straight down the ground.
20:28 IST: After five overs Gujarat are 46 for 2.
20:21 IST: Six!Raina clears his front leg and hits it over mid on.
20:18 IST: A six followed by a couple of fours! Big over for Gujarat. Mohammed Shami is proving to be expensive in his first over. Raina is the beneficiary.
20:15 IST: Four!Raina just flicked it over square-leg for a boundary.
20:13 IST: Dropped!Short from Rabada and Raina goes for the hook. Gets a top edge and it loops up in the air. Shreyas Iyer at first slip drops a dolly.
20:10 IST:Dinesh Karthik joins Suresh Raina.
20:09 IST: Run Out!Brilliant piece of fielding from Nadeem. Hits the stumps directly and Smith is clearly short of his crease. Big blow for Gujarat.
20:06 IST:Suresh Raina is the new batsman.
20:05 IST: Wicket!Rabada strikes for Delhi. McCullum takes the long walk back. Gujarat lose their first wicket.
20:04 IST:So ten coming off the first over from Nadeem.
20:01 IST: Four!Back to back boundaries for Smith. Nadeem is the culprit.
20:00 IST: Four!Smith gets off the mark with a boundary. Shahbaz Nadeem is bowling the first over for Delhi.
19:58 IST:So both the Gujarat openers are out there in the middle. Brendon McCullum will open with Dwayne Smith.
19:42 IST: A close look at the Gujarat's playing eleven.
GL XI: I Kishan, B McCullum, S Raina (C), A Finch, D Smith, D Karthik (W), R Jadeja, J Faulkner, P Sangwan, B Thampi, A Soni #DDvGL

— NDTV Live Scores (@CricketNDTVLive) May 4, 2017
19:40 IST: Here is a look at the Delhi team:
DD XI: S Samson, K Nair (C), R Pant (W), S Iyer, M Samuels, C Anderson, P Cummins, K Rabada, S Nadeem, A Mishra, M Shami #DDvGL

— NDTV Live Scores (@CricketNDTVLive) May 4, 2017
19:30 IST:Delhi Daredevils have won the toss and have decided to bowl first against Gujarat Lions. Karun Nair, Delhi captain feels that dew will come into play as the match progresses.
19:26 IST: Hello and welcome to the match Delhi Daredevils and Gujarat Lions. The toss is about to take place. Do stay with us for all the latest news and updates from the match straight from Feroz Shah Kotla, Delhi.
Gujarat Lions are all but out of the race as they are struggling at the second last position in the eight-team tournament with just six points from 10 games.
Promoted
Having finished an impressive third in their inaugural season last year, it turned out to be a disappointing campaign for the Lions in 2017. Only a miracle from here on might see them qualify for the knock-out stages.
GL come into the match following consecutive losses, which includes the demoralizing defeat against Mumbai Indians in a Super Over at Rajkot, which more or less demolished their chances.
Topics mentioned in this article