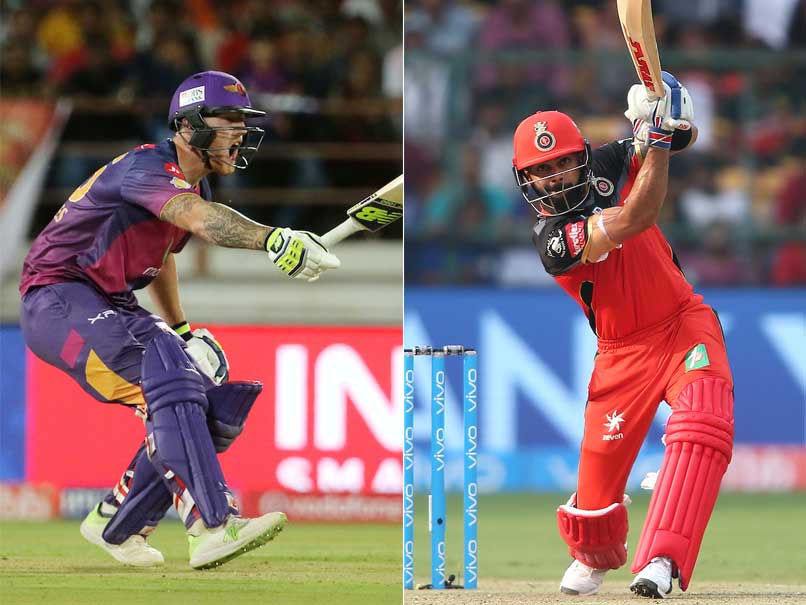 Royal Challengers Bangalore will take on Rising Pune Supergiant in a crucial game
© BCCI
Royal Challengers Bangalore could be excused for thinking that the return of Virat Kohli would be their passport to success. But that did not quite happen. The captain did score big runs but RCB still lost. On the other side, Rising Pune Supergiant (RPS) skipper Steve Smith was seen wringing his hands as his side fell to another loss. So it is time for both sides to pull up their socks, which should be key to the crucial contest on Saturday.
Top 5 picks for RCB vs RPS match
Virat Kohli: There is nothing the RCB skipper hates more than losing. He was left with little option but to grit his teeth and bear it when Mumbai Indians, in the shape of Kieron Pollard and the Pandya brothers, gave him no chance to reverse his team's slide. But he is determined if nothing else, and for sure he will come good soon.
AB de Villiers: The South African began with a bang and then he too has been moderate in contribution, but that is part of the game. One wonders how it would be if he and Kohli click together. That would be something to watch indeed!
Yuzvendra Chahal: The frail-looking leg-spinner has the heart of a fighter and can be a serious challenge to any batting attack. In a tournament that has seen wrist spinners dominate several matches, Chahal's contribution is not something that can be ignored.
Mahendra Singh Dhoni: Mahi is like a dormant volcano now, seething inside with little to show on the outside, for now. While RPS would do well to get him up the order and give him time to create an innings, once he get the chance, he could be unstoppable.
Ben Stokes: The Englishman can't be too happy either. The most expensive player in the IPL 2017 Auction, he has yet really delivered, and that must be bothering him more than anyone else. He has to come good for his franchise, sooner rather than later.