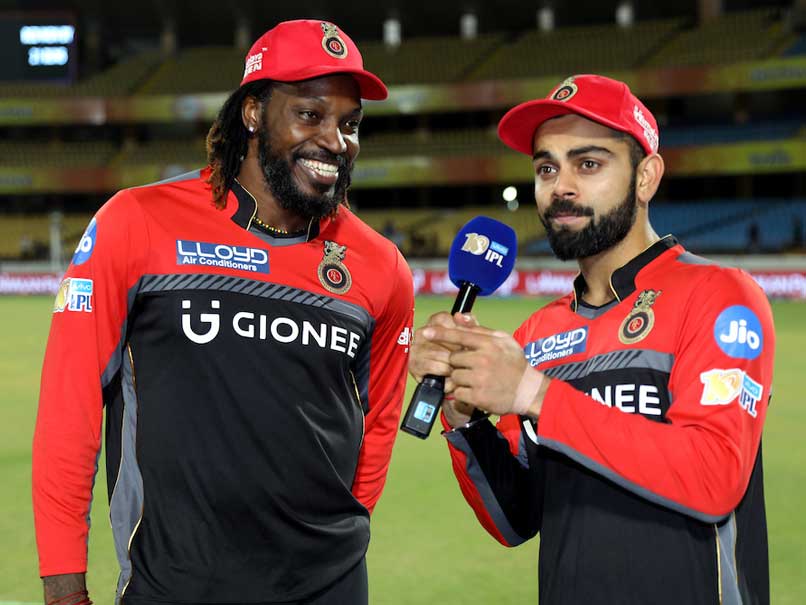 Virat Kohli is seen taking Chris Gayle's interview after the match
© Facebook
Virat Kohli was at hand to see from 22 yards away when Chris Gayle reached 10,000 runs in Twenty20 cricket. The Royal Challengers Bangalore was on the non-striking end when Gayle reached the landmark in an effort which also got Royal Challengers Bangalore (RCB) a vital win over Gujarat Lions (GL) in their Indian premier League (IPL) match. The RCB captain later took up the mantle of TV anchor and got down to interviewing Gayle. While the questions were sensible, both of them cracked up and collapsed laughing.
Here is how the conversation went:
Virat Kohli: Chris, how does it feel to open the innings with me?
Chris Gayle: It's a great feeling to open the innings with you. It's an absolute pleasure mate. You're a legend and you have many more runs to score. It's a privilege to actually watch you from the other end and to see you score fluently. Well done on your career so far and I wish you many many more from my heart. Seriously.
Kohli: It was our 10th 100-run partnership in T20s and it is a record. You got to 10000 runs at an average of 40 and a strike-rate of 149 and 18 hundreds. It is a crazy stat. It has been my privilege to open with you.
Kohli: How you have managed to be the 'Universe Boss' consistently for so many years?
Gayle: It's fantastic to get to 10000 runs and share that moment with you. We have had a lot of partnerships and it is really great. Also, to be able to play for a great franchise like the RCB is superb. Since I joined this franchise, things have gone great for me as well from a personal point of view, so I am very thankful for that. You guys have been special and it is special to share the dressing room with you. We have a lot of talent, many youngsters and it is good fun. It has been an absolute pleasure.
Gayle and Kohli were involved in a 122-run opening stand which guided RCB to an unassailable 213/2 and a win over GL.