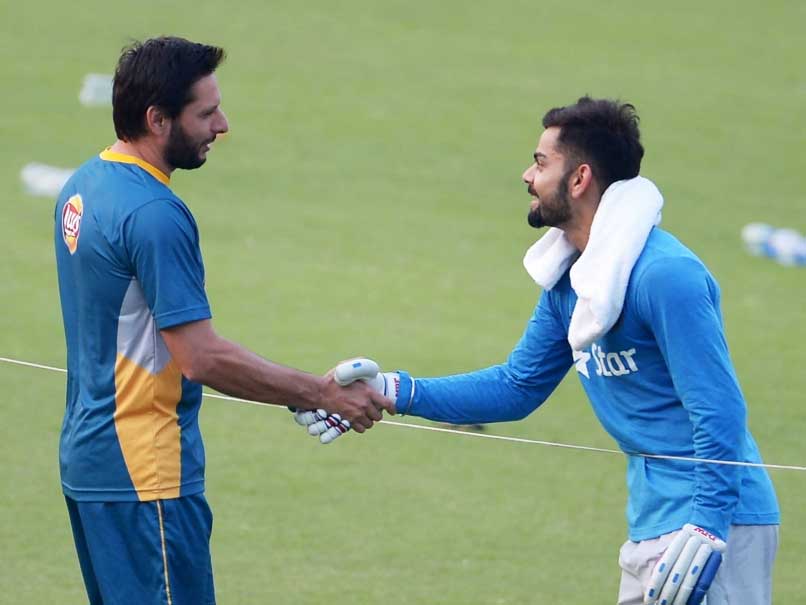 Virat Kohli gifted his ODI jersey to Shahid Afridi with a special message on it.
© AFP
At a time when cricketing relations between India and Pakistan are strained, to say the least, Virat Kohli-led Team India made a brilliant gesture for the now-retired Pakistan all-rounder, Shahid Afridi. The gesture sent a big message -- that even at a time of strife, sporstmanship and camaraderie between opposing players exist. The Indian cricket team led by Kohli presented Shahid Afridi, who retired earlier this year, with a Kohli ODI jersey with signatures of Team India members on the back of it.
Pakistani journalist, Faizan Lakhani, uploaded the picture of the signed shirt and tweeted it with a caption: "Virat Kohli's shirt, signed by Indian team, for Shahid Afridi, with a message 'always a pleasure playing against you'."
The ODI jersey, with the number 18 and 'VIRAT' printed on it, had the signatures of the Indian skipper, Yuvraj Singh, Ashish Nehra, Jasprit Bumrah, Suresh Raina, Pawan Negi, Mohammed Shami, Ravindra Jadeja, Bhuvneshwar Kumar, Ajinkya Rahane, Shikhar Dhawan, R. Ashwin, Hardik Pandya and former coach Ravi Shastri, among others.
Kohli had a special message for the mercurial Pakistan cricketer: "Shahid Bhai, best wishes, always a pleasure playing against you".
Afridi, who had already retired from Test and ODI formats, bid adieu to his 21-year-old international career in February when he announced his retirement from the T20 version of cricket.
He was recently named one of eight Champion Ambassadors for the Champions Trophy to be held in the United Kingdom from June 1 to 18, along with India's Harbhajan Singh, Bangladesh's Habibul Bashar, England's Ian Bell, New Zealand's Shane Bond, Australian Mike Hussey, Sri Lankan Kumar Sangakkara and South Africa's Graeme Smith.