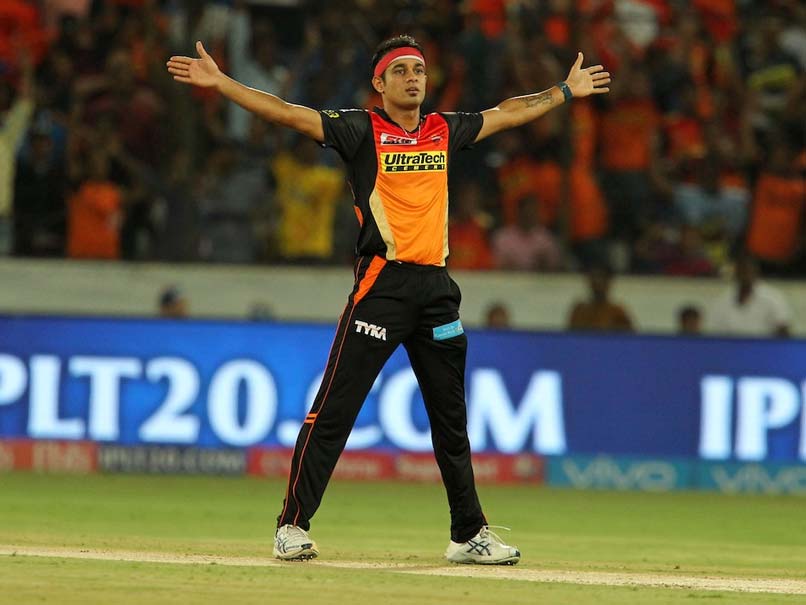 Siddarth Kaul is leading the Hyderabad bowling frontier along with Bhuvaneshwar Kumar.
© BCCI
Sunrisers Hyderabad (SRH) pacer Siddarth Kaul said on Friday that variation in bowling is the only key to success in the shortest format of cricket. Kaul, who is leading the Hyderabad bowling frontier along with Bhuvaneshwar Kumar, has 15 wickets to his name from eight Indian Premier Legaue (IPL) games. "If you have variation, then it is hard for the batsman to read you. The batsman keeps guessing, what this guy is going to bowl," Kaul said. Kaul said that he picked up the 'knuckle ball' after he watched former India seamer Zaheer Khan in 2011 World Cup. "From that time onwards, I tried to perfect it and now it is helping me a lot," Kaul said.
SRH's bowling department have been great in this season of IPL and also played important part in winning the games for the team. Bhuvaneshwar Kumar is currently the proud owner of the purple cap with 23 wickets.
Siddarth Kaul, who was a part of the Indian Under-19 team, clinched three wickets for 24 runs against Mumbai Indians in their last match. Prior to the MI match, he bagged four wickets for 24 runs against Rising Pune Supergiant.
The game against Pune was special for Kaul as he dismissed, the star finisher of the game, MS Dhoni, and was lauded by him at the end of the game. "It was really good, he is a great finisher of the game in shorter format, in any format, you can say that. It was a golden chance for me to bowl in front of the best batsman of T20 and ODIs.
"It was a good interaction with him. I know him for a long time. In that match, he told me that I have improved further adding to my pace and having consistency in bowling yorkers. He also told me that my knuckle balls are really good. Those words of encouragement have helped me a lot," Kaul said.
Talking about his bowling, Kaul said, "I have been delivering for my domestic side Punjab in ODI and T20 in death overs. That has helped me in this format. With the help of Yuvi (Yuvraj) and Ashish Nehra, it came out really well".
SRH, with 15 points in 13 games, will be playing their last league game against Gujarat Lions. Should SRH lose to Gujarat, RPS will have to beat Kings XI Punjab for Hyderabad to reach the Play-offs.
(With PTI inputs)